Classic Cocktails and Bartending Basics
Are you looking to learn to make classic cocktails and frustrated by everything that promises you the Top 10 Cocktails but fails to deliver? Tired of mixologists who boast about easy to make cocktail recipes and in the same breath create cocktail recipes with obscure ingredients you don't have at home?
Why is it so hard to find a simple cocktail guide? I've been looking for a simple schematic that shows cocktail families and how the classic cocktails and modern cocktails are related.
Jump to:
Just like I did with baking and baking ratios, I want to share a helpful framework for classic cocktail ratios. It shows how the classic cocktail families build upon each other to give you infinite variations. That way you can figure out what you love in a mixed drink, tailor these formulas to your own taste, find related cocktails to try, and create cocktails you love without recipes.
Consider this a Cocktails 101 in mixed drinks for beginners. If you are a not-so-beginner, consider this a review with suggestions how to take your cocktails at home to the next level. And if you are expert bartender, I'd love if you shared your thoughts in a comment!
Background
During 2022, colleagues encouraged me to lead a 52 weeks of cocktails challenge. We explored spirits and liqueurs, classic cocktails, and a variety of other themes. It was eye opening to realize that many cocktails start with one of a few basic formulas.
Like you, I am always learning about how to build a better cocktail. And so the cocktails challenge continues!
Read from top to bottom or skip to your favorite cocktail. But I hope you're never at a loss again for what to order at a bar or what to make when you're at home.
Bartending basics
Glassware
"They say" that the glass you use is critical to the taste of your cocktail or your wine. These are people trying to sell you something.
You don't need to go out and buy a dozen sets of cocktail glasses. In blind taste tests, expert tasters can't tell the difference between glasses as long as it isn't plastic.
So if there are any rules to follow, it's to make sure your glass can hold your cocktail! And perhaps to have a stemmed glass or two for when you don't want your hand to warm your drink or your drink to chill your hand!
Shaken vs stirred
The teaching is that cocktails with citrus juices should be shaken to aerate them, and cocktails with only alcohols should be stirred. Shaking results in a larger dilution compared to stirring, and it can make cocktails cloudy.
So James Bond was uncouth to prefer his martini "shaken, not stirred." Alternatively, it's a great example of how it doesn't matter what "they say" if you want to make your cocktails the way you want.
How to shake a cocktail
For the average cocktail drinker and the average cocktail, it doesn't matter how you shake. If you're curious, you can read more than you ever wanted to know about shaking your cocktails here.
The dry shake
Despite what I just said, there are cocktails where how you shake does make a difference, like cocktails that are known for their frothy foam. Think about the espresso martini or a sour with egg white. To get that foam, you need to shake longer than normal. But shake with ice and you'll over-dilute your cocktail and still not get great foam.
A dry shake is when you put your cocktail ingredients in the cocktail shaker without any ice. For best results, shake hard for 20 to 30 seconds. Then add about a half cup of ice cubes, and shake again just to chill.
Just like with the reverse creaming method for cake, you can also do a reverse dry shake. That's where you first shake your cocktail with ice first, then remove the ice and do a dry shake as the second shake. Do with this information what you will.
About ice
The type of ice can make a difference in your cocktail. Large cubes of ice like the one pictured below have lower surface area to volume and therefore melt more slowly. They're great for lowball cocktails where the goal is slow sipping.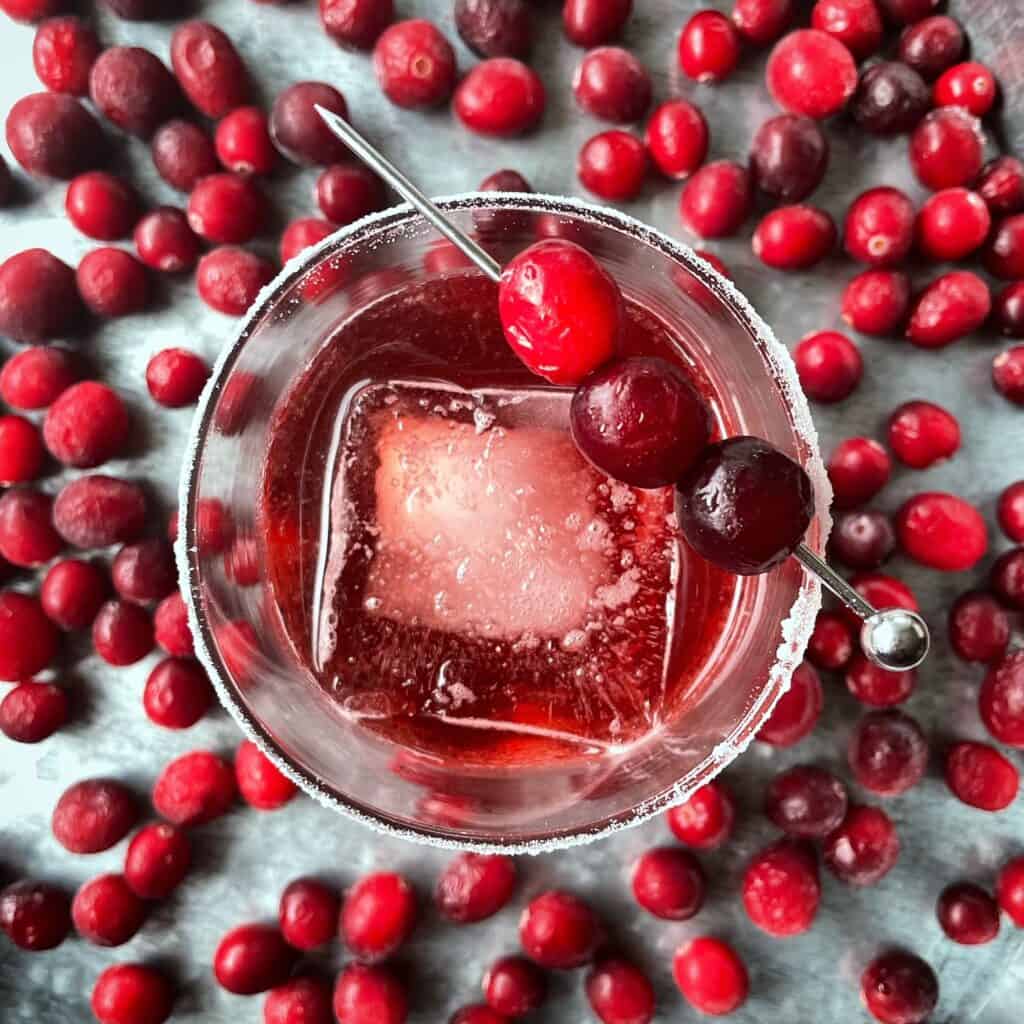 In contrast, most highball cocktails call for crushed ice, because crushed ice chills your cocktail the quickest! However, crushed ice will also dilute your cocktail the most.
If you don't have a freezer that dispenses crushed ice, you can crush your own using a clean kitchen bag and meat tenderizer. Or you can buy something called a Lewis bag that is expressly designed for the purpose.
Simple syrup
Simple syrups are an easy way to vary the flavor of your favorite classic cocktail. If you can imagine a flavor, you can probably create a simple syrup.
Making simple syrup is really as simple as combining equal amounts of water with sugar, honey, or other sweetener. Get more information here about making simple syrups and how to use them.
Classic cocktail families
Here's a relatively simple chart for how I organize some of the classic cocktails. I apologize in advance if your favorite cocktail isn't included!
And, also, some ingredients have a range, because your tastes will differ from other people. If you like your cocktails a certain way, feel free to add more simple syrup or citrus or whatever makes you happy.
The cocktails
1. The Martini
Many classic cocktail lists start with the old-fashioned, but the martini is top of the list for me. The classic martini is gin and dry vermouth.
Start with two ounces of London dry gin. You'll see that many classic cocktails start with two ounces of a spirit. Stir with one ounce dry vermouth over ice.
Or, if you're uncertain about whether you like a dry martini (one with relatively more gin) or a wet martini (one with relatively more vermouth), try the taste test below. The dry martini label generally starts at 2.5 ounces of gin plus half an ounce of vermouth.
Martini Taste Test: Make 1.5 ounce martinis to figure out your preferred ratio.
1. Go very dry by just rinsing your glass with dry vermouth.
2. Dry (5 to 1): 1.25 ounces gin and 0.25 ounce dry vermouth
3. Classic (2 to 1): 1 ounce gin and 0.5 ounce dry vermouth
4. Equal (1 to 1): 1.25 ounces gin and 1.25 ounces dry vermouth
5. Wet (1 to 2): 0.5 ounce gin and 1 ounce dry vermouth
A kitchen scale can help when you're doing these small volumes. Or know that a half ounce is one tablespoon, and a quarter ounce is a half tablespoon.
I'll say it again. The best martini is your favorite martini.
You can switch up the gin, or make it with vodka for a vodka martini. Garnish it with olives, a lemon twist, or a cocktail onion. Or add a splash of olive brine if you want a dirty martini.
2. The Old-Fashioned
The Old-Fashioned is another simple classic cocktail. It's made with two ounces of spirit, a sugar cube or up to an ounce of simple syrup, a few dashes of bitters, and garnished with orange peel or a cherry.
The Old-Fashioned is classically made with whiskey, either bourbon or rye, but you can make an Old-Fashioned using nearly any spirit. Or vary your Old-Fashioned with an infused whiskey, a flavored simple syrup, or some mint leaves for a mint julep.
3. The Manhattan
The Manhattan is the closest sibling of the Old-Fashioned, subbing in sweet vermouth as the sweetener. As a result, the classic Manhattan has two ounces of whiskey, an ounce of sweet vermouth, and dashes of bitters.
Like with the Old-Fashioned, you can vary the Manhattan by changing the base spirit or the sweetener. If you make a Manhattan with dry vermouth, you have a dry Manhattan. If you make it with half an ounce each of dry and sweet vermouth, you have a "perfect" Manhattan.
Below are two examples of Manhattan variations:
4. The Negroni
Marry the martini and the Manhattan and you have a Negroni. The Negroni is a classic Italian cocktail that is traditionally made with an ounce of dry gin, sweet vermouth, and Campari.
Campari is a bright red amaro, which means "bitter" in Italian. The amaros, like Campari, Aperol, Fernet-Branca, and Amaro Montenegro, are Italian liqueurs with bitter, herbal, and variably sweet flavors. You can vary the Negroni by changing up the gin or the amaro.
Here are a few Negroni variations that don't stray too far from the classic:
5. The Sour
The sour family of cocktails might be the most important. At least they are in my house! The sour formula makes easy, classic cocktails that are perfectly balanced between sweet and tart. Shake one up and impress your friends!
The basic formula for the sour is two ounces of spirit, three quarters of an ounce of fresh lemon juice or lime juice or other citrus (plus or minus a quarter ounce), and three quarters of an ounce of simple syrup (plus or minus a quarter ounce). Make it sweeter with more simple syrup or more sour with more citrus juice depending on your preference.
Egg white was not in the original sours, and so you can leave it out if you're concerned about foodborne illness. Or make it with pasteurized egg whites or aquafaba.
Just like with the Old-Fashioned, one way to vary the sour is with a flavored simple syrup. Try this vodka sour with a homemade blackberry syrup.
A change to a different base spirit makes other classic cocktails. Make your sour with rum and lime juice, and you have a daiquiri. Make it with gin and lime juice, and it's a gimlet.
Here are some examples of other cocktails in the sour family:
6. Sour variation with liqueur
Another way to vary the sour formula is to sub in a liqueur for all or part of the simple syrup in the sour. Use tequila and sub an orange liqueur for that simple syrup, and you have a margarita. Use brandy, and you have a sidecar.
Here are are some sour variations that use that model:
7. Sour variation: the highball
You can also take the sour formula, add tonic water or soda water, and serve it over crushed ice for a refreshing summer highball.
8. Sour variation with sparkling wine
Or cut the sour formula in half and top with sparkling wine instead of soda water. Doing this, you can make a French 75 using gin, lemon juice, and simple syrup. Or make your Cosmo sparkle with vodka, orange liqueur, cranberry juice, lime, and sparkling wine.
9. Espresso Martini
The original espresso martini is a modern cocktail made with vodka, espresso, and coffee liqueur and reads as a variation of a Black Russian. The non-martini Espresso martini had a revival in 2022, gaining popularity with all of its many variations, two of which you can see below.
10. Simple mixed drinks: spirit plus juice or soda
Finally, if you just want a simple mixed drink (or maybe don't trust your bartender!), you can never go wrong with a simple spiked drink using 1 part spirit to 2 parts juice or soda or lemonade, etc. The classic example is the screwdriver, made with orange juice and vodka.
Just thinking about combining rum and Diet Coke brings back memories.
Storage
Store open bottles of liquor and liqueurs in a cool, dark place. Spirits like gin and vodka won't go bad. You can use your freezer to store bottles that are destined for icy-cold cocktails, like the vodka for your vodka martini. It's just not critical.
Liqueurs are a bit different because of the added sugar. Open bottles of liqueur should also be kept in a cool, dark place. There's a general recommendation to consume all liqueurs within 6 to 12 months of opening, but liqueurs that aren't cream-based liqueurs won't go bad. However, the flavors of different liqueurs may lose potency over time, just like those dried herbs that have been sitting in your kitchen for years.
Most fortified wines like vermouth should be stored in the refrigerator. The higher sugar content slows the oxidation of the wine, but it doesn't completely prevent it. So they say that you should drink all of these bottles within a month or so of opening.
Bitters and extracts like vanilla can be stored at room temperature almost indefinitely, again in a cool, dry place. You might see some of the alcohol evaporate over time, so keep the lids tightly closed.
FAQs
What's next
If you find this schema for understanding classic cocktails helpful, I would love if you would leave a comment and rating on this post. Pretty please!
Join in the 52 weeks of cocktails challenge on Instagram or Facebook.