This lemon apple curd recipe makes a silky smooth apple curd that's not too sweet and not too tart. Whether enjoyed straight from the fridge or freezer or used to fill a pastry shell, every bite is a mouthful of memories of rain boots and red-orange maples.
This apple curd follows in the footsteps of my blackberry curd tart but isn't quite as complex. And with only five ingredients (six if you count the pinch of salt), it's a non-fussy way to satisfy your apple cravings.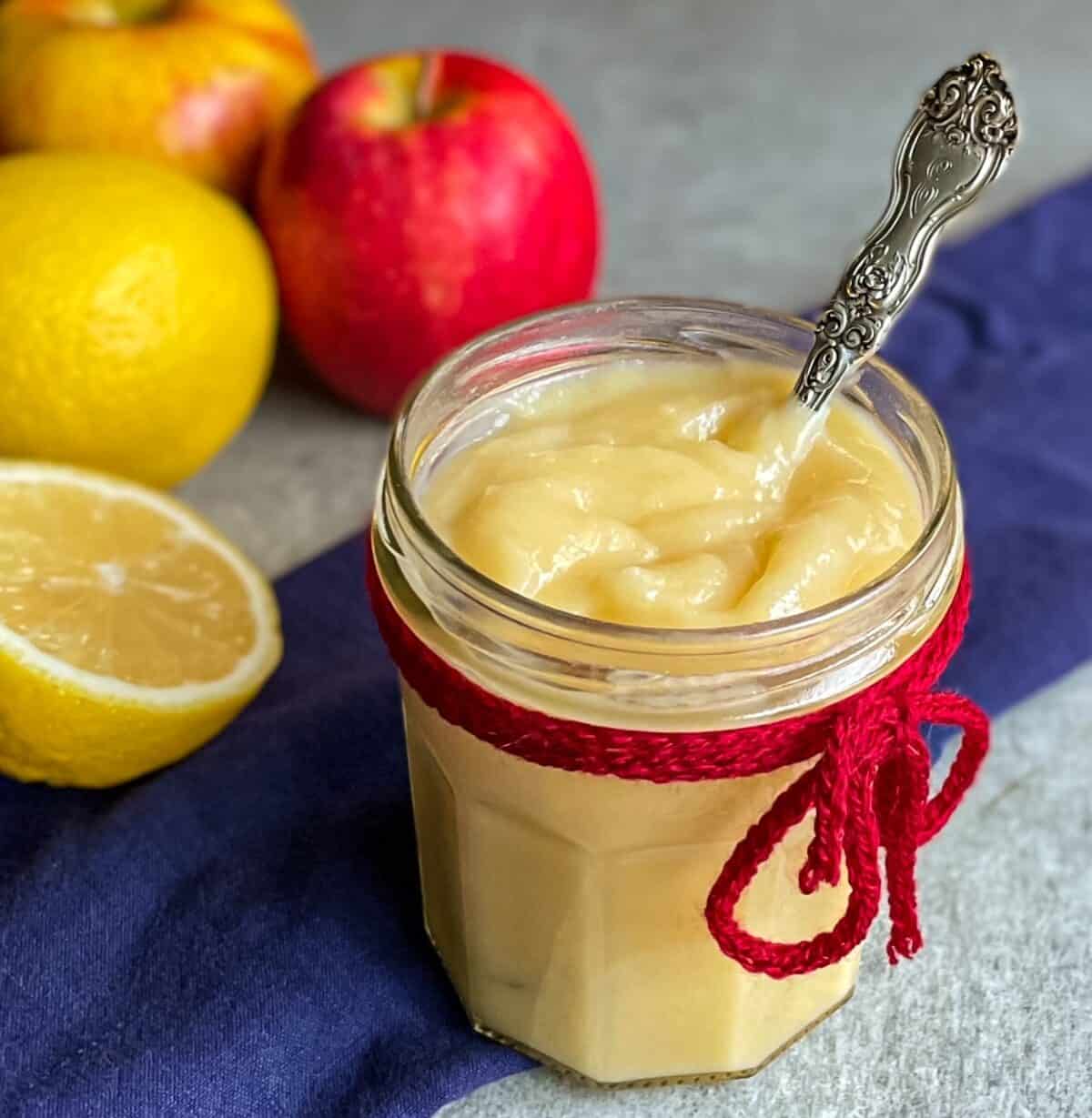 Jump to:
Ingredients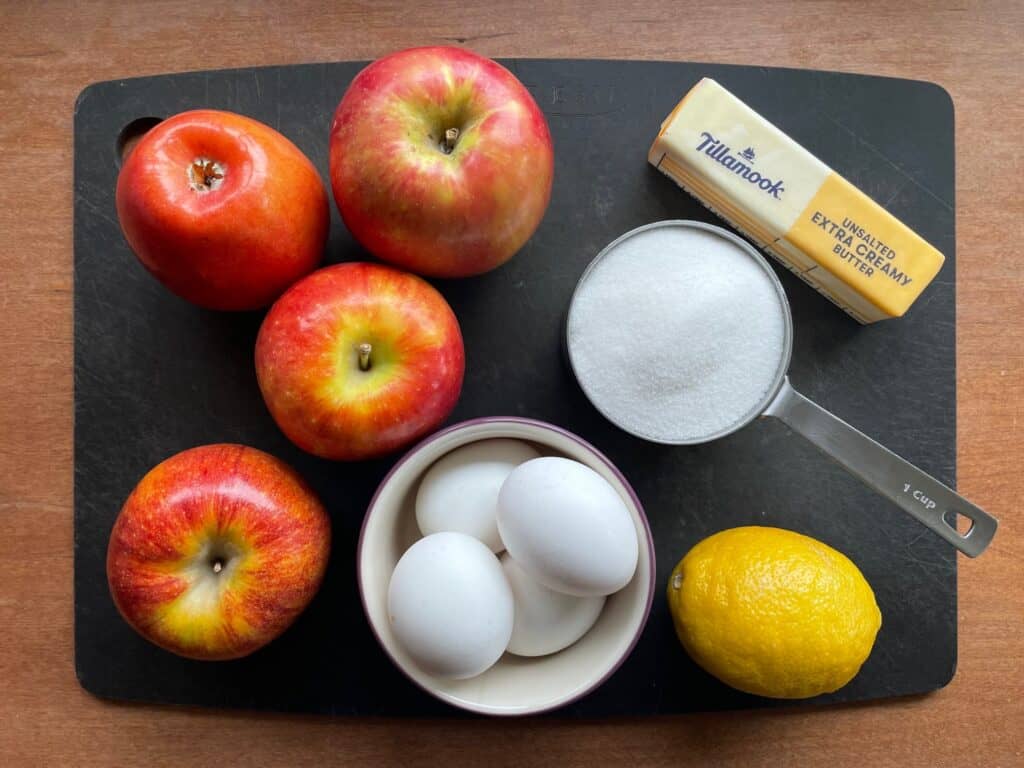 I promised a recipe with not too many ingredients. This is it: apples, lemon, sugar, butter, and eggs. Oh, and a pinch of salt is hiding with the sugar.
Which apples should you use for this apple curd? The pic has a mix of Envy, Honeycrisp, and Jazz apples, but you'll probably have access to different apples than I do in Washington. The best apples for this curd are sweet and juicy apples that break down when you cook them. Avoid firm and tart apples like Pink Lady or Granny Smith apples.
Variations and substitutions
Increase the amount of apple to one cup to decrease the tartness of the curd.
Use a teaspoon of apple pie spices like cinnamon, cloves, and allspice to make an apple pie curd.
Vary the flavors with other citrus.
Recipe tips and tricks
Preparing the apples
The first step in making this lemon apple curd is breaking down the apples. Peel, core, and roughly chop the apples. For a large batch of apple curd or if I'm making apple pie, I use this apple peeler, corer, and slicer.
Put the chopped apples in a small to medium-sized sauce pan with water to cover the bottom (Panel #1 below). Heat them gently until they are soft (Panel #2), and then purée them in a food processor or run them through a food mill (Panel #3). If you don't care if your curd is perfectly smooth, you can just mash the apples with a potato masher.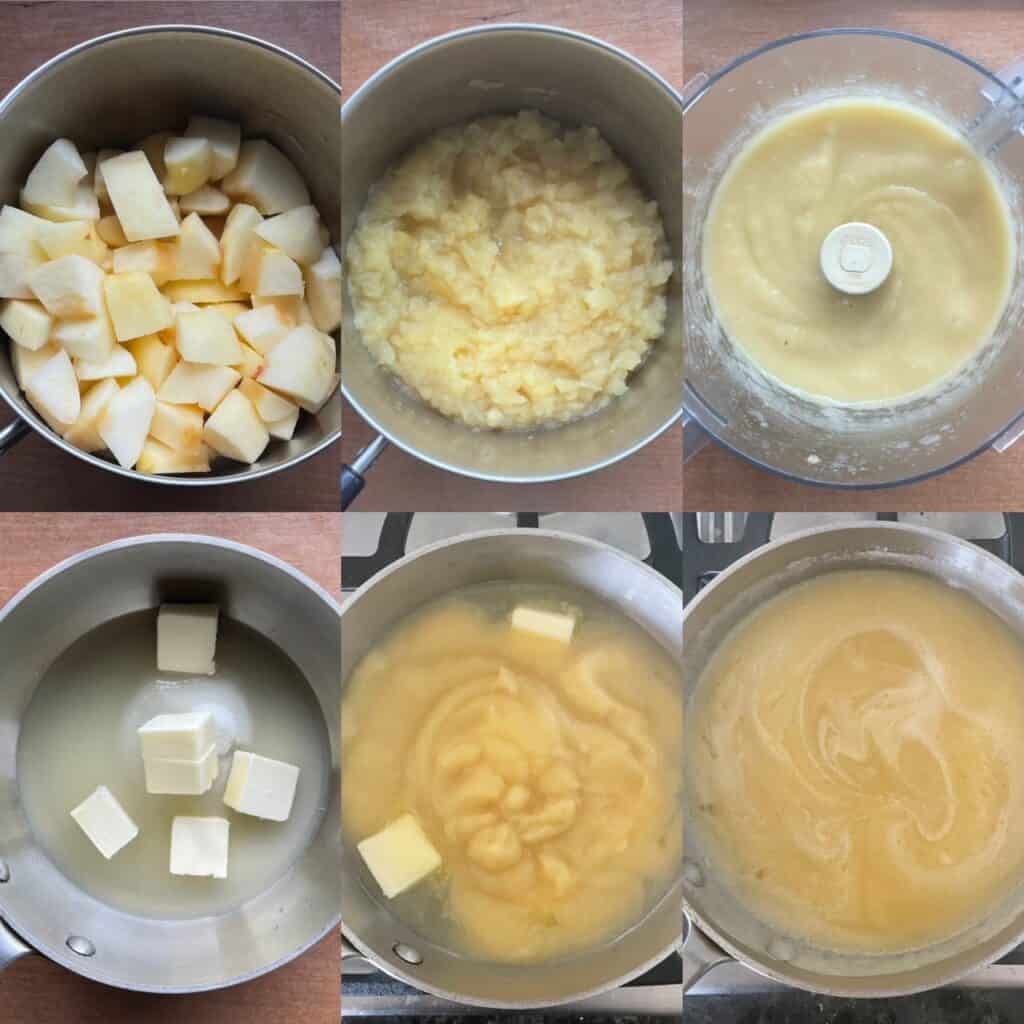 Put the sugar, salt, lemon juice, and butter cubes in a medium-sized pot (Panel #4 above). A saucier or other pot with sloped sides helps when you have to stir the apple curd. If you want to add cinnamon or other apple pie spices, add them here. Add the apple purée (Panel #5) and heat until the butter has melted (Panel #6).
Tempering the eggs
Tip from the wisequacker: this next step is the slightest bit tricky and the time to pay attention. We're going to "temper" eggs so they warm up slowly and don't scramble when added to the pot.
If you're unfamiliar, here's a great explanation of how to temper eggs. Basically, you take your warm melted butter, sugar, apple, and lemon mixture, and add a little bit at a time to your eggs, whisking constantly (see below). Keep drizzling in a little bit of the warm mixture into the eggs and keep whisking until the bowl with eggs is warm.
Once the eggs are warm, add the tempered eggs to the pot (always whisking) and return the pot to the heat. I switch to a silicone spatula, but you can keep using a whisk as long as it isn't metal. You're going to be stirring for a bit, and metal whisks can get warm.
Heat the lemon and apple curd mixture over low heat for 10 to 15 minutes, stirring constantly, until it thickens. The classic test for custard is whether the mixture thickly coats a spoon, and you can draw a line through it with your finger.
That 10 to 15 minutes is a guide, so keep stirring until you get to that thickly coating stage.
Straining and storing the curd
Remove the pot from heat and stir occasionally for a bit as the curd cools. Pass it through a strainer if you like, and pour the apple curd into a bowl or jar. Cover it with plastic wrap pushed down to the surface of the apple curd to prevent it from developing a skin, and let cool completely in the refrigerator.
Apple curd can be stored in the refrigerator for about one week. Or you can freeze this apple curd and eat it like ice cream!
How to serve apple curd
The simplest way to enjoy your apple curd is to eat it with a spoon, but here are some other ideas:
Use your apple curd as a topping for toast or English muffins.
Serve apple curd as part of a cheese board with an aged cheddar or other hard cheese.
Eat it with a scoop of ice cream or with yogurt and granola.
Use this lemon apple curd in an apple curd tart or as the base layer for a rainbow fruit tart.
Use it as a filling in cakes or in cookies like Linzer cookies or macarons.
Recipe FAQs
What's the difference between curd and custard?
Custard is a generic term for a mixture thickened with eggs. Curds are a subset of custards that prominently feature fruit juice or zest.
What are the best apples for baking?
It really depends on what you're making. If you're making my sourdough apple cake or apple muffins, you want firm apples that hold their shape. If you're making applesauce like my strawberry applesauce, you want apples that are sweet and break down quickly. And if you're making strawberry apple pie, you might want a combination of the two. To make this apple curd, you want a sweet and juicy apple like a Honeycrisp cross. Avoid firm, tart apples like Granny Smith apples unless you want a tart green apple curd.
Can I freeze this lemon apple curd?
Yes. You can keep it in the freezer for a few months before using it. Or you can eat the curd straight from the freezer like a frozen lemon apple custard!
What other fruit can be used to make fruit curd?
Lemon curd is the classic fruit curd. Citrus fruits definitely work well, like lime curd or orange curd. Or, if you made my pornstar martini or porn star martini mocktail, a passionfruit curd would be an excellent use of your leftover passionfruit puree.
Related recipes
Check out other sweet and savory Ugly Duckling Bakery apple recipes like:
Love this recipe? Please leave a 5-heart 💜💜💜💜💜 rating in the recipe card below. Let me know how much you loved it, or any problems you had, in the comments section further down.
Recipe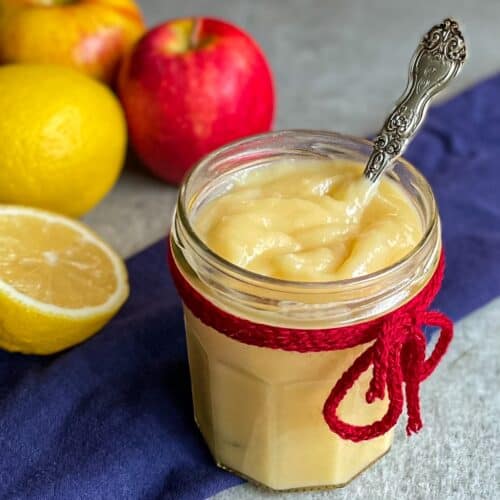 Pin Recipe
Lemon Apple Curd
This apple curd recipe makes a sweet and tart, silky smooth, lemon apple curd. It is delicious whether you enjoy it with a spoon straight out of the refrigerator or freezer, or use it to fill your tart shell.
Print Recipe
Equipment
Food processor or food mill
Ingredients
2

apples

1

egg

1

egg yolk

½

cup

(

100 grams or 3.5 ounces

) granulated sugar

¼

cup

lemon juice

from 1 to 2 lemons

4

tablespoons

(

57 grams or 2 ounces

) unsalted butter, cut into cubes

1

pinch

salt
Instructions
Core, peel, coarsely chop the apples, put them in a small to medium sized pot with a small amount of water to cover the bottom. Heat over medium low heat until the apples start to break down, about 15 minutes.

Blitz the softened apples in a food processor or run them through a food mill until smooth.

Add the egg and egg yolk to a small bowl and whisk until blended. Set aside.

Add the sugar, lemon juice, butter cubes, salt, and ¾ cup of the puréed apple to a medium sized pan, ideally one with sloping sides. Heat on medium-low heat until the butter has melted and then remove it from the heat.

½ cup (

100 grams or 3.5 ounces

) granulated sugar,

¼ cup lemon juice,

4 tablespoons (

57 grams or 2 ounces

) unsalted butter, cut into cubes,

1 pinch salt

Temper the eggs by spooning a little bit of the warm apple mixture into the eggs, whisking as the mixture is added. Keep spooning a little bit at a time, whisking constantly, until the eggs have warmed.

Now add the egg to the pot with the apple mixture, again whisking constantly.

Once all of the egg has been added, return the pot to medium-low heat, stirring constantly until the mixture has thickened. The classic test of doneness is when the custard coats the back of a spoon, and you can draw a line through the curd with your finger. This should take about 10 to 15 minutes but may take longer if you have the heat low. Do not let the apple curd come to a boil or start to steam. If it does, remove it from the heat until it cools slightly and turn down the heat on the stove top.

Once the lemon apple curd has thickened, turn off the heat and continue to stir for a minute or two until it cools slightly.

Pass the apple curd through a strainer if you like and pour it into a clean jar or bowl. Place plastic wrap over the surface of the apple curd so it doesn't form a skin and put it in the refrigerator to cool completely.
Notes
Homemade lemon apple curd can be stored in the refrigerator for a couple weeks.
The only tricky part in this recipe comes when you temper the eggs. Be sure to add only a little bit of the pureed apple mixture to the eggs at a time, or you'll have scrambled eggs!
Once the eggs are warmed, add that whole mixture back into the pot and stir until the apple curd has thickened. It may take 10 to 15 minutes, or it may take a bit longer if you're being cautious.
Nutrition
Serving:
1
tablespoon
|
Calories:
56
kcal
|
Carbohydrates:
8
g
|
Protein:
1
g
|
Fat:
3
g
|
Saturated Fat:
2
g
|
Polyunsaturated Fat:
1
g
|
Monounsaturated Fat:
1
g
|
Trans Fat:
1
g
|
Cholesterol:
24
mg
|
Sodium:
6
mg
|
Potassium:
27
mg
|
Fiber:
1
g
|
Sugar:
7
g
|
Vitamin A:
105
IU
|
Vitamin C:
2
mg
|
Calcium:
4
mg
|
Iron:
1
mg
This lemon apple curd recipe was first posted February 17, 2022. It was last updated May 16, 2023.
Looking for inspiration?
Sign up to get recipes full of kitchen tips and tricks.