Gin Espresso Martini Recipe
This gin espresso martini combines gin, espresso, and coffee liqueur to give you a cocktail that's also a pick-me-up. If you're a fan of both espresso and cocktails, then an espresso martini with gin is a cocktail you need to try.
The gin espresso martini is a variation on the classic recipe made with gin instead of vodka. And it's the coffee counterpart to "The Lady Bridgerton" Empress gin cocktail, which combines Empress 1908 gin and Earl Grey tea. Whether you're looking for a signature cocktail to impress your friends or want to enjoy a complex cocktail while curled up with a good book, an espresso martini with gin is worth a try.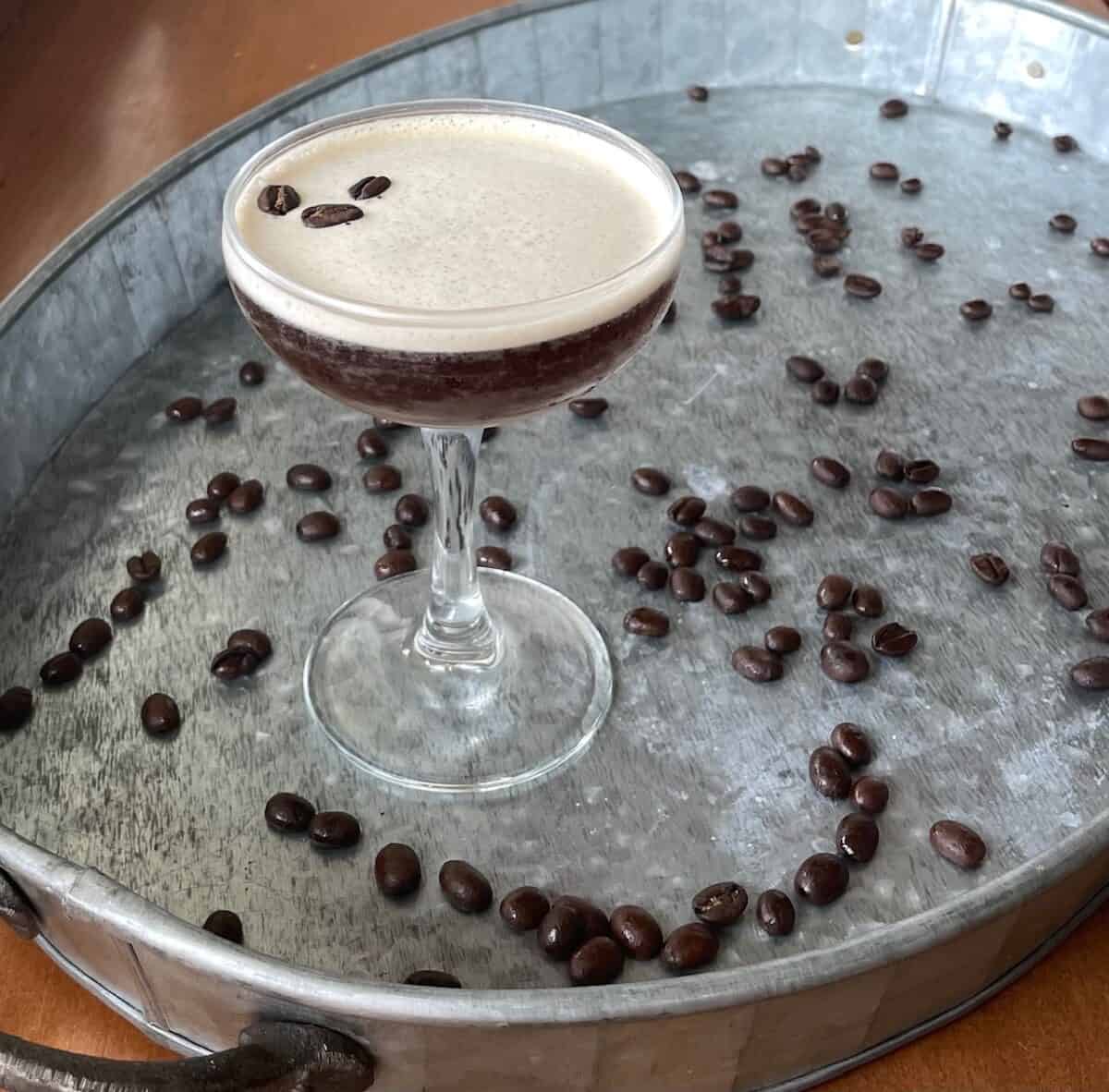 Jump to:
Why you'll love this recipe
It's a coffee cocktail – what more could you ask for?
Recipe adaptation
The espresso martini is a modern cocktail generally believed to have been created by Dick Bradsell, who also created the bramble. You can read more about him in this tribute to Dick Bradsell.
The classic espresso martini recipe is a combination of vodka, espresso, coffee liqueur, and simple syrup garnished with three espresso beans. This espresso martini uses gin in place of vodka, eliminates the simple syrup to make it less sweet, and adds chocolate bitters to round out the cocktail.
Ingredients
Gin
You will want a dry gin here, so that strong botanical flavors don't clash with the coffee. This is a great primer on gin.
Espresso
"They say" that only a freshly pulled espresso shot will do. I'm here to give you permission to make your cocktail with instant coffee or instant espresso.
You can find instant in most grocery stores. If it's all you have, I'll even say you can use regular brewed coffee, as long as it's strong! But please use a fresh shot of brewed espresso if you're lucky enough to have an espresso machine at home.
Coffee Liqueur
Kahlua is probably the coffee liqueur you first think of, and that's not surprising since Kahlua has been made for nearly 100 years. The photo below has Tia Maria (left) and Kahlua (right).
These two coffee liqueurs have the exact same percent of alcohol by volume. Tia Maria tastes sweeter but with a stronger taste of alcohol. The Kahlua is darker and has a stronger coffee taste.
These aren't the only coffee liqueurs out there. I recommend trying Mr. Black coffee liqueur if you can find it.
Variations and substitutions
Make the traditional recipe using vodka.
Use rum for a rum espresso martini.
Or sub out the kahlua for Frangelico and make a hazelnut espresso martini.
What to serve with this cocktail
There's nothing wrong with drinking your cocktail as a dessert on its own. If you're looking for a sweet treat, make a rich, dark brownie. Or double on coffee with my tiramisu cake or coffee and walnut loaf cake.
Recipe technique: the dry shake
To get a frothy cocktail with the crema of an espresso shot, you need to shake longer than normal, about 20 to 30 seconds. But if you do that with ice, it dilutes your drink. So you need to do a dry shake.
The dry shake is what makes the foam and froth in cocktails with egg whites like this blackberry vodka sour or Aperol sour. To do a regular dry shake, you put your cocktail ingredients in your shaker without ice. For best results, shake hard for 20 to 30 seconds. Then add about a half cup of ice cubes, and shake again to chill.
Shaking hot liquid sounds dangerous, so you'll want to cool it quickly. That's why you want to do a reverse shake. First, shake your ingredients briefly with ice to cool your espresso. Discard the ice and then do a hard dry shake to make your gin espresso martini all frothy and foamy.
So do the dry shake. That's what makes this the best gin espresso martini!
Tip from the wise quacker: shaking your ingredients hard and without ice will give you a foam and froth without diluting it.
Cocktail FAQs
Is it "expresso" or "espresso"?
Merriam-Webster surprisingly says that both are acceptable pronunciations.
What's your favorite espresso bean?
We drink the Espresso Roast from Blue Star Coffee Roasters which is based in Twisp, Washington in the beautiful Methow Valley.
How should I store my coffee liqueur?
Store pen bottles of liqueur in a cool, dark place. They're best drunk within 6 to 12 months. They won't go bad, but your coffee liqueur may lose potency over time, just like those dried herbs in your spice cabinet.
Related recipes
Check out other uglyducklingbakery beverages including:
Love gin cocktails? Try these:
Love cocktails and want to explore more? Read all about classic cocktails and bartender basics or join this year's 52 weeks of cocktails challenge!
Love this recipe? Please leave a 5-heart 💜💜💜💜💜 rating in the recipe card below. Let me know how much you loved it, or any problems you had, in the comments section further down.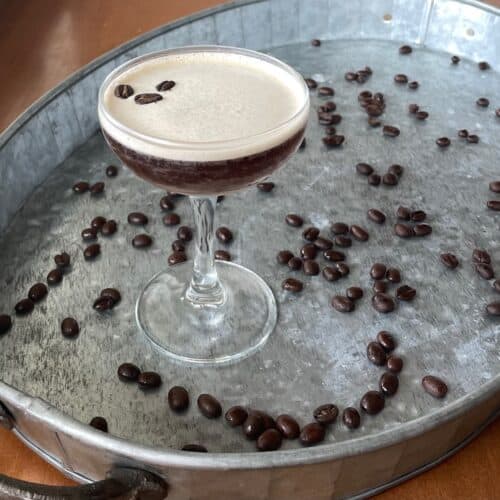 Pin Recipe
Gin Espresso Martini
This gin espresso martini combines gin, espresso, and coffee liqueur to give you a cocktail that's also a pick-me-up. It's a variation on the classic creamy espresso martini with gin instead of vodka.
Print Recipe
Ingredients
1

ounce

strong espresso

slightly cooled to avoid burns

1

ounce

Tanqueray or other dry gin

1

ounce

Kahlua or other coffee liqueur

2

dashes

chocolate bitters, optional

3

coffee beans, for garnish
Instructions
Make the espresso with instant coffee or brew a strong cup per your espresso maker. Let it cool slightly.

Combine the gin, espresso, coffee liqueur and bitters, if using, into a cocktail shaker packed with ice and shake for 10 seconds to chill. Strain out the ice and shake hard for about 30 seconds to create your foam.

1 ounce strong espresso,

1 ounce Tanqueray or other dry gin,

1 ounce Kahlua or other coffee liqueur,

2 dashes chocolate bitters, optional

Strain into a martini or coupe glass and garnish with three coffee beans

3 coffee beans, for garnish
Notes
I love the flavor of coffee, so if you are making this gin espresso martini with instant coffee, I would use twice the amount of espresso powder per ounce. Or brew a strong cup of espresso.
The purpose of the reverse dry shake is to get a foam that reminds you of your favorite espresso drink but without diluting it.
Variation #1: While this recipe is for an espresso martini with gin, you can make your cocktail with an equal amount of vodka.
Variation #2: Make a creamy espresso martini with a bit of Baileys.
Nutrition
Calories:
175
kcal
|
Carbohydrates:
15
g
|
Protein:
1
g
|
Fat:
1
g
|
Saturated Fat:
1
g
|
Polyunsaturated Fat:
1
g
|
Sodium:
7
mg
|
Potassium:
33
mg
|
Sugar:
14
g
|
Vitamin C:
1
mg
|
Calcium:
1
mg
|
Iron:
1
mg
This gin espresso martini recipe was first posted August 20, 2021. It was last updated April 6, 2023.
Looking for inspiration?
Sign up to get recipes full of kitchen tips and tricks.