This rose syrup French 75 is a festive variation of a classic cocktail made with Empress gin for color and rose syrup for floral flavor. It's a variation on the classic French 75 recipe that includes gin, lemon juice, and simple syrup topped with bubbly.
The classic French 75 is made with Champagne, a sparkling wine from a specific region in France. But you should feel free to substitute any dry sparkling wine.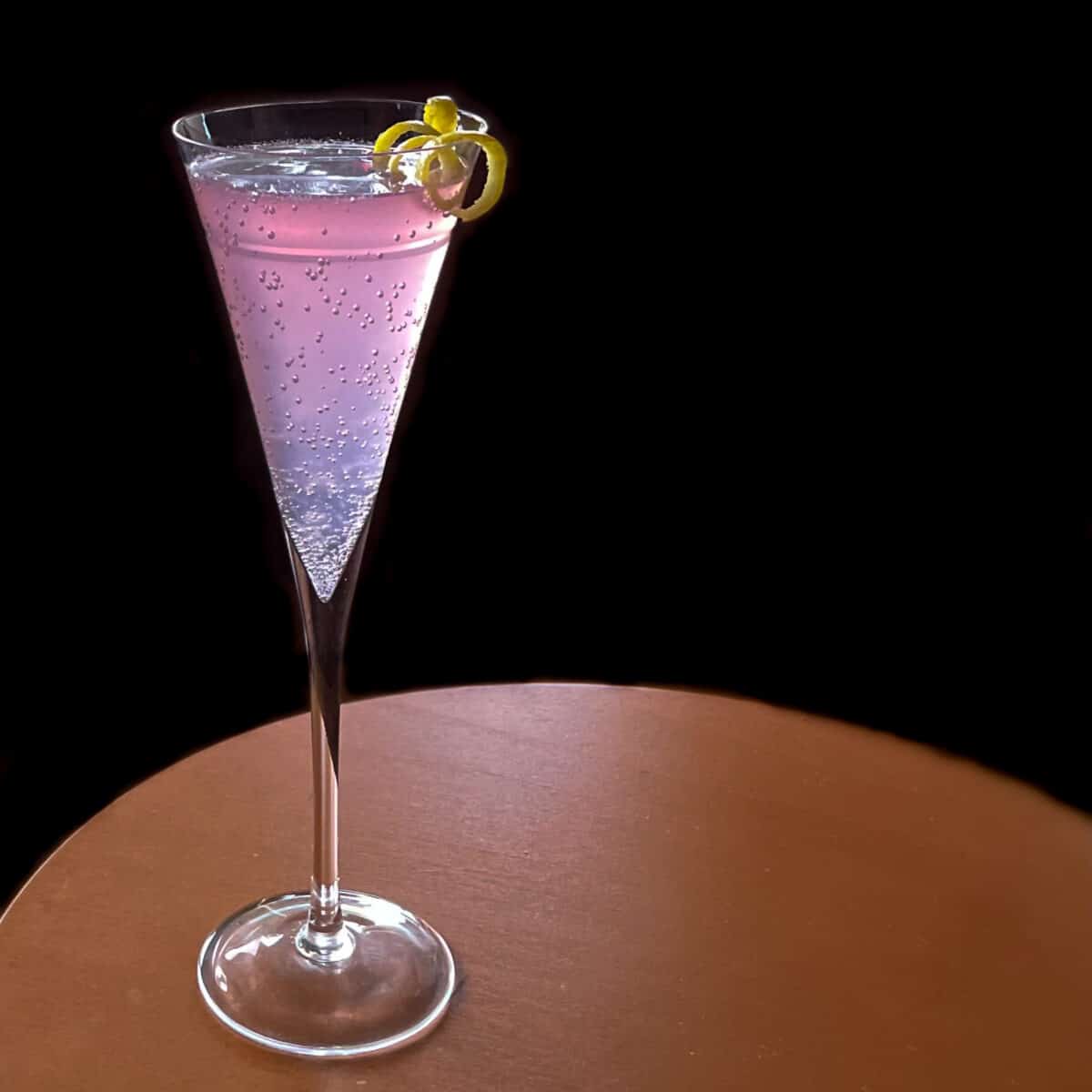 Enjoy this rose syrup French 75 during the holidays or any time that calls for celebration. The French 75 is also a great cocktail to pair with spicy foods.
Jump to:
Backstory
I bought a bottle of rose syrup in order to make burfi for the reddit 52 weeks of baking challenge (Week 44: Diwali). But I could see a cocktail in that rose syrup's future.
Tips and tricks
About simple syrups
Simple syrups are really easy to make and let you vary your cocktails in an infinite number of ways. Start with equal amounts of sugar and water and then pick your flavor!
I bought this 1883 Routin rose syrup. But it also possible to use dried rose petals to make your own rose syrup for this gin and rose syrup cocktail. Like all simple syrups, it will keep in the refrigerator for a few weeks.
How to open sparkling wine
Whether your bubbly is an expensive French Champagne, an Italian prosecco, or an everyday brut, everyone should know how to open sparkling wine without making a mess.
Step 1: find a place to open your bubbly that isn't going to take out an eye or break some glass if the cork escapes you.
Step 2: remove the foil wrapping around the cork and wire cage.
Step 3: put your hand on top of the bottle and carefully untwist and remove the wire cage.
Step 4: now put your hand on the cork and hold it firmly. Slowly and gently rotate the bottle until the cork quietly pops out.
Variations and substitutions
Sub in another simple syrup, like this blackberry simple syrup.
Increase the rose syrup to a full ounce for greater floral flavor.
Sub elderflower liqueur or another liqueur in place of the simple syrup.
Sub a dry gin in place of the Empress.
Cocktail FAQs
What are some other uses for rose syrup?
You could sub rose syrup for other simple syrups in most other cocktails. Rose milk, simply rose-flavored milk, is another common use for rose syrup. Use it in a rose buttercream. Or maybe some strawberry-rose jam.
How long will bubbly stay bubbly in the refrigerator?
Open sparkling wine will lose carbonation over time. So it's best enjoyed immediately, but it will keep some carbonation over a few days.
Related cocktail recipes
Check out other Ugly Duckling Bakery adult beverages like the dry martini, Pornstar martini, gin espresso martini or creamy espresso martini, cherry almond cocktail, or this cranberry Negroni.
Love cocktails and want to explore more? Read all about classic cocktails and bartender basics or join this year's 52 weeks of cocktails challenge!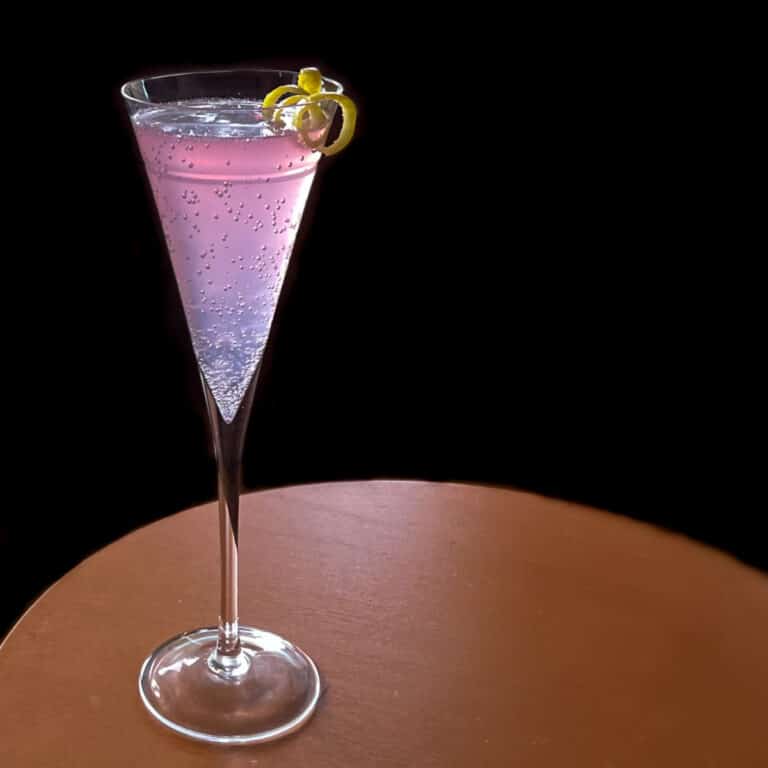 Pin Recipe
Rose Syrup French 75
This rose syrup French 75 is a well-balanced gin cocktail that's festive and floral but not too sweet.
Print Recipe
Ingredients
1

ounce

floral gin

use Empress 1908 for the purple color

0.5

ounce

lemon juice

0.5

ounce

rose syrup

4

ounces

sparkling wine

lemon twist
Instructions
Fill a cocktail shaker with ice and add the gin, lemon juice, and rose syrup.

1 ounce floral gin,

0.5 ounce lemon juice,

0.5 ounce rose syrup

Shake and strain into a champagne flute.

Top with the sparkling wine, and garnish with the lemon twist.

4 ounces sparkling wine,

lemon twist
Notes
If you would like a stronger floral flavor, increase the rose syrup to 1 ounce.
There are an infinite number of French 75 variations. If you don't have or don't like rose syrup, feel free to substitute a lavender simple syrup if you still want a floral cocktail. Or you can also sub an elderflower liqueur like St. Germain.
The classic French 75 is made with Champagne, a sparkling wine from a specific region in France. But you should feel free to substitute any dry sparkling wine in this cocktail.
Nutrition
Calories:
162
kcal
|
Carbohydrates:
13
g
|
Protein:
1
g
|
Fat:
1
g
|
Saturated Fat:
1
g
|
Sodium:
17
mg
|
Potassium:
124
mg
|
Fiber:
1
g
|
Sugar:
12
g
|
Vitamin A:
1
IU
|
Vitamin C:
5
mg
|
Calcium:
13
mg
|
Iron:
1
mg
Looking for inspiration?
Sign up to get recipes full of kitchen tips and tricks.
Previous challenges:
Week 1: New Year new recipe – blueberry galette
Week 2: seasonal – Smitten Kitchen's grapefruit pound cake
Week 3: Great British Bake Off – Kate's sticky toffee apple caramel cake
Week 4: Australia – sausage rolls
Week 5: bite sized – bite-sized cookies
Week 6: Chinese New Year – mushroom bao
Week 7: new tool – baguette baker
Week 8: chocolate – chocolate peanut butter bonbons
Week 9: timed bake – under 1 hour! chocolate chip scones
Week 10: allergy/diet restriction – macarons
Week 11: quick breads – kale bread
Week 12: signature bake – purple cow bread
Week 13: enriched breads (kale and cheese babka fail)
Week 14: childhood favorite –fudgy triple layer chocolate cake with chocolate ganache frosting
Week 15: decorating challenge – purple velvet cake
Week 16: crispy crunchy – bacon cheddar popcorn
Week 17: p52 of a favorite cookbook, or your favorite blog – chocolate peanut butter drip cake
Week 18: pâte à choux – bacon cheese puffs
Week 19: veggies turned sweet – red velvet beet waffles
Week 20: plating – mini chocolate chip cookies
Week 21: Birthday Party! – chocolate orange cake
Weed 22: Scandinavian – Swedish apple cake v sourdough apple cake
Week 23: Layers – Pecan apple oat bars (post is pending)
Week 24: Tarts – rainbow fruit tart
Week 25: Bagels and donuts – maple donut cake
Week 26: Surprise inside – surprise heart yeast bread (pending)
Week 27: Local favorite – Rainier cherry crisp
Week 28: Seasonal ingredients – blackberry lemon bread
Week 29: French dessert – peanut butter banana clafoutis (a classic with non-classic flavors!)
Week 30: Savory baking – Ooni pizza dough recipe
Week 31: Unusual ingredient – juniper lime drizzle cake
Week 32: Gelatin (homemade marshmallows) and 33: Picnic – peanut butter Rice Krispie treats
Week 34: Brunch – spinach and feta muffins
Week 35: Laminated dough – puff pastry cinnamon twists
Week 36: Friendship challenge – chocolate chip marshmallow cookie bars
Week 37: Sweet and salty – salted caramel chip chocolate cookies
Week 38: Decoration challenge – royal icing
Week 39: Buns and biscuits – challah buns
Week 40: West Indies – mini banana muffins with coconut
Week 41: Pantry challenge – chocolate chip pound cake
Week 42: Celebrity or tread – ube crinkle cookies
Week 43: No oven – salted caramel pudding
Next week: Fairy tale or novel