Perfect Brandy Manhattan Recipe
This Perfect Brandy Manhattan recipe is a variation of one the most classic cocktails. It combines the rich and smooth taste of brandy with both sweet and dry vermouths for a "perfect" brandy cocktail.
There are few rights and wrongs when it comes to what you like in food and drink. You might like a traditional Manhattan. You might like it dry, like in this Peanut Butter Whiskey Manhattan. But I promise, once you try a Manhattan with brandy, you'll love this Perfect Brandy Manhattan.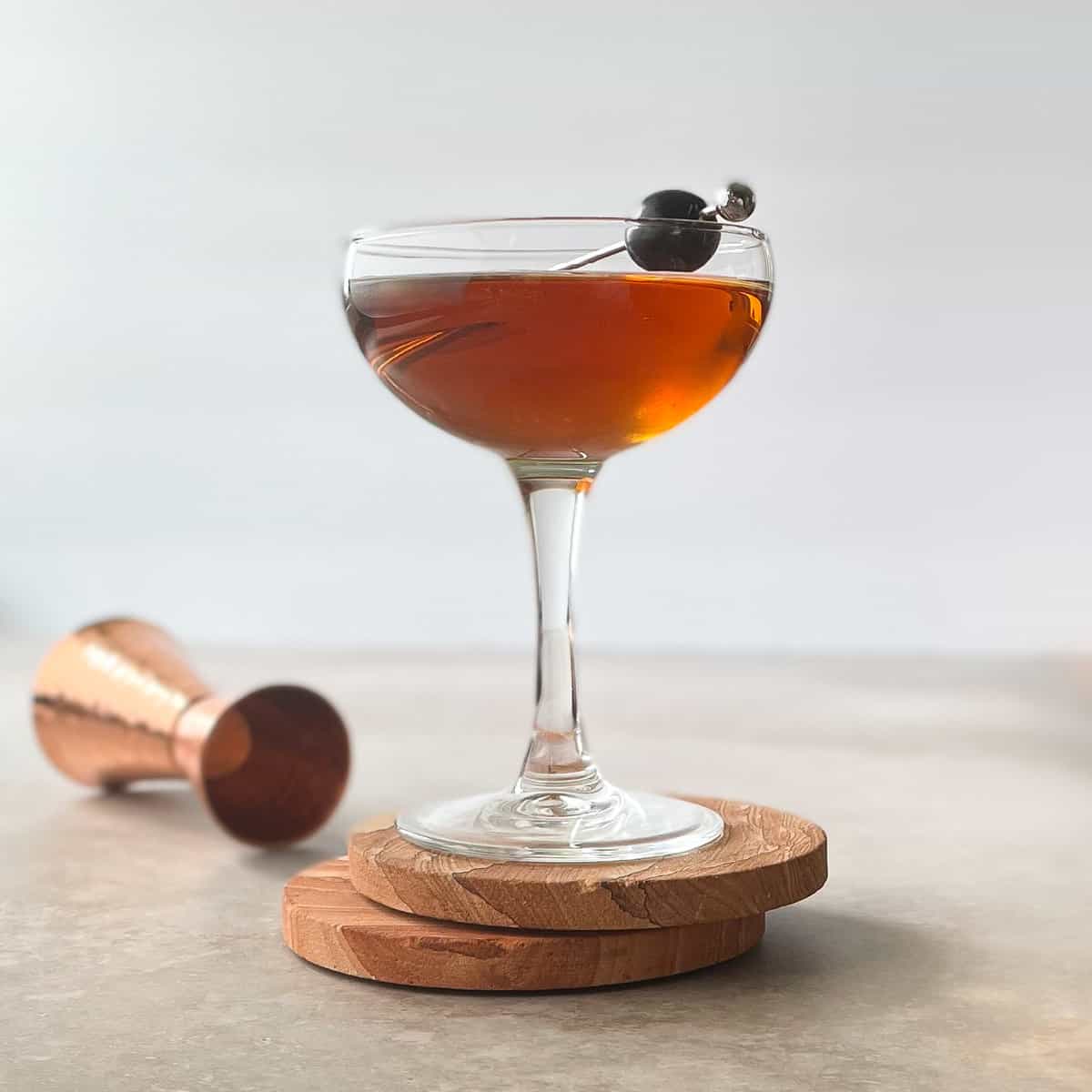 Jump to:
Why you'll love this recipe
Smooth and balanced flavor.
Easy to make in only 10 minutes.
Ingredients
Brandy
Brandy is a distilled liquor made from grapes or other fruit like apples (e.g. Calvados) or cherries. Armagnac, grappa, and pisco are all brandies.
Cognacs like Courvoisier are a category of brandy made from specific grape varietals in Charente and Charente-Maritime in France. Like with champagne, a brandy can only be called Cognac if it is made in this specific region.
Other brandy classifications vary based on how long it ages. It's unfortunately a bit complicated as the classification differs for each kind of brandy.
Vermouth
Vermouth is a fortified wine. The classic Manhattan uses red or sweet vermouth. Dry vermouth is what's in a classic martini. The absence of vermouth makes cocktails like an espresso martini and the pornstar martini not true martinis.
The classic Manhattan contains 2 ounces of rye or bourbon whiskey, 1 ounce of sweet vermouth, and a dash of bitters. It's garnished with a maraschino cherry. In a "dry" Manhattan, 1 ounce of dry vermouth replaces the sweet vermouth. Finally, a "perfect" Manhattan is in between with a half ounce of sweet and a half ounce of dry vermouth.
Variations and substitutions
Play with different brandies and compare to see how the taste of your Manhattan varies.
Try orange bitters or another type of bitters to see how the cocktail changes.
Recipe tips and tricks
Do a taste test
The pic below shows, from left to right, a Dry Brandy Manhattan, Perfect Brandy Manhattan, and the classic. They are different colors because the sweet vermouth is a red-brown color. Because brandy is typically sweeter than whiskey, I would encourage you to do the same taste test to see which you prefer.
Shaken or stirred
Tip from the wise quacker: the general rule of thumb is that you should shake cocktails with juice and stir cocktails that are all alcohol.
To make your Manhattan, fill a cocktail shaker with about a half cup of ice. Add the brandy, vermouth, and Angostura bitters and stir for about 20 to 30 seconds. Strain into a chilled coupe or martini glass and garnish with a maraschino or Luxardo cherry.
Cocktail FAQs
What's the difference between a Manhattan vs. Old Fashioned?
An Old Fashioned has sugar or a simple syrup as a sweetener. In the classic Manhattan, sweet vermouth replaces the sugar.
What other cocktails are made with brandy?
If you're a brandy lover, the sidecar and the Brandy Alexander are two of the most popular brandy cocktails.
How should I store open bottles of vermouth?
Vermouth is wine, and fortified wines will last longer than other open bottles of wine. If you keep your vermouth in the refrigerator, it will still be delicious for one to months after opening.
Related cocktail recipes
Check out other fabulous uglyducklingbakery mixed drink recipes like:
Love cocktails and want to explore more? Read all about classic cocktails and bartender basics or join this year's 52 weeks of cocktails challenge!
Love this recipe? Please leave a 5-heart 💜💜💜💜💜 rating in the recipe card below. Let me know how much you loved it, or any problems you had, in the comments section further down.
Recipe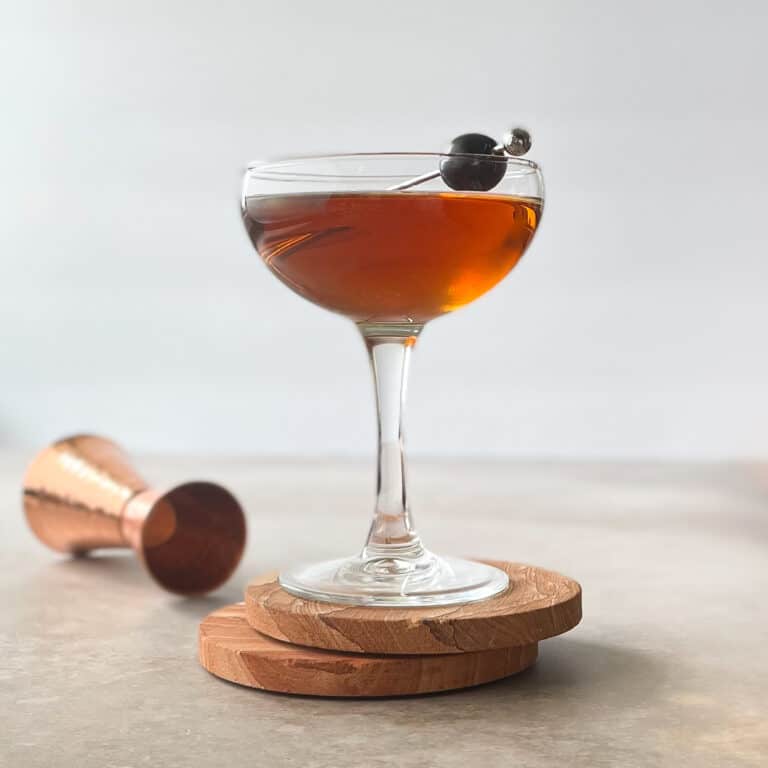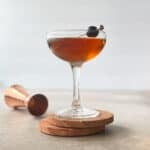 Pin Recipe
Perfect Brandy Manhattan Recipe
Equal amounts of sweet vermouth and dry vermouth make this brandy manhattan recipe a "perfect" variation of a classic cocktail.
Print Recipe
Ingredients
2

ounces

brandy

½

ounce

dry vermouth

½

ounce

sweet vermouth

1

dash

Angostura bitters

maraschino cherry

for garnish
Instructions
Fill a cocktail shaker with ice.

Add the brandy, the dry vermouth and sweet vermouth, and dash of bitters and stir for 20 to 30 seconds.

2 ounces brandy,

½ ounce dry vermouth,

½ ounce sweet vermouth,

1 dash Angostura bitters

Strain into a coupe or martini glass and garnish with the cocktail cherry.
Notes
The nutritional information reflects that the US Food and Drug Administration considers 1.5 ounces of liquor to be a single serving.
The teaching is that cocktails made with only liquor should be stirred with ice, and cocktails with fruit juices should be shaken.
This recipe makes a Perfect Brandy Manhattan, which has an equal amount of sweet vermouth and dry vermouth. For a classic Brandy Manhattan, omit the dry vermouth and use one full ounce of sweet vermouth. Or make both, and see which you prefer!
Nutrition
Calories:
83
kcal
|
Carbohydrates:
2
g
|
Protein:
1
g
|
Fat:
1
g
|
Sodium:
1
mg
|
Potassium:
1
mg
|
Fiber:
1
g
|
Sugar:
1
g
|
Vitamin A:
1
IU
|
Calcium:
1
mg
|
Iron:
1
mg
This Perfect Brandy Manhattan recipe was first posted on October 21, 2021. It was last updated on April 8, 2023.
Looking for inspiration?
Sign up to get recipes full of kitchen tips and tricks.