The Aperol Negroni is your gateway to the fabulous world of Negroni variations. With Aperol in the spotlight, this Negroni is less bitter than the classic, lighter, and even more refreshing and delectable.
Serve this Aperol Negroni as an aperitivo as you sit on your patio, reading a book or chatting with friends. From the first sip, the citrus and herb flavor of this orange-hued cocktail will transport you to sun-kissed terraces overlooking picturesque Italian landscapes.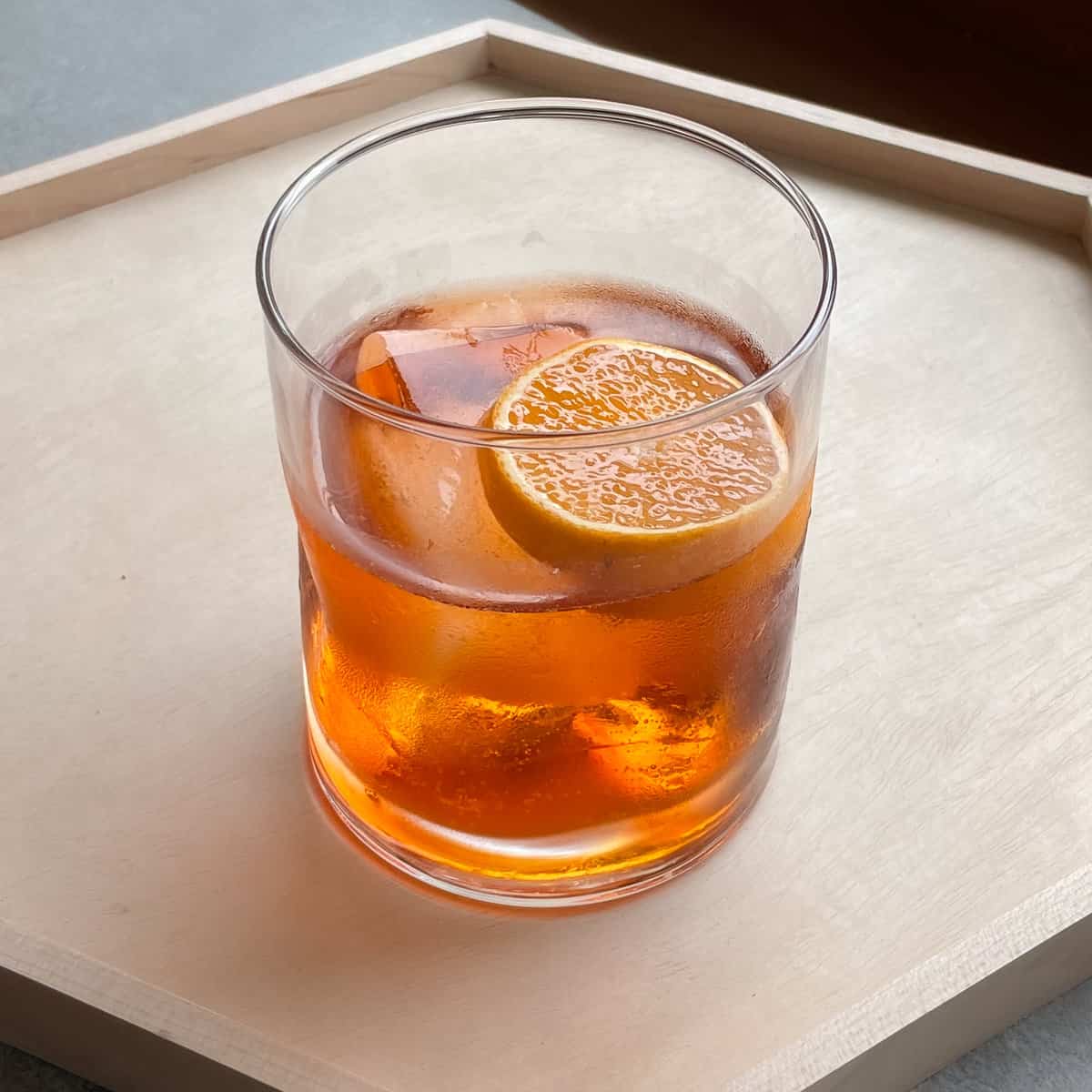 Jump to:
Ingredients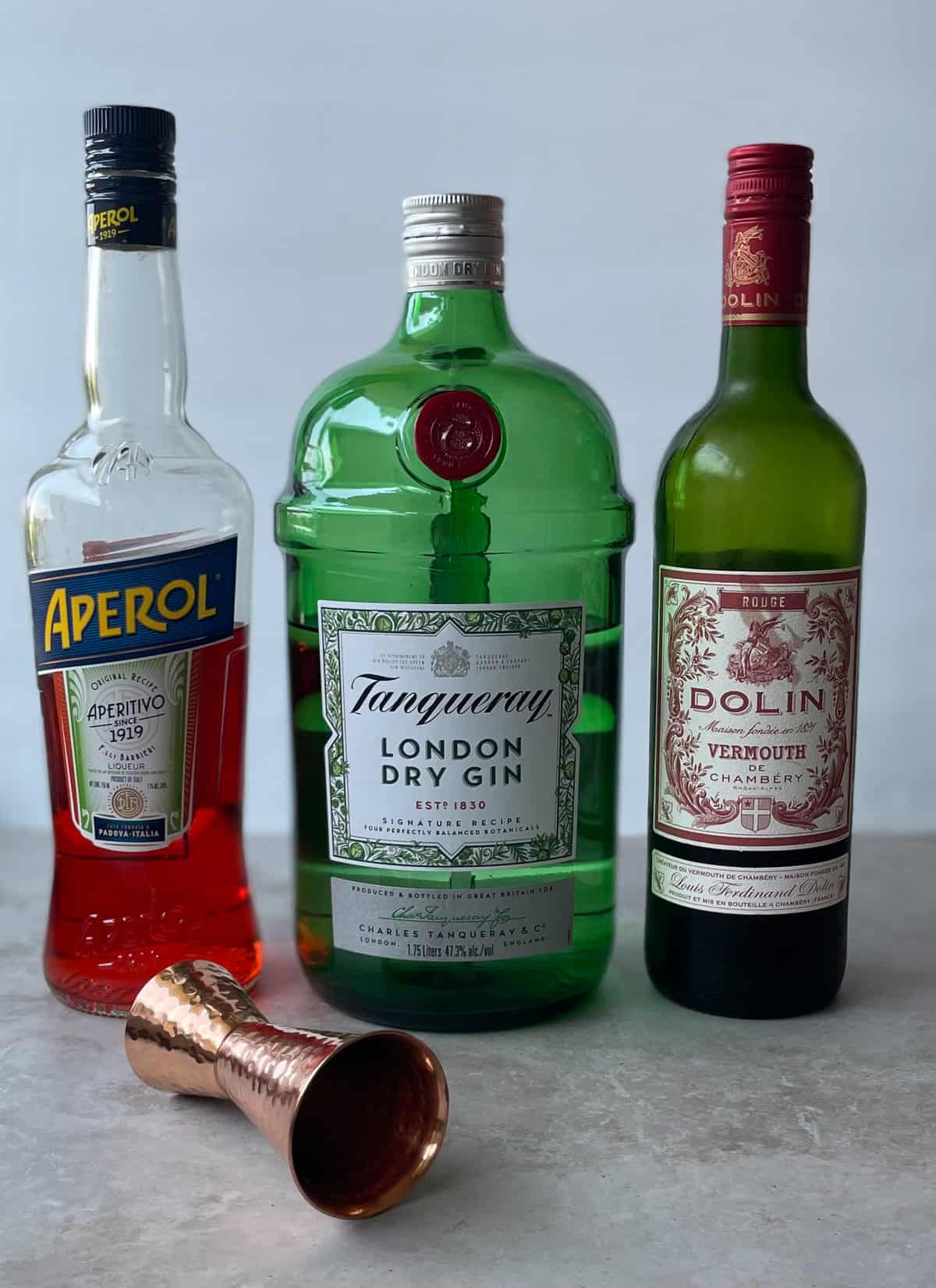 Aperol vs. Campari
Italian aperitivos are intended to be pre-dinner drinks that stimulate the appetite. Aperol and Campari are both amaro, which means "bitter" in Italian. Aperol is slightly sweet and one of the least bitter amari (the plural of amaro). It's a lighter amaro than Campari, coming in at 11% alcohol by volume compared to Campari's 24% (48 proof).
Sweet vermouth vs. dry vermouth
Vermouth is a fortified wine typically labeled as dry (white) or sweet (rosso). Dry vermouth originates from France and is, as you would expect, less sweet. You may also be able to find a sweeter white vermouth labeled blanc or bianco.
Sweet vermouth has a higher amount of residual sugar and has a spicy or peppery flavor. But as with any wine, vermouth flavors do vary. Drink the one you like!
Best gin for Negronis
Most classic Negroni recipes call for a London dry gin. I'm a huge fan of Tanqueray, but I also recommend Beefeater or Bombay Sapphire. These are juniper-forward gins with fewer distracting botanicals.
Ice
You may not think of cocktail ice as a critical ingredient, but it is. The type of ice in your cocktail can do different things in a drink made for sipping, like this Aperol Negroni, versus a drink that's made to chill you quickly on a hot day.
For highball cocktails like this blue mojito, you want crushed ice or small ice cubes with large amounts of surface area to melt quickly. However, to really enjoy an aperitif like this Aperol Negroni, you want large ice cubes that melt slowly, allowing you to enjoy your cocktail without guzzling it down.
Please see the recipe card below for complete information on ingredients and quantities.
Variations and substitutions
Substitute dry vermouth in place of the sweet vermouth to make a Contessa.
Use Campari instead of Aperol in the same ratios for a classic Negroni.
Use cynar for a Cynar Negroni or any of the amari that fall in between!
Try other Negroni variations like this cranberry Negroni or the Negroni spritz.
About the Negroni
The classic Negroni is said to have been created in the late 1800s in Italy. But the Negroni has skyrocketed in popularity over the last few years due to Stanley Tucci. Who wouldn't want a cocktail made by that man?
Recipe tips and tricks
Making the cocktail
Add the Aperol, gin, and vermouth to your cocktail shaker with a handful of ice. Stir for 30 seconds, then strain into a lowball glass with ice and garnish with the orange slice or dehydrated orange slices.
Tip from the wise quacker: The general teaching is that cocktails with citrus juices should be shaken, but cocktails with only alcohols should be stirred.
Aperol Negroni taste test
When you don't know your preference, there's nothing better than comparing drinks to figure it out! You can do taste tests with this Aperol Negroni like for my brandy manhattan and peanut butter manhattan.
You'll make three Aperol Negronis. Make one with sweet vermouth like in this recipe. Make one with an ounce of dry vermouth. And make one with a half ounce of the two. If you do this comparison, please leave a comment to let me know which you prefer!
Recipe FAQs
Where can I buy large ice cube trays?
I bought mine in the grocery store, but you can buy them on Amazon as either cubes or spheres.
What can I substitute for Aperol in this recipe?
Feel free to substitute Campari or any other amaro in equal proportions in this Negroni.
What else can I make with Aperol?
The quintessential Aperol cocktail is the Aperol spritz, but I'd suggest trying one of these Aperol sours or an Aperol and soda.
Related cocktail recipes
Make other Ugly Duckling Bakery gin cocktails like:
Love cocktails and want to explore more? Read all about classic cocktails and bartender basics or join this year's 52 weeks of cocktails challenge!
Love this recipe? Please leave a 5-heart 💜💜💜💜💜 rating in the recipe card below. Let me know how much you loved it, or any problems you had, in the comments section further down.
Recipe
Pin Recipe
Aperol Negroni
This Aperol Negroni takes the classics Negroni recipe and substitutes Aperol for Campari. It's a Negroni variation that's less bitter than the classic, but still refreshing and delicious.
Print Recipe
Ingredients
1

ounce

(30 milliliters)

Tanqueray or other dry gin

1

ounce

(30 milliliters)

Aperol

1

ounce

(30 milliliters)

sweet vermouth

orange slice

for garnish
Instructions
Add the Aperol, gin, and vermouth to the shaker with a handful of ice and stir.

1 ounce

(30 milliliters)

Tanqueray or other dry gin, 1 ounce

(30 milliliters)

Aperol, 1 ounce

(30 milliliters)

sweet vermouth

Strain into a lowball glass with a rocks ice and garnish with the orange slice.
Notes
This Aperol Negroni is made with a London dry gin, juniper-forward gins with fewer botanicals. Some examples of dry gins are Tanquerary or Beefeater. You can play with other gins if you like!
Nutrition
Calories:
164
kcal
|
Carbohydrates:
9
g
|
Protein:
0.02
g
|
Sodium:
0.3
mg
|
Potassium:
1
mg
|
Iron:
0.01
mg
This Aperol Negroni recipe was first posted August 12, 2022. It was last updated May 17, 2023.
Looking for inspiration?
Sign up to get recipes full of kitchen tips and tricks.