Perfectly Juicy Cast Iron Chicken Breasts
This Cast Iron Chicken Breast recipe makes perfectly cooked, juicy pan-roasted chicken breasts in under 30 minutes. It's easy, it's reliable, and you don't need fancy kitchen cookware or gadgets. It's truly the chicken breast recipe everyone needs, whether you're a novice cook or an experienced chef.
But the best thing I'll share with you about these cast iron skillet chicken breasts is the infinite number of ways to mix it up with different spice combinations or sides. So turn on your oven, grab your apron and your cast iron skillet, and let's make dinner!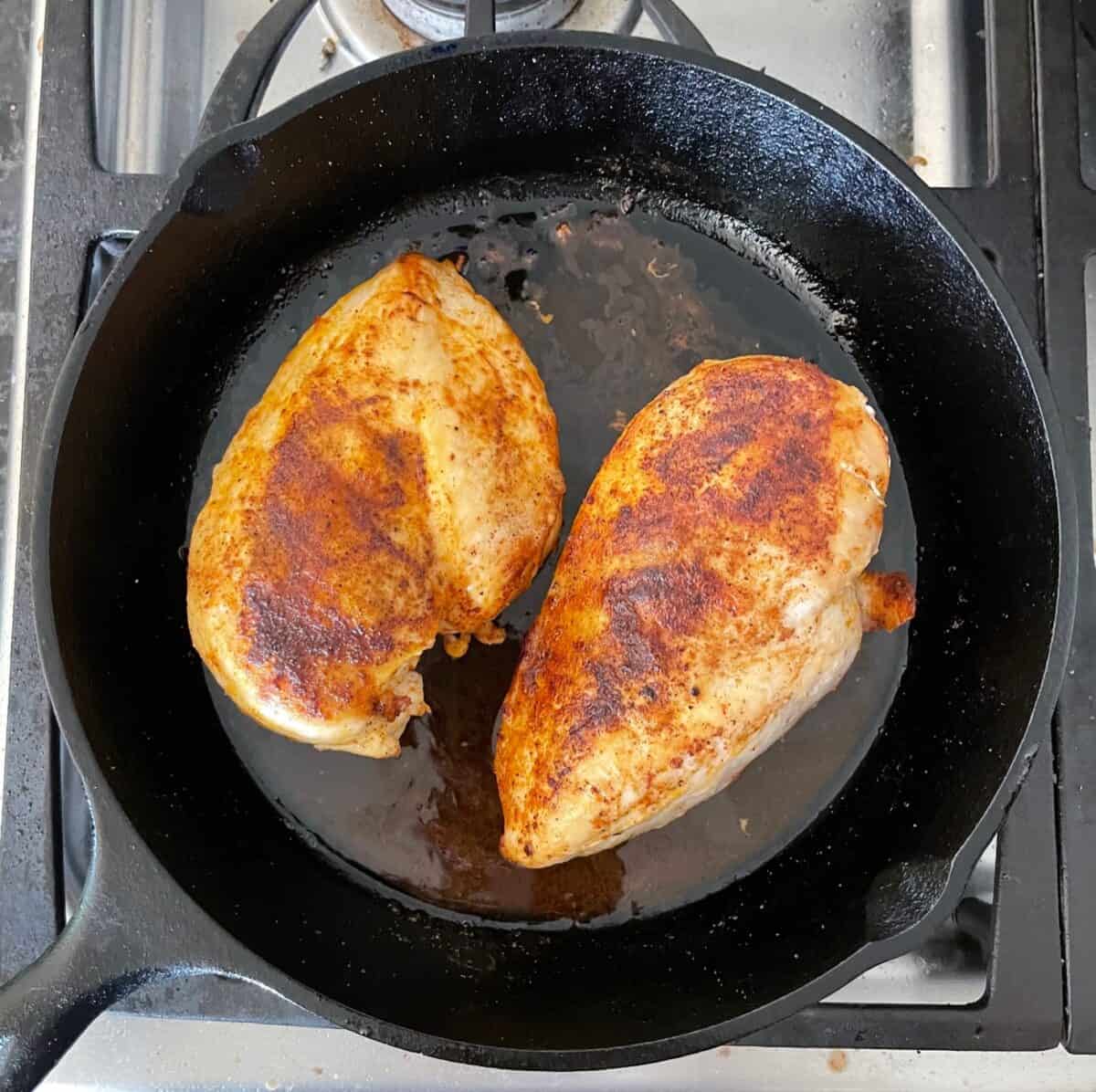 Jump to:
Ingredients
Why boneless chicken breasts
The short answer is ease and convenience. Boneless breasts cook quickly, and you shouldn't need to trim them of fat, skin, or bone.
The downside is also that they cook quickly. So you need to be careful not to overcook them until they're dry.
One other super easy alternative to cooking chicken breasts in a cast iron skillet and oven is by poaching (simmering in a liquid over low heat) like in my Moroccan chicken and dates. This is a great alternative when you want shredded chicken for tacos or chicken pot pies. Or you can bread and bake them to make coconut panko chicken.
Please see the recipe card below for complete information on ingredients and quantities.
Variations and substitutions
While the recipe card calls for a dry rub, you can also use a marinade. For Asian flavors, try a mixture with 3 tablespoons of lime juice, 1 tablespoon of vegetable oil, 1 tablespoon of fish sauce, a smidge of sugar, and equal parts of minced garlic, ginger, and chili pepper. Let the chicken marinate in the refrigerator for an hour before cooking.
Substitute a pork tenderloin for the boneless chicken breasts. Trim the tenderloin, and treat it otherwise the same. You'll want to cook pork until it reaches an internal temperature of 145 degrees Fahrenheit, and then give it a three minute rest after removing it from the oven.
Recipe tips and tricks
How to cook chicken in a cast iron skillet
In addition to chicken breasts and a little oil to coat the pan to prevent sticking, you'll need just two things:
1. A cast iron skillet
If you only have one frying pan, it should be a 9 or 10 inch cast iron skillet. They cost about $20 to $30 and can be "pre-seasoned" or you can do it yourself. Rub the pan all over with Crisco or oil and put it in a hot oven for 2 to 3 hours.
Cast iron skillets are extremely versatile because they go beautifully from stove top to oven, so they're great for making brown butter cornbread or a bacon frittata. You can even cook with cast iron on a camp fire.
Cleaning is where you should be gentle. Don't use steel wool or hard scrubbing. And make sure to dry it completely, or it will rust.
But if you aren't gentle, you can always bring your cast iron skillet back to life by re-seasoning it. Cast iron pans are the best investment ever.
2. Spices
Make a spice mixture of about 1 teaspoon per chicken breast. You can go simple with salt, pepper, and paprika. Or use one of these other spice mix variations:
taco seasoning: 1 teaspoon cumin, one half teaspoon paprika, one half teaspoon salt, one quarter teaspoon pepper, cayenne or other ground chili pepper to taste.
1 teaspoon crushed fennel seeds, one half teaspoon thyme, one half teaspoon salt, one eighth teaspoon crushed red pepper flakes.
Step by step
Step 1: Turn on your oven the minute you decide to make these cast iron chicken breasts!
Step 2: Heat your pan over medium heat, and add a splash of vegetable oil even to a well-seasoned cast iron skillet. This thin coat of oil will keep the chicken from sticking to the pan.
Tip from the wise quacker: Use oils like safflower, peanut, or canola oil when you're frying or cooking at higher temperatures. Low smoke point oils like extra-virgin olive oil or coconut oil may smoke at high temperatures, giving your food a scorched taste.
Step 3: Rub half of the spice mixture over both sides of the chicken breasts.
Step 4: When the oil is hot, put the chicken breasts in the cast iron pan (Panel #1, below), and don't touch them for 5 to 7 minutes until the bottoms have browned.
Step 5: Use tongs to flip the chicken breasts so the cooked side is up and turn off the heat. You don't need to cook the second side on the stove top because cast iron retains that heat to brown the second side while the chicken breasts roast.
That also means that the cast iron pan will be hot! So use an oven mitt or pot holder to transfer your cast iron skillet to the oven.
Step 6: After searing, bake the chicken breasts in your cast iron in the oven for about 15 minutes at 425 degrees until the thickest part of the breasts are 165 degrees Fahrenheit. Serve hot or refrigerate to cool.
How to serve cast iron chicken breasts
These cast iron skillet-roasted chicken breasts appear on our plate nearly every week, whether plain and with a side of creamy baked mac and cheese, sliced onto a taco salad, or chopped up for a chicken salad sandwich for lunch. Here are some suggestions to start:
Recipe FAQs
How do I know how long to cook the chicken breasts if I don't have a meat thermometer?
A meat thermometer really is a handy kitchen tool. If you don't have one, there are a few ways to tell when the chicken breasts are fully done. The most reliable is to cut into the thickest part of the breast. There should be no pink remaining to the meat, and the juices should be completely clear.
Can I freeze cast iron chicken breasts?
Yes, cooked chicken will keep in the freezer for a few months, but it won't be moist and juicy after freezing. Chop up this leftover chicken to use in soups or stews.
Can I use bone-in chicken breasts in this recipe?
Yes, you can pan roast bone-in chicken breasts exactly the same way, though they'll take longer to cook through. Make sure, when you check the internal temperature, that your probe is in the thickest part of the breast and isn't touching the bone, which can read warmer than the flesh.
Related poultry recipes
If you love this cast iron chicken breast recipe, check out other recipes from the poultry archives like these chicken meatballs:
Or maybe branch out into other poultry like pulled duck breast, duck burgers, or meatloaves like a Peking Duck-inspired meatloaf or Thanksgiving turkey meatloaf.
Love this recipe? Please leave a 5-heart 💜💜💜💜💜 rating in the recipe card below. Let me know how much you loved it, or any problems you had, in the comments section further down.
Recipe
Pin Recipe
Cast Iron Chicken Breasts
This cast iron chicken breast recipe makes perfect pan-roasted chicken breasts in under 30 minutes. It's easy. It's reliable. It's totally customizable. And leftover chicken makes a fabulous chicken salad.
Print Recipe
Equipment
1 9 or 10 inch cast iron skillet
Ingredients
1

teaspoon

paprika

sweet or smoked

½

teaspoon

salt

¼

teaspoon

black pepper

1

tablespoon

neutral vegetable oil

2

boneless, skinless chicken breasts
Instructions
Turn on your oven to heat to 425°F.

In a small bowl, combine the paprika, salt, and black pepper.

1 teaspoon paprika,

½ teaspoon salt,

¼ teaspoon black pepper

Put the cast iron skillet over a stove top burner on medium heat, and add the oil.

1 tablespoon neutral vegetable oil

When the oil is hot, use your hands to smear the spices over both sides of the chicken breasts and place them in the pan. (Wash your hands!) Let the chicken breasts cook for about 5 to 7 minutes until the side touching the pan has browned.

2 boneless, skinless chicken breasts

Flip the chicken breasts over and turn off the heat.

Use an oven mitt or potholder to transfer the cast iron skillet to an oven rack in the middle of the oven. Cook for about 15 minutes until the internal temperature of the thickest part of the breast is 165°F.

If slicing the chicken breasts, move them to a cutting board and let them sit for a minute or two before slicing.
Notes
This cast iron skillet chicken breast recipe will use about 1 teaspoon of spice rub for each chicken breast.
Use a thin layer of oil in your cast iron skillet, even if it's well-seasoned, to prevent the chicken breasts from sticking.
If you don't have a thermometer to tell when the chicken reaches 165 degrees, cut into it with a knife. The juices should run clear.
Nutrition
Calories:
95
kcal
|
Carbohydrates:
1
g
|
Protein:
12
g
|
Fat:
5
g
|
Saturated Fat:
1
g
|
Polyunsaturated Fat:
2
g
|
Monounsaturated Fat:
1
g
|
Trans Fat:
1
g
|
Cholesterol:
36
mg
|
Sodium:
356
mg
|
Potassium:
213
mg
|
Fiber:
1
g
|
Sugar:
1
g
|
Vitamin A:
56
IU
|
Vitamin C:
2
mg
|
Calcium:
4
mg
|
Iron:
1
mg
Looking for dinner inspiration, classic recipes and new seasonal favorites?