Best Creamy Espresso Martini with Baileys
The best Creamy Espresso Martini with Baileys and Kahlua adds Baileys Irish Cream to a classic espresso martini recipe. That makes this easy coffee cocktail rich and creamy and just a bit sweeter than the original.
It's the perfect drink for coffee lovers, whether you have a home espresso maker or use one of the alternatives I'll tell you about! That way anyone can enjoy a creamy espresso martini as part of a holiday celebration, an after-dinner cocktail, or really any time.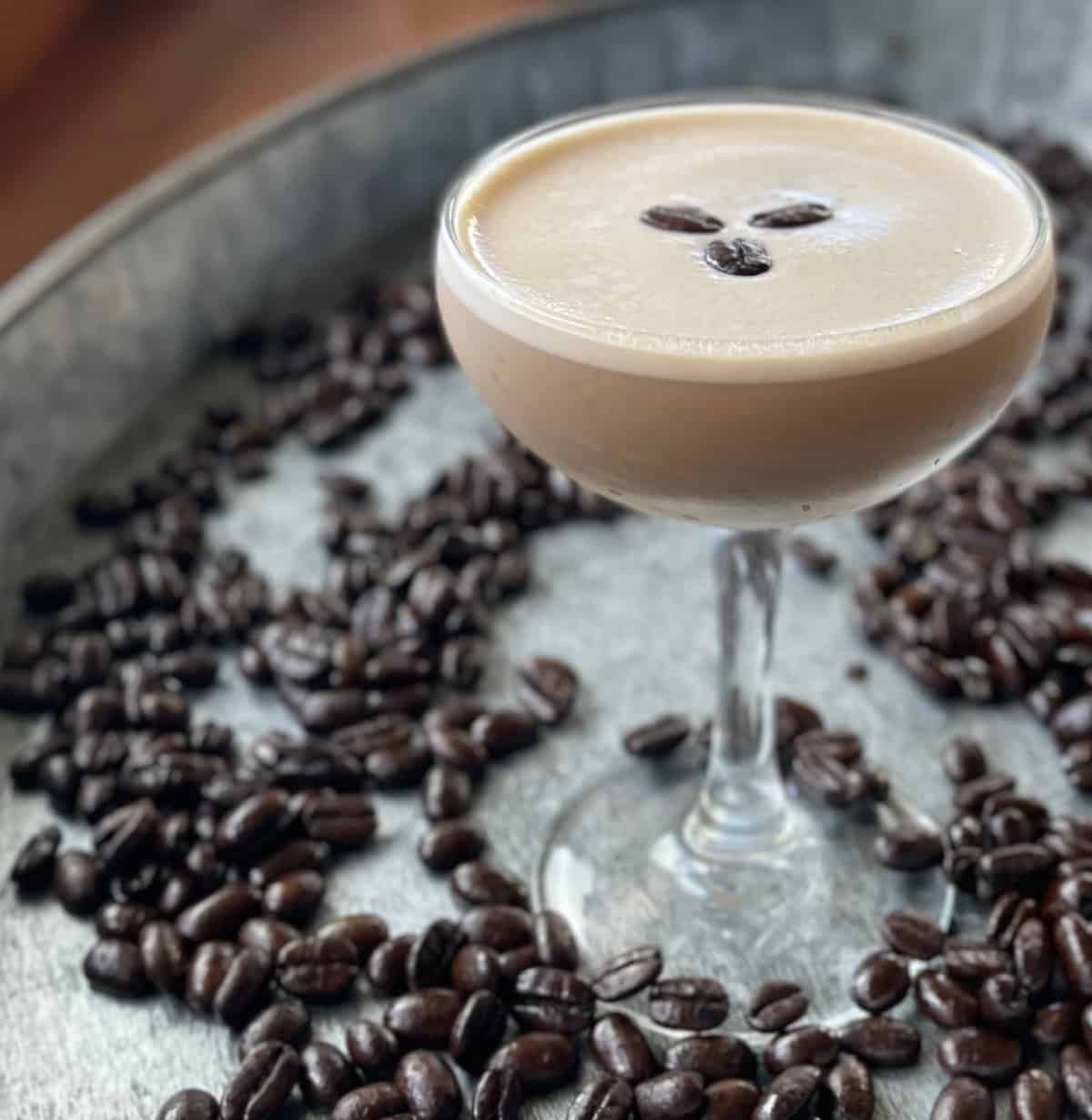 Jump to:
Modern cocktails
The original espresso martini was created by Dick Bradsell in the 1980s. There are not many truly famous bartenders, but he is the source of many famous modern cocktails, including the espresso martini, the Bramble, and others.
Ingredients
Vodka
Vodka is the base liquor in this cocktail, like in the traditional espresso martini. To bring in a bit of controversy here, some would suggest that all (or at least most) vodka is the same. So use whatever vodka you have and like to drink.
Espresso
If you have an espresso coffee machine, go ahead and and pull a shot of fresh espresso. Purists may say you can't make an espresso martini without freshly brewed espresso.
Most of us aren't lucky enough to have our own espresso machine. If you aren't, you can sub in instant espresso powder like the one pictured below. Some people also make espresso martinis with cold brew coffee. You can even use decaf espresso if you like. Whatever you do, make it strong.
Espresso powder is often used in baking because coffee is awesome AND it amps up other flavors, especially chocolate. It's a key ingredient in these triple coffee cookies and this coffee and walnut loaf cake. Coffee is used in the cake layers in this triple layer chocolate cake and peanut butter drip cake. Or it's used in coffee syrup to soak a tiramisu layer cake.
Coffee liqueur
Then an espresso martini needs coffee liqueur. When you think of coffee liqueurs, your first thought is probably Kahlua. The picture below has Tia Maria on the left and Kahlua on the right. They have the exact same percent of alcohol by volume.
I'll encourage you to do a taste test of coffee liqueurs. Tia Maria is sweeter with a stronger taste of alcohol. The Kahlua is darker and has a stronger coffee flavor. There are now lots of delicious small brew coffee liqueurs, and any coffee liqueur will work in this Baileys espresso martini.
Baileys Irish Cream
Just like with coffee liqueurs, there are also lots of Baileys variations. But it's the Original Irish Cream that makes this a creamy espresso with Baileys and takes your cocktail to a new level.
Baileys Irish Cream is a liqueur made with Irish whiskey, cream, sugar, and cocoa. Although the liqueur was inspired by The Bailey's Hotel, the trademark leaves out the apostrophe, so it's Baileys and not Bailey's Irish Cream.
Please see the recipe card below for complete information on ingredients and quantities.
Variations and substitutions
Add a few dashes of chocolate bitters.
Make a classic espresso martini with equal amounts of vodka, espresso, and coffee liqueur.
Substitute an equal amount of rum for the vodka to make a rum espresso martini, or use gin for a gin espresso martini.
Substitute the Frangelico you bought to make Frangelico sours and use it in place of the coffee liqueur for a hazelnut espresso martini.
Use a bottle of Baileys Espresso Cream in place of the Baileys Irish cream and coffee liqueur.
Sub cream for the Baileys to make your creamy espresso martini with cream.
Key technique: the dry shake
They say that there lots of different shaking techniques for cocktails. To get a frothy espresso martini that mimics the crema of an espresso shot, the shake is longer than a typical shaken cocktail, about 20 to 30 seconds. But to do that and not dilute your drink, you need to do a dry shake.
The dry shake is used to make the foam and froth in cocktails with egg whites like a vodka sour or Aperol sour. To do a regular dry shake, put your cocktail ingredients in your cocktail shaker without any ice. For best results, shake hard for 20 to 30 seconds. Then add about a half cup of ice cubes, and shake again just to chill. Pour into a chilled glass, garnish, and serve immediately.
However, if you've just pulled a shot of espresso and want to make your espresso martini immediately, your espresso will be HOT and you need to cool it down quickly. So, just like with the reverse creaming method for cakes, there's a reverse dry shake. With the reverse shake, you shake briefly (about 10 seconds) with ice to chill the espresso and the rest of your espresso martini ingredients. Discard the ice and then do a hard dry shake to make your espresso martini all frothy and creamy.
Recipe FAQs
Is it "espresso" or "expresso"?
Merriam-Webster surprisingly says that both are ok to use.
Is this creamy espresso martini a true martini?
Purists will say that the only cocktail that can be called a martini is a dry martini made with gin and dry vermouth. However, the espresso martini and the Pornstar martini are popular modern cocktails that have been given the martini name even though they are not actually martinis.
Why is my espresso martini not creamy?
The foamy top on the espresso martini comes from the shake. If your espresso martini doesn't foam, try doing a longer dry shake. It is not true that you have to have a freshly pulled espresso shot to make this cocktail (although if you have an espresso machine, it can't hurt).
What is your favorite espresso bean?
We like the Espresso Blend from Blue Star Coffee Roasters which is based in Twisp, Washington in the beautiful Methow Valley. They ship!
What's the best way to store liqueurs?
Most spirits and liqueurs can be stored in a cool, dark cabinet for months to years. Cream-based liqueurs like Baileys might last longer than its two year shelf life if you keep in the refrigerator, although you do not have to refrigerate Baileys
Can I make my own Irish cream?
Sure. Check out this Baileys recipe and make your own!
Related cocktail recipes
Check out other popular cocktails from the Ugly Duckling Bakery beverage archives including:
Love cocktails and want to explore more? Read all about classic cocktails and bartender basics or join this year's 52 weeks of cocktails challenge!
Love this recipe? Please leave a 5-heart 💜💜💜💜💜 rating in the recipe card below. Let me know how much you loved it, or any problems you had, in the comments section further down.
Recipe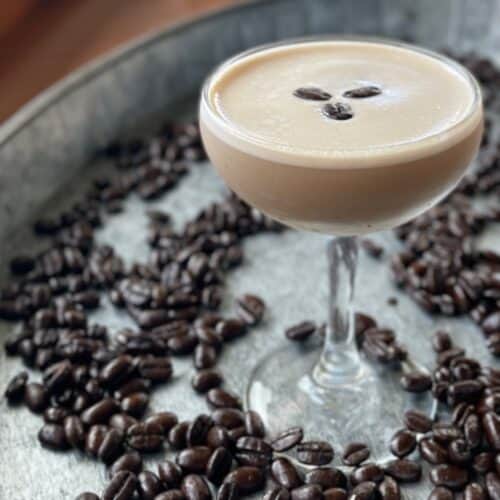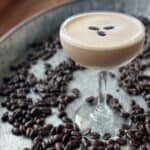 Pin Recipe
The Best Creamy Espresso Martini with Baileys
This Creamy Espresso Martini with Baileys is richer and a bit sweeter than the classic. Enjoy it as an after dinner or afternoon cocktail.
Print Recipe
Ingredients
1.5

ounce

vodka

1.5

ounce

strong espresso

slightly cooled (to avoid burns)

1.0

ounce

coffee liqueur

1.0

ounce

Baileys Irish Cream

3

coffee beans

for garnish
Instructions
Creamy Espresso Martini with Reverse Dry Shake
Put all of the ingredients except for the coffee beans into your cocktail shaker, fill with ice and shake for 5 to 10 seconds to chill.

1.5 ounce vodka,

1.5 ounce strong espresso,

1.0 ounce coffee liqueur,

1.0 ounce Baileys Irish Cream

Strain out the ice. Then add your espresso martini back to your cocktail shaker without ice and shake for 20 to 30 seconds until it is foamy.

Strain into a chilled glass and garnish with the traditional three coffee beans. Serve immediately.
Notes
Purists will say that espresso martini must be made with freshly-pulled hot espresso, but I'm here to free you from that. If you don't have a machine, use a shot from a shop, cold brew coffee, or even instant espresso. Just make it strong!
For fun, add a dash or two of chocolate bitters and compare.
Instead of a creamy espresso martini with Baileys, you can sub heavy cream for the Baileys to make your creamy espresso martini with cream.
You could use a bottle of Baileys Espresso Cream in this cocktail in place of the classic Irish cream and coffee liqueur, but your home bar probably already has the two. And there's nothing worse than buying bottles just for a single cocktail – hello, creme de violette, we're looking at you!
Nutrition
Calories:
292
kcal
|
Carbohydrates:
21
g
|
Protein:
1
g
|
Fat:
4
g
|
Saturated Fat:
2
g
|
Polyunsaturated Fat:
1
g
|
Cholesterol:
1
mg
|
Sodium:
9
mg
|
Potassium:
49
mg
|
Sugar:
19
g
|
Vitamin C:
1
mg
|
Calcium:
1
mg
|
Iron:
1
mg
This creamy espresso martini with Baileys Irish Cream was created for the 2022 52 weeks of cocktails challenge (week 9: Baileys). I had been thinking about remaking my gin espresso martini for the prior week's challenge (coffee or tea). Instead, I played around with a chai bourbon old-fashioned with a honey simple syrup.
Looking for inspiration?
Sign up to get recipes full of kitchen tips and tricks.