What is Prosecco? Prosecco is, quite simply, the sparkling wine of Italy. Made in a specific region of northeastern Italy with a specific grape, there is nothing else quite like it.
Read on to learn all about Prosecco, Italian wine regions, and Prosecco classifications. Or just jump on down to find my favorite Prosecco cocktails.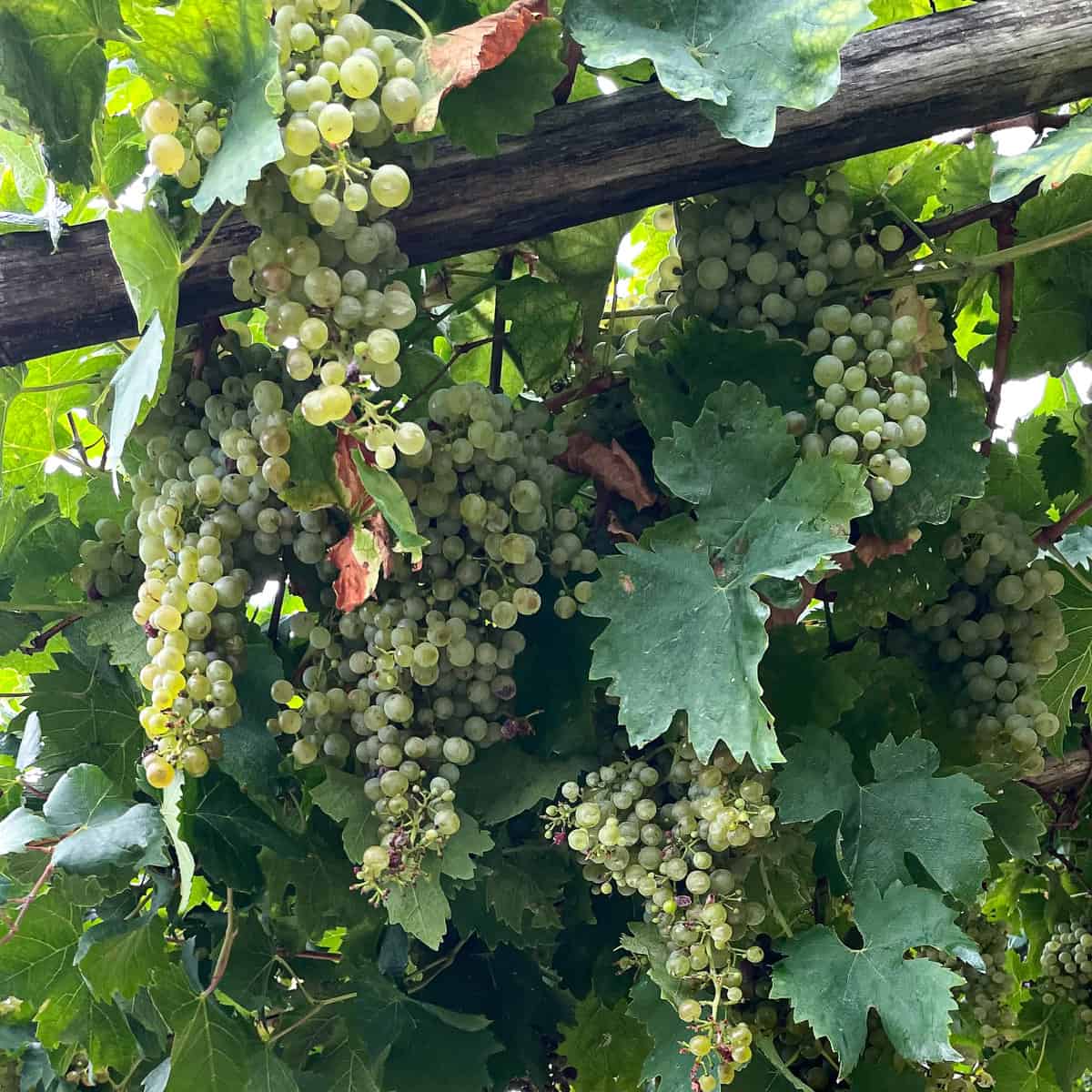 Jump to:
Prosecco grapes
Prosecco must have at least 85% of the Glera (prounounced "gler-a") grape. Glera is a green grape with high acidity and delicate flavor profile that gives Prosecco flavors ranging from citrus and floral notes to apple and peaches.
Italian wine classifications
The four Italian wine classifications go from Vino da Tavola (VdT, table wine) to Indicazione Geografica Tipica (IGT), Denominazione di Origine Controllata (DOC), and finally Denominazione di Origine Controllata e Garantita (DOCG). Only wines that come from the specific DOC and DOCG can be called Prosecco.
The Prosecco DOC and DOCG
The Prosecco DOC encompasses a broad geographical area that includes the Veneto and Friuli-Venezia Giulia regions in Northeast Italy. The DOCG is set on the steep hillsides within Conegliano and Valdobbiadene, which you can see in the photo I took on a recent trip along the Strada del Prosecco, or Prosecco Road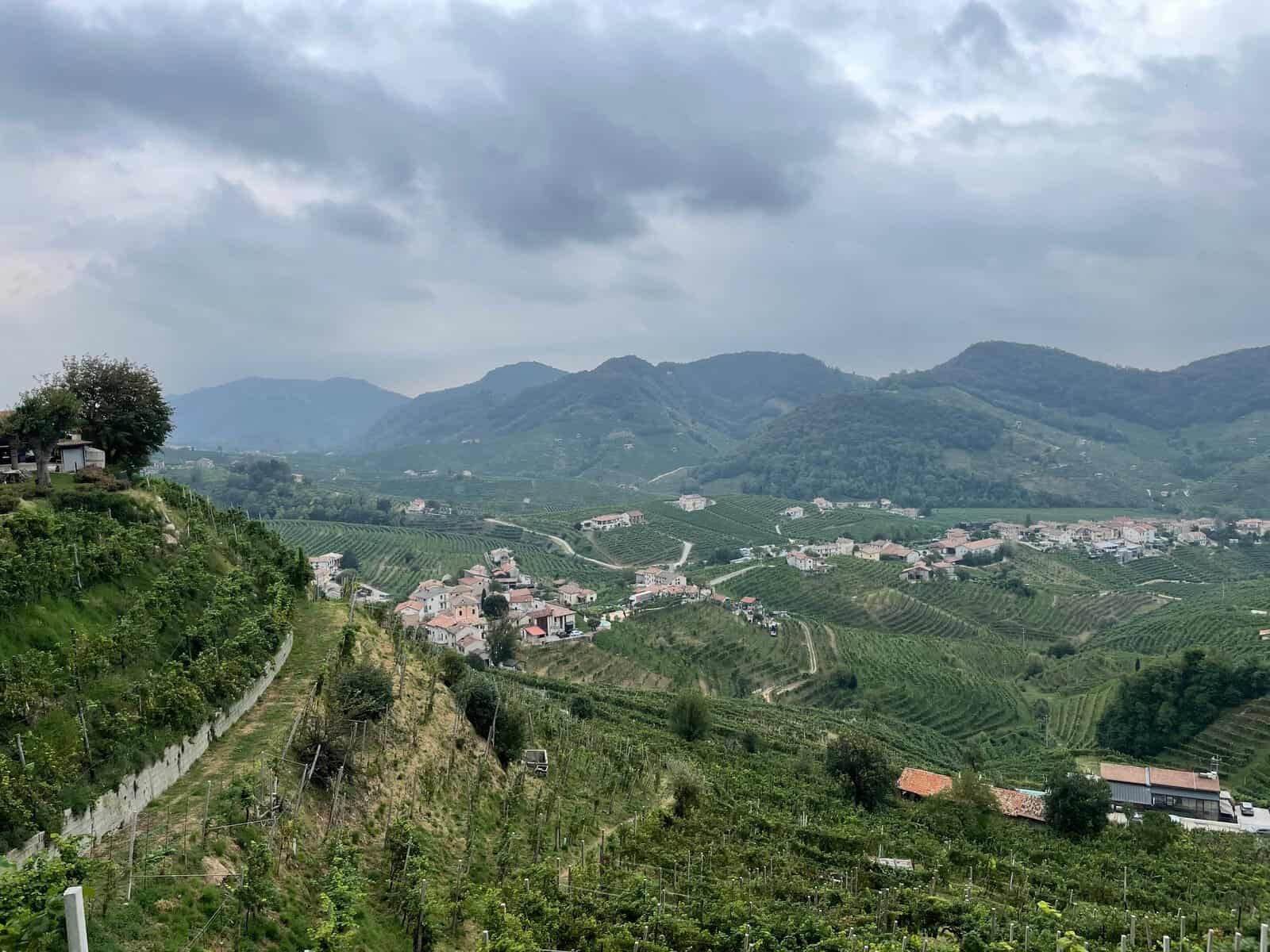 DOCG wines, identified by the blue label on the bottle, have stricter production standards and longer aging periods. There's even a government tasting board that is intended to guarantee the quality of Prosecco from the DOCG.
Is Prosecco sweet?
Just like Champagne, Prosecco is characterized by its residual sugar content. While you can indeed find Prosecco that is sweet, you can also find other Prosecco styles that work with your palate, mood, and food pairings.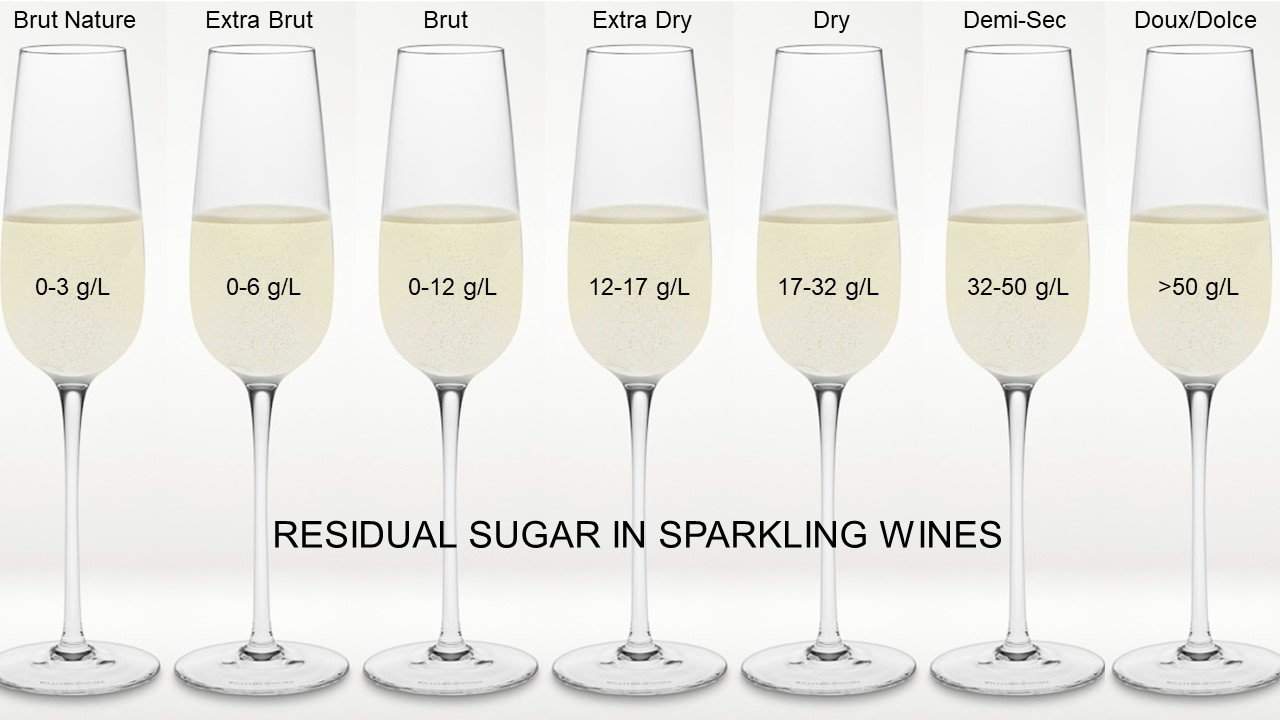 Brut: The Bruts are the driest Prosecco, with minimal residual sugar, providing a crisp and refreshing taste, perfect as an aperitif and complement to rich and fatty foods.
Extra Dry: Slightly sweeter than Brut, with a touch of sweetness that enhances the fruitiness and roundness of the wine.
Dry: Offering a balanced sweetness level, making it a versatile choice for pairing with a wide range of dishes.
Demi-Sec: The sweetest style, with noticeable sweetness that pairs wonderfully with light desserts or as a dessert wine itself.
If you ever do a sparkling wine tasting, and I recommend that you do, the teaching is that you should taste the driest wines first.
Prosecco vs. champagne
In addition to the grape, the main factor that distinguishes Prosecco apart from Champagne and Cava is its production method. Prosecco relies on the Charmat method in which the second fermentation, responsible for creating the bubbles, happens in large stainless steel tanks instead of individual bottles.
Prosecco spends about one month in this second fermentation stage, which allows it to be produced at a larger scale and lower cost. It also means it is light with a crisp acidity. In contrast, Champagne has a longer fermentation and must be aged before release, giving it more roundness, complexity, yeasty tendencies, and much bigger price tag.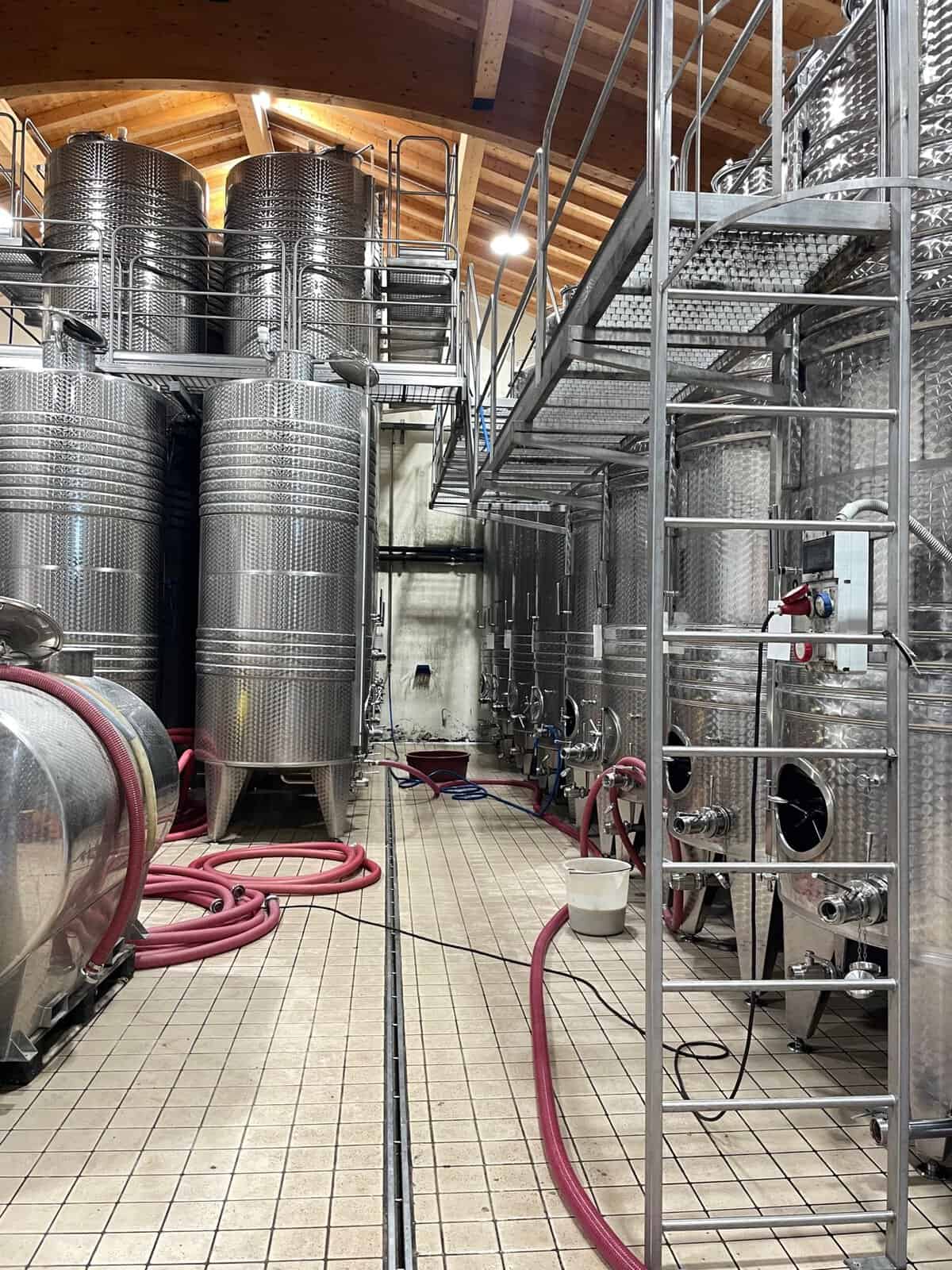 How to open a bottle of Prosecco
Whether your bubbly is an Italian Prosecco or expensive Champagne, you should know how to open your bottle.
Find somewhere you won't take out an eye or break glass if the cork escapes you.
Remove the wrapping around the cork and wire cage.
Put your hand on top of the bottle and carefully untwist and remove the wire cage.
Now put your hand on the cork and hold it firmly. Slowly and gently rotate the bottle (not the cork) until the cork quietly pops out.
What to serve with Prosecco
Prosecco's well-balanced acidity makes it a great match for most foods. You can never go wrong with sparkling wine.
Appetizers: the crispness of an Extra Brut or Brut Prosecco makes it a perfect pairing for rich appetizers like gougeres or bruschetta, nuts, and cheese or charcuterie boards.
Main Courses: The versatility of Prosecco shines when you pair a Brut or Extra Dry Prosecco with main courses such as this creamy one pot pasta with ricotta and lemon, your favorite gourmet pizza, pan-roasted chicken breasts, or even sushi or other Asian dishes like these shrimp and pork meatballs.
Desserts: Sweeter Proseccos can be a delightful match for light, fruity desserts and pastries. Or pair with a slice of tiramisu cake to honor the dessert created in neighboring Treviso.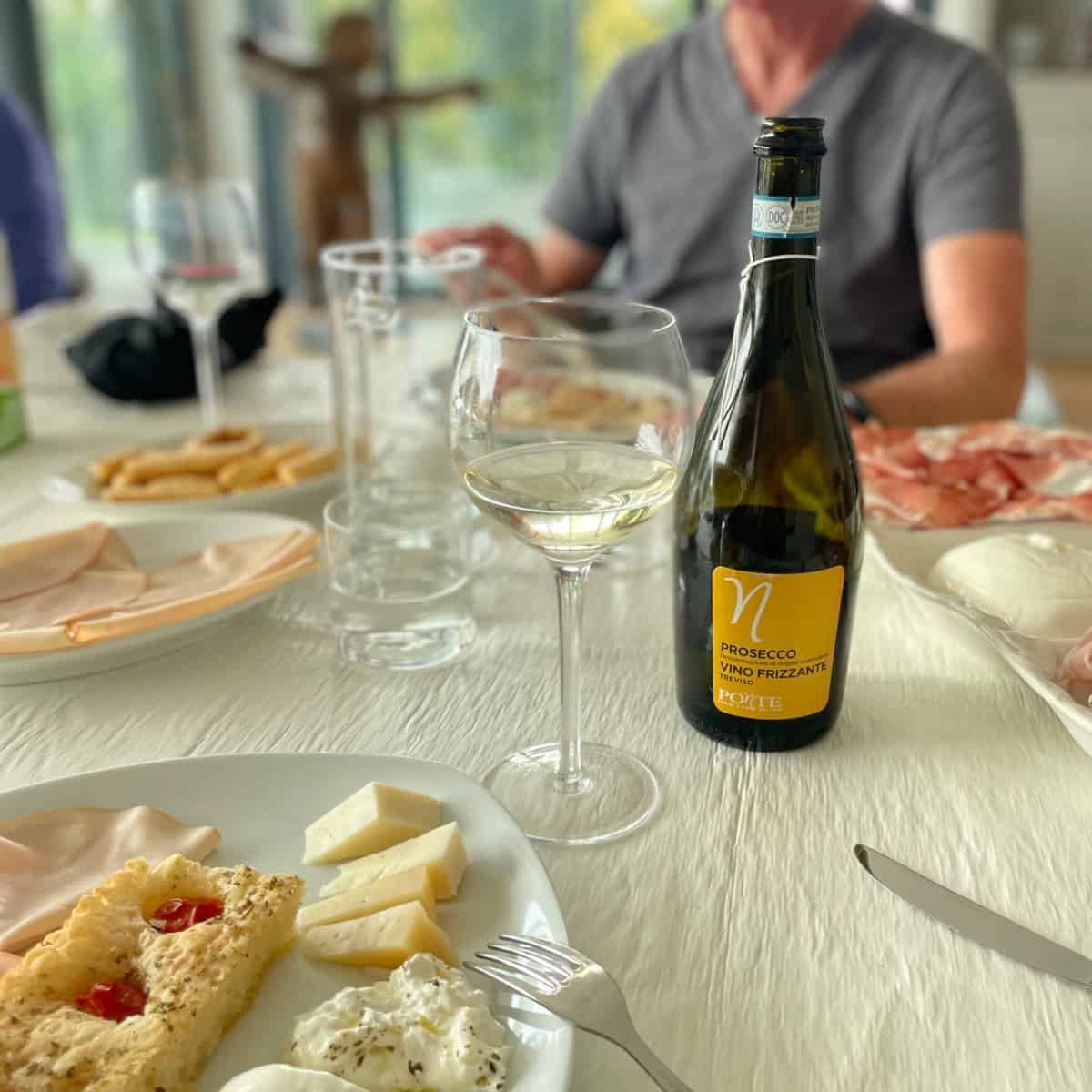 What are the best Prosecco cocktails?
The classic Prosecco cocktails are the Bellini, made with peach purée, and ubiquitous Aperol Spritz made with Aperol and soda. Pick a Brut Prosecco for these cocktails to balance out the sweetness of the other ingredients.
Check out other Ugly Duckling Bakery cocktails made with sparkling wines, like:
Prosecco FAQs
Shouldn't you drink Prosecco in a champagne flute?
No, actually, Prosecco and Prosecco cocktails are typically served in a tulip or wine glass. The broader surface area supposedly helps you enjoy the aromatic compounds in the Prosecco. However, please feel free to enjoy your Prosecco in whatever glass you have, as long as it isn't plastic.
How long does Prosecco last?
Prosecco is meant for drinking! You should drink Prosecco within 6 to 12 months of bottling and definitely within two years. Once opened, you can keep it in the refrigerator for a few days, but it will quickly lose its bubbles.
What is the best Prosecco?
Although I'm sure that some people think they can answer that question, the best Prosecco is the one you like to drink. I'd encourage you to taste and see which suits you most. Please drink responsibly.
What Prosecco tour would you recommend?
If you are heading to Venice or Treviso and want to learn more about Prosecco, I would strongly recommend a Prosecco wine tour with Roberta.
Looking for dinner inspiration, classic recipes and new seasonal favorites?