Baking Ratios: From Cakes to Cookies
Once you've mastered the basics of baking, you're probably looking to try new things in new ways. Learning a few baking ratios is all you need to free yourself from recipes and bake like a pro.
There's no magic here. Using these baking ratios to create your own cakes and cookies is about knowing what you like to bake and what you like to eat!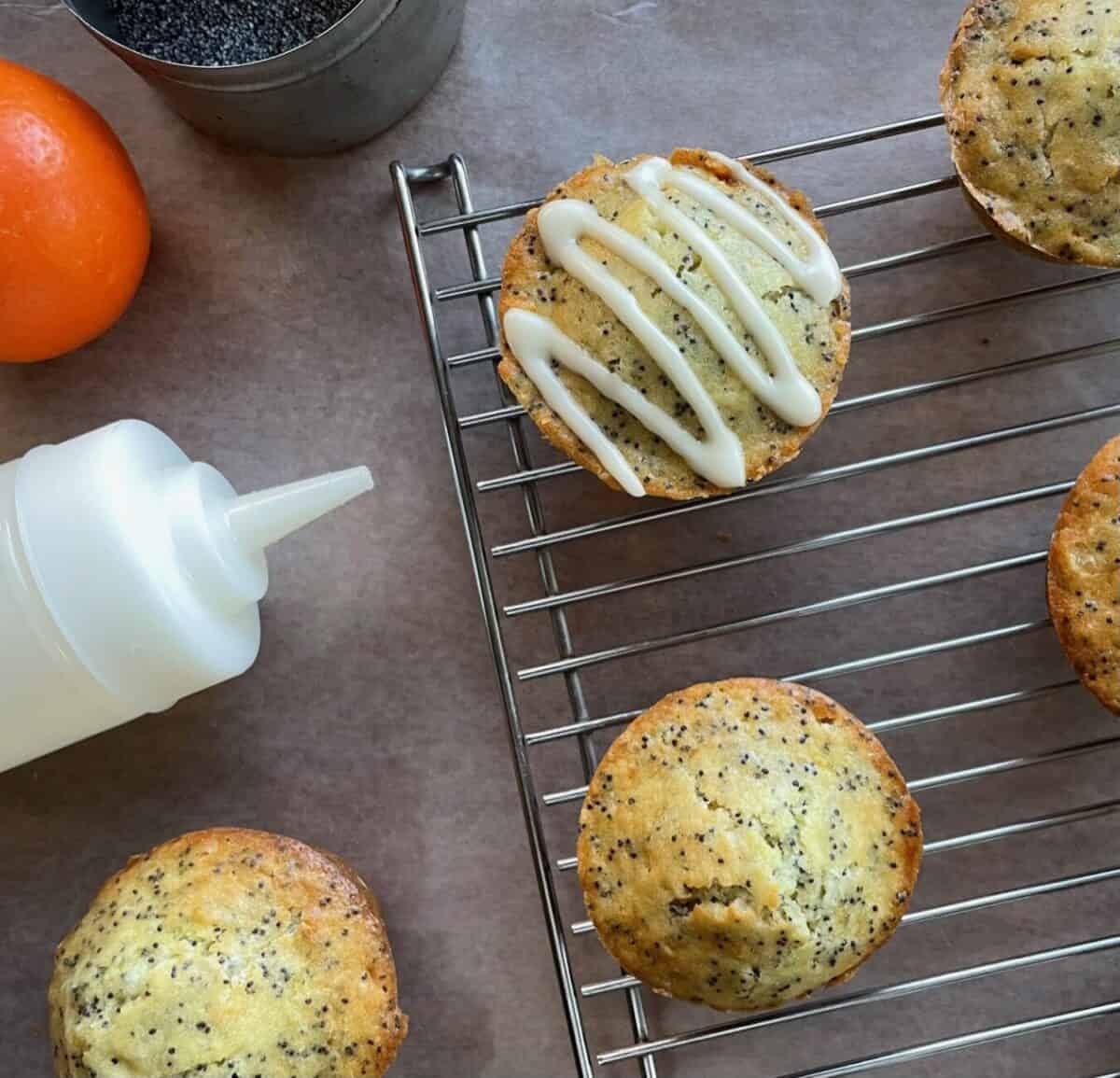 Jump to:
What are baking ratios?
The ratio in recipes refers to the amount of one ingredient to another. There are standard ratios for making classic cocktails, for meatballs and meatloaves, and of course in baking.
Baking ratios build on the techniques and years of experience of people who came before us. What you need to do is decide what you like and how to vary these ratios to make things your favorite way.
I will always say there's no such thing as the best or perfect cake or cookie. We all have preferences and tastes – the texture, how sweet, how many chocolate chips (can you ever have too many chocolate chips?). What's best for me may not be what's best for you.
Weighing your baking ingredients
One thing, before we get started, is that most baking ratios are based on weight. That's because baking by weight gives you more precision and consistency.
Here's a great example: my peanut butter chocolate chip cookies are adapted from a recipe that calls for a half cup of packed brown sugar weighing 145 grams. Try as I might, I can't pack more than 110 grams into my half cup.
Which is the right amount to use? That's a difference of over 30%!
You can buy a kitchen scale from Amazon for under 10 dollars. You don't need a scale that measures in tenths of a gram. You just want to have a margin of error smaller than 30%.
You can always convert from weights to volume if you don't have a scale. But I'll encourage you to use that scale, especially since it means easier clean up in the end.
Mechanical leavening
And now I need to mention a technique or two. Many cake recipes call for the "creaming method." But it wasn't until I took a pastry class at the Culinary Institute of America that I realized I didn't cream my butter long enough.
Creaming butter and sugar is a critical step for pound cakes and other cakes whose rise depends on mechanical leavening. Mechanical leavening creates air bubbles that expand in the oven. That's because, if you remember high school chemistry, gases expand at warmer temperatures.
Here's how to cream butter and sugar together:
Start with room temperature butter in small cubes.
Mix on low at first so sugar doesn't spray out of your bowl. You will still see sugar granules. Don't stop yet.
Increase your speed to medium-high and beat for a couple of minutes, scraping down the bowl as needed. The butter will feel softer and softer. Don't stop yet.
It takes several more minutes to get to "light and fluffy," depending on your whether you're mixing by hand, with a hand mixer, or a stand mixer. The butter will be much lighter in color, and it really will feel fluffy.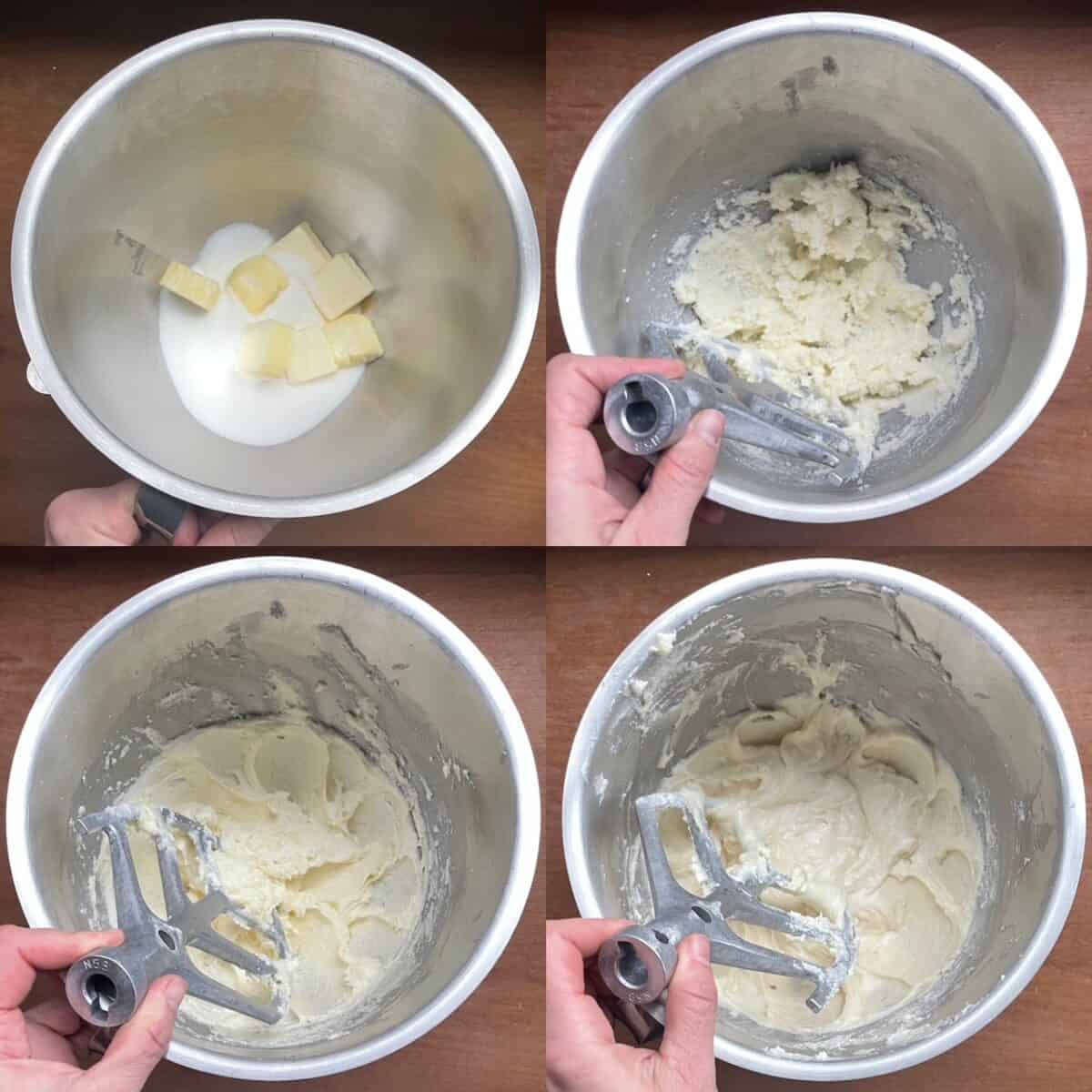 Alternatively, some cakes, like my tiramisu cake, can be made using the "reverse creaming method." With the reverse method, you first mix your flour and sugar, then beat in butter and a bit of liquid, and then add eggs at the end. Doing it this way prevents over-beating and gives you a richer, more velvety texture to your cakes.
I often use the reverse creaming method for cakes I plan to soak in a lot of syrup. I use the classic creaming method when I want a cake that's light and airy.
Biological and chemical leavening
There are a couple of other ways to get a rise in baking. Before there were chemical leavening agents, bakers made yeast-leavened cakes like babka.
Yeast are single-celled organism that convert sugars to alcohol and carbon dioxide. The carbon dioxide creates bubbles that expand further in the oven, just like it does with mechanical leavening.
Chemical leavening agents include baking soda or baking powder. Baking soda, or sodium bicarbonate, will combine with acids to produce carbon dioxide. Use baking soda when your recipe includes acidic ingredients like lemon juice, buttermilk, or yogurt.
Baking powder is a combination of baking soda and one or two acids in a buffer. Single acting baking powder gets activated when wet, while double acting baking powder gets a second activation in the heat of the oven. If you're using single acting baking powder, you'll want to get your baked goods into the oven right after combining the dry and wet ingredients.
If you're creating your own recipe, start with one teaspoon of baking powder or a quarter teaspoon of baking soda for every cup of flour. Using too much baking soda can result in a unpleasant metallic taste.
The baking ratios
Pound cake
The pound cake is what you probably think of when you think of a baking ratio. It's called a pound cake because the classic formula uses a pound of butter, sugar, eggs, and flour.
Here are two examples of my recipes that follow the pound cake formula. One adds orange zest and chocolate chips. The other uses instant espresso powder and chopped, toasted walnuts. Neither flavoring or add-in changes the rich, buttery texture that is characteristic of pound cakes.
Chocolate Chip Loaf Cake
This chocolate chip loaf cake recipe makes the softest chocolate pound cake using the classic ratio of equal amounts of butter, sugar, eggs, and flour.
Chocolate Chip Pound Cake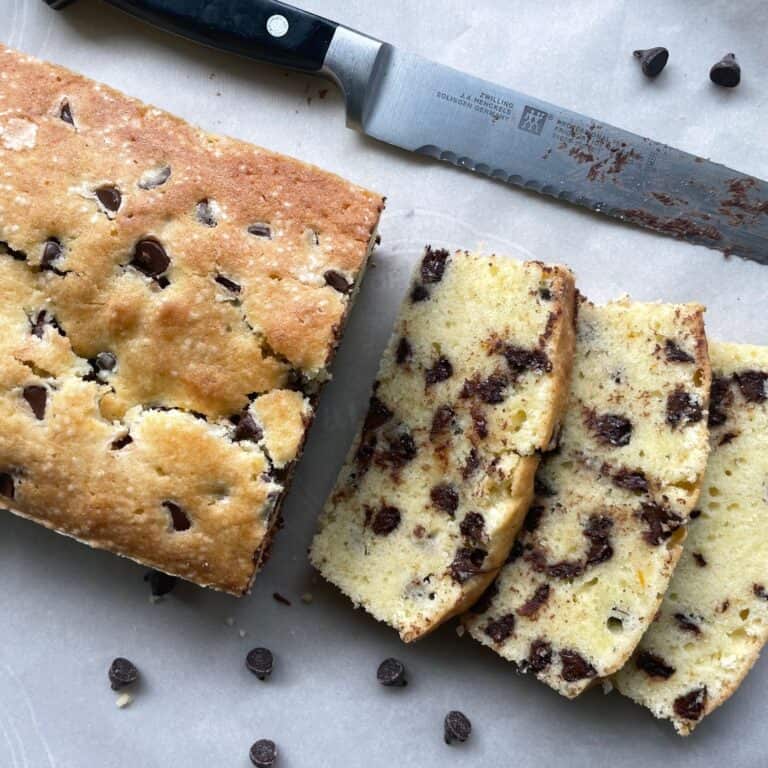 Coffee and Walnut Loaf Cake
This coffee and walnut loaf cake recipe is the perfect everyday cake to make for an afternoon snack or tea or when neighbors come visiting. It's easy to make from ingredients you likely already have in your pantry. And it's customizable if perhaps you don't.
Coffee Walnut Pound Cake
Do you love pound cake? Use the formula to make the pound cake of your dreams.
1-2-3-4 cake
Every baker should have a go-to cake for birthdays and celebrations. In my opinion, the best part about cake is that you can mix and match cake layers, fillings, and frostings to create an infinite number of cake combinations.
The 1-2-3-4 cake formula makes a double layer yellow butter cake. The basic 1-2-3-4 baking ratio is 1 cup of butter, 2 cups of sugar, 3 cups of flour, and 4 eggs. Note that this is one baking ratio that uses volumes instead of weights.
Hearts Cake with Rose Buttercream
A classic butter cake with easy-to-make rose-flavored buttercream.
1 2 3 4 Yellow Cake
Tip from the wise quacker: turn layer cakes into sheet cakes or cupcakes! A two-layer 9 inch cake makes three 8 inch layers, one 9 by 13 inch sheet cake, or about 24 standard cupcakes. Use the same baking temperature, but know that cupcakes and smaller cakes will take less time to bake than larger cakes.
Quick breads and muffins
Quick breads are a category of sweet and savory loaves made with chemical leavening instead of yeast. According to Michael Ruhlman's book Ratio, the traditional baking ratio for quick breads and muffins is 2 parts (8 ounces) flour, 2 parts (8 ounces) liquid, 1 part (4 ounces) egg, and 1 part butter or oil (4 ounces) by weight. That comes out to about one and three-quarters cups of flour, one cup of liquid, two large eggs, and eight tablespoons of butter or a half cup of oil.
Depending on the quick bread or muffins, you'll want to add a sweetener. I'd start with a half cup (100 grams) of granulated sugar, perhaps more if you have a sweet tooth.
Muffins aren't just cupcakes without frosting! Quick breads and muffins are traditionally made using the "muffin method."
Muffins are typically made using the "muffin method." Using this method, you first whisk the dry ingredients in a large bowl. Then combine the buttermilk, brown butter, egg, and vanilla in a large measuring cup and add them to the dry ingredients.Like with other muffins, waffles, and pancakes, mix only until the dry ingredients are completely moistened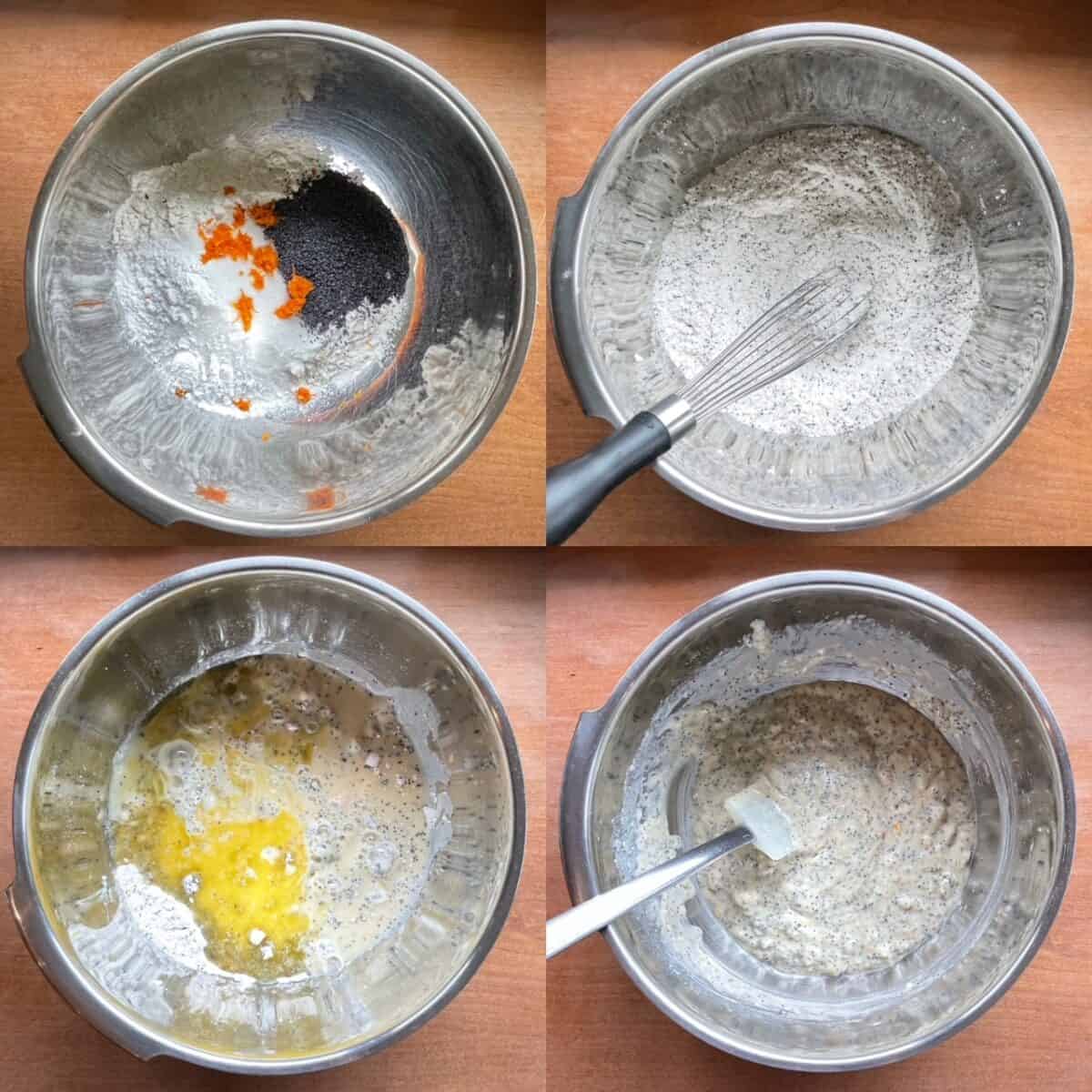 Check out some examples of this baking ratio below. If you're stumped for ideas, the Food Network has a list of mix and match suggestions to try.
Kale and Cheese Quick Bread
This cheesy kale bread is a savory quick bread packed with kale and two kinds of cheese, making it the perfect treat for any time of day. Plus, it's a great way to sneak some extra greens into your diet.
Kale Cheese Bread
Orange and Poppy Seed Muffins
This orange and poppy seed muffin recipe is quick and easy to make. With three forms of orange plus those poppy seeds, you'll have muffins that are aromatic, soft, and sweet.
Orange and Poppy Seed Muffins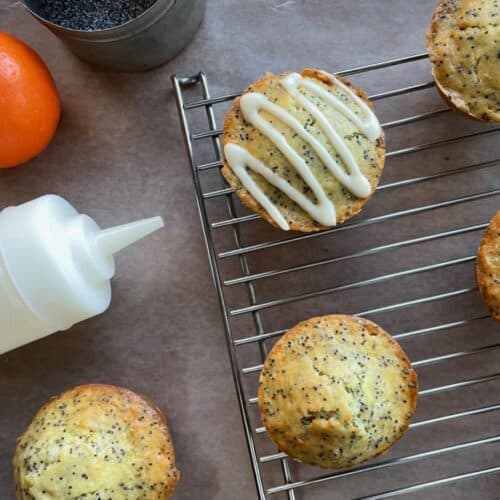 Sourdough Discard Apple Muffins
These sourdough discard muffins are packed with over one cup of apple in eight muffins. And, as a bonus, they are quick and easy, coming together in under 30 minutes.
Sourdough Apple Muffins

Oatmeal Blackberry Muffins
These oatmeal blackberry muffins are soft and moist, with big chunks of fresh blackberries and a cupful of cooked oatmeal.
Oatmeal Blackberry Muffins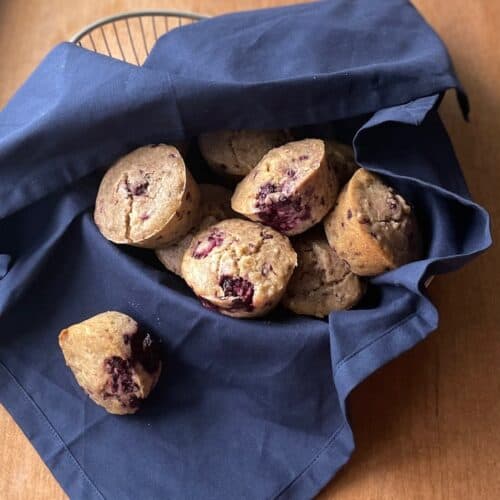 Spinach and Feta Muffins
These spinach and feta muffins are beautifully moist, balanced with salty and rich flavors, and packed with greens. It's an easy savory bake for those of you with picky eaters in your home.
Spinach and Feta Muffins
Pancakes and waffles
Pancakes are also made with the muffin method using a baking ratio that is (by weight) 2 parts flour to 2 parts liquid to 1 part egg and a half part fat. In usable terms, that's 8 ounces (about 1 and three-quarters cup) of flour, 1 cup of milk or buttermilk, 2 eggs, and 2 ounces (4 tablespoons) of butter.
If you want waffles instead of pancakes, waffles tend to have a tablespoon or two more butter and are sweeter. Here are two examples of ways to turn this baking ratio into breakfast!
Orange Waffles with Poppy Seeds
These orange poppy seed waffles are crisp and full of bright citrus flavor. Top them with a bit of syrup, and you're ready for breakfast or brunch.
Orange Poppy Seed Waffles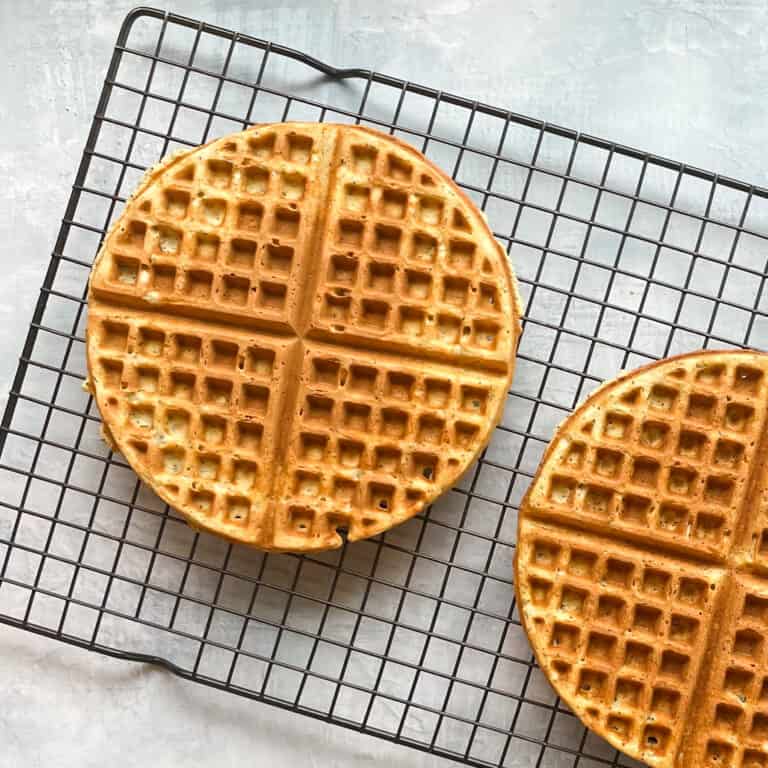 Red Velvet Beet Waffles
These red velvet beet waffles are colored only with beets and a cocoa chemical reaction. Sneak some more vegetables into your life!
Red Velvet Beet Waffles
Shortbread cookies
Making melt in your mouth shortbread cookies is as easy as 1 2 3. That's because that's the baking ratio of sugar, butter, and flour in shortbread.
You'll note that shortbread cookies don't have eggs. That means that you don't have to worry about using part of an egg if you want to scale down your recipe to make only a few cookies.
Use the best butter you can when making shortbread. European-style butters have a higher fat content and a more buttery taste. It isn't critical to use the best butter all the time, but when butter is the star, like in croissants or shortbread cookies, use great butter.
Check out examples of shortbread cookie recipes like these lemon and lavender cookies or my favorite Linzer cookies. The shortbread Linzer cookies substitute almond flour for a portion of the wheat flour.
Lemon Lavender Shortbread Cookies
These lemon lavender shortbread cookies are literally as easy as 1-2-3 to put together. And the aroma will perfume your home as the lemon lavender cookies bake.
Lemon Lavender Shortbread Cookies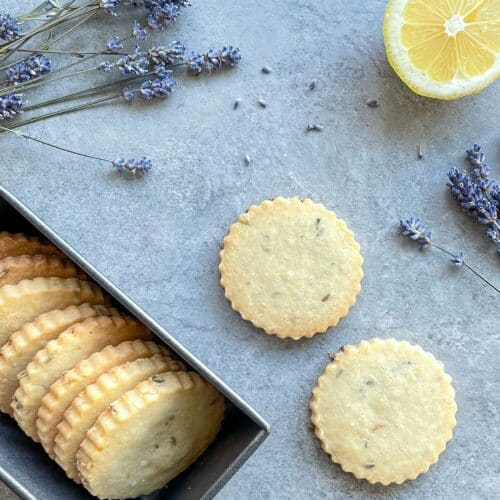 Shortbread Linzer Cookies with Raspberry Filling
These shortbread Linzer cookies are a classic version of a Linzer cookie made with a raspberry filling sandwiched between two tender almond shortbread cookies and dusted with confectioners' sugar.
Shortbread Linzer Cookies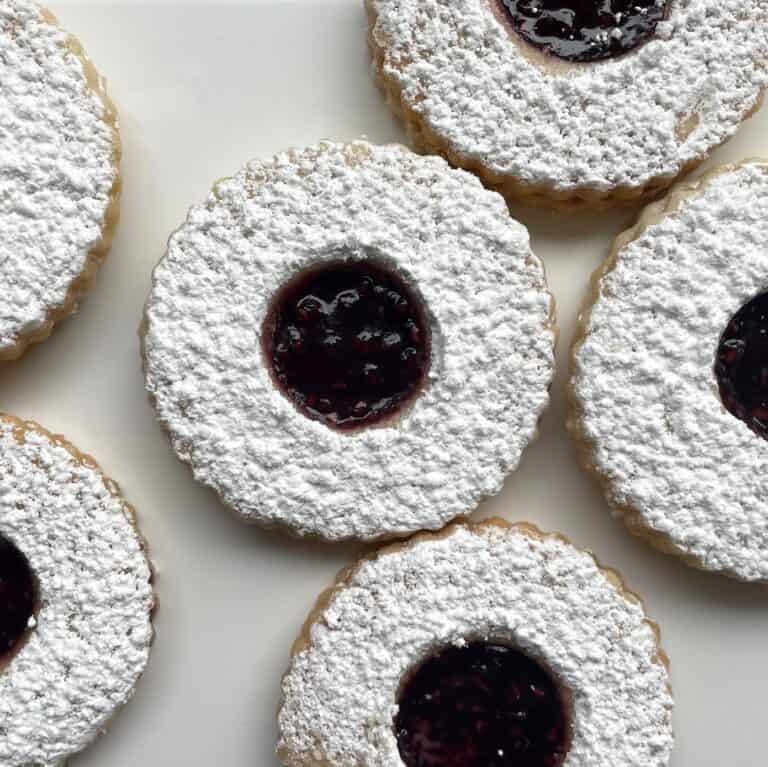 Other baking ratios
This is just a start. There are other cooking and baking ratios you can use and adapt as you get more and more comfortable in the kitchen.
As example, many pie crusts use a ratio of 3 parts flour to 2 parts butter to 1 part water, like you can see in this Erin McDowell pie crust recipe. I have always preferred homemade pie crust made with a combination of butter and cream cheese because of the added tang and easier handling.
But you do you. Happy baking!
Baking ratio chart
Here's a handy chart for you. Use it to compare these baking ratios with your favorite recipes:
| | Butter | Sugar | Flour | Eggs | Liquid | Notes |
| --- | --- | --- | --- | --- | --- | --- |
| Pound cake | 1 | 1 | 1 | 1 | | |
| Yellow cake | 1 | 2 | 3 | 4 | | by volume |
| Quick breads and muffins | 1 | | 2 | 1 | 2 | |
| Pancakes | 0.5 | | 2 | 1 | 2 | for waffles, add 1 to 2 tablespoons butter and sugar |
| Shortbread cookies | 2 | 1 | 3 | | | |
| Pie crust | 2 | | 3 | | 1 | |
Note that all of these baking ratios are by weight except for the 1 2 3 4 cake.
FAQs about baking and baking ratios
What can I substitute for self-rising flour in a recipe?
A cup of self-rising flour is equivalent to about a cup of all-purpose flour, teaspoon of baking powder, and half teaspoon of salt. It's generally better to use these ingredients individually because that way you know that the baking powder is still active.
What do I do if I don't have cake flour?
Cake flour is a low-protein flour that is often used in cakes and other recipes where gluten development isn't desired. If you don't have cake flour, use ⅞th of a cup of all-purpose flour plus 2 tablespoons cornstarch for every cup of cake flour in a recipe.
Should I use salted vs unsalted butter in baking?
Most baking recipes call for adding unsalted butter and salt separately to be able to control for the amount of salt in a recipe. If salted butter is all you have, simply skip adding extra salt.
What's next
Use one of these baking ratios to create your own recipes with the flavors that you love, and don't forget to leave a comment and rating. Pretty please!
Looking for inspiration?
Sign up to get recipes full of kitchen tips and tricks.