Easy Dehydrated Orange Slices
Dehydrated orange slices and other dried citrus infuse their fragrant perfumes to make a perfect garnish for your dry martini or other favorite cocktail. Or use your dried orange slices for a garland or decoration for your winter table.
And, bonus, dehydrating oranges is really easy. You just need a knife, lined baking sheet, and an oven.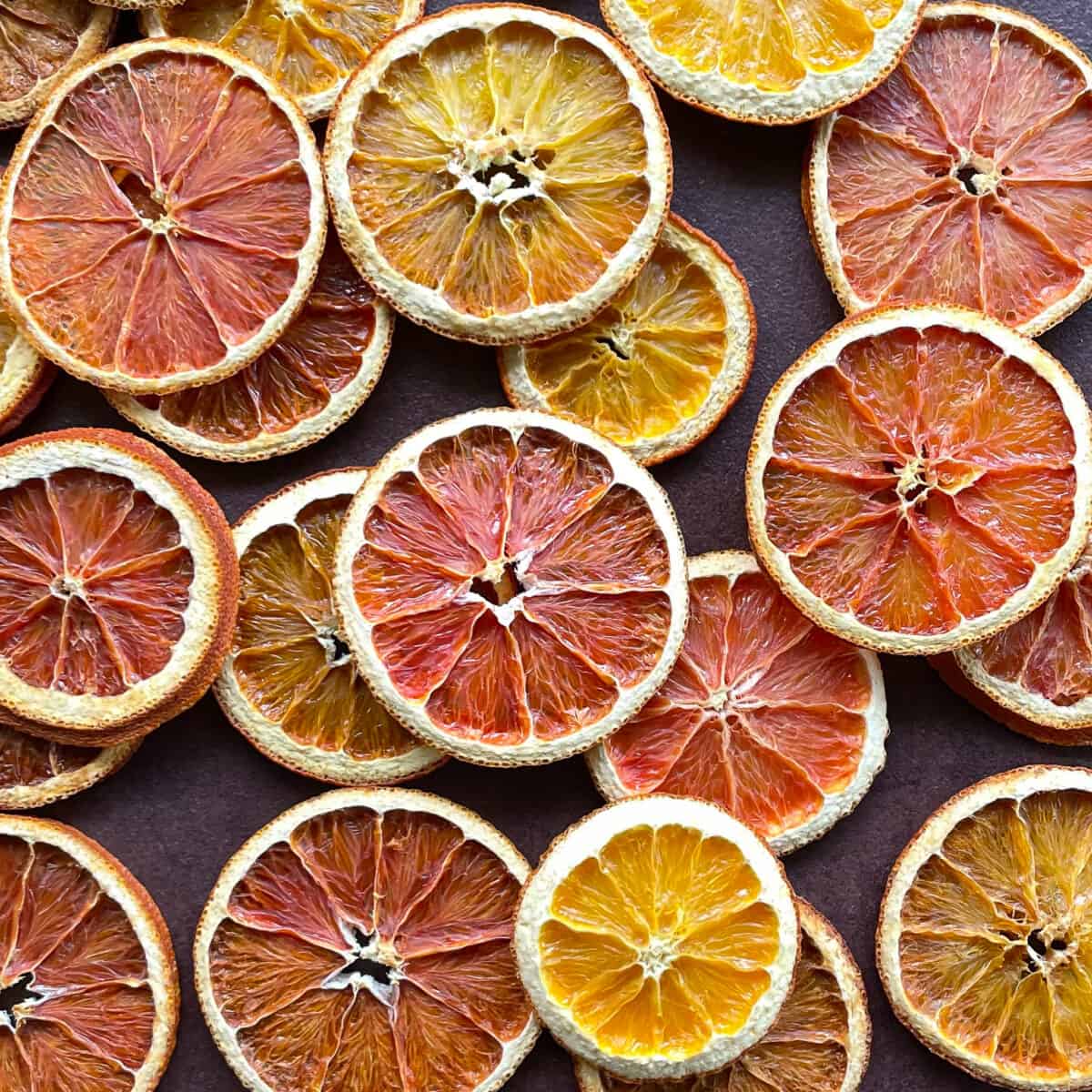 Jump to:
Why you'll love this recipe
Easy.
Dried oranges keep for ages.
Ingredients
Genealogy of oranges and other citrus fruits
Did you know that oranges originated in Asia as a domesticated hybrid between the pomelo and mandarin, two of the three original citrus fruits? Citrus a bit of an incestuous genus, it seems, as oranges were then crossed with pomelo to make grapefruit. If you like this sort of thing, this is a great read about citrus genealogy.
Best oranges for dehydrated orange slices
Oranges come in a lot of different varieties. Seedless oranges are best for making dried orange slices, since seeds will leave large holes as the oranges dry.
Navel oranges are a seedless varietal with thick skin and less juice, so they dry well. Or mix it up with a pink-fleshed Cara Cara navel orange or even a blood orange or two.
Variations and substitutions
Follow these same instructions to make other dried citrus like dehydrated lime slices and dried lemons. Cut smaller fruit like lemon and limes into slightly thinner slices.
Turning on your oven for hours? Dehydrate other fruit like dried apple rings, dehydrated strawberry chips, or cherry tomatoes!
Recipe tips and tricks
How to dehydrate oranges
First, rinse and dry your oranges and cut off the ends. Slice one-quarter inch rounds, slicing as uniformly as possible so they dry evenly. You can use a mandoline, but I find that a sharp knife works best.
Tip from the wise quacker: the most important thing in knife safety is good technique. The second most important part of knife safety is making sure your knives are sharp, because dull knives are more likely to slip. So don't skip regular maintenance and occasional professional sharpening.
Put the cut orange rounds on a baking sheet lined with parchment paper. You can put the slices very close to each other but do not overlap them.
Bake the orange rounds in your oven at 200 degrees Fahrenheit. After the first hour, rotate the pans, and flip over the slices. Check them again every 30 to 60 minutes, rotating the pans, flipping over the slices, and checking for ones that are browning more quickly than others. Dehydrate the orange slices until they are dry to touch, about three to four hours.
Storage
Fully dried orange slices will last for six to twelve months, depending on the heat and humidity in your house. You can prolong their shelf life by storing them in the fridge or freezer. Just check for mold before using.
How to use dehydrated orange slices
Use orange slices as a cocktail garnish like for this spicy skinny margarita. The slice will perfume and slowly flavor your drink.
Steep dehydrated orange in tea or hot water.
Use as decorations and a natural air freshener.
Recipe FAQs
Are oranges a seasonal fruit?
Oranges may be available year-round, but peak season is in the winter months and early spring.
Do I need an oven with a dehydrating function to dry these in my oven?
I found that the regular setting on my oven at 200 degrees worked better to make these dried orange slices than the dehydrate setting. You can, of course, use a food dehydrator if you have one.
Can you eat the dehydrated oranges?
Can you? Yes, you can eat dried oranges and the dehydrated orange peel. Will you want to? I'm not sure. Dried oranges can be bitter. Dried orange is not the same as candied orange peel or slices, which go through several water exchanges to get rid of the bitterness of the rind and pith. But eating dehydrated oranges won't hurt you if you want to try them.
Should citrus fruits be refrigerated?
Citrus fruits don't ripen further after picking, so store your oranges in the refrigerator until dehydrating them.
Related orange recipes
Love the flavor and fragrance of oranges? Make these other orange-flavored recipes:
Love cocktails and want to explore more? Read all about classic cocktails and bartender basics or join this year's 52 weeks of cocktails challenge!
Love this recipe? Please leave a 5-heart 💜💜💜💜💜 rating in the recipe card below. Let me know how much you loved it, or any problems you had, in the comments section further down.
Recipe
Pin Recipe
Dehydrated Orange Slices
Servings:
24
dried orange slices
Make dehydrated orange slices in your oven for an easy cocktail garnish. Or use your dried orange slices for a garland or table decoration.
Print Recipe
Ingredients
1

seedless navel orange

1

Cara Cara or blood orange
Instructions
Wash and dry your oranges. Slice off the ends of your oranges, then use a knife to cut ¼ inch thick slices. Lay the slices on two parchment-lined baking sheets so the orange slices are close but not touching.

1 seedless navel orange,

1 Cara Cara or blood orange

Bake and dehydrate the slices in a 200° oven until dry to the touch, about 3 to 4 hours. After the first hour, rotate your baking sheets and flip over the slices. Check the slices every 30 to 60 minutes to make sure none are starting to brown, flipping them over and rotating the sheets once or twice more until the slices are dry to the touch.
Notes
When slicing your oranges, try to keep the thickness as uniform as possible so your dehydrated orange slices dry evenly.

Seedless oranges like navel and Cara Cara oranges work best for dehydrated oranges because seeds will leave holes in the orange slices as they dry.
Nutrition
Calories:
3
kcal
|
Carbohydrates:
1
g
|
Protein:
0.1
g
|
Fat:
0.01
g
|
Saturated Fat:
0.001
g
|
Polyunsaturated Fat:
0.002
g
|
Monounsaturated Fat:
0.002
g
|
Sodium:
0.1
mg
|
Potassium:
11
mg
|
Fiber:
0.1
g
|
Sugar:
1
g
|
Vitamin A:
16
IU
|
Vitamin C:
4
mg
|
Calcium:
3
mg
|
Iron:
0.01
mg
Looking for dinner inspiration, classic recipes and new seasonal favorites?