Aperol Sour: Two Variations
Looking for an easy cocktail to add zing to your day? Look no further than the Aperol Sour! This delightful drink combines the bitter and sweet flavors of Aperol with the tartness of fresh lemon juice and just a touch of of simple syrup. There may be some gin and an egg white thrown in, depending on your preference.
The result is a vibrant cocktail that's perfect for sipping by the pool on a warm afternoon or sharing with friends at your next dinner party. So grab your shaker and get ready to mix it up!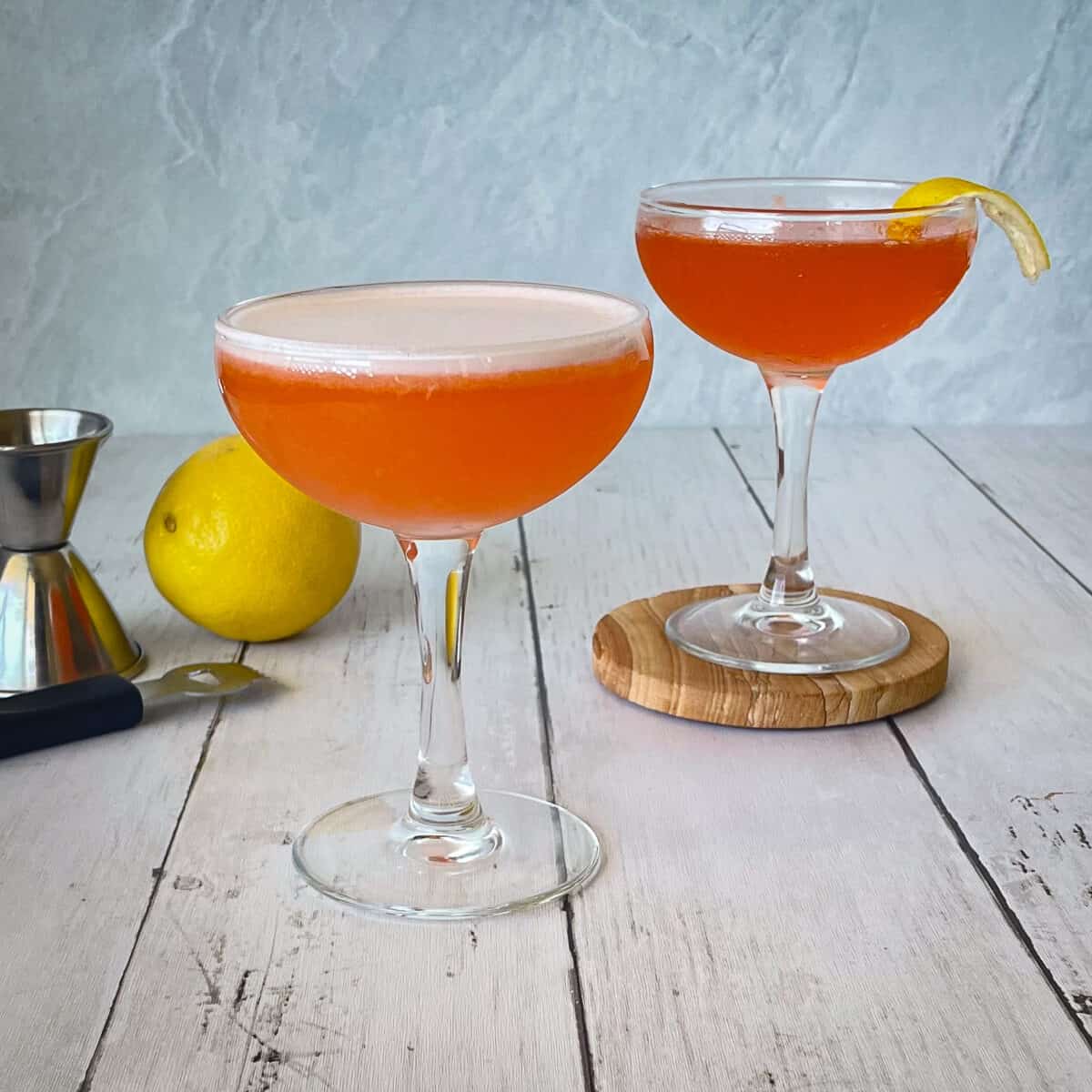 Jump to:
Why you'll love this cocktail
Tangy and refreshing.
Easy to make. Easy to sip.
Ingredients
These two bright orange Aperol sour variations follow the classic sour cocktail formula seen in this vodka sour. One Aperol sour, a light and refreshing version, uses only Aperol, lemon juice, and simple syrup. The other is a gin sour variation that uses gin, Aperol, lemon juice, simple syrup, and an egg white to give you a richer, smoother, more sophisticated sour cocktail.
About Aperol
Aperol is an Italian aperitivo like Campari. Compared to Campari, Aperol is less bitter and slightly sweeter with herbal and orange flavors. It's much lighter than Campari with only 11% alcohol by volume compared to the 24% of Campari.
The classic Aperol cocktail is an Aperol spritz, made with Aperol, prosecco, and soda water. But you can use Aperol in any cocktail where you might find Campari. The obvious substitution is the Aperol Negroni.
Sour cocktail variations
You can read all about classic cocktails and their variations if you have the time. Briefly, the sour is a classic cocktail made with two ounces of spirit, three quarters of an ounce of freshly squeezed citrus juice, and three quarters of an ounce of simple syrup.
If you only memorize one cocktail recipe, it should be the sour. It's the most popular cocktail formula and is easily adaptable.
Make your sour sweeter or more sour by using a quarter of an ounce more or less of your citrus or simple syrup. Make it with rum and lime juice, and it's a daiquiri. Change it to tequila, use orange liqueur instead of sugar syrup, and you have a margarita. Make it with gin and lime, and it's a gimlet.
You can vary the flavors with different simple syrups, juice, or liqueurs. The cosmo is a vodka sour made with cranberry juice and orange liqueur. The popular Porn Star martini is actually a passion fruit sour and not a martini.
Recipe tips and tricks
Making simple syrup
Simple syrups are extremely easy to make. Simply (see what I did there?) combine equal amounts of granulated sugar and water in a pot over low heat until the sugar dissolves.
Tip from the wise quacker: never use hot tap water to make simple syrups or in cooking. Hot water can leach lead and other chemicals from your pipes and fixtures.
Shaking your cocktail
The sour is a shaken cocktail. The general rule is that you should shake any cocktail that has citrus juices to add air bubbles and make it lighter.
Aperol sour variation #1: without egg white
To make the straight Aperol sour or the gin version without egg white, add your ingredients to your cocktail shaker with ice. Shake for 10 to 20 seconds to chill and strain.
You can serve this sour up in a chilled coupe or in a lowball glass with a large ice cube. Those large ice cubes are slower to melt, so they don't dilute your drink as much as smaller cubes. Garnish with a lemon twist or dried orange slice.
Aperol sour variation #2: the dry shake
To make an Aperol sour with egg white, do a dry shake. Like in this creamy espresso martini or gin espresso martini, the dry shake allows you to shake longer to create a foamy top for your Aperol sour but doesn't over-dilute your drink.
First, add the gin, Aperol, lemon juice, simple syrup, and egg white to your cocktail shaker without ice. Hold it tight. I dry shake over my sink just in case. Shake hard for 20 to 30 seconds. Now add ice to the shaker, shake briefly to chill, and strain into your chilled glass.
What to serve with an Aperol sour
Both versions of the Aperol sour are light. So sip them on their own or enjoy with a light dish like:
Recipe FAQs
What are the ingredients in Aperol?
We don't know. Aperol's super secret recipe supposedly made with "orange, herbs and roots with a touch of vanilla."
What is a dry gin?
There are effectively four different types of gin. Dry, or London dry gins, are heavy on the juniper. Common examples of dry gins are Tanqueray, Bombay Sapphire, and Beefeater.
Is Aperol sweet or dry?
Liqueurs are actually made with sugar and aren't labeled from dry to sweet like wines and sparkling wines are labeled based on their residual sugars. But considering that the sweetest wines have over 50 grams of residual sugar per liter, and Aperol has over 300 grams per liter, I think it's fair to say that Aperol is high in sugar and to call it sweet.
What's the chance of getting sick from the raw egg white?
If you are concerned about food-borne illness from consuming raw eggs, you can skip the egg white in this Aperol sour. Alternatively, you can use pasteurized egg whites or aquafaba.
Related cocktail recipes
Check out the uglyducklingbakery beverage archives for other delicious drinks inspired by classic Italian cocktails:
Love cocktails and want to explore more? Read all about classic cocktails and bartender basics or join this year's 52 weeks of cocktails challenge!
Pin Recipe
Aperol Sour
Check out two delicious Aperol sour variations. Make the light and refreshing sour for a summer day or add gin for a richer, smoother version.
Print Recipe
Ingredients
Aperol sour #1
2

ounces

Aperol

1

ounce

simple syrup

¾

ounce

lemon juice

lemon twist

for garnish
Aperol sour #2
1

ounce

Aperol

1

ounce

dry gin

e.g. Tanqueray

¾

ounce

simple syrup

¾

ounce

lemon juice

1

egg white

optional
Instructions
Aperol sour #1
Combine the ingredients in a cocktail shaker with ice. Shake and strain into a chilled coupe or a rocks glass with a large ice cube.

2 ounces Aperol,

1 ounce simple syrup,

¾ ounce lemon juice

Garnish with the lemon twist.
Aperol sour #2 (with egg white)
Combine all the ingredients into a cocktail shaker without ice. Hold tightly to the shaker and shake for about 20 seconds.

1 ounce Aperol,

¾ ounce simple syrup,

¾ ounce lemon juice,

1 egg white,

1 ounce dry gin

Add ice to the shaker, shake briefly, and strain into a coupe.
Notes
Nutritional estimates were calculated for Aperol sour variation #2 with an egg white.
To make simple syrup, simply combine equal amounts of sugar and water in a pot and heat over low until the sugar has dissolved. Let cool before using.
If making the Aperol sour variation with egg white, doing the dry shake first allows you to create a foamy top without over-diluting your cocktail.
Nutrition
Calories:
219
kcal
|
Carbohydrates:
25
g
|
Protein:
3
g
|
Fat:
0.1
g
|
Saturated Fat:
0.01
g
|
Sodium:
63
mg
|
Potassium:
85
mg
|
Fiber:
0.1
g
|
Sugar:
16
g
|
Vitamin A:
1
IU
|
Vitamin C:
8
mg
|
Calcium:
6
mg
|
Iron:
1
mg
These Aperol sour variations were first posted August 5, 2022. The post was last updated April 16, 2023.
Looking for inspiration?
Sign up to get recipes full of kitchen tips and tricks.