Easy 4 Ingredient Guacamole Recipe
With this 4-ingredient guacamole recipe, it's never been easier to whip up a batch of homemade guacamole for Taco Tuesday or your next game night. All you need are ripe avocados, lime juice, cilantro, salt, and a little bit of love.
Guacamole is perfect for scooping up with chips, slathering on tacos and taco meatloaf, or even using as a sandwich spread. So grab your four ingredients and get ready to impress your friends and family with this deceptively easy guacamole!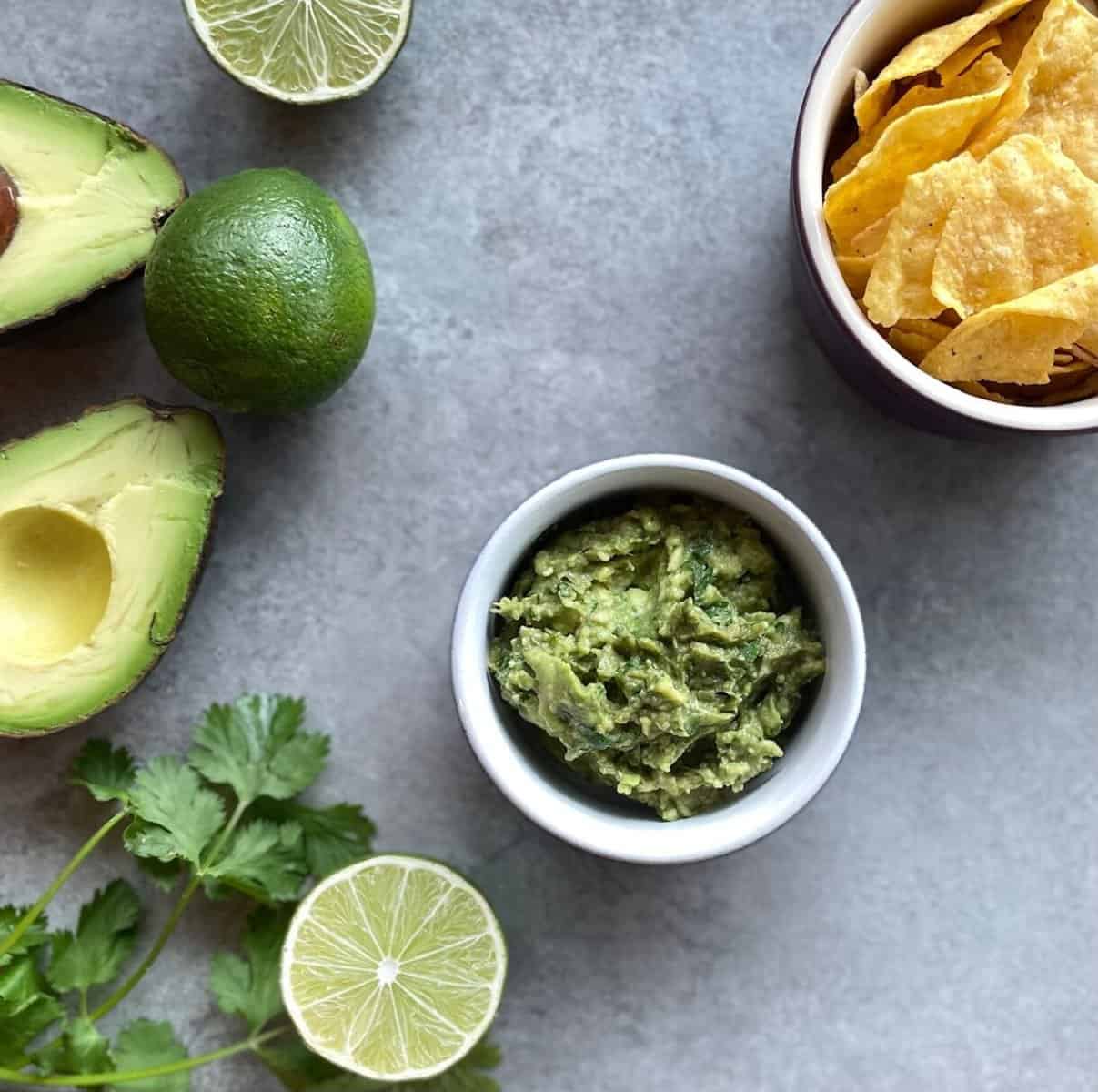 Jump to:
Why you'll love this recipe
Quick and easy
Smooth and creamy
Only 4 ingredients
Ingredients
Perfectly ripe avocado, fresh cilantro, freshly squeezed lime juice, and a bit of salt. That's all you need to make the perfect 4-ingredient guacamole.
Guacamole is hundreds of years old, so there isn't one classic recipe at this point. At minimum, guacamole has avocado, salt, and cilantro. It may have an allium like garlic or onions, chili peppers, or even tomatoes. Diana Kennedy in the Art of Mexican Cooking actually says that your guacamole shouldn't have lime, because it upsets the balance of flavors. It does, however, slow your homemade guacamole from browning.
Make with that last bit of information what you will.
How to pick an avocado
This 4-ingredient guacamole is all about the avocado. The best guacamole is made with Hass avocados, named after Rudolph Hass.
These California avocados are creamier and have more flavor than other avocados. And when you're making homemade guacamole with only three other ingredients, those avocados need to be the best.
Avocados are ripe when they are just slightly soft to the touch. You can't tell by color or by smell.
Variations and substitutions
If a 4-ingredient guacamole just isn't enough, you can add:
minced garlic or onions
minced jalapeño or other chili pepper
perfectly ripe tomatoes, seeded and chopped
Recipe tips and tricks
Cutting your avocado
Cutting an avocado is a common way people injure themselves with knives. (Read more here about other hazards in the kitchen that may surprise you.)
First slice the avocado around the circumference of the fruit from top to bottom and back around (i.e. not the equator). Twist the two halves to separate them.
To remove the pit, carefully embed your knife into the pit (Panel #1, below) and lift it out (Panel #2). Very carefully knock off the pit from your knife.
For fresh guacamole, you don't need to perfectly remove the peel from the flesh, but it's easy to do by first separating the avocado from the peel. Then use a large spoon to remove the flesh in one big, smooth scoop.
Making the guacamole
Add all of the ingredients to a bowl or mortar or molcajete if you want to be traditional. Mash with a pestle or potato masher, and leave some avocado chunks for a bit of texture.
What to serve with this 4-ingredient guacamole
Storage
Guacamole is best served immediately after you make it, or it will brown. If you happen to have leftovers, refrigerate it for up to three days with plastic wrap pushed down over the surface.
Unripe avocados should be kept at room temperature until ready to eat, and after that you can refrigerate them to slow the continued ripening. If you've only got a half left, leave in the pit to minimize the browning from oxidation.
There was recently a viral TikTok trend suggesting that you could store avocados in water in your refrigerator to keep them for longer. Please know that the U.S. Food and Drug Administration warns against doing this because of the risk of salmonella and other food-borne illness.
Recipe FAQs
What is the origin of the word "guacamole"?
Guacamole comes from Nahuatl, the language spoken by the Aztec and Toltec, from ahuacatl (the word for avocado) and molli (sauce). That molli is the same word that gave us "mole," refering to a variety of sauces that come from the Oaxaca and Puebla regions of Mexico.
Can I freeze avocados?
Well, you can freeze them, but I would not recommend using them for this guacamole. Perhaps they'd be fine in a smoothie?
Can I freeze guacamole?
Freezing isn't recommended, as it'll destroy the rich and creamy texture of fresh guacamole.
Related dip recipes
Check out other Ugly Duckling Bakery dips and dressings like:
Love this recipe? Please leave a 5-heart 💜💜💜💜💜 rating in the recipe card below. Let me know how much you loved it, or any problems you had, in the comments section further down.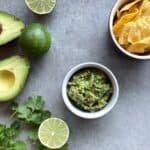 Pin Recipe
4 Ingredient Guacamole Recipe
This 4 ingredient guacamole recipe is quick and easy to put together for Taco Tuesday or your next game night. There may only be four ingredients, but nothing is missing from this recipe.
Print Recipe
Ingredients
2

Hass avocados

each about 7 ounces (200 grams)

2

tablespoons

chopped cilantro

2

teaspoons

freshly squeezed lime juice

plus more as desired

½

teaspoon

salt
Instructions
Add all of the ingredients into a small bowl, mortar, or molcajete and mash using a pestle, potato masher, or large spoon until desired consistency.

2 Hass avocados,

2 tablespoons chopped cilantro,

2 teaspoons freshly squeezed lime juice,

½ teaspoon salt

Taste and adjust the amount of salt and lime juice to taste.

Serve immediately to avoid discoloration.
Notes
This recipe with 2 avocados will make about 1 cup of guacamole.
If intending to serve later, cover the guacamole with plastic wrap, pushing it down onto the surface, and refrigerate. Homemade guacamole can be refrigerated for up to 3 days but it is best eaten fresh.
Add to this 4-ingredient guacamole recipe with any of the following:
minced garlic or onions
minced jalapeño or other chile pepper
perfectly ripe tomatoes, seeded and chopped
Nutrition
Calories:
81
kcal
|
Carbohydrates:
4
g
|
Protein:
1
g
|
Fat:
7
g
|
Saturated Fat:
1
g
|
Polyunsaturated Fat:
1
g
|
Monounsaturated Fat:
5
g
|
Sodium:
149
mg
|
Potassium:
246
mg
|
Fiber:
3
g
|
Sugar:
1
g
|
Vitamin A:
81
IU
|
Vitamin C:
5
mg
|
Calcium:
6
mg
|
Iron:
1
mg
Looking for inspiration?
Sign up to get recipes full of kitchen tips and tricks.