Cranberry Negroni: A Gin and Cranberry Juice Cocktail
Introducing the Cranberry Negroni – a new Negroni variation. With its deep red hue, this gin and cranberry juice cocktail is a wonder for your eyes and your taste buds.
Prepare for a bold experience, as pure cranberry juice complements the traditional bitter flavors of the Negroni. To balance it out, I've dialed down the Campari and added a sugared rim for a perfectly balanced and irresistible gin and cranberry concoction. Cheers to a vibrant and flavorful holiday season or to your cranberry Negroni any time of year!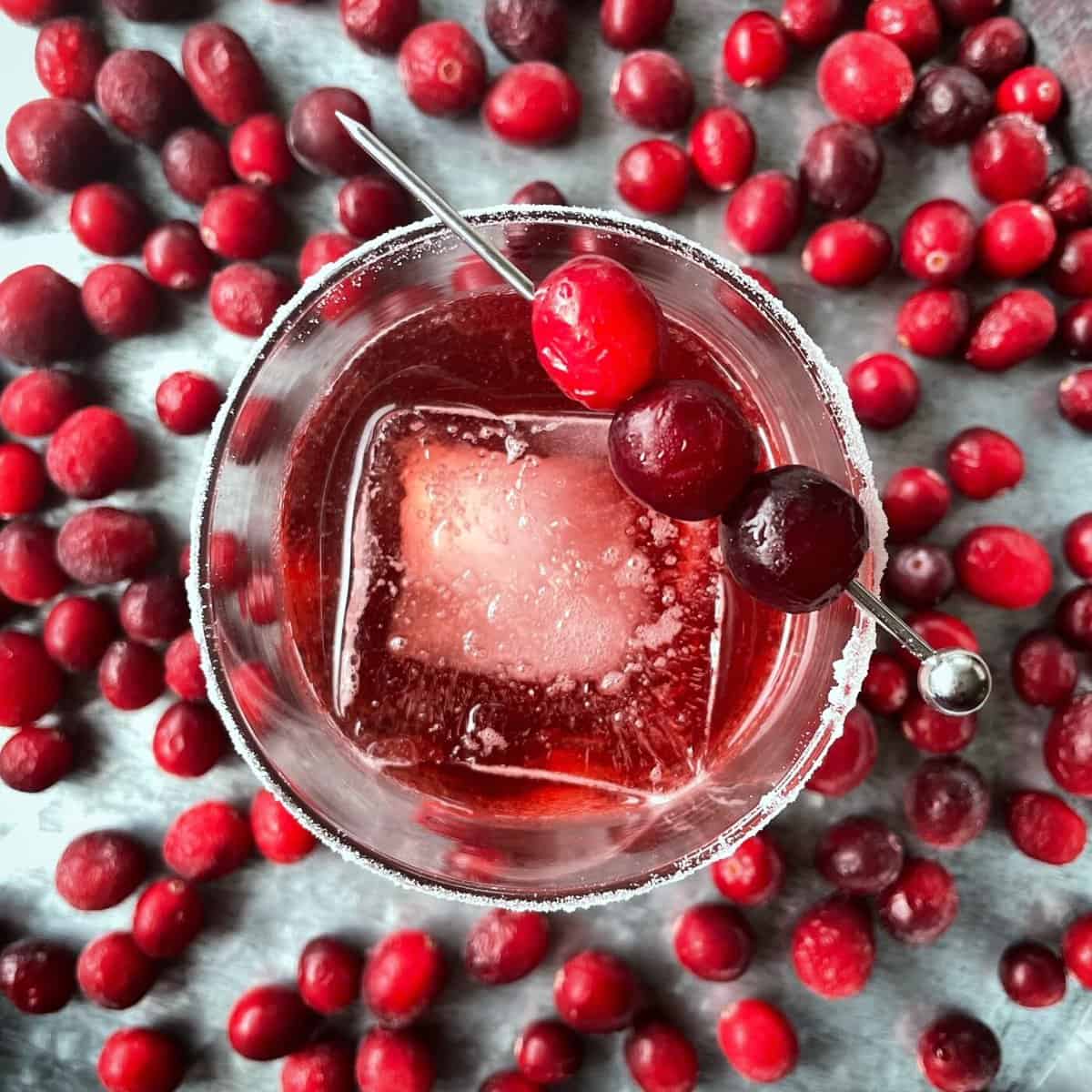 Jump to:
Ingredients
Cranberries are true berries that grow on bushes, primarily in North America and Chile. They've been used by indigenous peoples for centuries as food and dyes. Cranberries are related to blueberries and the European fenberry, called that because they are found in fens, or marshland.
I recommend using 100% cranberry juice in this cranberry Negroni instead of sweetened cranberry cocktail. When you buy a bottle of cranberry cocktail, it's often more sugar or apple juice than actual cranberry juice.
Do you love cranberry recipes? There's nothing like a turkey meatloaf recipe made with homemade cranberry sauce – try a spicy cranberry sauce with jalapeño pepper – or a cranberry chicken salad to make you dream about Thanksgiving any time of year.
Please see the recipe card below for complete information on ingredients and quantities.
Variations and substitutions
A Negroni can be served up or on the rocks, depending on your preference.
Use cranberry gin or make your own (see below).
Use sweetened cranberry juice in this gin and cranberry juice cocktail, but definitely skip the sugared rim.
Garnish with sugared cranberries
Cranberry-infused gin
Instead of using gin and cranberry juice, you can make a cranberry Negroni by infusing your gin with fresh cranberries. Slice cranberries in half, put them into a clean jar, and add gin to cover. Leave the jar in a cool place or the refrigerator for a few days before straining out the cranberries.
To make the cranberry Negroni, shake together the cranberry-infused gin with one ounce of sweet vermouth and one-half to one ounce of Campari. Include or omit the sugared rim, depending on your preferences for sweeter or more bitter cocktails.
About the Negroni
The Negroni is a classic Italian cocktail developed in the 1800s. It's traditionally made with equal proportions of gin, Campari, and sweet vermouth.
If you love slightly bitter cocktails, explore other cocktail recipes made with Campari, Aperol, or other amari like a Negroni spritz, Aperol Negroni, or Aperol sour. Or try a Manhattan like this Brandy Manhattan or Peanut Butter Manhattan that use a variety of bitters.
Recipe tips and tricks
How to rim a glass with sugar:
Rub a lemon wedge or use a small kitchen paintbrush to create a thin line of moisture around the outside rim of your glass.
Put sugar on a small plate and rotate the glass into the sugar at a 45 degree angle to get sugar on the outside of the rim only. Try to avoid sugar on the inside rim or it can change how your cocktail tastes.
Tap off any excess and prepare your cocktail. Cheers!
You can rim a glass with other things. Salt is an obvious alternative. But you can also use cocoa, cinnamon sugar, or spices. My cherry Bakewell cocktail is rimmed with ground nuts and sugar. This spicy margarita has a rim of chipotle salt.
Making the Cranberry Negroni
Combine the gin, cranberry juice, sweet vermouth, and Campari with ice in a cocktail shaker. Shake for about 10 to 15 seconds until your shaker is frosty. Strain and serve.
Tip from the wise quacker: shaken or stirred? The teaching is that cocktails made entirely of alcohols should be stirred with ice and poured into the glass or even built in the glass. This Cranberry Negroni is shaken because of the cranberry juice.
Big batch cranberry Negronis
You can scale this cranberry Negroni recipe for a crowd. "They say" to provide two drinks per hour for the first hour of a cocktail party and then one drink per hour after that.
The larger batches below have a dilution of 25%, you can use only 20% water to make stronger Negronis if you prefer. Please drink responsibly.
| | | | | | |
| --- | --- | --- | --- | --- | --- |
| | 1 | 2 | 4 | 8 | 16 |
| dry gin | 1.5 fl oz | 3 oz | ¾ cup | 1 ½ cup | 3 cups |
| sweet vermouth | 1 fl oz | 2 oz | ½ cup | 1 cup | 2 cups |
| 100% cranberry juice | 1 fl oz | 2 oz | ½ cup | 1 cup | 2 cups |
| Campari | 0.5 fl oz | 1 oz | ¼ cup | ½ cup | 1 cup |
| Dilution | Shaken | Shaken | ½ cup | 1 cup | 2 cups |
How to serve a cranberry Negroni
The Negroni is a classic aperitivo, meant to stimulate the appetite. So serve it before dinner or at a cocktail party along with little bites like:
Want a digestivo for after your Italian dinner party? Go with a Frangelico cocktail like this Frangelico sour.
Recipe FAQs
What is a gin and cranberry juice cocktail called?
You've probably heard of the Cape Codder, made with vodka and cranberry juice, or Sea Breeze, made with vodka, cranberry juice, and grapefruit juice. There doesn't appear to be a commonly used name for a gin and cranberry juice cocktail like there are for vodka and cranberry juice cocktails.
Are cranberries good for you?
Note from me as an infectious diseases doctor: although cranberry juice has been recommended for years, the evidence is inconclusive that cranberry juice can prevent recurrent urinary tract infections. Also, cranberry juice, like grapefruit juice, has the potential to interact with certain medications, so please check with your own doctor if you want to make cranberries a large part of your diet.
Related cocktail recipes
Explore the best of the best Ugly Duckling Bakery gin and other cocktails like:
Love cocktails and want to explore more? Read all about classic cocktails and bartender basics or join this year's 52 weeks of cocktails challenge!
Love this recipe? Please leave a 5-heart 💜💜💜💜💜 rating in the recipe card below. Let me know how much you loved it, or any problems you had, in the comments section further down.
Recipe
Pin Recipe
Cranberry Negroni
This cranberry Negroni is a delicious variation on a classic. Though it's fantastic any time of year, the deep red color of this gin and cranberry juice cocktail makes it the perfect holiday cocktail.
Print Recipe
Ingredients
lemon wedge

superfine or granulated sugar

1½

ounces

Tanqueray or other dry gin

1

ounce

sweet vermouth

1

ounce

100% cranberry juice

½

ounces

Campari

fresh cranberries for garnish
Instructions
Make a sugared rim glass by rubbing the lemon wedge lightly around the outside of a lowball glass. Then rub the outside of the rim in a plate of sugar. Tap the glass lightly while it is upside down to knock any loose sugar back onto the plate.

lemon wedge,

superfine or granulated sugar

Fill a cocktail shaker with ice and add the gin, sweet vermouth, cranberry juice, and Campari. Shake for about 10 seconds and then strain into the glass.

1½ ounces Tanqueray or other dry gin,

1 ounce sweet vermouth,

1 ounce 100% cranberry juice,

½ ounces Campari

Garnish with the cranberries.

fresh cranberries for garnish
Notes
The Negroni is typically a stirred cocktail. However, with the addition of cranberry juice, shaking with ice becomes the better dilution method when making one or two cocktails.
This cranberry Negroni can also be served straight up in a chilled glass.
Nutrition
Calories:
86
kcal
|
Carbohydrates:
4
g
|
Protein:
1
g
|
Fat:
1
g
|
Polyunsaturated Fat:
1
g
|
Monounsaturated Fat:
1
g
|
Sodium:
1
mg
|
Potassium:
11
mg
|
Fiber:
1
g
|
Sugar:
2
g
|
Vitamin A:
6
IU
|
Vitamin C:
1
mg
|
Calcium:
1
mg
|
Iron:
1
mg
This cranberry Negroni recipe was first posted November 6, 2021. It was last edited for clarity on June 18, 2023.
Looking for dinner inspiration, classic recipes and new seasonal favorites?