These Spicy Pickled Onions provide the perfect bit of tangy sweetness, heat, and crunch to serve with a taco meatloaf or your favorite pita pocket sandwiches. And the beauty of refrigerator pickled onions is that they need only five ingredients and 10 minutes of your time.
Read on to learn all about refrigerator pickles and all sorts of recipe tips and tricks. Or just grab a red onion, hit that Jump to Recipe button, and let's make some spicy pickled onions!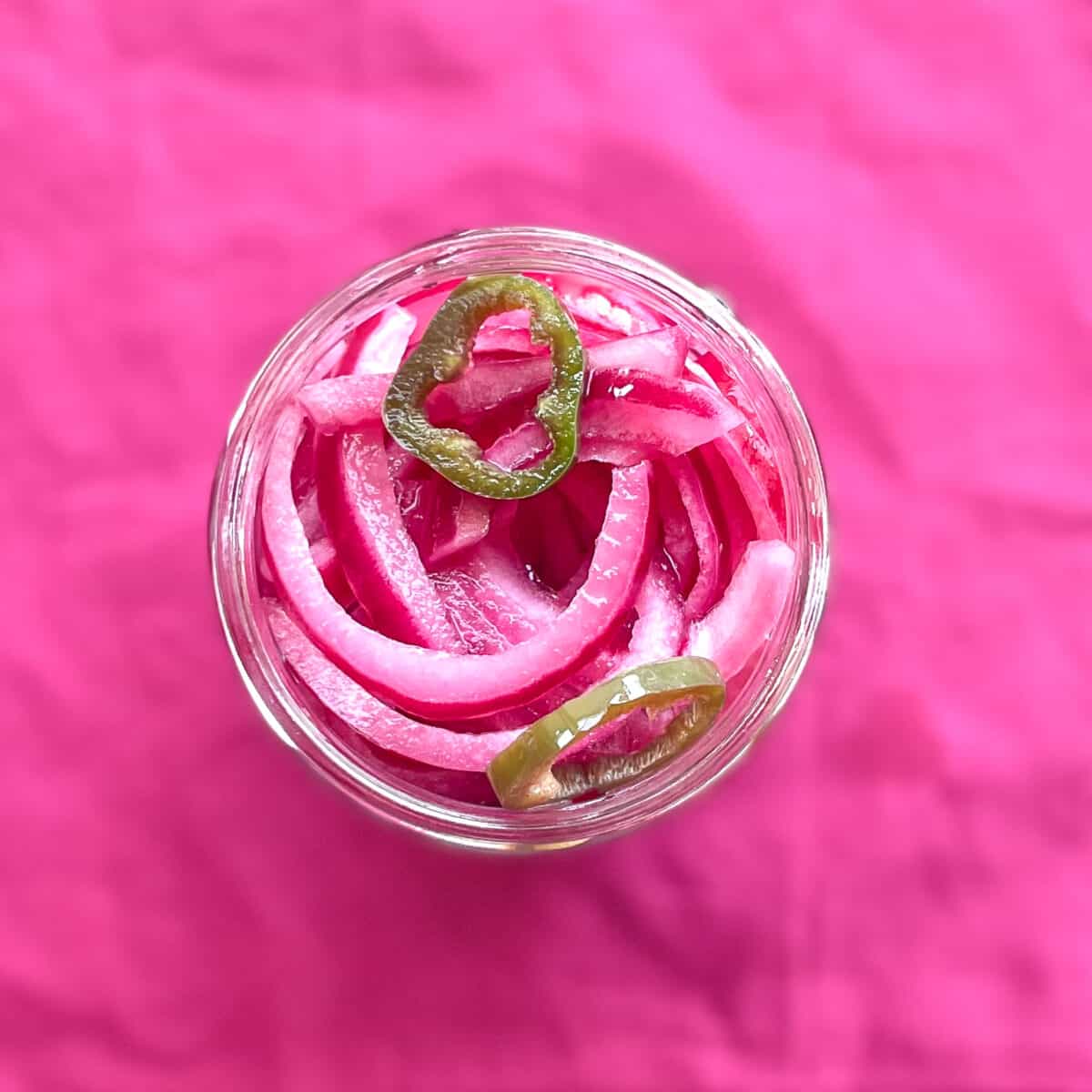 Jump to:
Ingredients
Onion – Red onions are the best choice for pickled onions, since they have a relatively mild flavor that pairs well with the spicy and tangy flavor of the pickling solution.
White wine vinegar – milder than many other types of vinegar, and it's clear, to let the pink color come through.
Chili peppers – I summarized how heat levels of different chili peppers vary in my spicy margarita post. If you want red hot pickled onions, pick a super spicy hot pepper like a habanero!
If you just can't get enough of the heat, check out some spicy cocktails: a spicy margarita with jalapeño simple syrup, a lower calorie spicy skinny margarita, and my jalapeño raspberry Bramble.
Please see the recipe card below for complete information on ingredients and quantities.
Substitutions and variations
You can pickle sweet onions and other onions using this method, but they won't have that pretty pink color.
Use another clear vinegar like champagne vinegar. Distilled white vinegar will have too harsh a taste for these onions.
About refrigerator pickles
Refrigerator pickles are the broad category of pickles that haven't gone through the canning process and therefore need to refrigerated. You can pickle an infinite number of combinations of fruits and vegetables with different types of vinegar, herbs, and spices.
You can make refrigerator pickles with either a cold or heated brine. Use a heated brine when you want to do a very quick pickle or you want to briefly cook your pickle to soften it. Using a cold brine here helps preserve the color and makes crunchy pickled onions. You want your pickled red onions to have some crunch, yes?
Recipe tips and tricks
Step 1: Chop your onions for these spicy pickled red onions. Cut the ends off (Panel #1, below), then cut the red onion in half (Panel #2).
Peel the onion halves (Panel #3). Then slice the onion into thin half-circles no more than a quarter inch wide (Panel #4).
Tip from the wise quacker: when slicing chili peppers, wear a kitchen glove or hold the pepper using a plastic bag so you don't get chili oils on your hands. If you cut chili peppers with your bare hands, don't touch your eyes or sensitive bits until after you've given your hands a good scrubbing!
You can read more about how to treat your eyes if you get chili oil in them (and also about lime juice sunburns) in this piece: Surprising hazards in the kitchen.
Step 2: Place the sliced onions and chili pepper in a bowl. Add the salt and sugar, and pour the vinegar to cover. Don't worry if the onions stick up a little bit out of the vinegar. They'll compact a bit as they pickle.
Step 3: Cover the bowl with plastic wrap and place it in the refrigerator. You can start to eat the spicy pickled onions after a few hours, but they are best after 24 hours.
What to serve with spicy pickled onions
The number one use for this pickled onion recipe in our house is sandwiches, but you can use these in other ways such as:
Recipe FAQs
How do I vary the heat in these spicy pickled red onions?
The spiciness of these onions can vary depending on 1) the type of chili pepper you use, 2) how much of the pepper you use and whether you include the seeds, and 3) how long you leave the chili pepper with the onions as they pickle.
How long do spicy pickled onions last?
Vinegar and salt are natural preservatives, so the onions can last for several weeks in the refrigerator.
Can I make these spicy pickled red onions for long-term storage?
Yes, you just need to follow proper home canning procedures.
Related recipes
Check out other Ugly Duckling Bakery sides and condiments like:
Love this recipe? Please leave a 5-heart 💜💜💜💜💜 rating in the recipe card below. Let me know how much you loved it, or any problems you had, in the comments section further down.
Recipe
Pin Recipe
Spicy Pickled Onions
These spicy pickled onions are easy to make and provide heat and crunch in your favorite tacos and sandwiches. Once you make them once, you'll be adding these pretty pink pickled onions to anything and everything!
Print Recipe
Ingredients
1

red onion, sliced into ¼ inch half moons

1

jalapeño, sliced

see notes about how to make these spicy pickled onions even spicier

1

teaspoon

salt

1

teaspoon

granulated sugar

1

bottle

(16.75 fluid ounces or 500 milliliters)

white wine vinegar

see notes about substitutions
Instructions
Slice the onion and jalapeño and put them in a lidded bowl.

1 red onion, sliced into ¼ inch half moons,

1 jalapeño, sliced

Add the salt and sugar. Then pour the vinegar over top of the onions until the onions are mostly covered. Don't worry if the onions are sticking out a little bit.

1 teaspoon salt,

1 teaspoon granulated sugar,

1 bottle

(16.75 fluid ounces or 500 milliliters)

white wine vinegar

Cover the bowl and place it in the refrigerator for at least 3 hours and ideally overnight.

These spicy pickled onions will keep in the refrigerator for a couple weeks.
Notes
To make these spicy pickled red onions spicier, use a red hot chili pepper like a habanero.
To make these onions less spicy, use less than a whole pepper and do not include the seeds. You can taste the onions as they pickle and remove the pepper when they are spicy enough for your taste.
You can substitute another vinegar for the white wine vinegar, but this is a mild pickle. Apple cider vinegar or another strong vinegar will overwhelm the flavor of the red onions.
Nutrition
Calories:
6
kcal
|
Carbohydrates:
2
g
|
Protein:
0.1
g
|
Fat:
0.02
g
|
Saturated Fat:
0.01
g
|
Polyunsaturated Fat:
0.004
g
|
Monounsaturated Fat:
0.001
g
|
Sodium:
233
mg
|
Potassium:
20
mg
|
Fiber:
0.2
g
|
Sugar:
1
g
|
Vitamin A:
15
IU
|
Vitamin C:
2
mg
|
Calcium:
3
mg
|
Iron:
0.03
mg
This spicy pickled red onion recipe was first posted July 13, 2022. It was last updated January 14, 2023.
Looking for inspiration?
Sign up to get recipes full of kitchen tips and tricks.