Pulled Pork Bowl: Oven-Braised Country Style Ribs
What should you do when you find yourself on a cold, blustery day with an extra pack of country style ribs in the fridge? Braise them in the oven in a homemade BBQ sauce. And what if there isn't enough for a meal? Turn them into a pulled pork bowl using sides you might find at a barbecue.
I like a good grain or salad or noodle bowl for a variety of reasons. Top of the list is that you can create a flavor profile (barbecue!) with things that you already have in the kitchen. Kiddo likes them because they're "a little bit of everything" meal and cleans her plate.
Jump to:
The recipe source
The foundation for this pulled pork bowl is a recipe adapted from Saucy Country-Style Oven Ribs on Epicurious. Country style ribs aren't actually ribs, but are typically cut from the shoulder of the pig. Here's a diagram, for those of you who like to know your cuts of meat.
Tips and tricks for this recipe
Making the BBQ Braised Country Style Ribs
You can certainly make the sauce as spicy as you like. Feel free to increase the cayenne or add chili powder or whatever makes you happy. You could also puree the sauce if your BBQ sauce has to be smooth.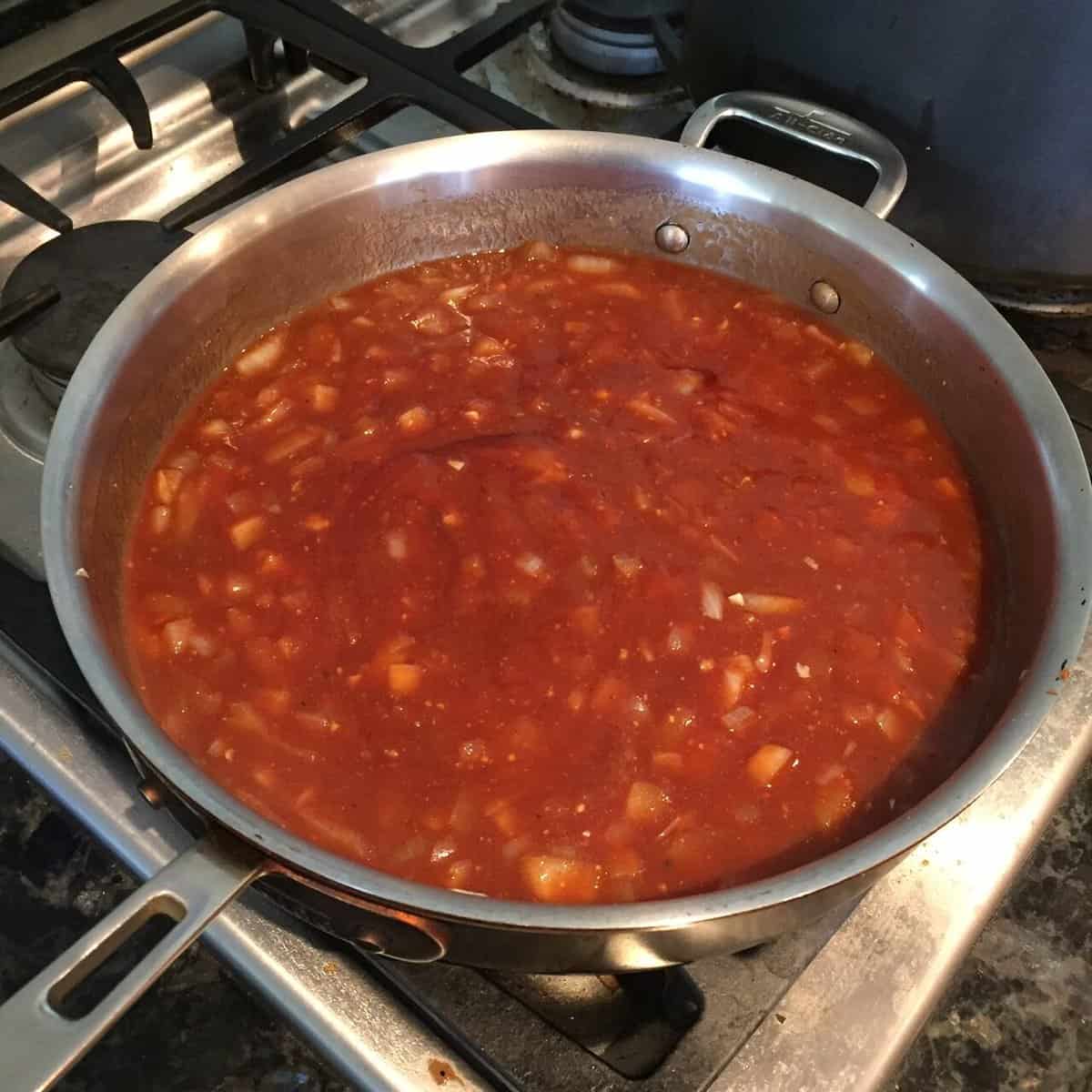 The most important thing here is the low, slow braise of those country style ribs. Whether you're making ribs or spaghetti and meatballs, braising cooks meat so it's tender, not tough.
Making the pulled pork bowl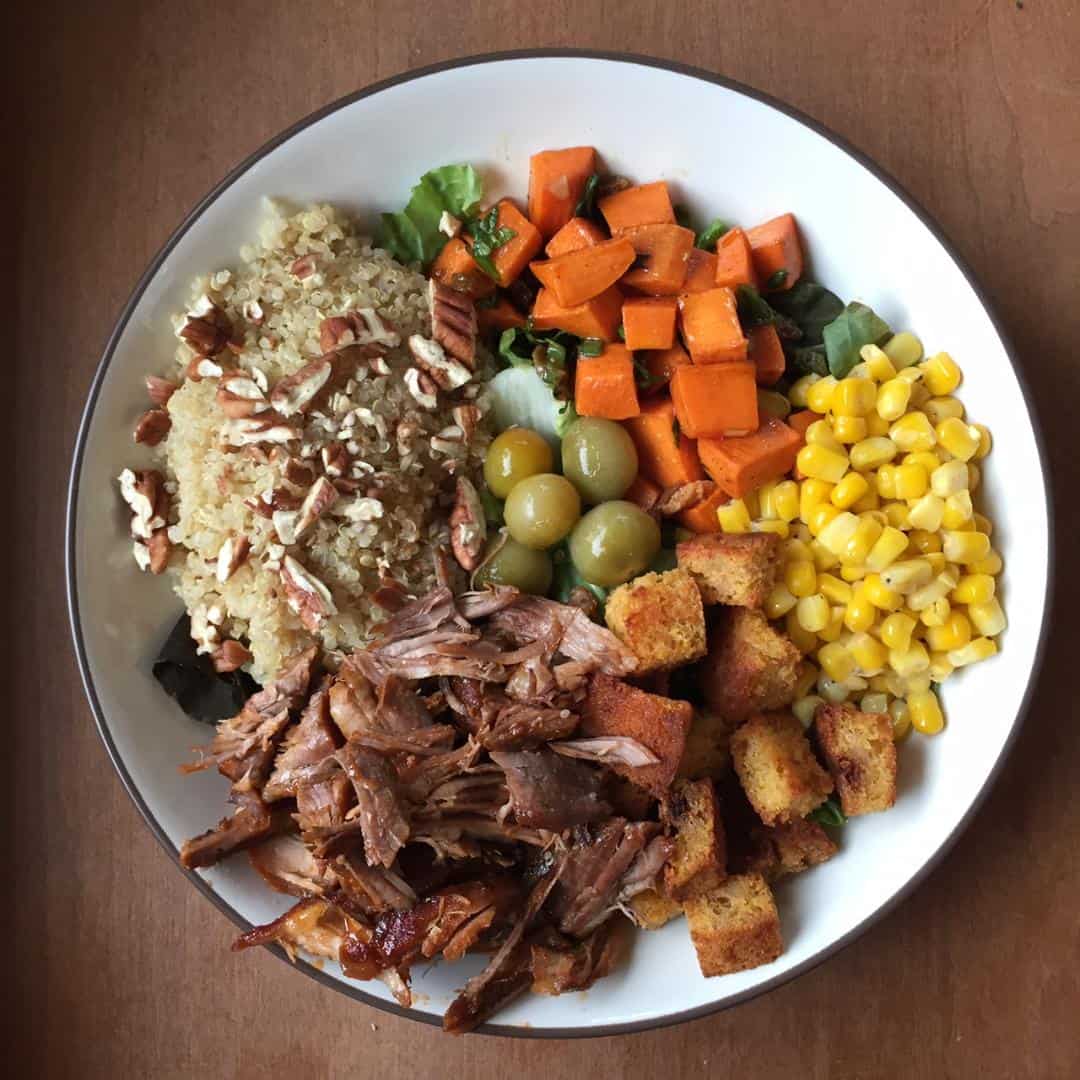 FAQs about this pulled pork bowl with oven braised country style ribs
Why do you boil the ribs before braising them?
Parboiling at a simmer (a low boil) helps to tenderize the ribs and decreases some of the fat in the braise. It is not essential, but if you skip this step, you will want to braise them for longer.
Can I use store-bought BBQ sauce?
Of course. But making your own is easy, requires items you probably already have in your kitchen, and you can set the balance of sweetness and spiciness to any level you like. But sometimes convenience wins.
Related recipes
Check out other Ugly Duckling Bakery rice and noodle bowls like:
Rainbow poke bowl with seared tuna, sushi crab salad, and Japanese scrambled eggs Mediterranean lamb bowl
Taco meatloaf bowl
Swimming Rama tofu bowl
Use this BBQ sauce on a BBQ pizza, for my braised BBQ meatballs, or in a meatball wrap!
Love this recipe? Please leave a 5-heart 💜💜💜💜💜 rating in the recipe card below. Let me know how much you loved it, or any problems you had, in the comments section further down.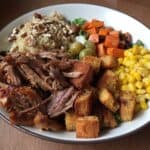 Pin Recipe
Braised Country Style Ribs
Turn these BBQ braised country style ribs into a pulled pork bowl using sides you might find at a barbecue.
Print Recipe
Ingredients
2

pounds

boneless, country-style pork ribs

1

tablespoons

vegetable oil

1

onion, chopped

2

cloves

garlic, minced

1½

cup

ketchup

½

cup

cider vinegar

⅓

cup

dark brown sugar

¼

cup

Worcestershire sauce

2

tablespoons

yellow or brown mustard

2

tablespoons

lime or lemon juice

1

teaspoon

salt

¼

teaspoon

black pepper

⅛

teaspoon

cayenne pepper

or more to taste
Instructions
Preheat the oven to 300°F.
Preparing the country style ribs
In a large pot, cover the ribs with several inches of water, bring to a low boil, and cook for 30 minutes.

2 pounds boneless, country-style pork ribs
BBQ Sauce
Meanwhile, make the BBQ sauce. Heat the oil in a large saute or frying pan and cook the onions over medium low heat until softened, about 10 minutes.

1 tablespoons vegetable oil,

1 onion, chopped

Add the garlic and stir for one minute.

Add the remaining ingredients and cook for about 15 minutes. Adjust the salt, pepper, and spiciness to taste.

1½ cup ketchup,

½ cup cider vinegar,

⅓ cup dark brown sugar,

¼ cup Worcestershire sauce,

2 tablespoons yellow or brown mustard,

2 tablespoons lime or lemon juice,

1 teaspoon salt,

¼ teaspoon black pepper,

⅛ teaspoon cayenne pepper
Braising the country style ribs
Drain the ribs, pat them try with a paper towel, and place them in a shallow baking dish. Add BBQ sauce to cover.

Cover the baking dish tightly with tin foil and cook for 2 hours.

Remove the foil and bake for an additional hour until the ribs are fork-tender and fall apart easily.

Let cool briefly and then remove from the BBQ sauce to separate the meat from the fat.

Skim the fat off of the BBQ sauce and serve alongside the pulled pork.
Nutrition
Calories:
509
kcal
|
Carbohydrates:
50
g
|
Protein:
30
g
|
Fat:
21
g
|
Saturated Fat:
4
g
|
Polyunsaturated Fat:
3
g
|
Monounsaturated Fat:
5
g
|
Trans Fat:
0.1
g
|
Cholesterol:
109
mg
|
Sodium:
1805
mg
|
Potassium:
974
mg
|
Fiber:
1
g
|
Sugar:
40
g
|
Vitamin A:
520
IU
|
Vitamin C:
11
mg
|
Calcium:
97
mg
|
Iron:
3
mg
This recipe was originally posted March 28, 2021.
Looking for inspiration?
Sign up to get recipes full of kitchen tips and tricks.