Southwestern Black Bean Burgers
These Southwestern black bean burgers are seriously delicious and easy to make! With just a few simple ingredients like black beans, corn, and spices, you can create a burger patty that's bursting with flavor.
Die-hard carnivores won't ask, "Where's the beef?" when they try these veggie bean burgers. There's no mushy bean burger here, and you can customize them to your liking – add your favorite cheese and this four-ingredient guacamole or my mango pico de gallo. So read on for more tips and tricks, or just hit that Jump to Recipe button, and let's make black bean burgers!
Jump to:
Backstory
As an infectious disease doctor in Seattle, I started posting about COVID-19 from the beginning. And at the beginning, there was a lot of fear and uncertainty.
So one day, I posted the following on Facebook, "I feel bad about only posting about coronavirus recently, so here's an unrelated question. Why do my bean burgers always come out mushy, and how do I minimize that?" The subsequent recipe tests of that mushy black bean burger turned out to be the start of this blog.
Ingredients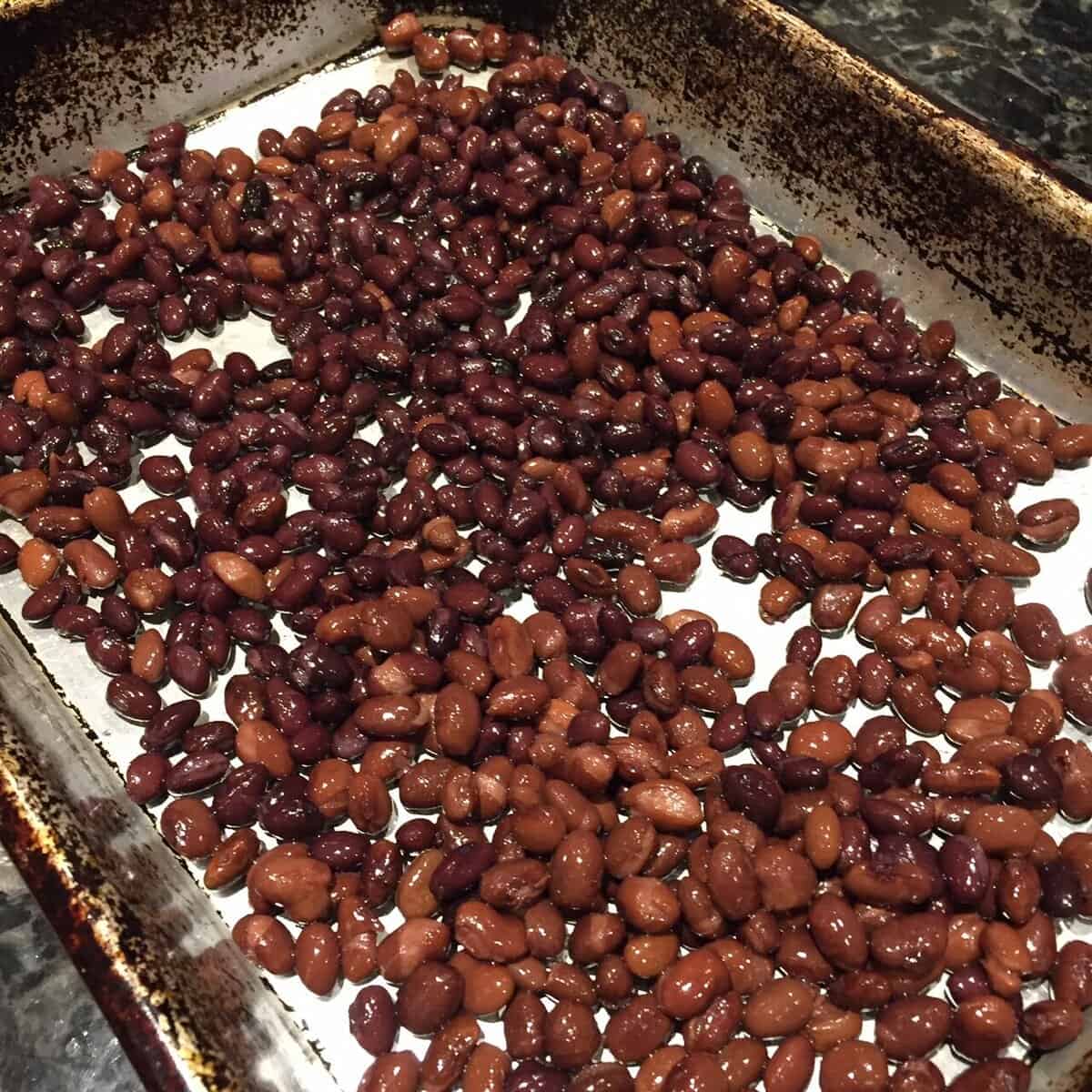 Beans – canned beans are an incredible convenience and absolutely ok to use, whether you're making these black bean burgers, my cheesy white bean tomato bake, or apple pie baked beans.
Binders – just like when you're making homemade meatloaf, you need something to bind the ingredients together. For these Southwest black bean burgers, we'll use eggs and tortilla chips.
Please see the recipe card below for complete information on ingredients and quantities.
Variations and substitutions
Sub out the black beans for your favorite canned beans.
Start the night before with dried beans, soak and cook them with an onion, salt, and pepper.
Recipe tips and tricks
How to avoid a mushy black bean burger
Before creating this recipe, I tried frying my bean burgers in cast iron with a thin layer of oil. I baked black bean burgers in the oven. I always ended up with a mushy bean burger.
Recipe testing went through various iterations. I coated the black bean burgers in corn starch like my crispy baked tofu. I added vital wheat gluten to bind and firm up the burgers. I used dried beans like making falafel. And then someone suggested drying the black beans in the oven for 10 to 15 minutes. Bingo.
Making the black bean burgers
There isn't anything difficult about making these Southwestern black bean burgers. Once dried, the black beans are mixed with garlic, frozen corn, an egg, spices, and maybe a smidge of hot sauce.
To continue the Southwestern theme, crushed tortilla chips are used for binding, just like in my taco meatloaf. I have also added a half cup of cooked quinoa to give these bean burgers a firmer mouthfeel.
Tip from the wise quacker: if you have the time, let the black bean burger mixture rest in the refrigerator before cooking. This will firm up your burger even more.
Fry them up on a griddle with a thin layer of oil. Then serve these Southwestern black bean burgers with a cheddar or your favorite cheese and all your favorite toppings.
What to serve with Southwestern black bean burgers
Recipe FAQs
What can I use in place of tortilla chips?
You can use tortillas. Slice them into strips, spray or coat them with a thin layer of vegetable oil, salt them lightly, and bake them for about 10 minutes until crisp. Or use one half cup of regular or gluten-free panko instead.
Can I cook black bean burgers on the grill?
A bean burger may not hold together quite as well as a hamburger, so you can cook this and other veggie burger recipes like these BBQ pinto bean and quinoa burgers or cauliflower patties on your grill. You'll just want to grill them in a grill pan.
Can I freeze a Southwestern black bean burger?
Yes. You can freeze veggie burgers either before or after cooking, and they'll keep for about three months. Just double wrap them in plastic wrap and put them in a freezer bag.
Love this recipe? Please leave a 5-heart 💜💜💜💜💜 rating in the recipe card below. Let me know how much you loved it, or any problems you had, in the comments section further down.
Recipe
Pin Recipe
Southwestern Black Bean Burgers
These Southwestern black bean burgers use a few tricks to give you the flavor and mouthfeel that is everything you need to make a veggie burger ready for your favorite burger toppings.
Print Recipe
Ingredients
2

cans

black beans

1

ounce

tortilla chips

½

cup

cooked quinoa

½

cup

corn kernels, frozen or fresh

2

green onions, tops only, chopped fine

1

garlic clove, minced

¼

cup

cilantro, chopped

1

tablespoon

cumin

1

teaspoon

coriander

1

teaspoon

salt

½

teaspoon

pepper

¼

teaspoon

cayenne or other spicy ground pepper

optional

2

eggs

1

tablespoon

neutral oil like vegetable, corn, or safflower

for frying
Instructions
Rinse the black beans and drain. Put them in a large roasting pan and bake at about 375°F for about 10 to 15 minutes. Let cool at least slightly.

In a large bowl, use your hands to crumble the tortilla chips into very small pieces. You can use a food processor for this, but why get one more thing dirty.

Add the beans and mash with a potato masher or fork until the beans are mostly mashed but some large pieces remain.

Add the quinoa, corn, green onions, garlic, and cilantro, and mix.

½ cup corn kernels, frozen or fresh,

2 green onions, tops only, chopped fine,

1 garlic clove, minced,

¼ cup cilantro, chopped,

½ cup cooked quinoa

Add the spices (cumin, coriander, salt, and pepper). Feel free to add a pinch of hot stuff like cayenne or chili powder if that makes you happy. Mix until uniform.

1 tablespoon cumin,

1 teaspoon coriander,

1 teaspoon salt,

½ teaspoon pepper,

¼ teaspoon cayenne or other spicy ground pepper

In a small bowl, beat the eggs for a few seconds to combine and then add it to the bean mixture. Stir the eggs into the mixture until it comes together. This can be made ahead and held in the refrigerator for a few hours. This is not critical but may help them firm up even more.

Form into patties of desired size and fry in a thin layer of oil on a griddle, cast iron skillet, or other frying pan, about 5 minutes on one side. Flip and cook an additional 3 or so minutes until browned.

1 tablespoon neutral oil like vegetable, corn, or safflower
Notes
This recipe makes four large burgers or three large burgers and two half-sized burgers for the kiddo.
Nutrition
Calories:
284
kcal
|
Carbohydrates:
46
g
|
Protein:
17
g
|
Fat:
4
g
|
Saturated Fat:
1
g
|
Polyunsaturated Fat:
1
g
|
Monounsaturated Fat:
1
g
|
Trans Fat:
0.01
g
|
Cholesterol:
82
mg
|
Sodium:
691
mg
|
Potassium:
617
mg
|
Fiber:
13
g
|
Sugar:
1
g
|
Vitamin A:
294
IU
|
Vitamin C:
2
mg
|
Calcium:
84
mg
|
Iron:
5
mg
Looking for dinner inspiration, classic recipes and new seasonal favorites?