Corn Bread, Corn Muffins, Corn Cake…
Say it in your best Forrest Gump voice. Skillet corn bread.
I won't try to tell you that I have the perfect recipe for cornbread. Mostly I have too many recipes for cornbread. I just don't think you should believe anyone who says they have the "best" or "perfect" anything. There's just what you like.
The Jubilee Cookbook cornbread
During the month of February, I have been reflecting on and celebrating Black History Month by cooking from Jubilee: Recipes from Two Centuries of African American Cooking by Toni Tipton-Martin. Here is the wrap up of my Jubilee cooking.
Tipton-Martin's cookbook lists a "flight" of five cornbread recipes, including hot water cornbread, cornmeal griddle cakes, extra-light buttermilk cornbread ("light" meaning only 6 tablespoons of butter), Spanish cornbread, and spoon bread. This is just a sampling of what can be done. The cornbread chapter in Bernard Clayton's New Complete Book of Breads is 24 pages long and includes 18 different recipes.
We were invited over for an outdoor dinner during the pandemic, and I said that I would bring Tipton-Martin's buttermilk cornbread. Rather than cook it ahead of time, I packed up containers of dry ingredients, buttermilk and eggs, and butter so that we could eat the cornbread warm from the oven.
Cornbread is best served warm.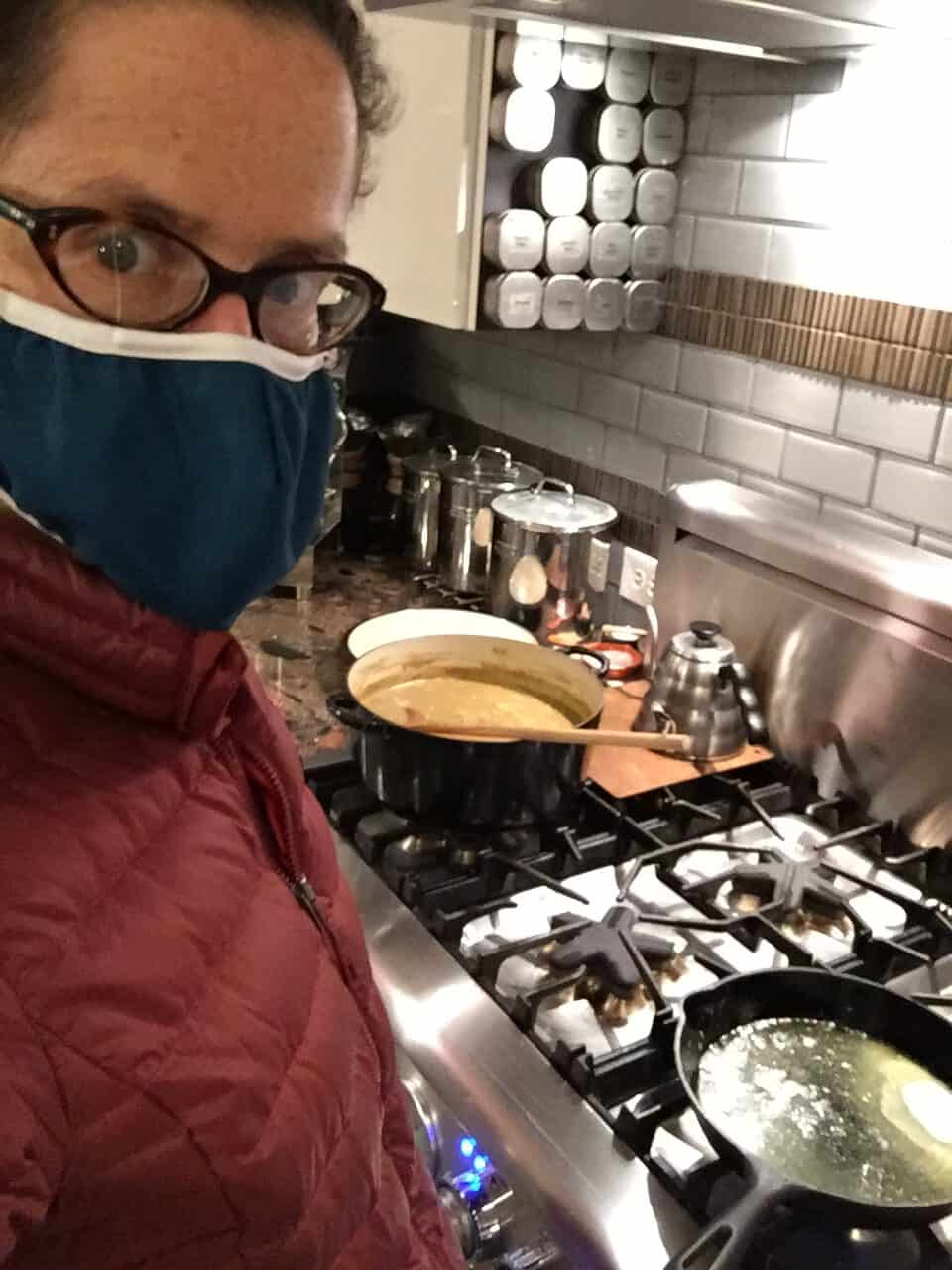 I can't say that I've ever cooked while wearing a mask before.
ProTip: It's not a good idea to try to lick cornbread batter off your fingers through your mask. It's not very successful, and it's pretty obvious to everyone else that you tried. Also, belly laughing while wearing a tight-fitting mask can lead to a temporary feeling of suffocation as you accidentally inhale your mask.
Comparisons of cornbread and corn muffin recipes
There's not a huge amount of variation in cornbread recipes (see table). The key is to have a light touch when you are adding the wet ingredients into the dry and to not over mix.
Here are some of my other favorite corn-focused recipes for you to try. Melissa Clark's brown butter skillet cornbread from Dinner has been our go-to recently. You could also use it to make a corn bread stuffing, if there's any left.
Moving along the sweetness spectrum are Dorie Greenspan's corniest corn muffins from Baking. These are super-moist and tasty, but definitely on the sweet side.
Tipton-Martin
Extra-light buttermilk cornbread
9 in
Melissa Clark
Brown butter cornbread
12 in
Bernard Clayton
Yankee cornbread
9 in
Dorie Greenspan
Corniest corn muffins
Cornmeal
1 cup
1 ⅓ c
1 cup
1 cup
Flour
1 cup
½ c wheat
½ c AP
1 cup AP
1 cup AP
Sugar
2 tbsp
⅓c honey
¼ cup
6 tbsp
Baking powder
1 tbsp
1 ½ tbsp
4 tsp
2 ½ tsp
Baking soda
½ tsp
½ tsp
¼ tsp
Salt
1 tsp
1 ½ tsp
1 tsp
½ tsp
Buttermilk
1 cup
2 ¼ c
1 cup milk
1 cup
Egg
1 egg
3 eggs
2 eggs
1 egg, 1 yolk
Butter
6 tbsp
12 tbsp
4 tbsp
3 tablespoon butter
3 tablespoon corn oil
¾c corn
⅓ c crisp bacon
1 cup corn, pinch of nutmeg
Even further is this corn bread with fennel, cranberries, and raisins. I made this for dinner last November during my week of Thanksgiving cookery. Even with half the butter, mr. uglyducklingbakery thought this was cake.
Finally, I want to suggest these potato-corn cakes from Sunset magazine, which are more pancake or fritter than cake.
Coming soon: an uglyducklingbakery cornbread recipe!
What's next?
Let me know your favorite cornbread recipe or your thoughts on cornbread in a comment.
Check out other uglyducklingbakery bread recipes like this Portuguese bread, this honey wheat sandwich bread, a pretzel bread loaf, or the famous purple cow milk bread.
Follow uglyducklingbakery on your favorite social media platform.
Instagram
Facebook
Pinterest
Looking for inspiration?
Sign up to get recipes full of kitchen tips and tricks.