Orange Raisin Challah Recipe
This orange raisin challah is soft, fragrant, and slightly-sweet. It makes a lovely sandwich bread or base for French toast.
And it is the only challah recipe I will ever need.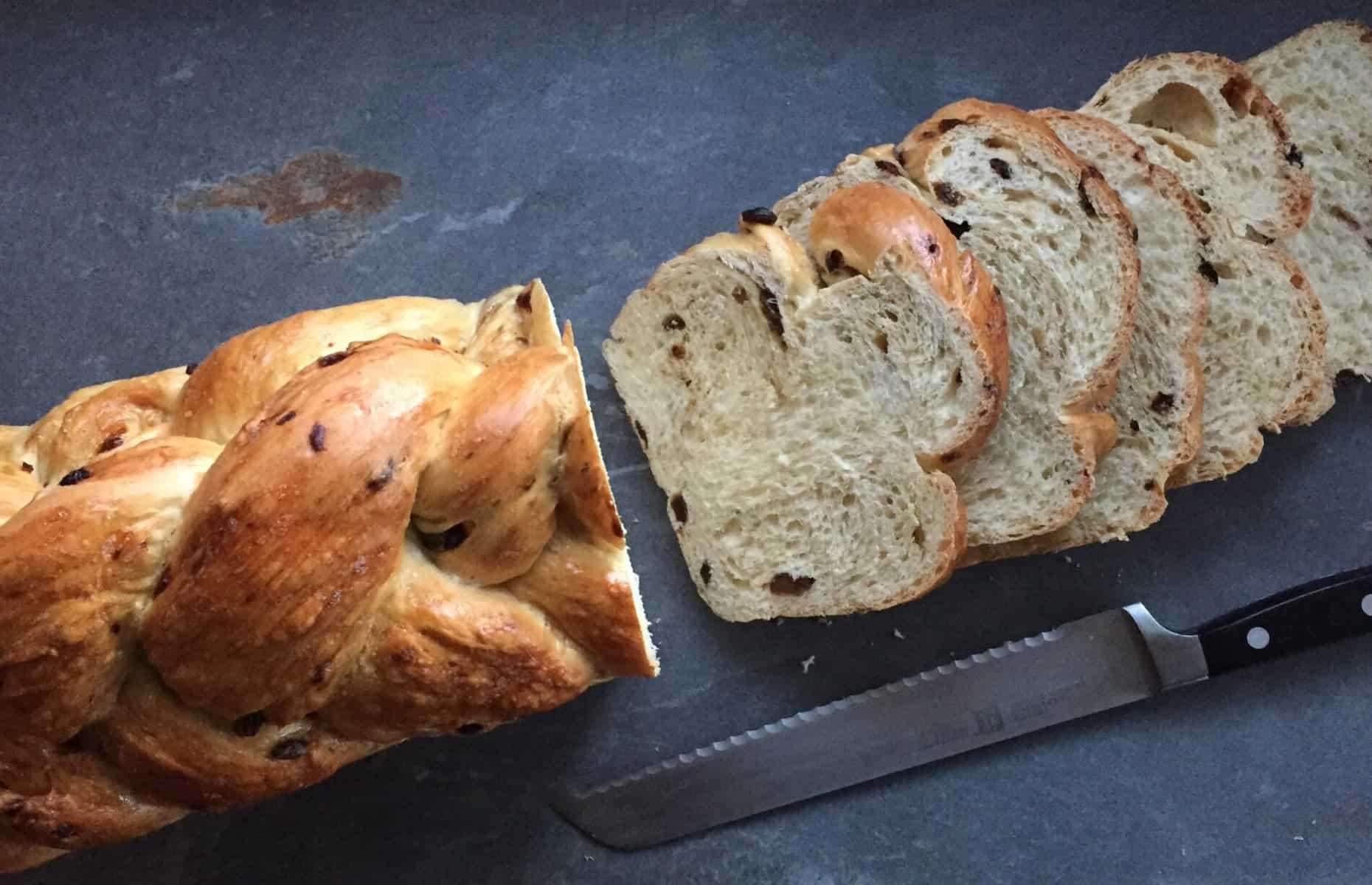 Jump to:
Recipe adaptation
In case it's not obvious, my dear reader, I'm an East Coast Jew. I grew up on overstuffed deli sandwiches and kosher pickles, food-focused holidays, and guilt. And living in Seattle for over 25 years, I have accepted I can't find good bagels or Jewish breads unless I make them myself.
This orange raisin challah recipe is adapted from Peter Reinhart's The Bread Baker's Apprentice. I strongly recommend this bread cookbook for all levels of bread-baker.
Ingredients
Tips and tricks for making this orange raisin challah
Braiding challah is a great way to involve your kids in the kitchen. The pics here were my first try at a 5-strand braid, but you could do lots of things with this recipe. Divide it into two 3-strands for 9×5 loaf pans (greased first). Braid it into a round loaf. Go wild, and enjoy.
If you want more options, check out Jamie Geller's Challah Workshop YouTube videos.
Update (March 2021): the pics and video below are kiddo doing the 5-strand braid from How to Make a 5-Braided Challah. Divide the strands into a group of 3 and a group of 2. Take the outside strand from the group of 3 and move to the inside of the group of 2 (now a group of 3). Repeat with the outside strand of the new group of 3, and continue braiding the challah this way. When you can braid no more, tuck the ends under the loaf.
The below pics show the challah braid before and after the final rise. It is in a Emile Henry ceramic bread loaf pan* to get a semi-uniform shape for sandwiches.
*I've got nothing to disclose here, but I wouldn't object if someone wanted to send me some bakeware!
What to serve with challah
Spread with butter or a non-dairy spread, with jam or without.
Try my orange zest French toast. Or, for French toast waffles. I cut thick slices (one half inch at least), soak the bread in the same mixture, and waffle one piece at a time.
Have on the side of a soup and salad like my garbanzo bean soup and rainbow salad.
Recipe FAQs
Why isn't challah made with butter like other enriched breads?
Challah is traditionally made with oil and not butter so that it can be eaten with either meat or dairy-based meals for folks who keep kosher.
Can you freeze challah?
Challah will keep well for a few days at room temperature wrapped in a plastic bag on the countertop. You can also freeze challah whole or freeze slices in a freezer bag. Never put bread in the refrigerator or it will dry out.
Why isn't it "challah bread"?
Challah *is* bread, so it is redundant to say "challah bread." Someone who tries to give you a recipe for "challah bread" is someone who doesn't understand what challah is.
Related bread recipes
Check out more breads for sandwiches and other Ugly Duckling Bakery bread recipes like:
Are you looking for other classic Jewish baking recipes? Try my shortbread Linzer cookies, chocolate rugelach, or Nutella babka.
Love this recipe? Please leave a 5-heart 💜💜💜💜💜 rating in the recipe card below. Let me know how much you loved it, or any problems you had, in the comments section further down.
Pin Recipe
Orange Raisin Challah
This orange raisin challah is soft, fragrant, and slightly-sweet. It makes a lovely sandwich bread or base for French toast.
Print Recipe
Ingredients
4¼

cups

(530 grams) unbleached bread flour

plus more as necessary

2

tablespoons

granulated sugar

zests of 1 orange and ½ lemon

2¼

teaspoons

instant yeast

one packet

1

teaspoon

salt

¾

cup

(177 grams) lukewarm water

plus more as necessary

2

eggs, whole

2

eggs, separated

whites reserved for egg wash

2

tablespoons

canola, safflower, or other neutral-flavored vegetable oil

½

cup

raisins
Instructions
Combine the flour, sugar, zests, yeast, and salt in the mixing bowl of your stand mixer or large bowl.

4¼ cups (530 grams) unbleached bread flour,

2 tablespoons granulated sugar,

zests of 1 orange and ½ lemon,

2¼ teaspoons instant yeast,

1 teaspoon salt

Measure out the water in a large-ish (2 cup is ideal) measuring cup. Add the two whole eggs, two egg yolks, and oil, and whisk lightly until uniform.

¾ cup (177 grams) lukewarm water,

2 eggs, whole,

2 eggs, separated,

2 tablespoons canola, safflower, or other neutral-flavored vegetable oil

Add the wet ingredients to the mixing bowl, and mix on low speed using the paddle attachment until combined.

Switch to the hook attachment and mix on medium speed for 6 minutes, adding small amounts of water or flour as necessary to get the dough to clear the sides of the bowl. The final dough should be soft and not sticky at all. It should pass the windowpane test if you do that sort of thing.

Add the raisins and mix on low speed or by hand until incorporated, about 1 to 2 minutes.

Form the dough into a round, lightly oil a bowl, cover with plastic wrap, and let rise in a warm, draft-free place until about doubled, about 1 hour (Rise #1 of 3).

Degas, re-form into a round, and again let rise until about doubled, about 1 hour (Rise #2 of 3)

Divide into three or five equal strands and braid the dough. Please see the main post text for more instructions. Let rise until doubled again (Rise #3 of 3).

At least 30 minutes prior to baking, preheat the oven to 325℉.

Right before baking, brush the loaf with the reserved egg whites (keep for one more brushing).

Bake on a middle shelf for 20 minutes. Brush one more time with reserved egg whites to ensure coverage of the entire loaf.

Continue baking until internal temperature is 190 to 195°, the crust is a rich caramel brown, and the bottom sounds hollow when thumped. This should take about 40 to 60 minutes in total, depending on the size of your loaves, whether you are using a pan, etc.

Cool for at least one hour if you can!
Notes
– Be sure to change to the dough hook when the dough starts to clump together to avoid stressing your mixer motor.
– Add the raisins by hand or mix on low to avoid chopping them up.
– The ideal temperature for bread rising is 75 to 80 degrees. If your kitchen is cooler than this, you can create a warm, draft-free spot in your oven or in your microwave.
–
Nutrition
Calories:
221
kcal
|
Carbohydrates:
38
g
|
Protein:
7
g
|
Fat:
5
g
|
Saturated Fat:
1
g
|
Polyunsaturated Fat:
2
g
|
Monounsaturated Fat:
1
g
|
Trans Fat:
1
g
|
Cholesterol:
60
mg
|
Sodium:
209
mg
|
Potassium:
119
mg
|
Fiber:
2
g
|
Sugar:
2
g
|
Vitamin A:
84
IU
|
Vitamin C:
1
mg
|
Calcium:
17
mg
|
Iron:
1
mg
This raisin challah recipe was first posted on February 10, 2021. It was last updated on May 14, 2023.
Looking for inspiration?
Sign up to get recipes full of kitchen tips and tricks.