This Leek and Butternut Squash Quiche is packed with vegetables, cheese, and a smooth, creamy filling. It's a great option for Meatless Monday dinners if you have a ready pie crust or for brunch if you want to bake from scratch.
The beautiful orange color of butternut squash and other winter squashes means that this leek & squash quiche is full of all sorts of nutritionally good stuff. You know what I mean. Good stuff. Don't feel a bit of guilt about eating this pie for breakfast!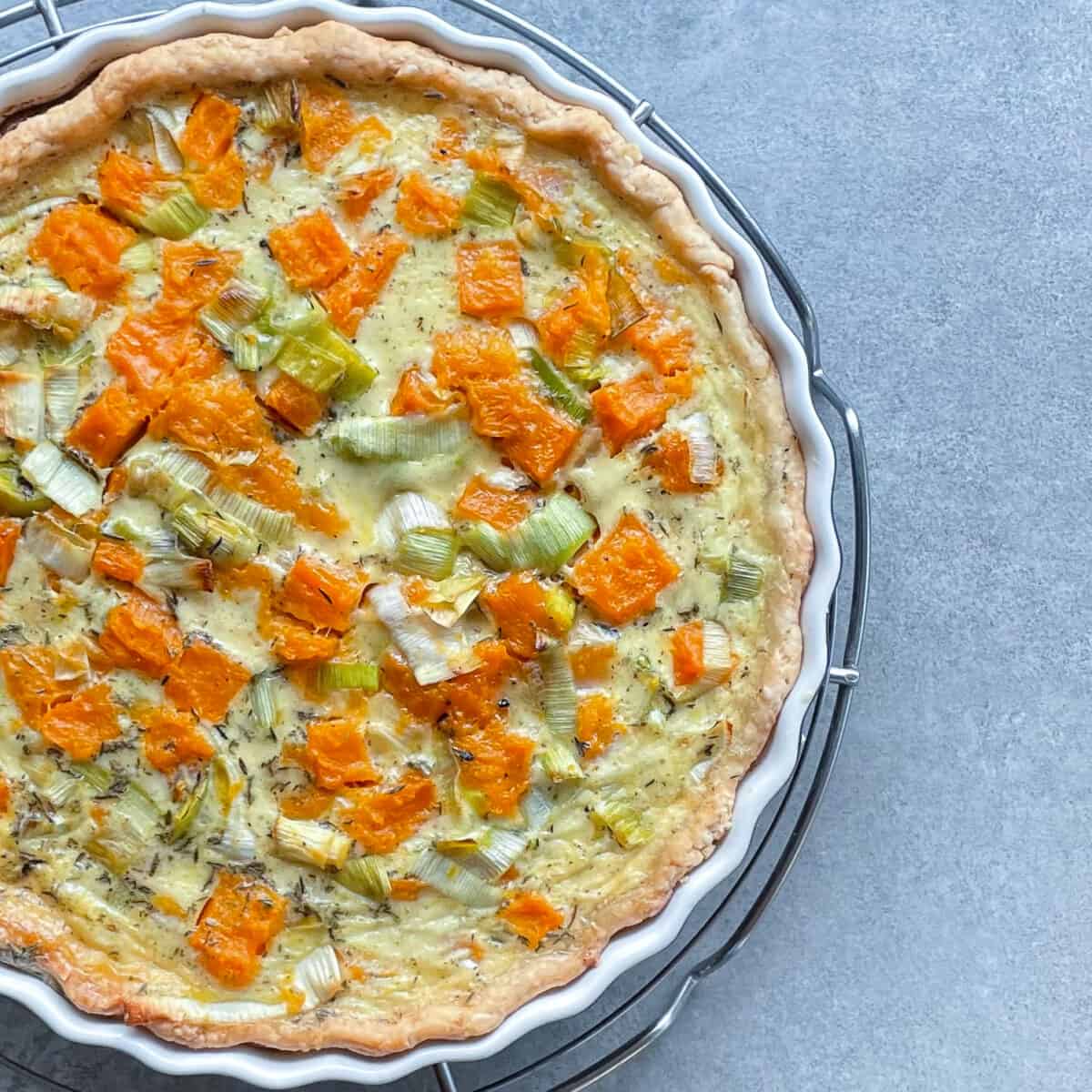 Jump to:
About quiche
A quiche is a savory custard pie filled with vegetables, meat, or cheeses. The milk or cream in the custard creates a silky smooth texture and makes quiche distinct from baked eggs. And it's the baking that makes it different from a frittata, which you cook on the stove top and finish under the broiler.
You can read more about what I've written about custards in my blackberry curd tart and apple curd recipes. Curds and quiches are two non-overlapping sets in the Venn diagram of custards.
Like so many things in baking, the quiche uses a standard baking ratio of 2 parts liquid to 1 part eggs. Since the average large egg weighs about two ounces, that's two eggs for every cup of milk, half-and-half, or cream.
Tools and ingredients
Generally speaking, vegetables and meats should be cooked before filling your quiche. That ensures that they will be adequately cooked. It also prevents your filling from being watery or, worse, making your custard separate.
The quiche pan
Quiche is traditionally made in a pan with straight edges, but you can make it in a pan with sloped sides if that's what you have. I bake quiche in a ceramic tart pan just in case the crust leaks. Or make it in a metal pan with a removable bottom for more of a showstopper.
Please see the recipe card below for complete information on ingredients and quantities.
Variations and substitutions
Make a crustless quiche. Don't forget to butter the pan!
Sub in any other winter squash except for spaghetti squash or sweet potatoes for the butternut squash.
Use a shallot or caramelized onions in place of the leeks.
Make mini quiches with small pie crust shells.
Recipe tips and tricks
Rolling and baking the quiche crust
Step 1: To make the quiche crust, roll out your pie dough to a circle about two inches larger than your tart pan. It should be an eighth of an inch thick.
Step 2: Use your rolling pin to transfer the dough to your tart pan, and let the dough fall to the bottom of the pan on its own (Panel #1, below). Don't push the dough down with your fingers, or it could thin or tear the dough.
Step 3: Use a knife or kitchen shears to trim the edges with a bit of overhang (Panel #2).
Step 4: Tuck under the overhang (Panel #3), and use your thumb and forefinger to crimp or flute the edges (Panel #4).
Step 5: Cover the dough loosely with plastic wrap, and put it in the refrigerator or freezer for at least an hour. Resting the dough prevents it from shrinking when you blind bake it.
Step 6: To blind bake your crust, fill it with parchment paper and a bunch of dried beans. This prevents the bottom from puffing up as it bakes. You can buy so-called pie weights, but they are more expensive and don't work as well as loading your crust with a ton of beans and pushing them into the fluted edges of your dough.
Dried beans used as pie weights can be re-used over and over again. Just let them cool and store them in a plastic bag.
Step 7: Pre-bake the quiche crust with the beans for 20 minutes at 425 degrees. Then remove the parchment and beans and continue cooking until the crust is a golden color, about seven to ten minutes.
Step 8: Brush the warm crust with egg white to seal the crust and prevent it from becoming soggy. Don't skip this step!
Preparing the butternut squash and leek quiche filling
Step 9: peel, cube, and roast the butternut squash.
Step 10: clean the leeks, slice longitudinally, and saute with butter until soft. Then combine them with the roasted butternut squash.
If you're not familiar with how to clean leeks, check out the instructions from my leek and potato soup recipe.
Step 11: When you are ready to bake the quiche, fill the bottom of the quiche with the cheese (Panel #2, below). Add the vegetables (Panel #3) and then the egg and liquid filling (Panel #4).
Tip from the wise quacker: pour your liquid mixture into the pan as you slide it into the oven. A quiche should come to the top of the crust, and that way you avoid spilling the filling over the sides.
Step 12: Bake your quiche until the egg custard is no longer liquid. It should still have a bit of a jiggle when you remove it from the oven.
What to serve with this leek and butternut squash quiche
Quiche is a versatile food that can work as breakfast, lunch, brunch, or dinner.
Recipe FAQs
How long can I keep quiche at room temperature?
According to the USDA, quiche can be left at room temperature for no more than two hours. You can store it in the refrigerator covered in plastic wrap for three to five days.
Can you freeze quiche?
While you can freeze a homemade quiche, the crust may get soggy and the egg and cream may separate when you defrost it, making it a bit of a mess. Quiche is definitely best eaten in the day or so after you make it.
Related brunch recipes
Check out other savory breakfast and brunch recipes like:
Just love squash and sweet potatoes? Make this pumpkin couscous salad or mashed purple sweet potatoes with banana.
Have extra dough? Make pie crust cookies!
Love this recipe? Please leave a 5-heart 💜💜💜💜💜 rating in the recipe card below. Let me know how much you loved it, or any problems you had, in the comments section further down.
Recipe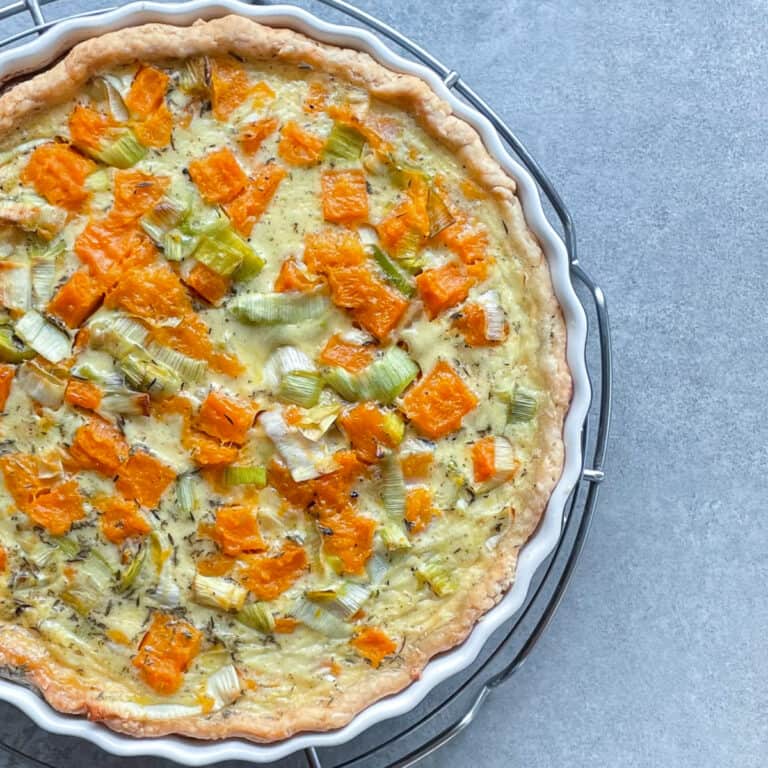 Pin Recipe
Leek and Squash Quiche
This leek and squash quiche is packed with vegetables, cheese, and a smooth, creamy filling. It's a great option for Meatless Monday dinners or a simple lunch.
Print Recipe
Equipment
9 or 10 inch round tart pan
Ingredients
1

homemade or store bought pie crust

about 350-400 grams

1

egg white

lightly beaten

1

small butternut squash

peeled, seeded, and cut into ½ inch cubes. About 1½ cup.

1

tablespoon

olive oil

1½

teaspoons

salt

divided

1

tablespoon

unsalted butter

2

leeks, white and light green parts only

washed and sliced into ½ inch rounds

½

cup

(2 ounces)

shredded gruyere or Swiss cheese

1½

cups

(12 ounces)

half-and-half

or ¾ cup each of milk and cream

3

large eggs

2

teaspoons

fresh thyme

or ½ teaspoon dried thyme

1

teaspoon

Dijon mustard

¼

teaspoon

black pepper
Instructions
Prebaking the quiche crust
Roll out the pie dough to about two inches larger than the diameter of your quiche pan, about ⅛ inch thick. Line the quiche pan, trim and shape the edge (see Tips and tricks).

1 homemade or store bought pie crust

Cover with plastic wrap and chill for at least one hour.

When you are ready to bake the crust, preheat the oven to 425°F.

To prebake the crust, line the tart or pie pan with parchment paper and fill with dried beans or pie weights. Push the beans down to the bottom of the crust and up against the sides.

Bake for 20 minutes, then remove the parchment and beans, and bake for 7 to 10 minutes more until all of the crust is golden. Check after a few minutes. If it is starting to puff up, prick the crust lightly with a fork, being careful not to go all the way through the crust.

Remove the crust from the oven and brush all over with egg white to seal. Let cool.
Quiche filling
Meanwhile make the quiche filling. Toss together the cubed butternut squash, oil, and ½ teaspoon of salt in a rimmed baking dish, and bake for about 20 minutes until the squash has softened and is only just starting to brown. Let cool.

1 small butternut squash,

1 tablespoon olive oil,

1½ teaspoons salt

Melt the butter in a frying pan over medium heat, and add the leeks and cook, stirring occasionally, until the leeks are soft and just starting to brown. Let cool.

1 tablespoon unsalted butter,

2 leeks, white and light green parts only
Baking the quiche
Set the oven temperature to 375°F.

Add the cheese to the base of the quiche. Then add the squash and leeks. The vegetables should be level with the top of the crust. Save any extra filling to make mini quiches in buttered ramekins.

½ cup

(2 ounces)

shredded gruyere or Swiss cheese

Whisk together the half-and-half, eggs, thyme, mustard, remaining salt, and pepper in a small bowl or a large measuring cup.

1½ cups

(12 ounces)

half-and-half,

3 large eggs,

2 teaspoons fresh thyme,

1 teaspoon Dijon mustard,

¼ teaspoon black pepper

Transfer the vegetable-filled crust to your oven, and quickly but carefully pour the egg mixture on top of the squash and leeks until it comes very nearly to the top of the crust.

Bake for 35 to 40 minutes until the custard is no longer liquidy, but there is still a bit of jiggle.

Serve warm or at room temperature.
Notes
If you extra filling, butter a small ramekin or two, add the filling, and bake alongside the quiche.
You can also turn extra filling into mini quiches. Or make pie crust cookies out of extra dough.
Nutrition
Calories:
301
kcal
|
Carbohydrates:
27
g
|
Protein:
9
g
|
Fat:
18
g
|
Saturated Fat:
8
g
|
Polyunsaturated Fat:
2
g
|
Monounsaturated Fat:
7
g
|
Trans Fat:
0.1
g
|
Cholesterol:
90
mg
|
Sodium:
655
mg
|
Potassium:
491
mg
|
Fiber:
3
g
|
Sugar:
5
g
|
Vitamin A:
10733
IU
|
Vitamin C:
24
mg
|
Calcium:
207
mg
|
Iron:
2
mg
This leek and butternut squash quiche recipe was first posted October 10, 2022. It was last updated May 28, 2023.
Looking for dinner inspiration, classic recipes and new seasonal favorites?