Grain Bowl with Maple Brussels Sprouts
It is ironic that I was introduced to the concept of the greens and grains bowl in the Alaska Airlines terminal at National airport. Since arriving late to the food trend, I've embraced the grain bowl wholeheartedly because they are easy and can be made as healthy (or not) as you want them to be My kiddo loves our "little bit of this, little bit of that" dinners.
Inspiration for this Meatless Monday meal were the Brussels sprouts (which I can cook when mr. uglyducklingbakery is away) and an Epicurious recipe for delicata squash.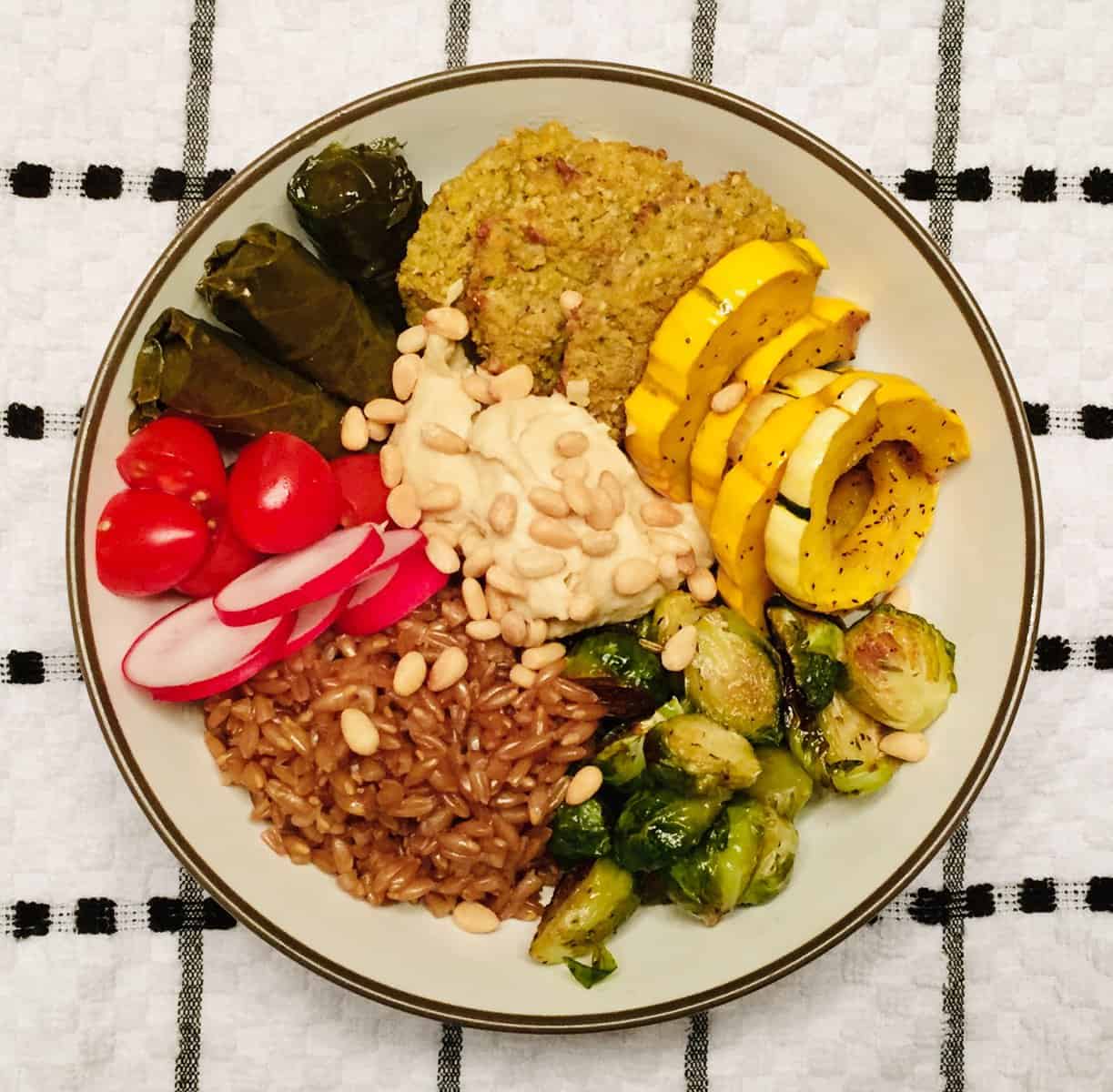 My approach to bowls is to use leftovers as much as possible. This is the perfect opportunity to use meatballs from the freezer, vegetables that have been made earlier in the week for other meals, or leftover takeout rice. The only things I did for the meal was to cook the farro (cooked in ½ apple cider and ½ water), roast the Brussels sprouts, and toast the pine nuts.
What's in this bowl?
This bowl had:
Farro (cooked in ½ apple cider, ½ water)
Maple-roasted Brussels sprouts
Delicata squash
Falafel
Stuffed grape leaves
Sliced cherry tomatoes, radishes, and kale (hiding underneath)
Hummus
Toasted pine nuts
Kiddo ate it all and even stole one of my stuffed grape leaves because she wanted more.

Pin Recipe
Maple-syrup roasted Brussels sprouts
Print Recipe
Ingredients
1

lb

Brussels sprouts

1

tablespoon

olive oil

½

teaspoon

thyme

½

tsp

fennel seed

1

pinch

red pepper flakes

1

tablespoon

maple syrup
Instructions
Trim sprouts and slice in half.

In the pan, mix the sprouts with the olive oil and remaining ingredients except maple syrup. Salt and pepper to taste.

Bake for 15 minutes, add maple syrup, stir, and bake for another 15 minutes until soft and lightly browned.
What's next?
If you make this bowl, please comment here or share a pic with me on Instagram!
Check out other one-bowl meals, like:
Mediterranean lamb bowl
Rainbow poke bowl
Swimming rama tofu bowl
Looking to learn?
Sign up to get recipes full of kitchen tips and tricks.