Pie crust cookies are the ultimate pie dough superheroes, transforming scraps of leftover homemade pie or pastry into powerfully nostalgic treats. They're simple and un-fussy.
Picture this: your blackberry apple pie is in the oven, filling your home with tantalizing aromas while these ingenious pie crust cookies secretly bake alongside. Now, here's the twist: while the main pie cools, unleash the little treats on the rambunctious kiddos! Or keep them to yourself as a well-deserved reward for being a culinary mastermind. Wink, wink!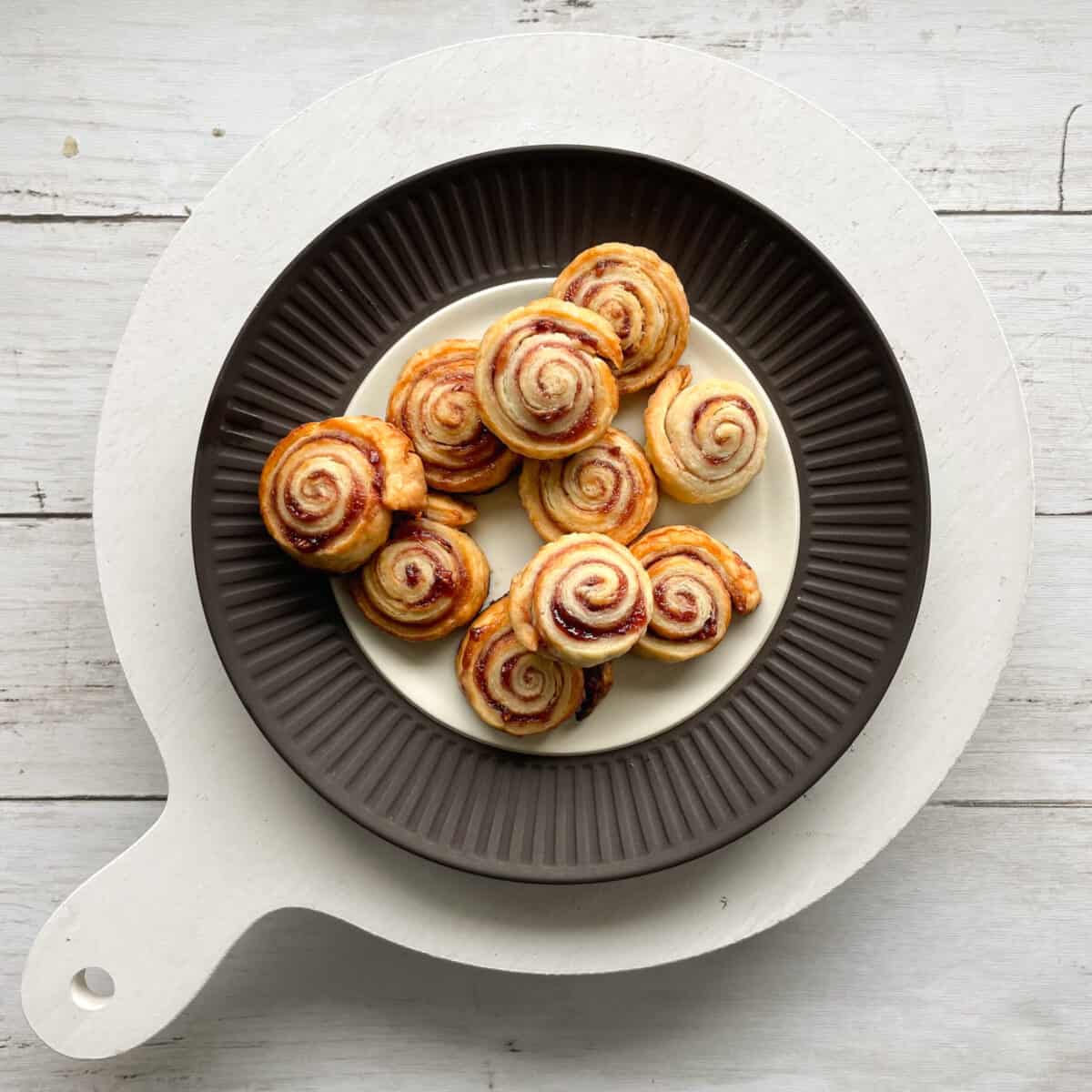 Jump to:
Cookie philosophy
Leftover pie scraps won't make a cookie or pastry that's perfectly flaky or tender. That's because the pastry dough has been rolled, handled, and mashed back together.
While you could make or buy pie crust specifically to make any of these pie crust cookie variations, the goal here is to create delicious memories with minimal effort. Like me, you might even have a vivid memory of what your crafty mother or grandmothers made from their leftover pie crust.
Recipe tips and tricks
After you make your favorite pie – in our house it's this strawberry apple pie. Take your unbaked pie dough scraps, form a ball and roll them out together.
Fill the pastry dough with whatever you have around the house. Leftover pie filling is an obvious choice. But you can make pie crust cookies with jam, Nutella, or a sprinkling of cinnamon sugar for cinnamon twists.
Pie crust cookie variation #1
This variation might remind you of rugelach, with good reason. Rugelach dough is essentially a cream cheese pie crust. And these cookies can be cut and rolled in exactly the same way.
To make pie crust cookies that look like rugelach, mash your pie crust scraps into a ball and roll them to a rough circle about one-eighth to one-quarter inch thick (Panel #1 below). Spread or sprinkle your filling not quite to the edge of your dough (Panel #2).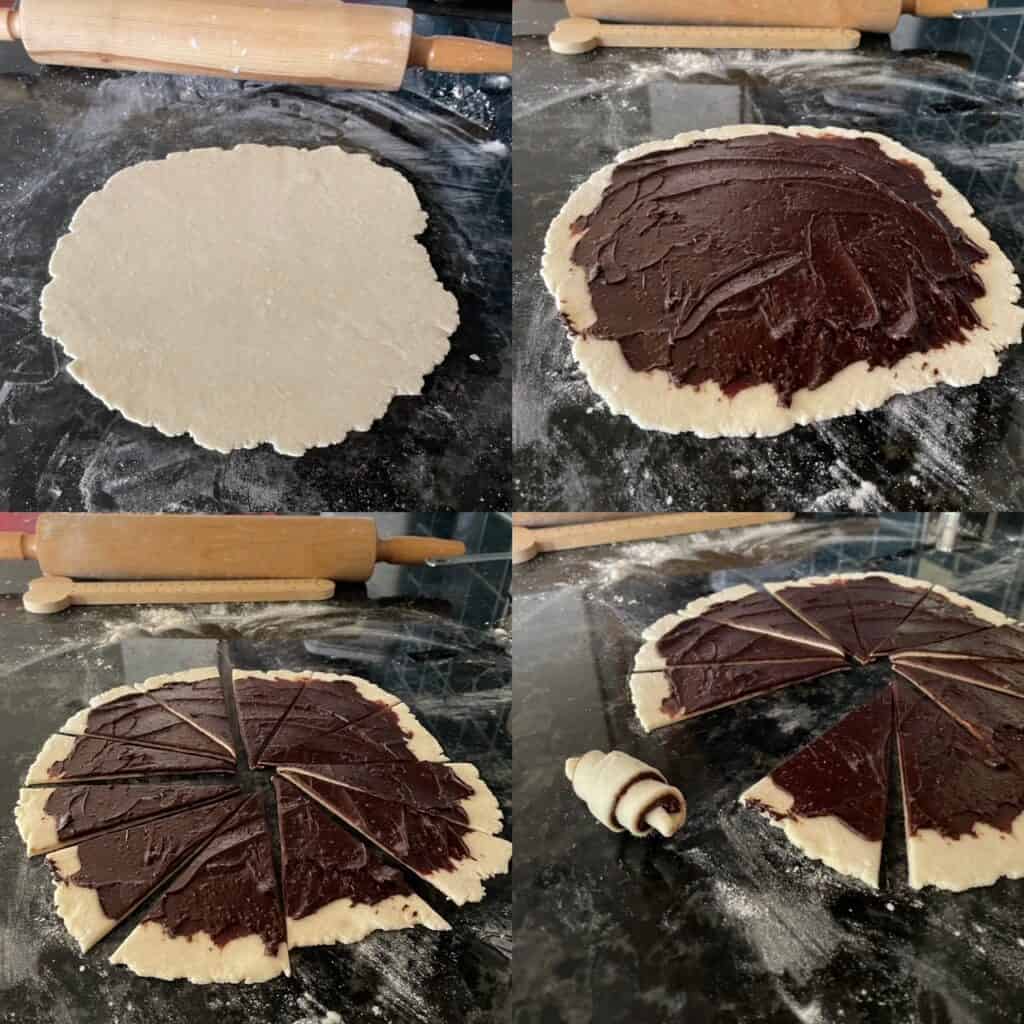 Cut the dough into wedges (Panel #3 above). How many will depend on how much leftover pie crust you have and how big you want your cookies. There's no right or wrong here.
Starting from the wide end, roll the dough toward the center of the circle. Place the cookie tip down onto a baking sheet.
Pie crust cookie variation #2
To make spiral cookies, roll out your leftover dough into a rectangle (Panel #1 below). Again, add your filling not quite to the edge (Panel #2).
Roll the dough tightly from the short end (Panels #3 and #4 above). You might need to dab a bit of water on the end to get the dough to stick to itself.
Slice your roll into spirals about a quarter inch thick and place them on a lined baking sheet. Feel free to add more cinnamon sugar on top!
Pie crust cookie variation #3
While not quite a cookie, little hand pies like strawberry pop tarts are another great use of a small amount of leftover pie dough scraps. Roll out the dough into a rectangle and cut into equal halves.
Add your filling, leaving a good border around the edges. Place the second half on top and seal the edges all around with a fork.
Baking the pie crust cookies
Whichever variation you make, put the cookies on a baking sheet or even a small bit of aluminum foil. There's no need to chill your pie crust cookies before baking because we don't care here whether the dough shrinks. And there's no need to give them an egg wash unless you have extra after making your pie.
Slip the cookies into your oven alongside your pie. They're done when the pie dough turns a golden brown. Let cool long enough so you don't burn your mouth!
Recipe FAQs
What else could I do with leftover pie crust?
My mother used scraps of pie crust to make mini apple pies in a small pyrex dish so we could have a taste of the pie she was serving later for company. You could bake mini pot pies for a savory twist. Or, in The Book on Pie, Erin McDowell includes a recipe for pie scrap donuts!
Can you freeze pie dough?
Yes. If you don't have enough scraps or just don't want to make one more thing, you can freeze unbaked pie dough for three to six months. Double wrap it tightly in plastic wrap and put it in a freezer bag. To use the frozen pie dough, you can defrost it slowly in the refrigerator or at room temperature just until it's soft enough to roll.
Can I freeze pie crust cookies?
Yes, you could freeze them either before baking or after they are baked and cooled.
Will these variations work with other types of pastry?
Yes, if you've made rough puff pastry or a pâte brisée for Nutella pop tarts and you have leftover scraps, you can definitely make a pie crust cookie. In fact, that's a great way to use leftover puff pastry because the scraps rolled together won't ever puff as much as the original.
Love this recipe? Please leave a 5-heart 💜💜💜💜💜 rating in the recipe card below. Let me know how much you loved it, or any problems you had, in the comments section further down.
Recipe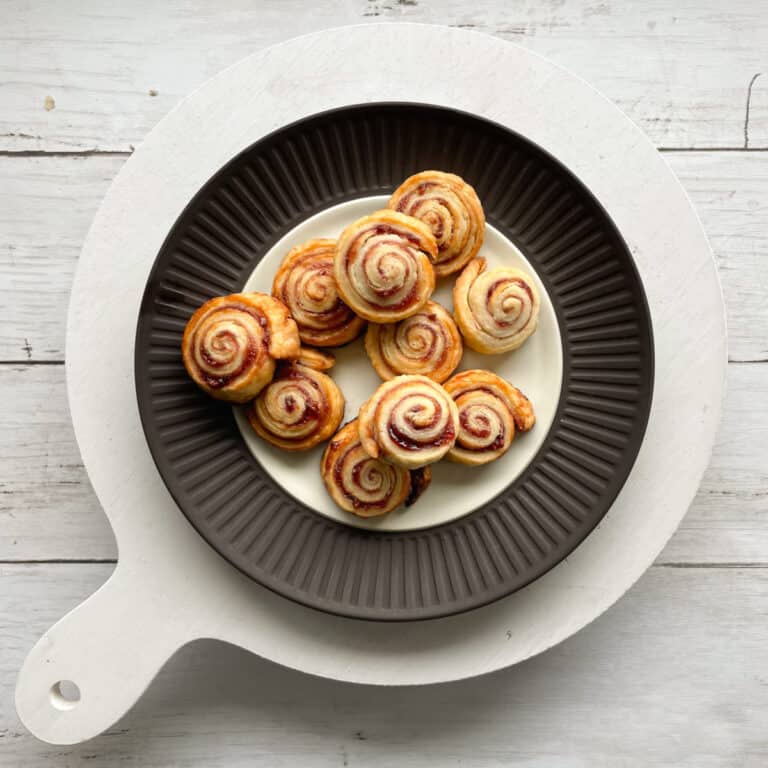 Pin Recipe
Pie Crust Cookies
Pie crust cookies are an easy and delicious way to use up scraps of leftover pie dough. Just roll, fill, slice, and bake!
Print Recipe
Ingredients
Cinnamon Sugar
¼

cup

sugar

1

tablespoon

cinnamon
Pie Crust Cookies
¼

pound

leftover pie dough

1 to 2

tablespoons

cinnamon sugar, Nutella or other filling
Instructions
Preheat your oven to 350°F if you have not already preheated your oven for making a pie. If your pie bakes at a different temperature, please just use that temperature.

If you are using cinnamon sugar, combine the cinnamon and sugar in a small bowl.

1 tablespoon cinnamon,

¼ cup sugar

Combine your pie dough scraps and roll them out into a circle ¼ to ⅛ inch thick if you want cookies that look like rugelach or into a rectangle if you want spiral cookies. See the Tips and Tricks for examples.

¼ pound leftover pie dough

Sprinkle or spread your filling over the dough, leaving a small border around the edges.

1 to 2 tablespoons cinnamon sugar, Nutella or other filling

If you are making rugelach, cut the circle into wedges and roll your cookies from the outside to inside of the circle. If you are making spirals, roll from the short edge of the rectangle and slice your roll into ¼ inch cookies.

Place the cookies on a baking sheet lined with parchment paper or a silicone mat. They will not spread so do not need much spacing.

Bake for 10 to 15 minutes, depending on the size of your cookies. If you are using a different oven temperature than 350°F, just keep an eye on the cookies and take them out when they are starting to become light brown.

Let cool on the baking sheet. Pie crust cookies can be stored at room temperature for about one week or frozen for three to six months.
Notes
This recipe may make more or fewer cookies than a dozen, depending on how much leftover pie crust you have and how you roll them. Nutritional values provided with this recipe are therefore only a guide and will not be 100% accurate.
The cinnamon sugar recipe will make more cinnamon sugar than you will likely need. To make cinnamon toast, toast your favorite bread, spread it liberally with butter, and sprinkle on the cinnamon sugar.
Nutrition
Calories:
47
kcal
|
Carbohydrates:
6
g
|
Protein:
1
g
|
Fat:
2
g
|
Saturated Fat:
1
g
|
Polyunsaturated Fat:
1
g
|
Monounsaturated Fat:
1
g
|
Sodium:
39
mg
|
Potassium:
9
mg
|
Fiber:
1
g
|
Sugar:
1
g
|
Vitamin A:
1
IU
|
Calcium:
2
mg
|
Iron:
1
mg
This recipe for pie crust cookies was first published on April 12, 2022. It was last updated June 3, 2023.
Looking for dinner inspiration, classic recipes and new seasonal favorites?