These great breads for sandwiches are the ones I make for my family over and over again. We eat sandwiches every day for lunch. That usually means two loaves of sandwich bread a week, about 100 sandwich loaves a year.
You can buy bread at the store, but it never tastes as good as homemade. And it never seems to stay fresh, no matter what you do. So if you're sandwich lovers like my family, try some of the below recipes. And share with me your sandwich creations!
Tips and tricks for making bread for sandwiches
The secret to bread making is yeast. Recipe times for bread will vary based on the temperature of your kitchen and how active your yeast is. You can speed up the process adding more yeast or by putting the bowl in a warmer place. Or slow it down by using less yeast and let it rise in the refrigerator overnight. A slower rise will give you more flavor development, and this is most important for breads made with just flour, water, and salt.
Loaf pans make it easy to slice your bread into the perfect sized slices for sandwiches. Depending on the recipe, I might use a 9 inch by 5 inch metal loaf pan, a Pullman pan for square bread slices, or a covered ceramic pan for more crusty loaves.
Here's a great video to show you how to shape a sandwich loaf.
Most sandwich breads should be cooked to an internal temperature of 190° to 195°, or possibly up to 210° Fahrenheit, depending on the type of bread. They should be a golden brown, and the bottom should give a hollow sound when lightly thumped.
And most important, let your bread cool after baking to let the steam escape and the final texture develop. I know it's tempting, but please don't slice into your bread for at least an hour after baking!
FAQs about sandwich bread recipes
How long does homemade bread last?
Let your bread cool completely and then store it in a plastic bag. It will stay fresh at room temperature for two to three days. If you won't eat it by then, slice it and put into freezer bags in the freezer. Never store bread in the refrigerator or it will quickly dry out and go stale.
What's the easiest bread to make?
If you are a beginner bread baker, I always recommend starting with no-knead bread. You will be amazed how easy it is to make a delicious loaf of homemade bread.
What are some other uses for sandwich breads?
Challah and other enriched breads are great for French toast. And if you are comfortable with these types of bread dough, you can make yeasted cakes like babka. And, of course, if you have stale bread, it can be used as croutons or breadcrumbs for meatballs and meatloaves or this watermelon panzanella.
13 breads for sandwiches
The classic sandwich bread is light, white, and a little sweet.
Sweet Portuguese White Bread
This sweet Portuguese bread recipe is great for those times you want a soft, light bread for sandwiches. It's a sweet, enriched bread with a special punch of flavor from the citrus zest and vanilla extract.
Check out the Sweet Portuguese White Bread recipe.
Adding even a cup of whole wheat flour to your sandwich bread loaves gives them a bit more structure and flavor and improves their quality. Or use another flour like rye or semolina for even more variety.
Sweet Brown Bread
This sandwich bread is an adaptation of the Outback Steakhouse brown bread. It has less sweetener than the original but keeps all of the flavor. This is the most asked for bread for sandwiches in my household!
Check out the Sweet Brown Bread recipe.
Semolina Bread Recipe
This semolina bread recipe makes a soft and nutty-flavored bread loaf with semolina flour that's perfect for your favorite sandwich. Or make it as a free-standing, rustic semolina loaf and serve it aside your favorite soup and salad.
Check out this semolina bread recipe.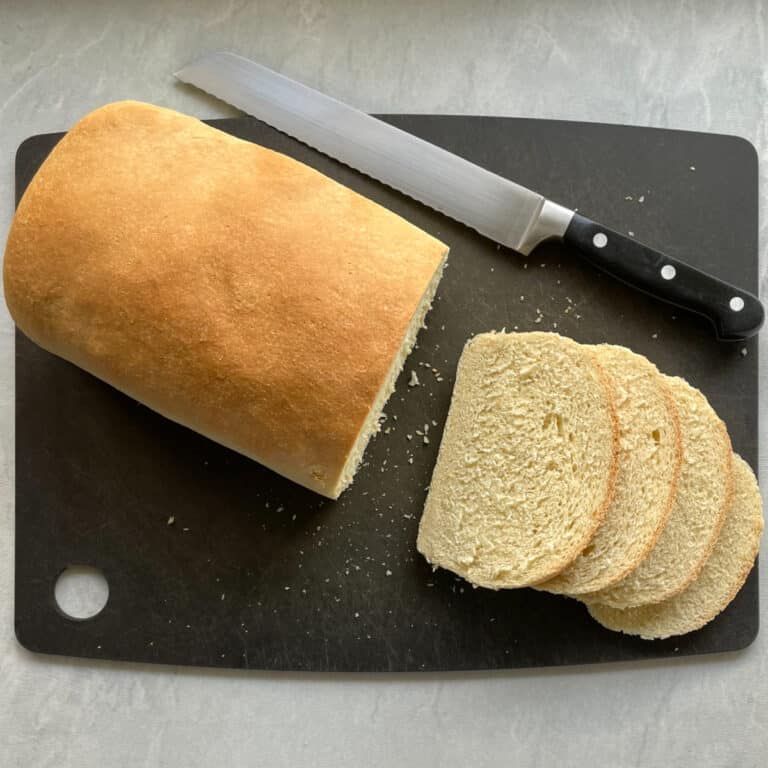 Russian Rye
Adapted from my sweet brown bread, this 50% rye sandwich bread is a denser loaf, fragrant with fennel and caraway seeds. You can call it a Russian black bread if you use the black cocoa variation.
Check out this Russian Rye bread recipe.
You can change up your sandwich breads by adding toppings like sesame seeds, poppy seeds, or salt. Or use add-ins to the dough like raisins, herbs, or seeds.
Orange Raisin Challah
This orange raisin challah is soft, fragrant, and slightly-sweet. It makes a lovely sandwich bread or base for French toast. It's also the only challah recipe I will ever need.
Check out this orange raisin challah recipe.
Purple Sweet Potato Sourdough
Baked and mashed purple sweet potato gives this bread its gorgeous pink color.
Check out this recipe
Bacon Sweet Potato Sourdough
Or add crisped bacon to your bread dough to make a sandwich bread that makes a top notch grilled cheese sandwich.
Check out this recipe
Other great breads for sandwiches
There are some obvious choices for sandwiches not included here. I've made baguettes at home but have been disappointed in the taste compared to bakery baguettes. English muffins and bagels make great breakfast sandwiches.
Or you can even use a waffle – these peanut butter waffles make great peanut butter and jelly sandwiches!
What's next
If you make any of these breads for sandwiches, please leave a comment or rating. And share a pic of your sandwich on Instagram!
I've started a Facebook group for cooks, bakers, and cocktail makers. Please join the conversation.
Looking to learn?
Sign up to get recipes full of kitchen tips and tricks.