This Sweet Brown Bread recipe is the most requested bread for sandwiches in my household. That's because it's a partial whole wheat bread, but it's still soft and a little sweet.
NOTE: For those of you thinking, "I love bread, but it fails every time," I want you to hear this. Once upon a time, I had the same thoughts, but someone said this to me: please try Jim Lahey's No-Knead bread before you give up baking bread forever.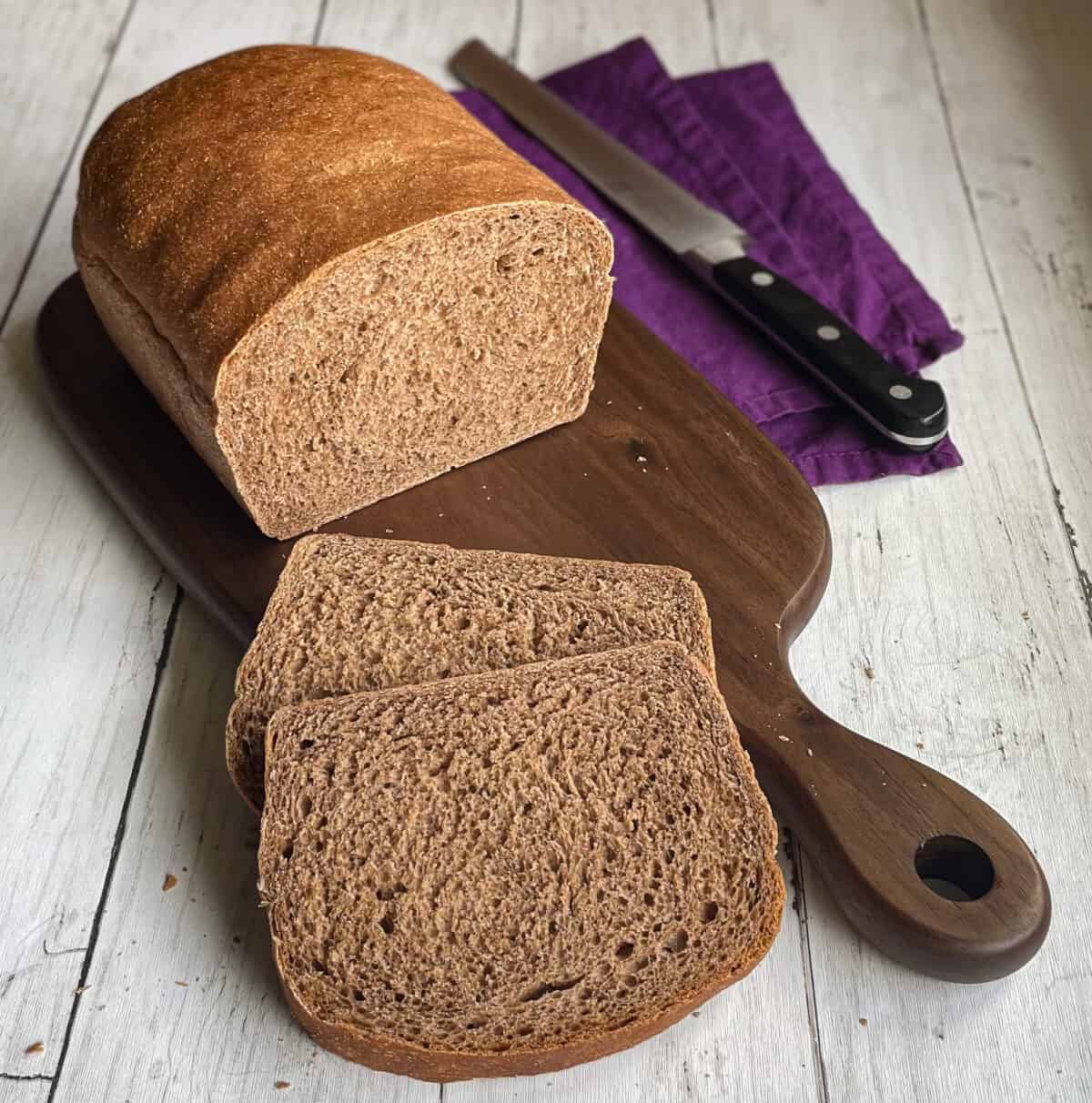 Jump to:
Recipe adaptation
A few months ago, a baking friend passed along a copycat sweet brown bread recipe from the Outback Steakhouse. I'm told it's also similar to the Cheesecake Factory bread recipe.
It met with rave reviews and someone's fond memories, but it was too sweet and soft. So here's a slightly more healthy brown bread recipe.
Recipe tips and tricks
Making bread
Unless you're in a hurry (e.g. you're a contestant on the Great British Bake Off), you can use less yeast and allow for longer rising times or even a cold proof in the refrigerator. You should definitely do this when you're making a loaf that depends mostly on flour, yeast, and salt for flavor like my overnight pizza dough.
If you're not doing a cold proof, the best temperature to let bread rise is 75 to 80 degrees in a draft-free place. If your kitchen is cooler than this, you can put your bread in your oven that you turned on low for just a minute. Or put a cup of water in the microwave, heat it for a couple of minutes, then quickly open the door and put in your bread dough.
Basic yeast breads are cooked when the internal temperature reaches 190 degrees Fahrenheit, enriched breads at 200 degrees Fahrenheit. They should make a hollow sound when tapped on the bottom.
Step by step
This sandwich bread has three rising stages. In the first, half of the yeast is mixed with a cup of whole wheat flour, coffee granules, cocoa, honey, and water (Panel #1, below). The remaining flour and yeast is added (Panel #2), and you let it sit until it starts to bubble through (Panel #3).
Next, you mix and knead the dough and shape into a round for the second rise (Panel #4 abve). If you use a mixer, make sure you switch to the hook once your dough has come together or you run the risk of burning out your motor.
You can obviously knead the dough by hand instead of in the mixer. I'm too lazy for that.
Let it rise until it has doubled in size. Then shape it into a loaf and let it rise for the third and final time in a loaf pan.
Here's a great video showing how to shape loaf bread: https://www.youtube.com/watch?v=wx5I5O_RoeI
Variations
Make a spiral loaf! Make half of the dough without cocoa and coffee powder, and use black cocoa in the other half. After the second rise, roll out the two doughs, spiral them together, and let them rise in the pan for their third rise.
Related bread recipes
Check out other Ugly Duckling Bakery bread recipes like:
Love this recipe? Please leave a 5-heart 💜💜💜💜💜 rating in the recipe card below. Let me know how much you loved it, or any problems you had, in the comments section further down.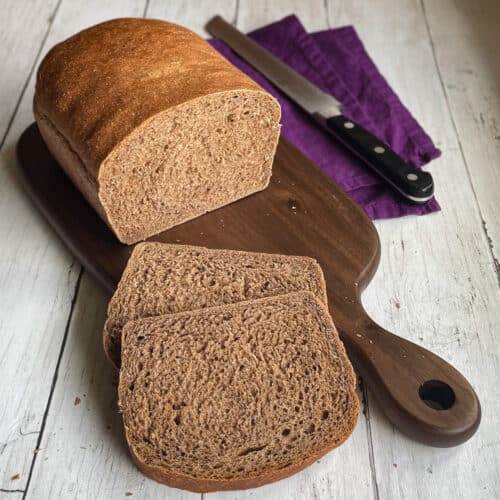 Pin Recipe
Sweet Brown Bread
This sweet brown bread recipe is a partial whole wheat bread, but yet it's soft and a little sweet.
Print Recipe
Ingredients
Sponge
1

cup

whole wheat flour

2

tablespooons

unsweetened cocoa powder or instant coffee

for color

¾

teaspoons

instant yeast

2

tablespoons

honey

1

cup

lukewarm water
Bread
2

cup

bread flour

up to 2½ cup

¾

teaspoon

instant yeast

1

tablespoon

butter or vegetable oil

1

teaspoon

salt
Instructions
Make the sponge: by hand, combine whole wheat flour, ¾ teaspoon yeast, honey, and water in the bowl of your mixer.

1 cup whole wheat flour,

2 tablespooons unsweetened cocoa powder or instant coffee,

¾ teaspoons instant yeast,

2 tablespoons honey,

1 cup lukewarm water

Sprinkle 2 cups of bread flour, ¾ teaspoon yeast, and butter or oil on top of the sponge.

2 cup bread flour,

¾ teaspoon instant yeast,

1 tablespoon butter or vegetable oil

Cover with plastic wrap and let it sit for 1 to 4 hours until the sponge is bubbling through the top layer. I use the microwave or oven as a draft-free proofing location – either warm up a cup of water for tea in the microwave or turn on the oven and get it to 80 to 90 degrees. If it's in the oven just be careful not to pre-heat the oven for some other reason!

Mix in the mixer on low speed. When it starts to come together, move to the hook. It should be slightly sticky – add a sprinkle of more water or flour a bit at a time as needed.

Add the salt and then mix on medium low speed for 8 minutes.

Cover the mixing bowl again with plastic wrap, put it in your safe place, and let dough rise until doubled.

Butter or oil a 9 by 5 loaf pan (I use butter because I find it's easier to get the baked loaf to release). Shape into a loaf (see link below) and let rise in its happy place until the bread has risen about an inch over the side of the pan.

Bake for 30 minutes, until the internal temp is 195F and a thump on the bottom gives a hollow sound.
Nutrition
Calories:
82
kcal
|
Carbohydrates:
16
g
|
Protein:
3
g
|
Fat:
1
g
|
Saturated Fat:
0.4
g
|
Polyunsaturated Fat:
0.1
g
|
Monounsaturated Fat:
0.2
g
|
Trans Fat:
0.02
g
|
Cholesterol:
2
mg
|
Sodium:
122
mg
|
Potassium:
31
mg
|
Fiber:
1
g
|
Sugar:
2
g
|
Vitamin A:
18
IU
|
Vitamin C:
0.01
mg
|
Calcium:
4
mg
|
Iron:
0.4
mg
This sweet brown bread recipe was first posted January 2, 2021. It was last updated May 18, 2023.
Looking for inspiration?
Sign up to get recipes full of kitchen tips and tricks.