Lemon Lavender Shortbread Cookies
Lemon lavender cookies are the perfect way to brighten up your day with their sunny flavor and fragrant aroma. And the best part? These melt-in-your-mouth shortbread cookies are as easy as 1 2 3 to make!
Just mix together 1 part sugar, 2 parts butter, and 3 parts flour, and add a smidge of lemon zest and lavender for a crisp, buttery, and oh-so-delicious cookie. Whether you want a big batch to share with friends or just keep the dough in the freezer for a quick treat whenever you need it, these lemon and lavender shortbread cookies are sure to become your new go-to recipe.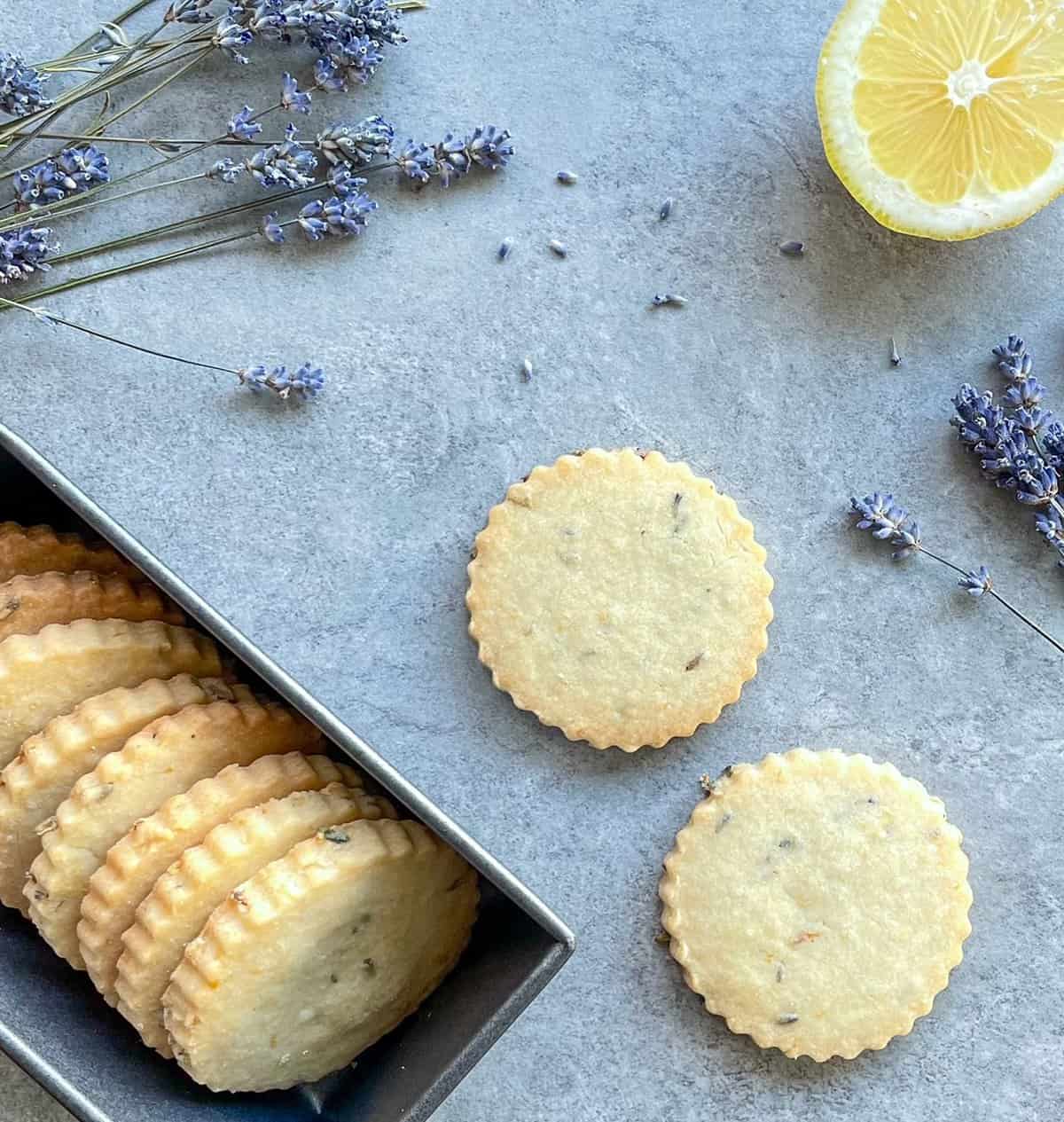 Jump to:
Baking ratios
You probably know that pound cakes are made with a pound of flour, butter, sugar, and eggs. But you may not know that other baking recipes also start from classic baking ratios.
I learned that quick breads and muffins are based on the same ratio from Michael Ruhlman's book Ratio when I was working on my kale and cheese quick bread. Next I used the power of ratios to create my orange poppy seed waffles.
Shortbread cookies follow yet another ratio. That's 1 ounce of sugar, 2 ounces of unsalted butter, and 3 ounces of flour. There are no eggs in shortbread cookies. But knowing the formula for shortbread cookies means that there are an infinite number of flavor combinations you can create yourself.
Ingredients
About culinary lavender
Culinary lavender is lavender grown for use in cooking and baking. If you have a garden, the best culinary lavender is Lavandula Angustifolia, although you can use other varietals not labeled ornamental or decorative. If you don't have a garden, this is the culinary lavender I recommend for these lemon lavender cookies.
Some common uses for culinary lavender include other desserts like lavender cake or ice cream, blueberry pie and jams, in salad dressings with herbes de Provence, as a rub for roast chicken breasts or pork, or in lavender simple syrup for cocktails. Use lavender for its floral flavor, although be careful not to add too much because it can taste soapy in large amounts.
Variations and substitutions
So now that you know the secret to creating a shortbread cookie, the sky is your limit! Here are some shortbread cookie variations I've been dreaming about. Scale up or vary your flavorings as desired.
Make these lemon and lavender shortbread with a simple icing with confectioner's sugar stirred with a squeeze of lemon juice. Dip the tops of the cookies into the icing and then re-invert while the icing dries.
Toasted pecan
Orange poppy seed
Rainbow chips
For Pride, turn this recipe into rainbow shortbread cookies or make my rainbow sugar cookies.
Make Linzer cookies using an almond shortbread cookie filled with raspberry jam
Recipe tips and tricks
Making the lemon lavender shortbread dough
To make the lemon lavender cookie dough, cream room temperature butter together with the sugar, lemon zest, and dried culinary lavender (Panels #1 and #2 below).
Tip from the wise quacker: when you're making shortbread cookies, cream your butter and sugar only until they're mixed well. You don't want "light and fluffy" here, or the air you incorporate will cause your cookies will puff when baked.
Then add the vanilla extract (Panel #3).
Add the flour (Panel #4 above) and mix. Shortbread cookie dough may be very crumbly (Panel #5), but wrap it in plastic wrap and knead it gently until it comes together into a disk (Panel #6).
Rolling and cutting the cookies
Shortbread cookies need a quick chill in the fridge to make them easier to roll out on your lightly floured countertop.
One thing that's beautiful about these lemon lavender shortbread cookies is that you can cut them into whatever you shape you desire. Or, you can shape the dough into a log, store it in the freezer, and cut off slices to bake whenever you like. Unbaked shortbread cookie dough can be kept in the freezer for 3 to 6 months.
Baking the cookies
Lay the cutout cookies on a cookie sheet close together, but not touching. Shortbread cookies won't spread much with baking, especially if you chill them first.
Bake the lemon lavender cookies until they are just light brown in color. They will continue to cook after you remove them from the oven.
Recipe FAQs
Is shortbread the same as shortcrust pastry?
No, these are two different things. Short crust pastry is often made with none to little sugar and is intended to be crumbly.
Do I really have to weigh my ingredients?
No. But if this post doesn't have you running out to buy a kitchen scale, I don't know what will.
Can these cookies be frozen?
Yes. Shape the unbaked dough into a log and slice off rounds for baking as you desire. Bake at the same temperature for a minute or two longer. Frozen shortbread dough will keep, double wrapped and in a freezer bag, for up to 6 months.
Related cookie recipes
Browse the Ugly Duckling Bakery cookie archives for such easy deliciousness as:
Love lemon? I've got a variety of recipes including:
Ricotta lemon pasta
Blackberry and lemon loaf cake
Elderflower Tom Collins
If it's lavender you love, try this Earl Grey lavender cake. And serve your shortbread at cocktail hour with a lavender gimlet or the Lady Bridgerton Empress Gin cocktail.
Love this recipe? Please leave a 5-heart 💜💜💜💜💜 rating in the recipe card below. Let me know how much you loved it, or any problems you had, in the comments section further down.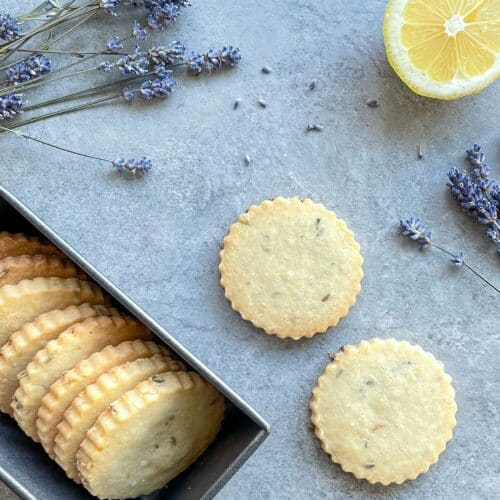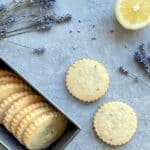 Pin Recipe
Lemon Lavender Shortbread Cookies
These lemon lavender shortbread cookies are literally as easy as 1-2-3 to put together. And the aroma will perfume your home as the lemon lavender cookies bake.
Print Recipe
Ingredients
2

ounces

(57 grams or 4½ tablespoons) granulated sugar

4

ounces

(113 grams or 1 stick) unsalted butter, softened

1

teaspoon

dried culinary lavender flowers

zest of one lemon

½

teaspoon

vanilla

6

ounces

(170 grams or 1⅓ cup) bleached all purpose flour

plus extra for rolling out the dough

⅛

teaspoon

salt
Instructions
Preheat the oven to 350°F.

In a medium size mixing bowl or bowl of your stand mixer, cream the sugar, butter, lavender, and lemon zest on medium speed just until mixed well.

2 ounces (57 grams or 4½ tablespoons) granulated sugar,

4 ounces (113 grams or 1 stick) unsalted butter, softened,

1 teaspoon dried culinary lavender flowers,

zest of one lemon

Add the vanilla and mix for one minute.

Add the flour and salt and mix. The dough may or may not clump together.

6 ounces (170 grams or 1⅓ cup) bleached all purpose flour,

⅛ teaspoon salt

Pour out the mixture onto a sheet of plastic wrap and knead gently until the dough just starts to come together. Once it does, put it into the refrigerator for 15 minutes.

Roll out the dough to about ¼ to ⅓ inch, and cut it into rounds or other shapes.

Place the cookies on a cookie sheet lined with parchment paper or a silicone mat. They do not need much spacing, but do not crowd them. Place the cookie sheet in the freezer for about 10 to 15 minutes before baking.

Bake for 16 to 20 minutes, depending on the thickness of your lemon lavender cookies and how long they were in the freezer. The cookies should be slightly firm and the edges just slightly brown. They will become firmer as they cool.

Store in an air-tight container at room temperature.
Notes
When you're making shortbread cookies, cream your butter and sugar only until they're mixed well. You don't want "light and fluffy" here, or the air you incorporate will cause your cookies will puff when baked.
If your kitchen is very warm when you are rolling these out, you might need to cut out your cookies and then put your dough scraps back in the fridge for a bit before you roll the dough out a second time.
Nutrition
Calories:
110
kcal
|
Carbohydrates:
12
g
|
Protein:
1
g
|
Fat:
6
g
|
Saturated Fat:
4
g
|
Polyunsaturated Fat:
1
g
|
Monounsaturated Fat:
2
g
|
Trans Fat:
1
g
|
Cholesterol:
16
mg
|
Sodium:
68
mg
|
Potassium:
14
mg
|
Fiber:
1
g
|
Sugar:
4
g
|
Vitamin A:
189
IU
|
Calcium:
4
mg
|
Iron:
1
mg
This lemon lavender cookie recipe was originally posted on April 29, 2021. It was last updated on May 2, 2023.
Looking for inspiration?
Sign up to get recipes full of kitchen tips and tricks.