Fried Patty Pan Squash Patties
These Fried Patty Pan Squash Patties are a great recipe if you love patty pans or it's that time of year when you're overrun with zucchini and summer squash. If you have a garden, you know the summer bounty. Summer berries for blueberry muffins and blackberry quick breads. Perfect tomatoes for your Caprese salads and pasta salads. Maybe some beans. A pepper or two. And so much squash.
You probably have a list of recipes to use up all that squash. Ratatouille. Breaded squash. Squash galettes. Squash pickles. This recipe for fried patty pan squash patties is the one that will go on repeat.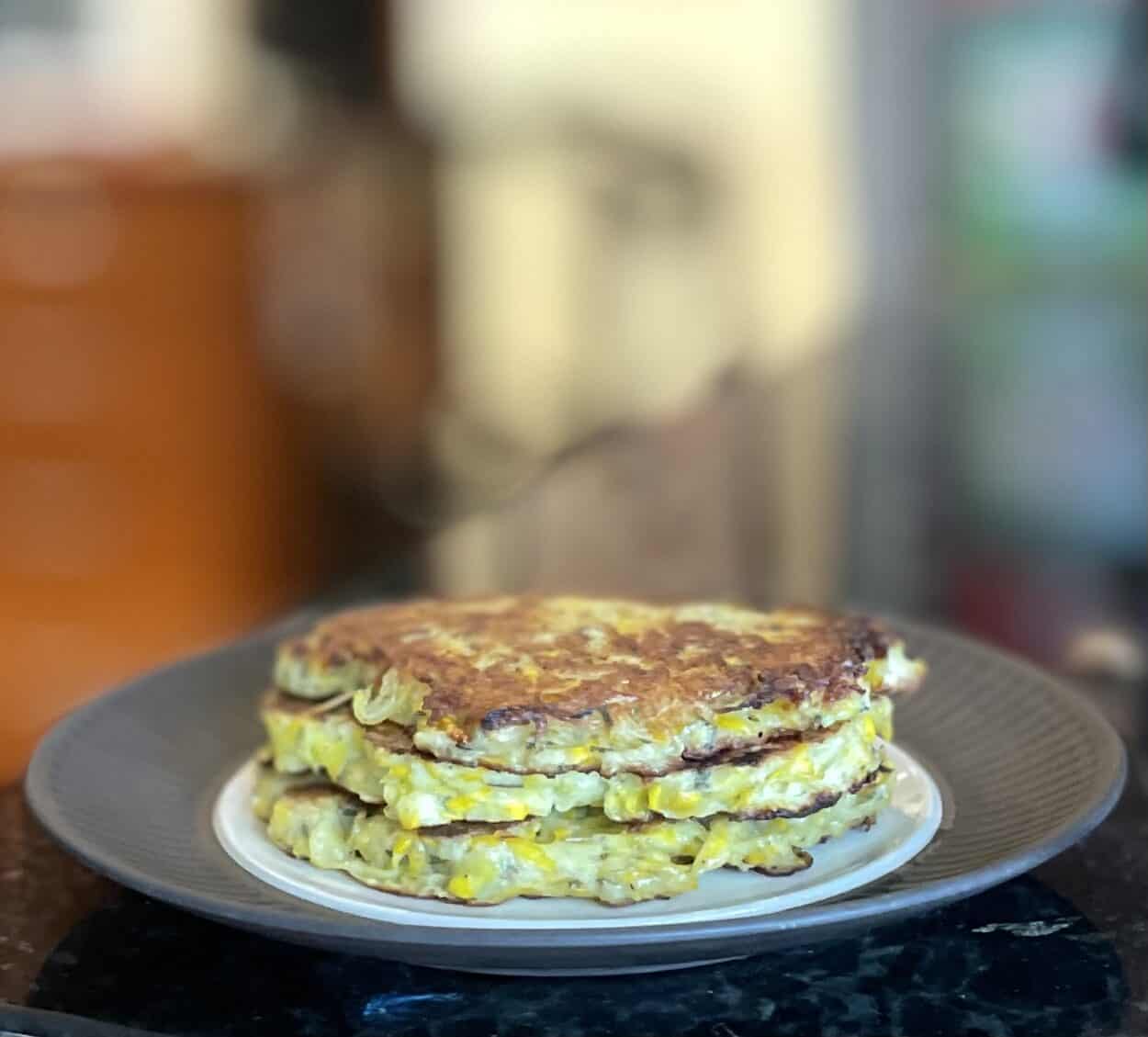 Jump to:
Ingredients
The thing about summer squash is that they grow so quickly and so well that you can get quickly overrun by them. Huge summer squash seeds can be bitter and change the texture of these squash patties. If you've got a large squash, just avoid grating the center.
Tip from the wise quacker: try to pick your squash before they get to be large, say over a pound. And it's always best to eat your summer squash as soon as you pick it.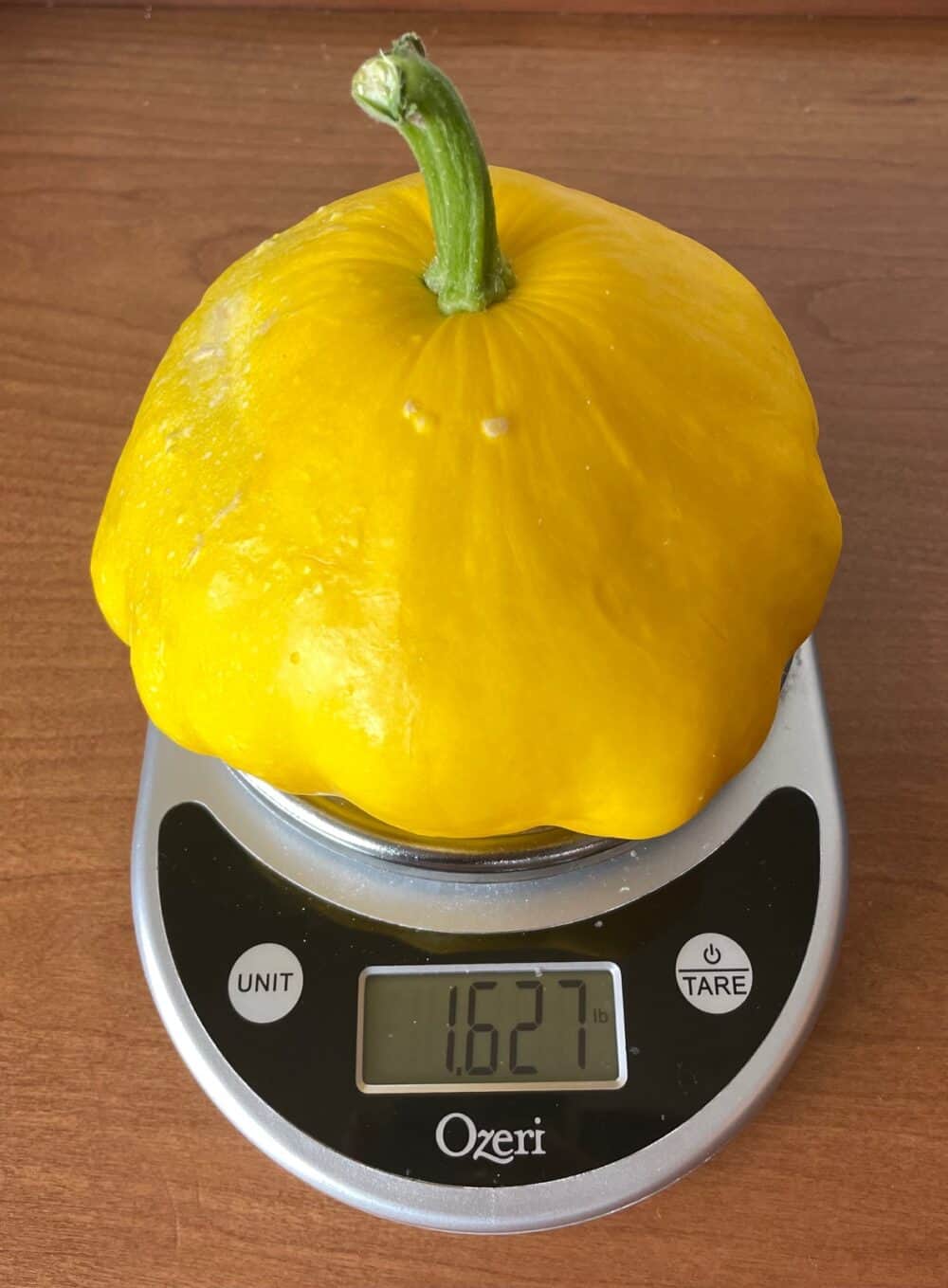 Please see the recipe card below for complete information on ingredients and quantities.
Variations and substitutions
This base recipe is easily adaptable:
Use a different type of summer squash like zucchini.
Add something in the onion family like onions, shallots, garlic, or green onions.
Add some minced jalapeño peppers.
Change up the herbs and spices.
Add some cheese like a cheddar or Parmesan.
Or try all of these variations, because, if you're growing squash, you'll have the opportunity.
Recipe tips and tricks
Grating patty pan squash
There's no need to peel summer squash. Just give it a great wash, slice off the ends, and grate the flesh until you get to the seeds.
Summer squash are mostly water. So, just like with potato latkes, if you don't squeeze out all the liquid you'll get watery patties that don't fry well.
At least grated squash doesn't turn brown like potatoes do.
You can let the squash drain for a while, but you will still need to actively squeeze out the water. I will sometimes do this by using my hand to push the squash against the sieve. But it is more effective to use a clean kitchen towel.
Put the grated squash into the center of the towel. Pull up the four corners and twist into a ball.
Squeeze the squash. You will be surprised how much water comes out. Squeeze some more. Rest your hands and squeeze. Give it to someone else and have them squeeze.
When you think you're done, give the ball one more squeeze, unwrap the towel, and put the squash into a bowl. Add the flour, salt, pepper, and any spices you are using. You should have less than a cup from a one-and-a-half pound squash.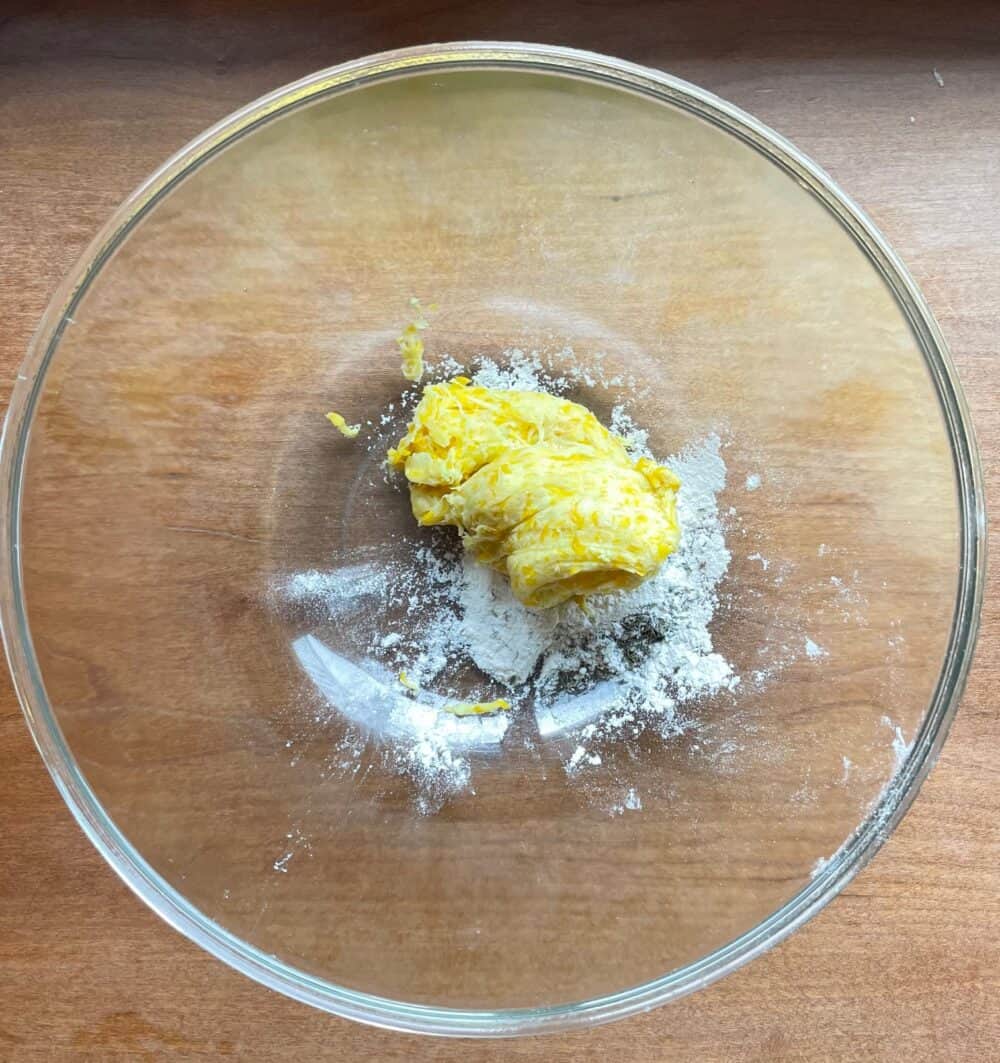 Making the squash patty mixture
Use a fork or your hands to pull apart the grated squash. That way you'll get an even mix with the flour and other spices before you add the egg.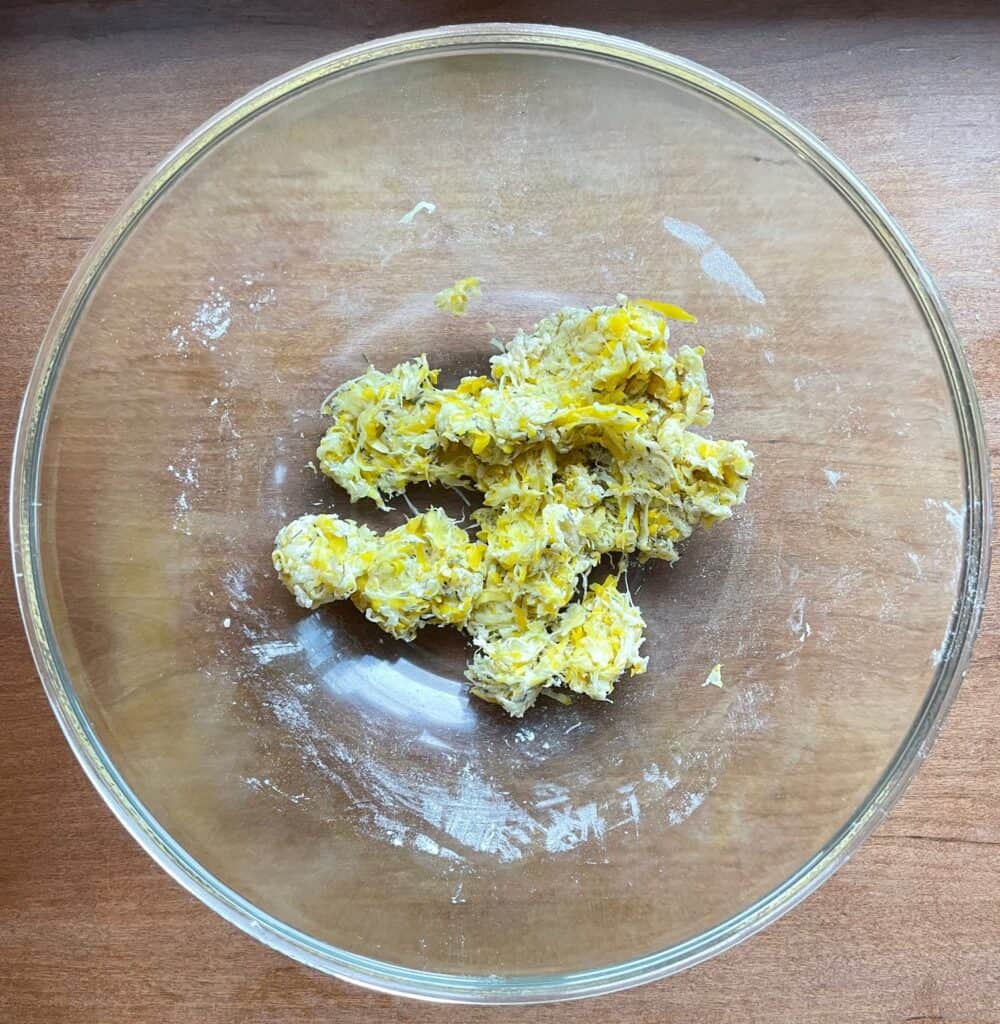 Frying the squash patties
Heat a griddle or frying pan with a thin layer of vegetable oil. Then use a large cookie scoop or a quarter cup measure to scoop out the mixture. Fry for about three to five minutes on each side.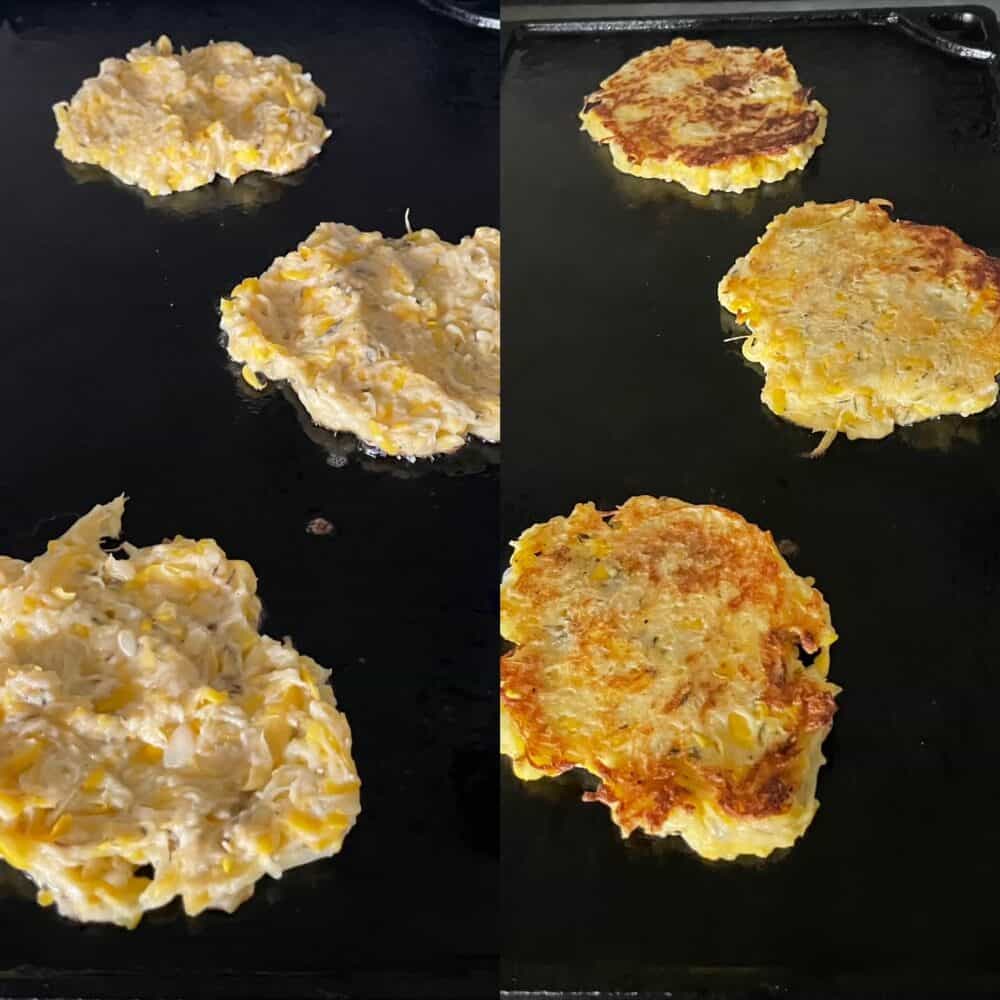 What to serve with fried squash patties
Recipe FAQs
How do you grow a squash plant?
Very easily, it seems. Every year we get overrun with summer squash, and every year I say I'll plant fewer the following year. Summer squash seeds like to be planted in mounds in sunny spots of the vegetable garden. Water deeply once or twice a week, and try to avoid getting water on the leaves.
What are the differences between squash patties, squash fritters, squash pancakes, and latkes made with summer squash?
There is a lot of overlap among these words. A fritter is deep fried rather than fried in a thin layer of oil as in this recipe. "Latke" means pancake in Yiddish, so those two are perfectly overlapping. Finally, Merriam-Webster defines "patty" as a little pie or a small, flat cake of chopped food.
Can I scale up this recipe?
Absolutely. No need to adjust. Just multiply for however much squash you want to use.
Can I freeze squash patties?
Absolutely. Let them cool on a paper towel to absorb any oil, and then layer them in a freezer bag. Warm them again in a single layer on a baking sheet in your oven.
Related side dish recipes
Check other Ugly Duckling Bakery side dishes like:
Love this recipe? Please leave a 5-heart 💜💜💜💜💜 rating in the recipe card below. Let me know how much you loved it, or any problems you had, in the comments section further down.
Recipe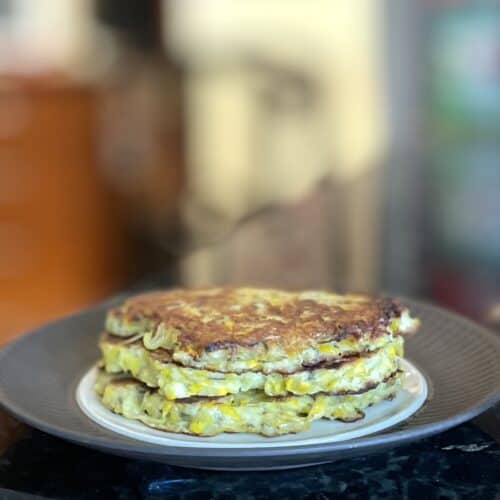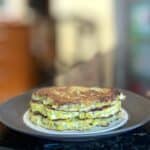 Pin Recipe
Fried Patty Pan Squash Patties
These fried patty pan squash patties are a great patty pan squash recipe for those of you who either love patty pans or are being overrun with squash from your vegetable garden.
Print Recipe
Ingredients
1½

pounds

patty pan squash

one large or two medium

1

tablespoon

all-purpose flour

1

teaspoon

salt

½

teaspoon

thyme

¼

teaspoon

black pepper

1

egg, lightly beaten

1

tablespoon

neutral-flavored vegetable oil like corn or safflower
Instructions
Use the large holes of a box grater to grate the squash. Discard any seeds, and put the squash in a sieve in the sink.

1½ pounds patty pan squash

In a medium bowl, combine the flour, salt, thyme, and black pepper.

1 tablespoon all-purpose flour,

1 teaspoon salt,

¼ teaspoon black pepper,

½ teaspoon thyme

Squeeze out as much of the water in the squash that you can by wrapping up the squash in a kitchen towel and twisting and squeezing (see tips and tricks above).

Add the squash to the bowl with the flour mixture and use a fork or your fingers to pick apart the squash ball. Stir until the squash is evenly coated with the flour.

Add the beaten egg and stir until the egg is fully combined into the mixture.

Heat a frying pan or griddle over medium-low heat and add a thin layer of the vegetable oil. When the oil is hot, use a large cookie scoop, ¼ cup measuring cup, or spoons to scoop batter onto the pan or griddle. This recipe will make three or four patties, depending on how generous you are with your scoops.

1 tablespoon neutral-flavored vegetable oil like corn or safflower

Cook 3 to 5 minutes per side. Drain on paper towels and serve warm or at room temperature.

Extra squash patties can be kept in the refrigerator for one week or in the freezer for three to six months.
Notes
The most important part of this patty pan squash recipe is to squeeze out as much water as you possibly can. That allows the squash patties to fry up crisply.
Variations (add these to the squash and flour mixture):
Use a different type of summer squash.
Add something in the onion family like a quarter of an onion, a chopped shallot, minced garlic clove or two, or one or two sliced green onions.
Add some minced jalapeño peppers.
Change up the herbs and spices.
Add some cheese – like a half ounce of cheddar or Parmesan.
Nutrition
Calories:
84
kcal
|
Carbohydrates:
8
g
|
Protein:
4
g
|
Fat:
5
g
|
Saturated Fat:
1
g
|
Polyunsaturated Fat:
2
g
|
Monounsaturated Fat:
1
g
|
Trans Fat:
0.03
g
|
Cholesterol:
41
mg
|
Sodium:
599
mg
|
Potassium:
330
mg
|
Fiber:
2
g
|
Sugar:
4
g
|
Vitamin A:
441
IU
|
Vitamin C:
31
mg
|
Calcium:
41
mg
|
Iron:
1
mg
Looking for inspiration?
Sign up to get recipes full of kitchen tips and tricks.