These Ooni pizza recipes and pizza-making tips are intended to give you inspiration for your own pizza pie creations. Don't hold back.
And don't let anyone tell you that how you make a pizza is wrong. The best pizza is the one you have in front of you and you love.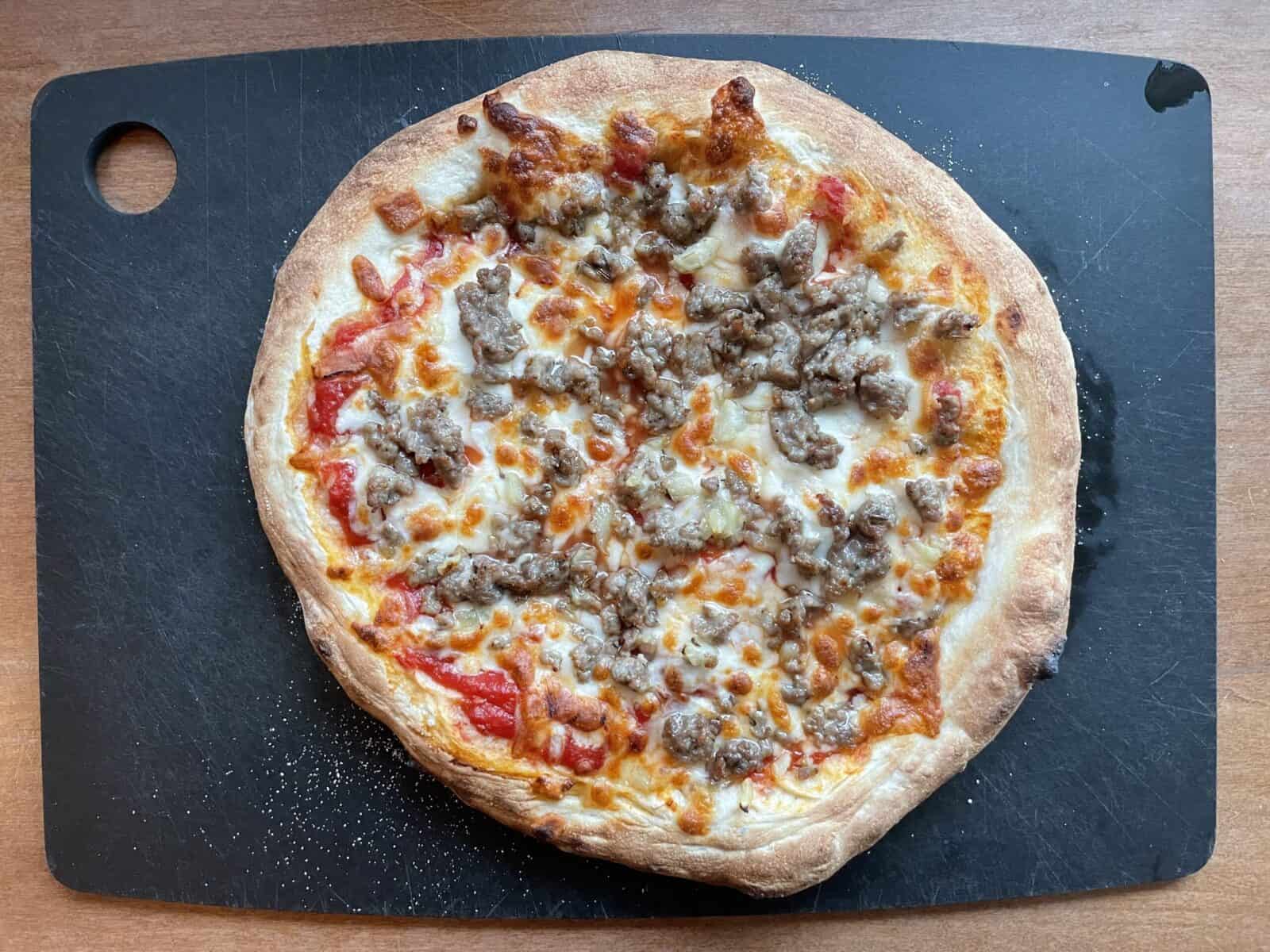 Unless there's pineapple on your pizza. Then it's wrong.
Just kidding!
Note: I have no affiliation with Ooni. All comments and opinions are my own.
Jump to:
The basics of an Ooni pizza recipe
The dough
Check out this related post for my Ooni pizza dough recipe and a few tips about using the Ooni pizza oven. I've made different pizza doughs and keep coming back to the same one. It's got great flavor, and the overnight proof really makes the dough easier to work with.
But, if you don't have the time or interest, go ahead and buy a dough ball from your local pizza parlor or the grocery store. The best pizza dough is the one you have for pizza!
The sauce
There are two pizza sauce camps. Traditionalists say that real pizza sauce should be made of San Marzano tomatoes and left uncooked. Because the pizza cooks for such little time in the Ooni, I prefer the flavors of an Ooni pizza sauce briefly cooked with a bit of garlic.
Again, it's all about what you prefer. The only "should" is to use a sauce that isn't watery. Wet toppings make it more challenging to transfer your pizza from the peel to the Ooni. And you may end up with a soggy crust.
Tip from the wise quacker: if you have a gas-powered Ooni, one way to avoid the soggy crust is to turn off your oven and keep cooking and turning the pizza on the stone for a minute or two.
Of course, you're not limited to making pizza recipes with tomato sauce as your base. Try one with a pesto base like this basil pesto (pesto alla Genovese). Or just brush your pizza crust with olive oil for a white pizza.
You could also go really non-traditional. Use a homemade BBQ sauce with pulled chicken or pork. Make a taco pizza with a salsa base. Or try out peanut sauce and a Swimming Rama chicken pizza that's finished with fresh spinach.
The cheese
Your go-to cheese for your Ooni pizzas is going to be a low moisture mozzarella. You can use fresh mozzarella, but it can have the same results as a watery sauce. If you want to use fresh mozzarella on your pizza, just use it sparingly.
I like to add a bit of Parmesan or Pecorino Romano, though it also goes against the regulations. I'm a rebel, in that way.
Really, you can make a pizza with any cheese that melts. I'm tempted to make one with Taleggio next, although I might be the only one in my family who will eat it. Or maybe I'll do it because I'll be the only one in my family willing to eat it!
Finishing touches
Some pizza toppings should be added after your pizza is cooked. If you're making a prosciutto and arugula pizza, that arugula will be best if it's added to the warm pizza after it comes out of the oven. If your pizza recipe has greens like arugula, chopped basil, or other fresh herbs, keep them fresh!
Finally, I also like to serve more freshly grated Parmesan, red pepper flakes, and maybe some chopped herbs at the table.
Preparing ingredients for pizzas cooked in the Ooni pizza oven
There are two main differences between pizzas cooked in the Ooni and in home ovens. The first is the temperature you can achieve in the Ooni. As a result, your pizzas will cook for a much shorter time, and so your toppings, especially meats, should be cooked.
The other difference is the need to transfer your pizza from the peel to the oven. So generally Ooni pizzas should be topped a little lighter. And you'll want to avoid anything that might be watery, just like with the sauce and cheese.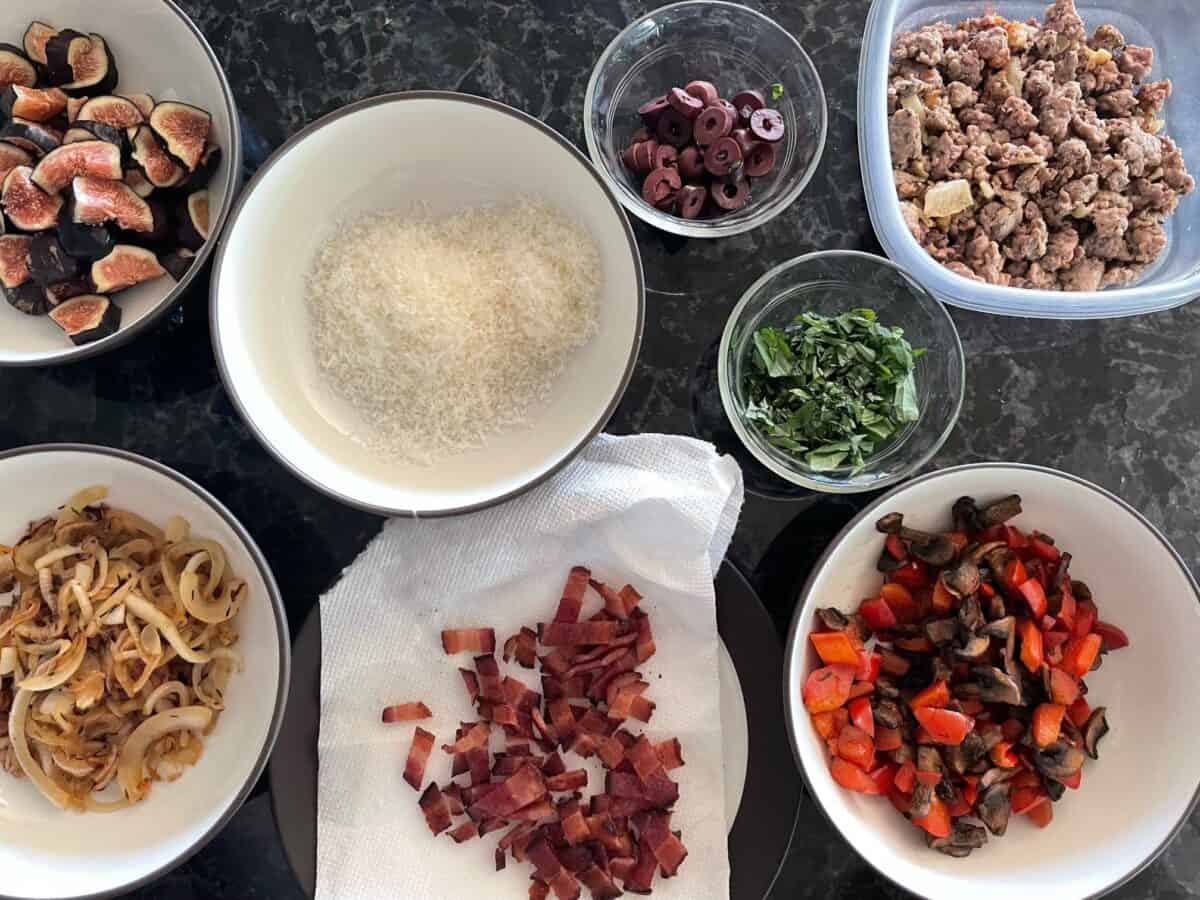 Tomatoes
Slice fresh tomatoes thinly, and let them drain if you have time.
Caramelized onions
Here's a great recipe and instructions for cooking caramelized onions. The most important thing to know is that it takes time – 45 minutes to an hour – with slow cooking to get the sugars in the onions to caramelize.
Mushrooms
Mushrooms have a lot of water, and so it helps to briefly cook them before using them as Ooni toppings. I recommend cooking mushrooms a bit like caramelized onions – with butter and with a lot of space in the pan so they fry and don't steam.
You just don't have to cook the mushrooms as long as caramelized onions. Five or ten minutes should be enough.
Roasted red peppers
Roasting red peppers is really simple. Wash your peppers, slice them in half or thirds so they'll lie flat, and discard the seeds and veins. Put them, skin side up, in a pan lined with foil under the broiler.
You'll want to keep a close eye on them. Once most of the skin has blackened, remove the pan and immediately seal up the foil around the peppers. Once they're cool, the skin will be easy to peel off.
Sausage
This is the household favorite. Chop half a fennel bulb or onion and fry it in a frying pan with a tablespoon of oil over medium-low heat until soft, about seven to ten minutes. Add some bulk Italian sausage to the pan and cook it, breaking it up into smaller pieces, until browned.
Let cool until you're ready to top your pizzas. Sausage can be fatty, so I set my frying pan on a slight angle to let the fat drain towards one side of the pan. You can spoon it off into a fat jar or soak it into paper towels to compost.
I don't know who needs to see this, but: please don't pour animal fats down the sink!
Leftover sausage can be frozen for future pizzas or are great on pasta with a bit of cream and Parmesan.
Some Ooni pizza recipes
Below are some ideas to get you inspired on your pizza journey.
The margherita
The margherita is a simple pizza make with fresh mozzarella and fresh tomatoes. Add whole or chopped basil leaves after your pizza comes out of the Ooni.
(Just ignore those olives there. Someone likes olives.)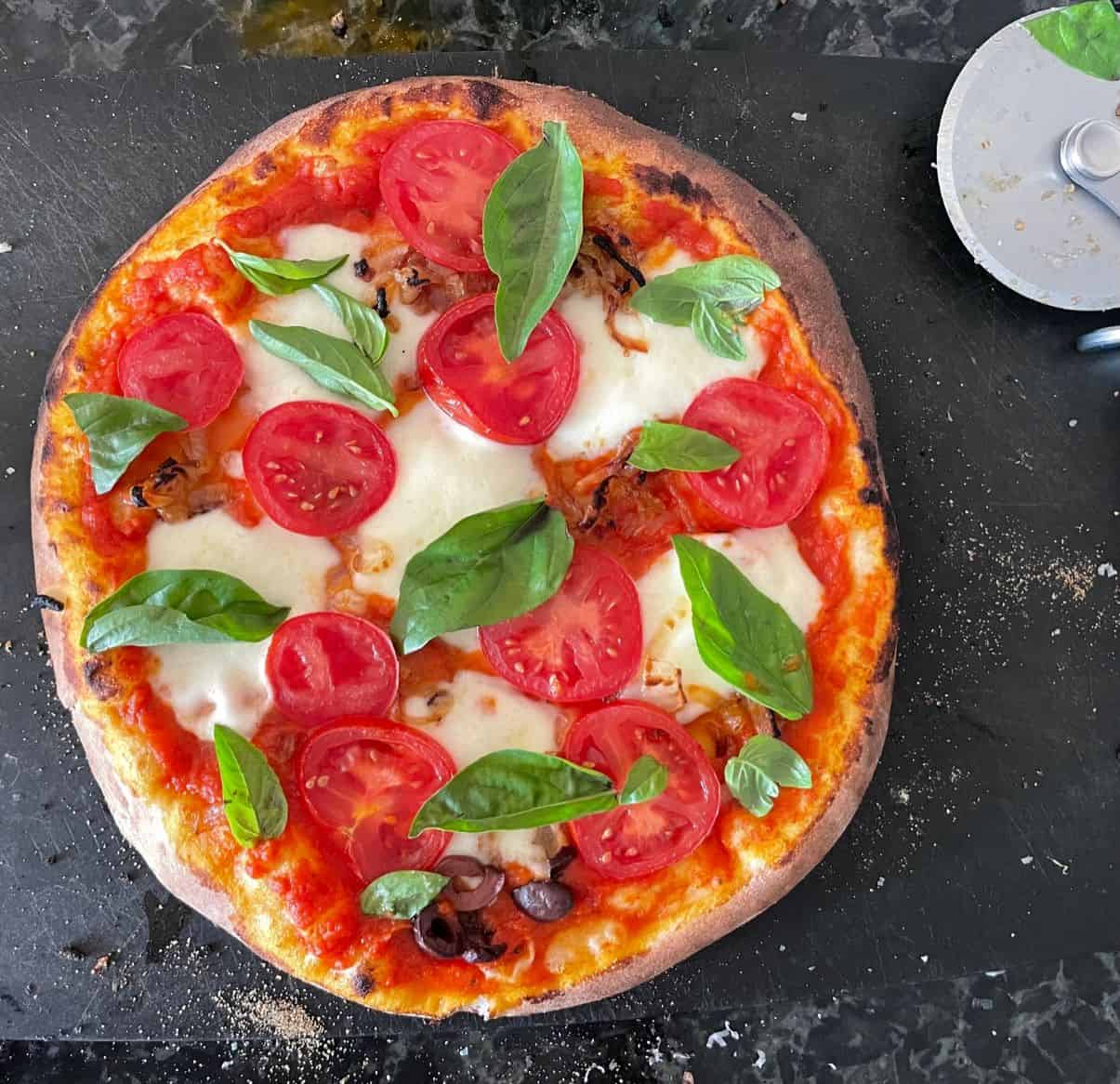 Pepperoni and olive
This one needs no explanation. Though you might not want to add your toppings as close to the edge if you want a good puff to your crust.
Sausage
Basil, roasted garlic, and artichoke hearts on a pesto base
Fresh fig and caramelized onion
What to serve with pizza
Pizza is a meal on its own, but here are a few ideas for sides to serve alongside:
FAQs about Ooni pizza recipes
What's the best way to make pizza for a crowd?
People do this all sorts of ways. Some people suggest pre-baking your crust or even your whole pie. Some people use screens. We've found it works when one of us is shaping the dough and the other is manning the oven. Then let your guests top full-sized pizzas that will get cooked, cut, and shared among the group. Save personal pizzas for another time.
What do you drink with pizza?
Pizza isn't fancy, so your drink shouldn't be fancy either. Have a beer, a red blend or dry white wine, or a simple cocktail like a dry martini, Aperol sour, or passion fruit spritz.
What's next?
If you make any of these Ooni pizza recipes, please leave a comment and rating here. Or tag me on Instagram @uglyducklingbakery #uglyducklingbakery with your Ooni pizza creations.
Want to make something other than pizza in your Ooni pizza oven? Try my pita pocket recipe. The Ooni is perfect for making flatbread!
Looking for dinner inspiration, classic recipes and new seasonal favorites?