Purple Sweet Potato Pancakes (Latkes)
When life gives a Jewish girl purple sweet potatoes, what does she do? She makes purple sweet potato pancakes and homemade applesauce.
These purple sweet potato pancakes are made from Stokes purple sweet potatoes. The Stokes are quite dry, so squeezing is less involved than with traditional latkes.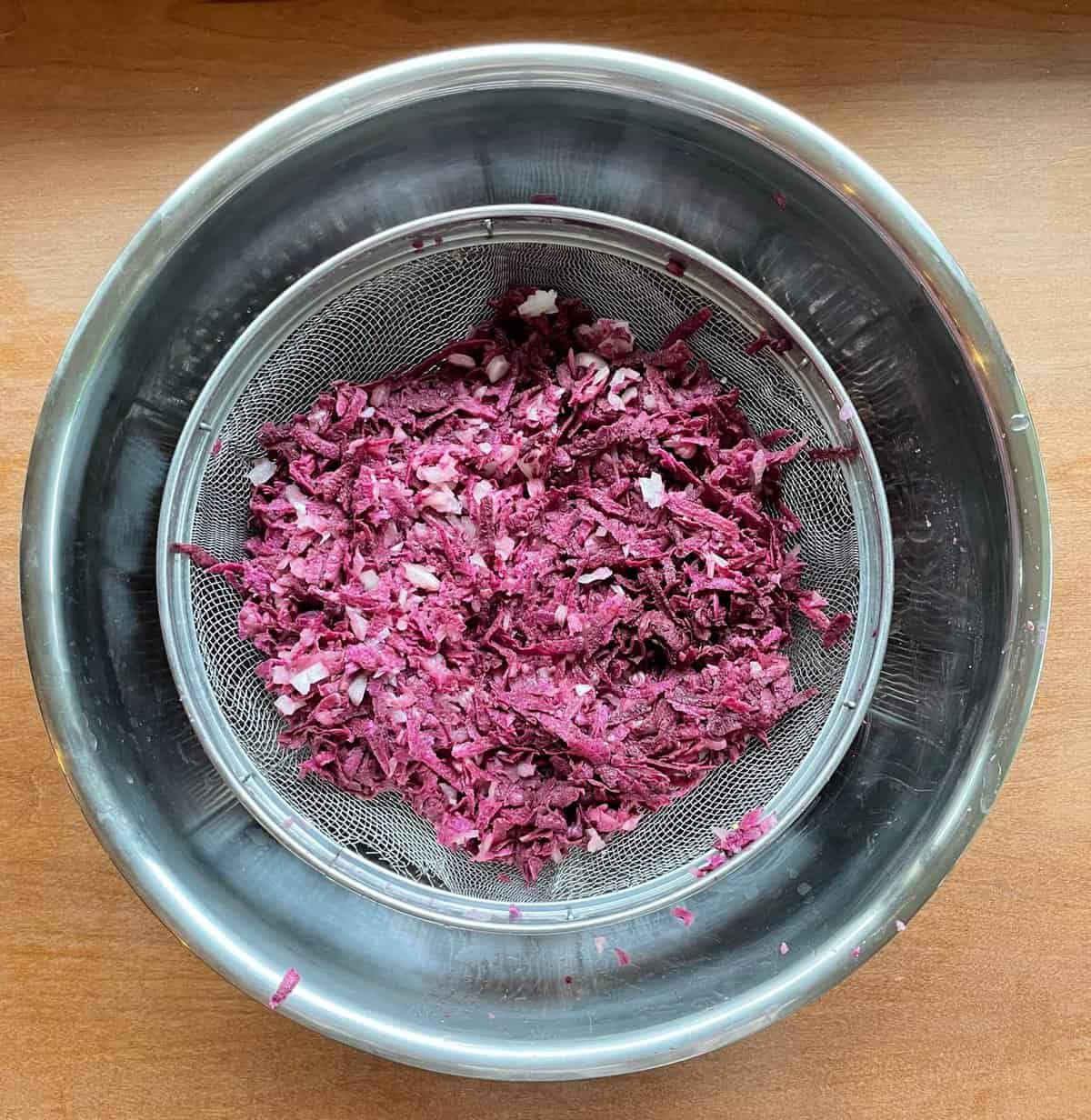 Jump to:
The difference between sweet potatoes and yams
Feel free to skip down if vegetable phylogenetics are not of interest to you. There is so much confusion about the difference between sweet potatoes and yams. And yet they are VERY different.
In fact, they are so different, that their common ancestry goes all the way back to the Phylum/Class split. Remember back to high school chemistry and "Kings Play Chess On Fine Grains (of) Sand"?
Sweet potatoes (Ipomoea batatas) are in the morning glory Family (Convolvulaceae) in the Order Solanes. As you gardeners know if you rotate your planting, Solanes also includes potatoes (Solanum tuberosum), tomatoes, eggplants, and peppers.
Ube is not a purple sweet potato. Yams like ube (Dioscorea alata) are in the Dioscoreaceae family (Order Dioscoreales). They are monocots, while sweet potatoes are dicots.
FAQs about purple sweet potato pancakes
Can I make potato pancakes from other sweet potatoes?
You can make sweet potato latkes with any other sweet potato just like with regular potatoes. Just remember that the key to a crispy latke is to use as starchy a potato as you have (like a Russet) and to squeeze out all of the water.
Can I freeze latkes?
Absolutely. Let them cool on a paper towel to absorb any oil and then layer them in a freezer bag. Warm them again in a single layer on a baking sheet in your oven.
How do you make applesauce?
If you don't mind apple peels in your applesauce, core a few apples, cut them into chunks, and throw them into a small sauce pan just covered with water. Add a tablespoon of sugar (or more, if your apples aren't sweet) and a pinch of cinnamon, and simmer until soft, stirring and mashing intermittently.
Related purple sweet potato recipes
Enjoy other Ugly Duckling Bakery recipes with purple sweet potatoes like these mashed purple sweet potatoes with banana, baked purple sweet potato recipe, or this purple sweet potato sourdough.
Love vegetable pancakes and fritters? Check out these fried patty pan squash patties.
Love this recipe? Please leave a 5-heart 💜💜💜💜💜 rating in the recipe card below. Let me know how much you loved it, or any problems you had, in the comments section further down.
Recipe
Pin Recipe
Purple Sweet Potato Pancakes (Latkes)
Purple sweet potato pancakes (purple sweet potato latkes) are perfect any time of year with applesauce, sour cream, or your favorite fixings!
Print Recipe
Ingredients
1½

pounds

sweet potatoes

½

medium sized onion

¼

cup

all purpose flour

1

teaspoon

salt

1

teaspoon

baking powder

¼

teaspoon

black pepper

2

eggs, lightly beaten

neutral vegetable oil, for light frying
Instructions
Change out of your white shirt, if you are wearing one, to avoid getting purple sweet potato juice on your clothing.

Preheat an oven to 200°F to keep the pancakes warm as you make the batch.

Peel the sweet potatoes. Then using a box grater, grate the sweet potatoes and onions, putting them into a strainer over a bowl as you do. Mix the onion around a bit to try to prevent the purple from discoloring.

1½ pounds sweet potatoes,

½ medium sized onion

Once you have grated all of the sweet potato and onion, squeeze with paper towels or cheesecloth to get rid of as much moisture as you can.

In a medium to large bowl, mix the sweet potatoes and onions with the flour, salt, baking powder, and pepper. Then add the eggs and mix.

¼ cup all purpose flour,

1 teaspoon salt,

1 teaspoon baking powder,

¼ teaspoon black pepper,

2 eggs, lightly beaten

Heat a thin layer of oil in a griddle or frying pan. When hot, add large scoops (I used a large cookie scoop) of potato mixture and flatten them slightly. Fry for 2 to 3 minutes and then flip and fry the second side.

neutral vegetable oil, for light frying

Place cooked pancakes in a single layer on a baking sheet and move to the oven to keep warm until ready to serve.
Nutrition
Calories:
91
kcal
|
Carbohydrates:
14
g
|
Protein:
2
g
|
Fat:
3
g
|
Saturated Fat:
1
g
|
Polyunsaturated Fat:
1
g
|
Monounsaturated Fat:
1
g
|
Trans Fat:
0.02
g
|
Cholesterol:
27
mg
|
Sodium:
271
mg
|
Potassium:
211
mg
|
Fiber:
2
g
|
Sugar:
3
g
|
Vitamin A:
8084
IU
|
Vitamin C:
2
mg
|
Calcium:
42
mg
|
Iron:
1
mg
Looking for inspiration?
Sign up to get recipes full of kitchen tips and tricks.