Pulled Duck Breast Recipe
If you're looking for a tasty and exciting way to enjoy duck breast, look no further than this pulled duck breast with hoisin sauce. This dish is a variation on pulled pork and offers a wonderful blend of flavors and textures, with tender shredded duck meat infused with the rich and sweet flavors of hoisin sauce.
Hoisin sauce is a staple ingredient in many Asian cuisines and is known for its sweet and savory notes. By slow-cooking duck breast and then allowing it to absorb the rich flavors of the sauce, you'll create a meal that is sure to impress your family and friends.
Jump to:
Ingredients
Many people don't cook duck because they are unfamiliar with it. But if you are like me and you love the flavor of duck, the breasts are the easiest part to work with. Or use ground duck in this Peking Duck-inspired meatloaf or these duck burgers with cherry ketchup.
Please see the recipe card below for complete information on ingredients and quantities.
Variations and substitutions
Make your pulled duck on the stove top like this Dutch oven pulled chicken.
Instead of Hoisin, vary the sauce you use for an infinite number of variations. I'm imagining a cherry preserve or this fig bacon jam.
Tips and tricks for this pulled duck breast recipe
Just like with pulled pork, the key to pulled duck is a slow cook over low heat to get the most tender meat. First, make shallow slashes through the skin and fat, being careful not to cut the meat.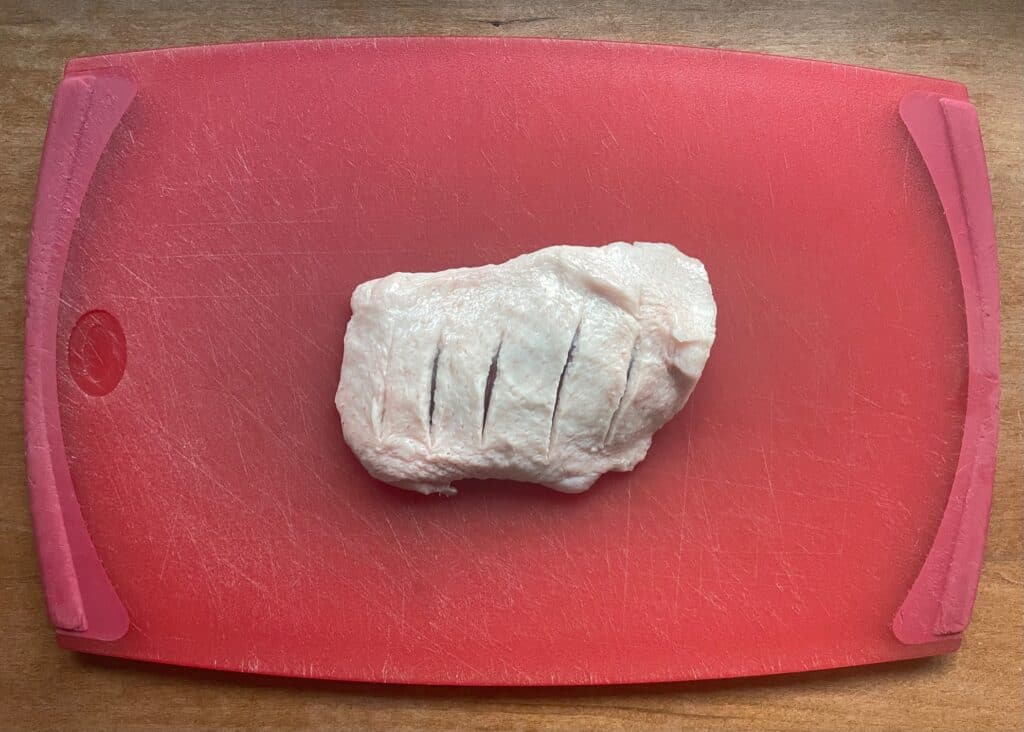 Then, nestle the duck breasts, skin side down, in a dutch oven or other pot with a lid. Sprinkle on the garlic and ginger and add water just so it comes about halfway up the side of the meat.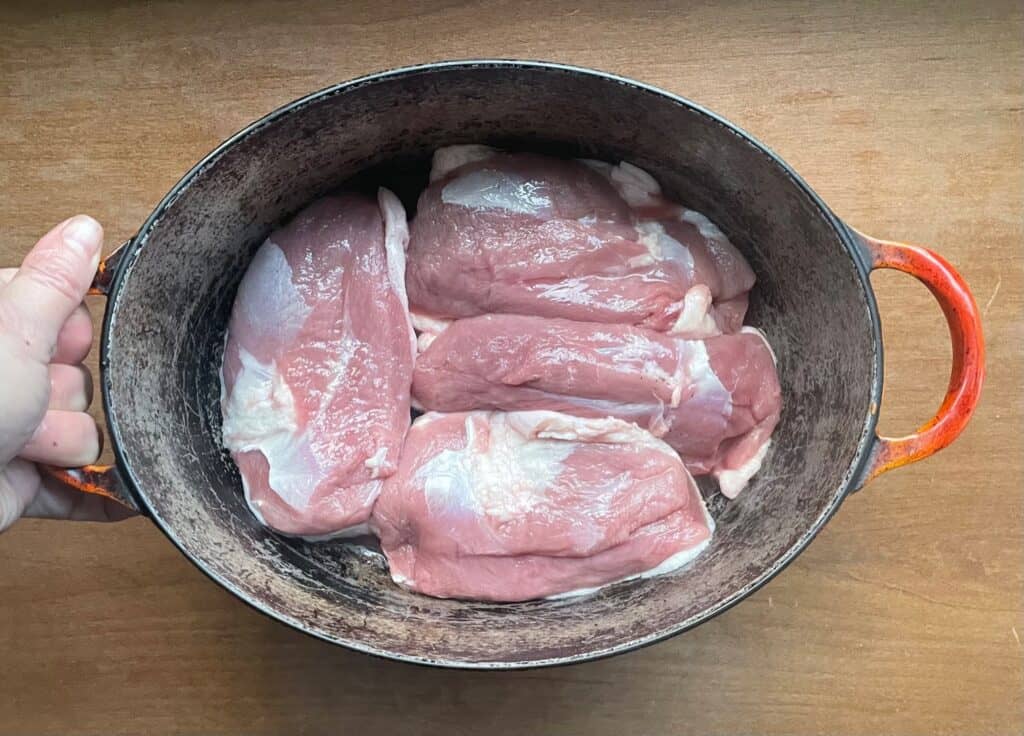 Cook, covered, for one hour at 275 degrees. Then remove the lid and continue to cook until the duck breast has reached an internal temperature of 165 degrees.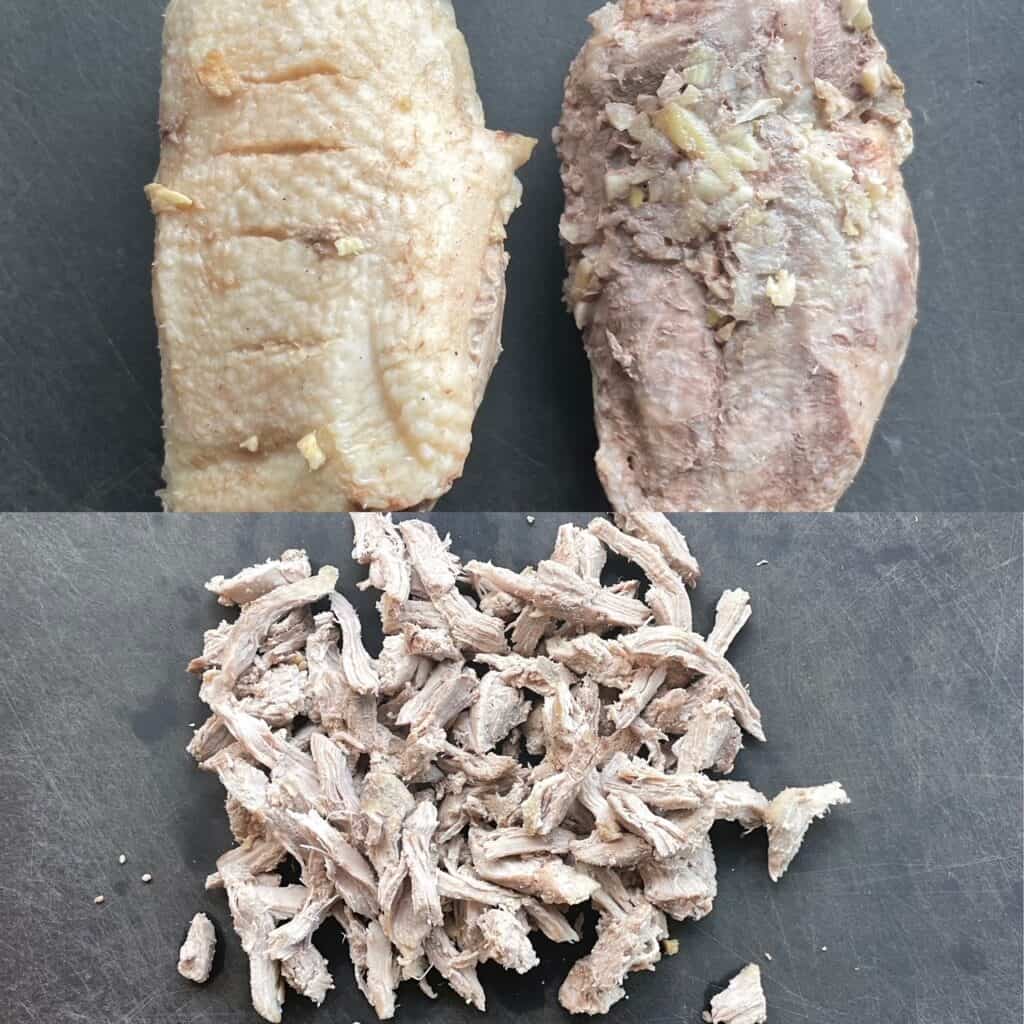 Let the duck breasts cool until they are cool enough to handle, and then remove and discard the layer of skin and fat. Use your hands or two forks to shred the duck into bite sized pieces. The cooked duck can be refrigerated or even frozen at this point.
How to serve pulled duck
To serve the pulled duck, add the shredded duck to a medium sized pot and stir in hoisin sauce over low heat until it is warmed and thickly covered in sauce. Serve immediately with green onions and pancakes or steamed bao or over rice. Or make a pulled duck sandwich with Asian coleslaw or carrot salad on a hamburger bun.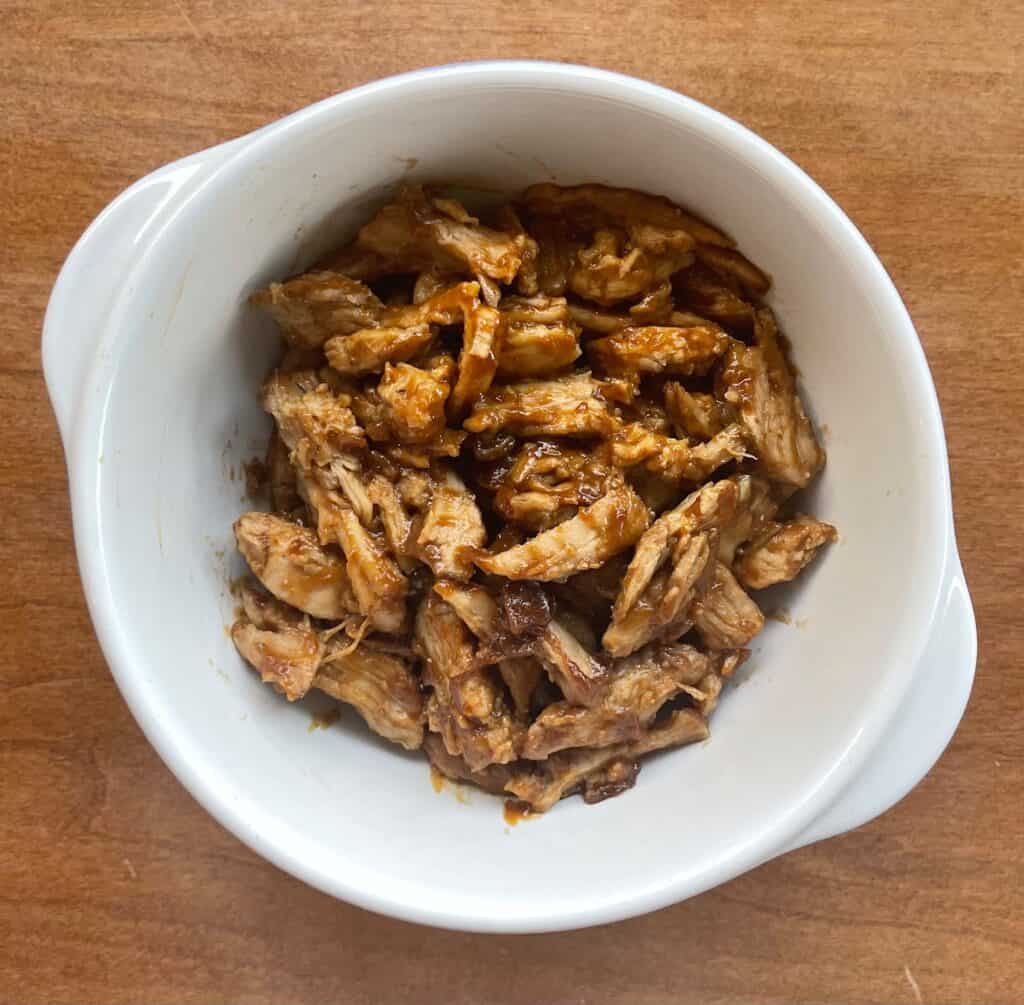 FAQs about this pulled duck breast recipe
Is duck red or white meat?
All poultry is white meat because of the lower myoglobin content. However, duck has more of this protein than chicken or turkey and would be considered dark meat.
Is duck meat healthy?
Duck also has more fat than chicken or turkey, which is why it has more flavor. But it's healthier than beef and other red meats. In this duck recipe, most of the duck fat is removed with the skin.
Where can I find duck breast?
My regular grocery store carries duck in the frozen meat section, including whole duck, breast, legs, and ground meat.
Can I freeze pulled duck?
Yes, the cooked duck meat can be frozen in an air-tight container for three to six months. I have been told you can freeze duck bao, but I can't tell you if that's true because all of mine disappeared!
What are bao?
Bao (pronounced "bow") are Chinese buns filled with meat or vegetables. There are many different types, all made with a yeast-leavened dough.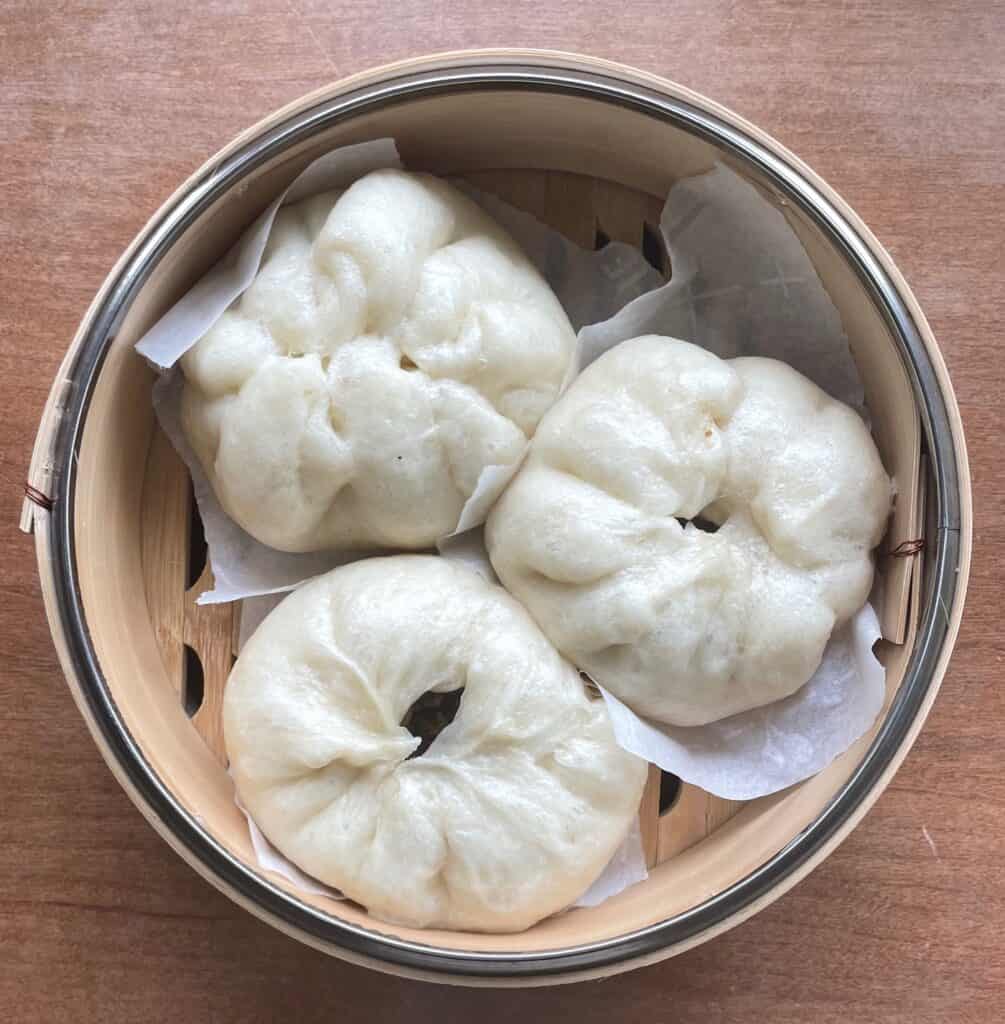 Other related poultry recipes
Check out the best chicken, turkey, and duck recipes from the Ugly Duckling Bakery archives like:
Love this recipe? Please leave a 5-heart 💜💜💜💜💜 rating in the recipe card below. Let me know how much you loved it, or any problems you had, in the comments section further down.
Recipe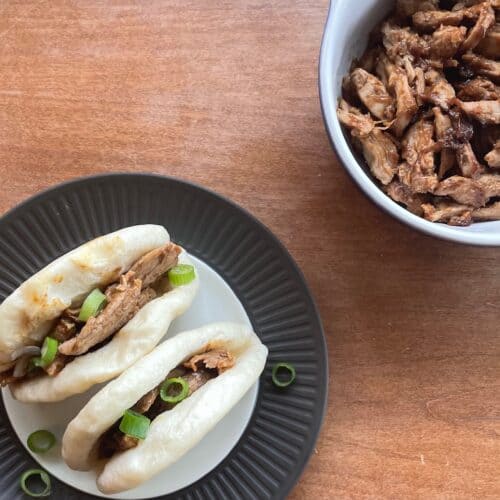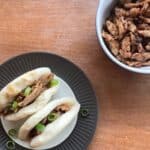 Pin Recipe
Pulled Duck Breast
This pulled duck breast is cooked low and slow and then mixed with hoisin sauce. It's delicious wrapped in a pancake or made into duck bao.
Print Recipe
Equipment
Dutch oven or other lidded oven-safe pot
Ingredients
4

duck breasts (about

2 pounds

)

3

cloves

garlic, minced

1

inch

ginger, minced

¼

cup

hoisin sauce

plus more as desired
Instructions
Preheat the oven to 275°F.

Make 4 to 5 parallel slashes in the skin and fat of the duck breasts, being careful not to cut the meat.

4 duck breasts (about

2 pounds

)

Place the duck breasts skin side down in the pot, sprinkle with the garlic and ginger, and add enough water to come just halfway up the side of the duck.

3 cloves garlic, minced,

1 inch ginger, minced

Cover and cook for one hour. Then remove the lid and cook until the duck reaches an internal temperature of 165°F, about 30 to 45 minutes.

Let the duck cool in the liquid until it is cool enough to handle. Then remove and discard the skin and fat layer.

Use your hands or two forks to shred the duck breasts into bite-sized pieces.

Add the duck to a medium-sized pot over low heat. Add the hoisin sauce and cook until the duck is warm and thickly coated with sauce.

Serve warm with rice, pancakes, or steamed bao.
Notes
Serving suggestions:
– With bao or pancakes, serve with green onions, chopped carrots and cucumbers, and more hoisin sauce on the side. Flour tortillas can be a non-traditional substitute for Chinese pancakes in a pinch.
– I'm still working to find my favorite recipes for bao, but to make those steamed duck buns, I adapted a recipe for char siu bao and added green onions, soy sauce, sesame oil, and five-spice powder to my pulled duck recipe.
Nutrition
Calories:
321
kcal
|
Carbohydrates:
9
g
|
Protein:
45
g
|
Fat:
10
g
|
Saturated Fat:
3
g
|
Polyunsaturated Fat:
2
g
|
Monounsaturated Fat:
3
g
|
Cholesterol:
175
mg
|
Sodium:
407
mg
|
Potassium:
642
mg
|
Fiber:
1
g
|
Sugar:
5
g
|
Vitamin A:
121
IU
|
Vitamin C:
15
mg
|
Calcium:
17
mg
|
Iron:
10
mg
Looking for dinner inspiration, classic recipes and new seasonal favorites?