Mediterranean Bowl with Lamb Meatballs
This Mediterranean bowl with lamb meatballs is what my kiddo calls a "little bit of everything dinner." If you love the Mediterranean region, this is a bowl dinner for you.
Bowl dinners are great for picky eaters to try a variety of tastes and textures. And they can be time savers for weeknight meals when you have leftover grains and greens and other chopped vegetables. If you're inspired to make your own greens and grain bowls, read more about how to build your own bowl.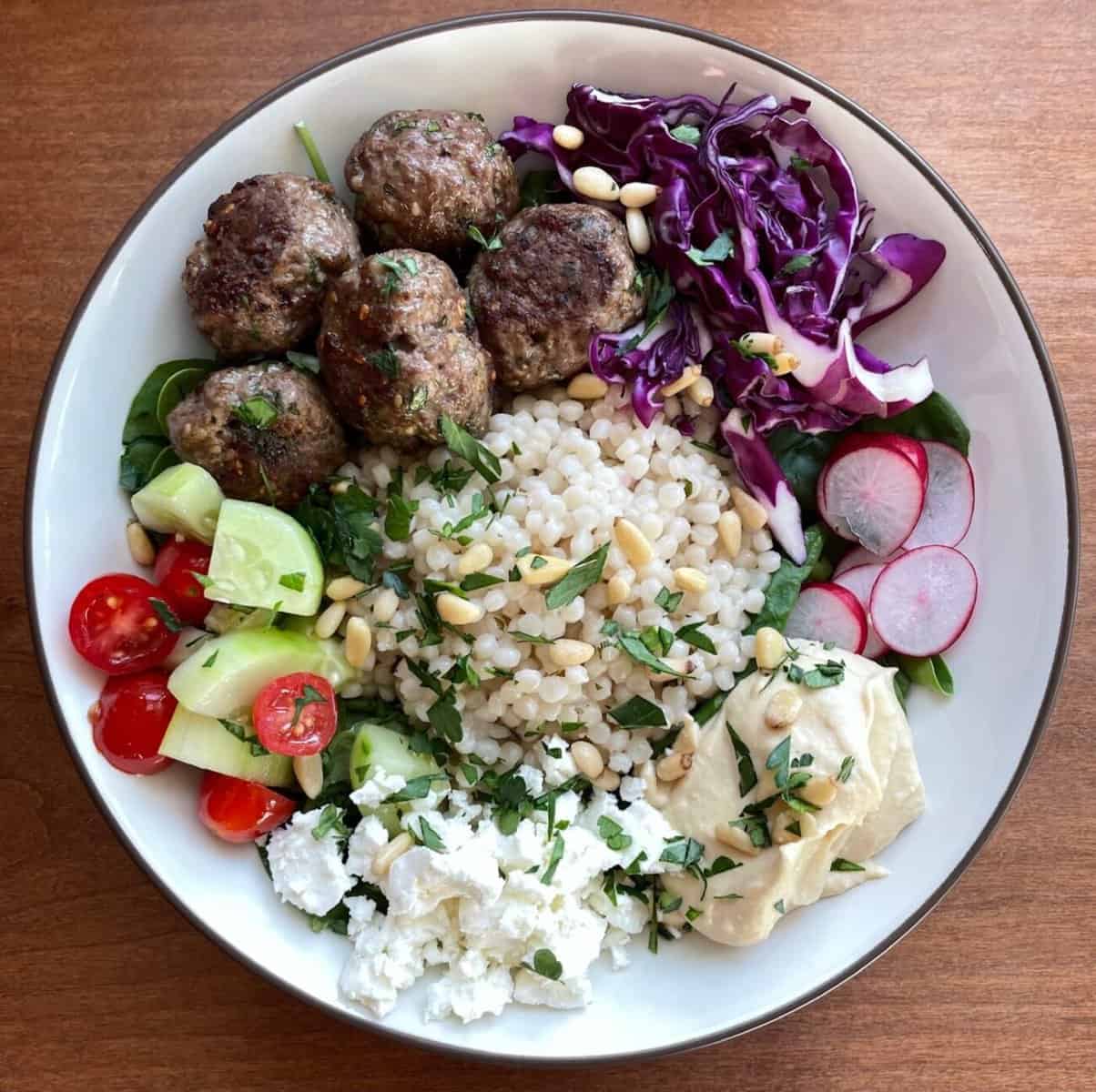 Then pull out a tortilla or some flatbread, and turn leftovers from this dinner into a meatball wrap for lunch!
What's in this Mediterranean bowl?
Lamb meatballs with sesame seeds, cumin, and coriander (see recipe)
Israeli couscous with lemon juice and chopped mint
Sliced red cabbage or carrot salad
Sliced radishes
Hummus (see below)
Feta
Chopped cucumber and tomatoes with salt and olive oil
Base: baby spinach
Garnish: toasted pine nuts, chopped parsley, chopped cilantro
Dressing: sour cream and sumac sauce
On the side: homemade pita
In the past my homemade hummus had the wrong texture. But with some encouragement to try again, I used this hummus recipe from Jerusalem by Yotam Ottolenghi and Sami Tamimi, and it turned out silky smooth. You too can make hummus at home!
Tips and tricks for making meatballs
Meatballs are a great addition to dinner bowls. Why? Aside from a little chopping, meatballs are extremely easy to make, come together in about 30 minutes, and have infinite variety.
The starting ratio for meatballs and meatloaves is one pound of ground meat, one egg, and one half cup of breadcrumbs or equivalent.
Finely chop any add-ins, or your meatballs may have a hard time staying together.
If you're using onion or some other crunchy vegetable like fennel or celery, you can cook it beforehand. But that just adds time and another pan to clean. If a recipe calls for onions, try substituting finely chopped green onions and garlic, which don't have to be pre-cooked.
The mixture should be combined gently with your hands and rolled to form balls. Try a #40 or other medium cookie scoop to get meatballs all about the same size. This helps with cooking consistency.
FAQs about this Mediterranean bowl
What is the difference between ground lamb and lamb mince?
Technically they are two different ways of processing meat (i.e. grinding versus fine cutting). But effectively they are the same thing, with "ground lamb" being the more common terminology in the U.S. and "lamb mince" being used elsewhere.
What wine would go well with lamb meatballs?
Que syrah syrah! Syrah is bold enough, and often has a bit of peppery spice that would be perfect with this bowl.
Can I freeze these meatballs?
Yes, meatballs freeze perfectly. Just blot any oil with a paper towel and then freeze them in a freezer bag with all the air removed. Reheat in the oven or in a steamer.
Could I substitute another ground meat for the lamb?
Yes, beef, chicken, or turkey would all work well with these meatballs.
Can I make this recipe gluten-free?
Yes, there are a lot of things to use that could substitute for the panko. We have used Ian's Gluten Free Original Panko, and we can't tell the difference.
I hate cilantro. Can I leave it out?
You're not alone in having the gene that makes cilantro taste like soap. You can always use only parsley and skip the cilantro. But I'm guessing you know that by now!
Related recipes
Serve it with this creamy lemon herb tahini sauce. Or make it again with my lamb mince meatballs with raisins and pine nuts and pumpkin couscous salad.
Do you love meatball and veggie meatball dinners? Check out more options for meatballs and what to serve with meatballs for dinner.
Like greens and grains bowls? Check out other grain and salad bowls from the uglyducklingbakery archives.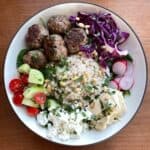 Pin Recipe
Lamb Meatballs with Sesame Seeds
This Mediterranean bowl with lamb meatballs is a bowl dinner with a variety of tastes and textures inspired by Mediterranean flavors.
Print Recipe
Ingredients
1

tablespoon

vegetable oil for greasing the pan

1

pound

ground lamb

1

egg, lightly beaten

½

cup

panko or other dried breadcrumbs

1

clove

garlic, minced

2

tablespoon

chopped cilantro

2

tablespoon

chopped parsley

1

tablespoon

toasted sesame seeds

1

teaspoon

ground cumin

1

teaspoon

ground coriander

1

teaspoon

salt

½

teaspoon

ground cardamom

¼

teaspoon

black pepper
Instructions
Preheat the oven to 425°F.

Use the teaspoon of vegetable oil to grease a baking pan or dish.

1 tablespoon vegetable oil for greasing the pan

Add all of the remaining ingredients (i.e. everything except for the vegetable oil) into a large bowl and mix together using your hands.

1 pound ground lamb,

1 egg, lightly beaten,

½ cup panko or other dried breadcrumbs,

1 clove garlic, minced,

2 tablespoon chopped cilantro,

2 tablespoon chopped parsley,

1 tablespoon toasted sesame seeds,

1 teaspoon ground cumin,

1 teaspoon ground coriander,

1 teaspoon salt,

½ teaspoon ground cardamom,

¼ teaspoon black pepper

Use a medium cookie scoop or use your hands to scoop golf ball-sized (2+ generous tablespoons) amount of mixture. Roll the mixture gently in your hands to form a ball and place them in the dish, leaving space around each one.

Bake for about 15 to 20 minutes, until the internal temperature is 165°F. About 10 minutes into baking, shake the meatballs around and use a spatula to loosen any that might be sticking to the pan. Serve warm.
Notes
This recipe will make about 18 medium size meatballs.
Estimated nutritional information is provided for the meatballs.
Nutrition
Calories:
383
kcal
|
Carbohydrates:
7
g
|
Protein:
22
g
|
Fat:
29
g
|
Saturated Fat:
12
g
|
Polyunsaturated Fat:
3
g
|
Monounsaturated Fat:
12
g
|
Trans Fat:
1
g
|
Cholesterol:
124
mg
|
Sodium:
721
mg
|
Potassium:
326
mg
|
Fiber:
1
g
|
Sugar:
1
g
|
Vitamin A:
249
IU
|
Vitamin C:
3
mg
|
Calcium:
72
mg
|
Iron:
3
mg
What's next?
If you make this Mediterranean lamb bowl or the lamb meatballs, please leave a comment!
Follow uglyducklingbakery on your favorite social media platform.
Instagram
Facebook
Pinterest
Looking for inspiration?
Sign up to get recipes full of kitchen tips and tricks.