This Homemade Gourmet Granola is one of those things everyone should make at least once. Home made granola is so simple to make, there's not much too it. Pick your favorite nut, mix and bake.
But you can read on to follow along step by step and learn all the tips and tricks to making the best gourmet granola. Or just grab your rolled oats, hit that 'jump to recipe button, and let's make homemade granola!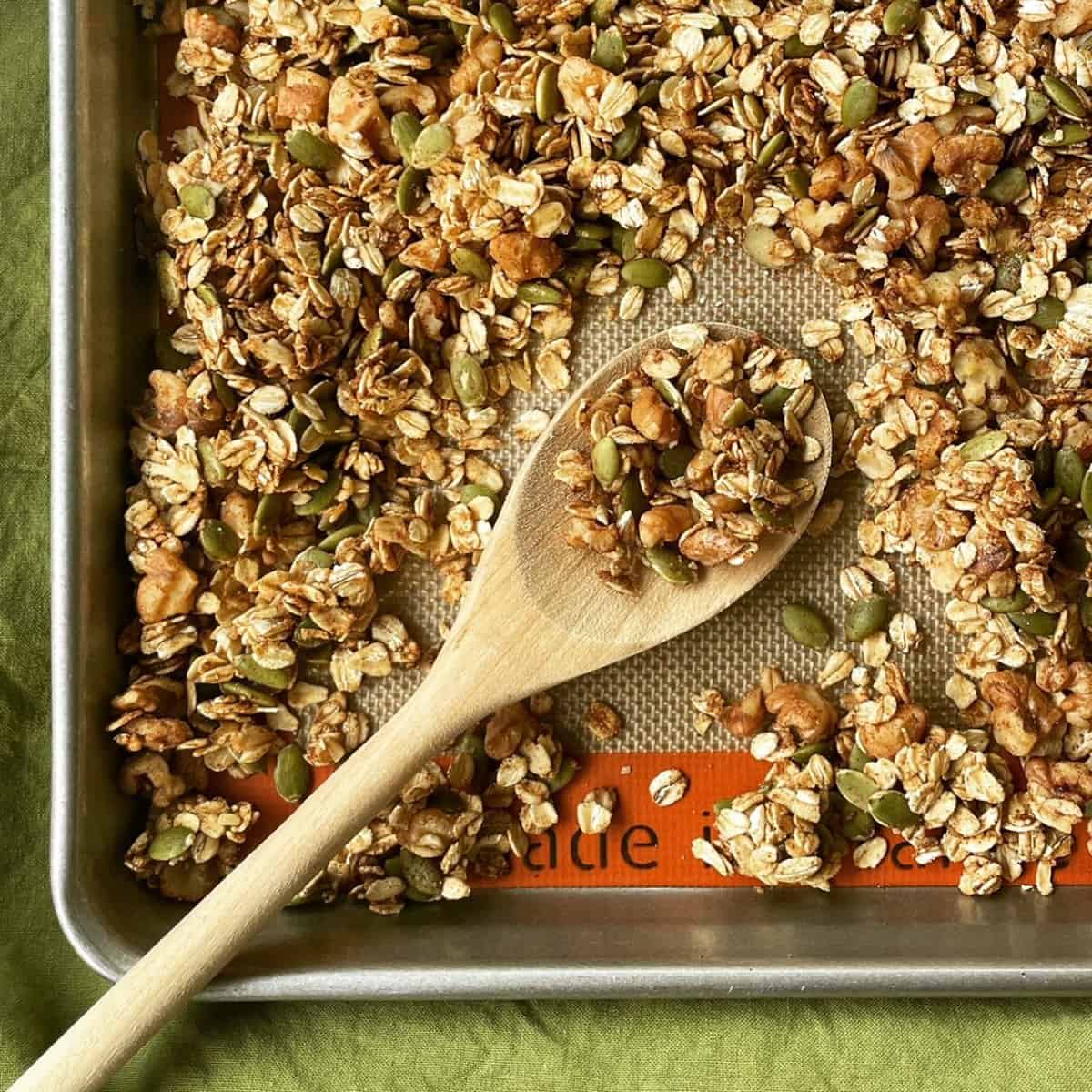 Jump to:
Ingredients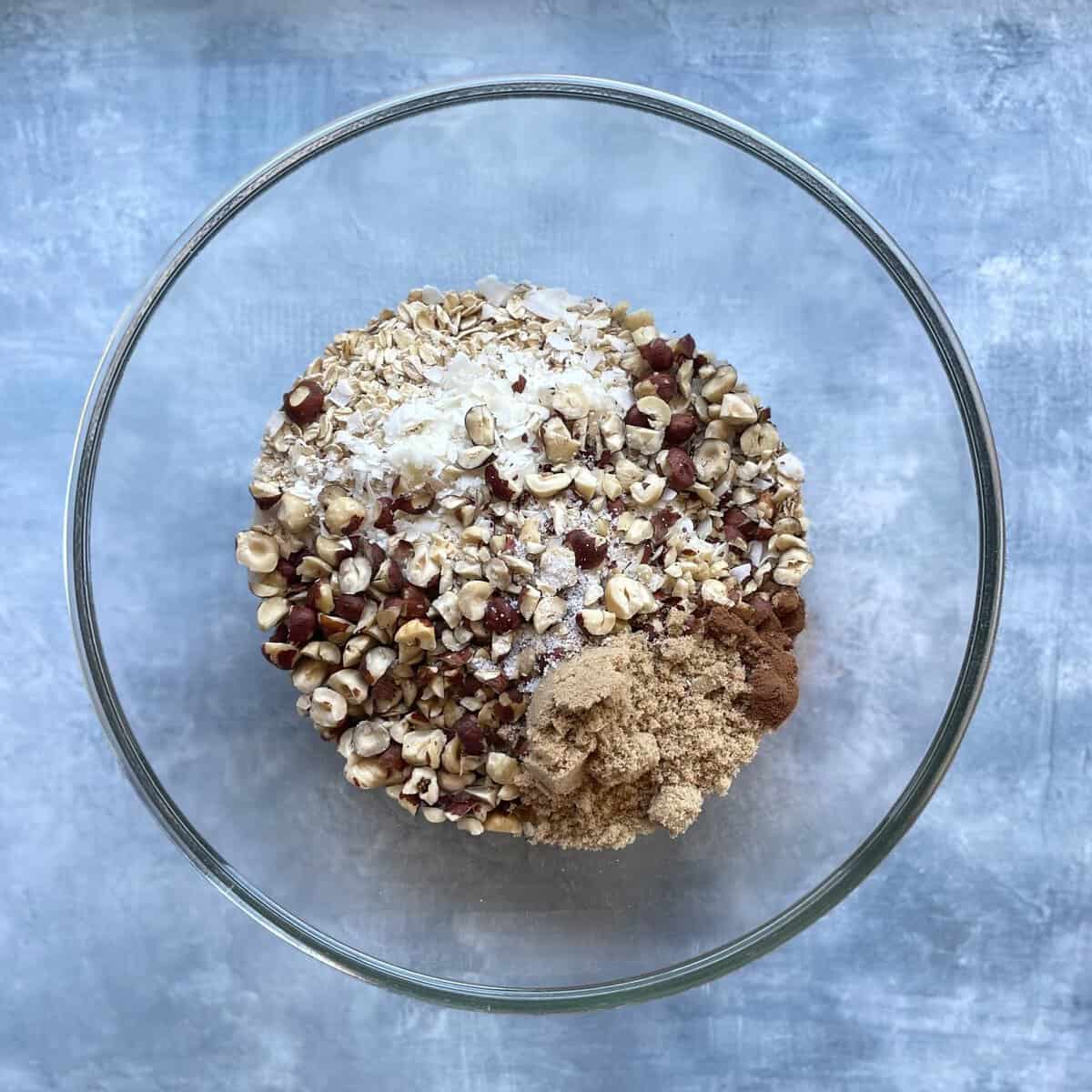 Oats: When you're making granola, you'll use old-fashioned, or rolled, oats. Steel-cut oats are great for making oatmeal for breakfast or to bake in oatmeal muffins. Instant oats are pretty much only best for an early morning, high altitude summit when you can't stomach anything else.
Nuts: Nearly any nut will work in this homemade granola recipe. I use pecans most often, but I'll happily enjoy this granola with walnuts, hazelnuts, or peanuts, just to name a few.
Egg whites: Egg whites will make your gourmet granola clump. The number I add often depends on whether I'm separating eggs specifically or if Mr. Uglyducklingbakery has recently made ice cream. After that, leftover egg whites go towards making granola, practicing macarons, or sour cocktails like the vodka sour, Frangelico sour, or Aperol sour.
When it's all done, add dehydrated strawberry chips, chopped dried apples, or another dried fruit to the mix. Think raisins, cranberries, chopped apricot, candied ginger, or chocolate chips. Chocolate chips are fruit, right?
Please see the recipe card below for complete information on ingredients and quantities.
Variations and substitutions
Peanut butter granola: add one quarter cup of dried peanut butter powder to the mixture and omit the cinnamon and maple syrup.
Pumpkin seed granola with pumpkin pie spices: Omit the coconut. Instead of the small amount of cinnamon in this recipe, combine the pumpkin pie spice mixture from my pumpkin pie-spiced chickpeas in a small bowl before adding it to the other ingredients. Use 1 cup of raw pumpkin seeds.
Make a nut-free granola: In place of the nuts, add in raw pumpkin seeds or other seeds.
Recipe tips and tricks
How do you get granola to cluster?
There are a couple things you can do to get your granola to cluster. It's the egg whites in this recipe that are primarily responsible for making the granola clump. It's also important to pack the granola well, and flip it gently later in the baking time after it has had time to set up.
Step by step
Step 1: Mix all of the ingredients for your gourmet granola together in a large bowl, making sure the egg whites are distributed throughout and all of the oats are moistened.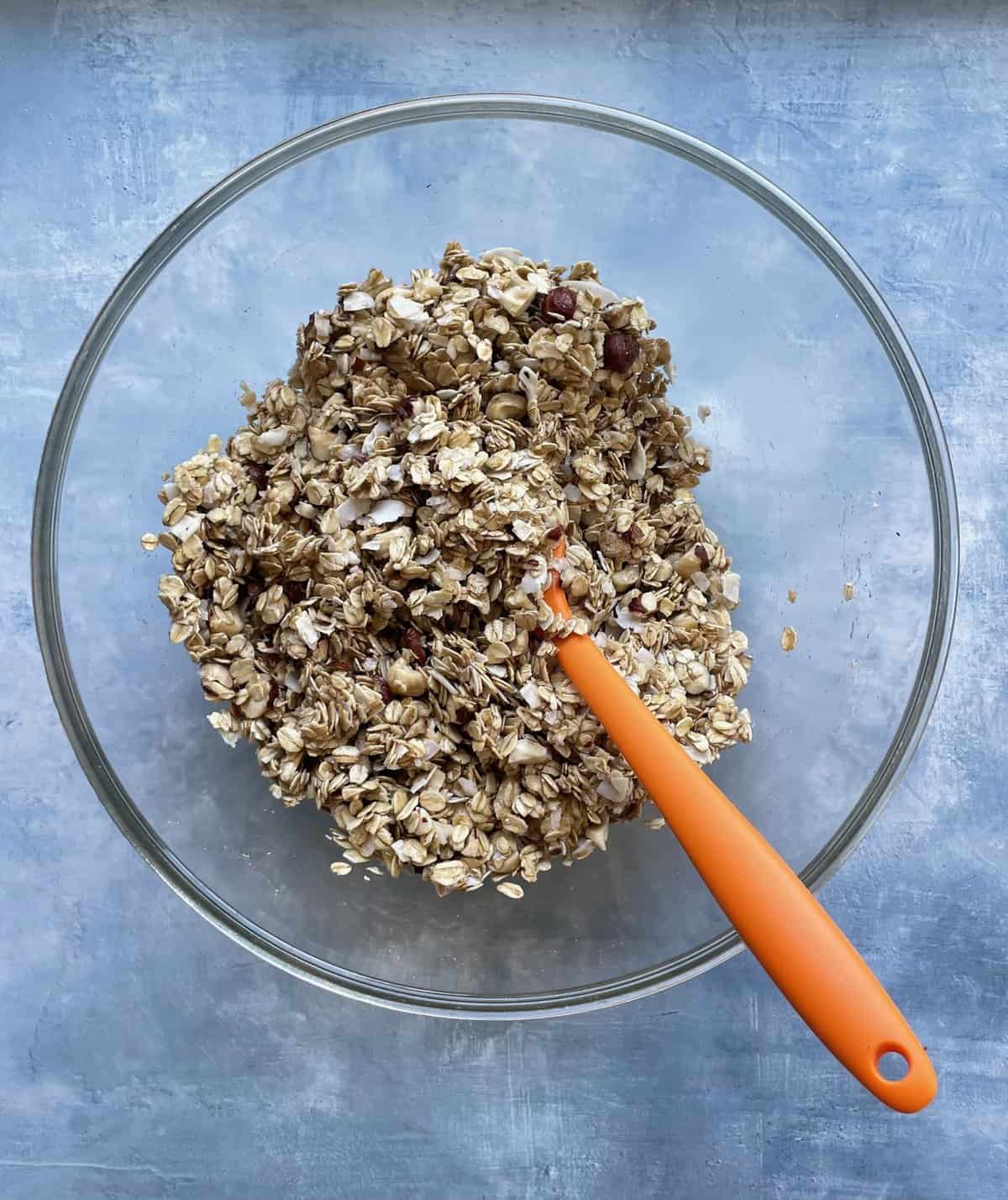 Step 2: Turn the granola out onto a baking sheet lined with parchment or silicone liner, and pack the granola well onto the baking sheet. Leave a space around the edge to make flipping sections easier.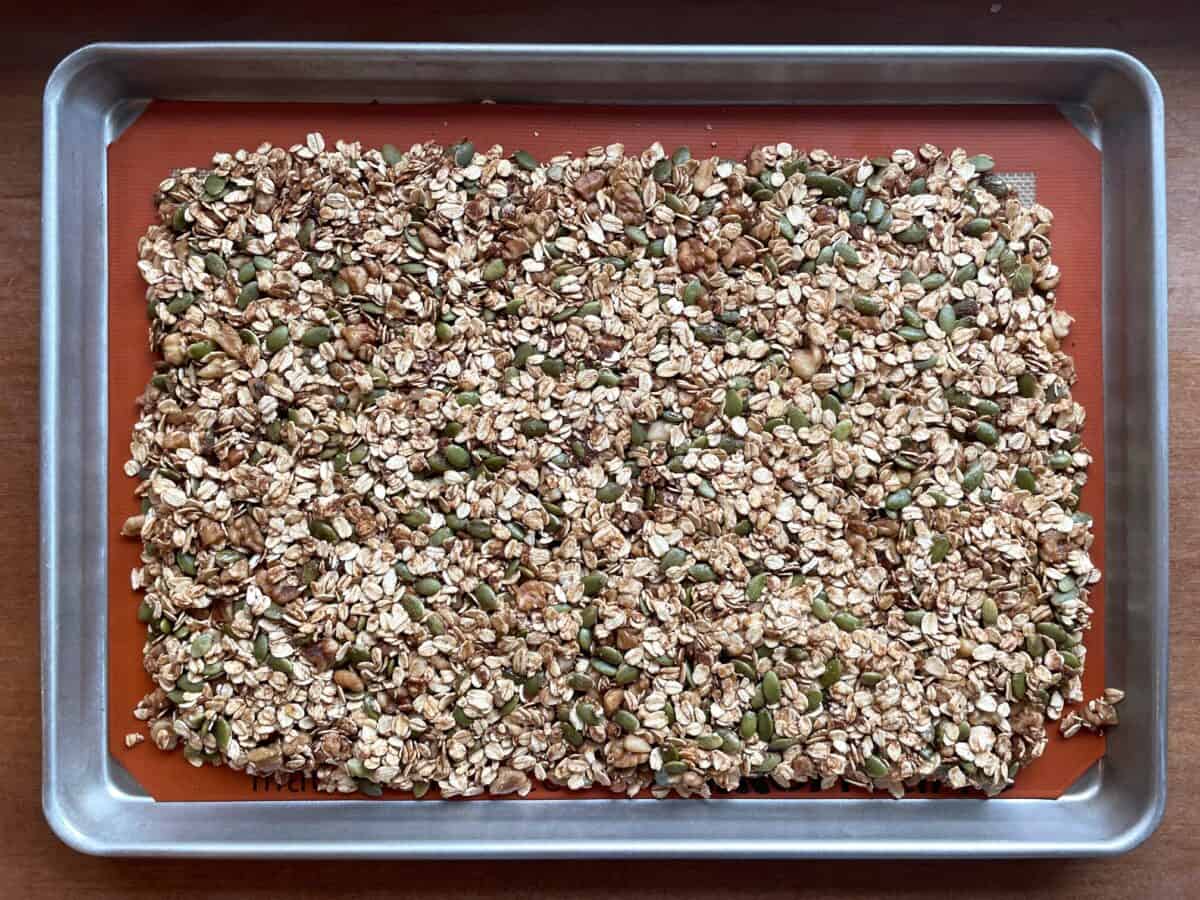 Step 3: Bake for about an hour and a quarter. Using a lower baking temperature for a longer amount of time prevents burning.
Step 4: About 45 minutes or so into cooking, gently flip the granola. This lets your clusters set before you disturb them.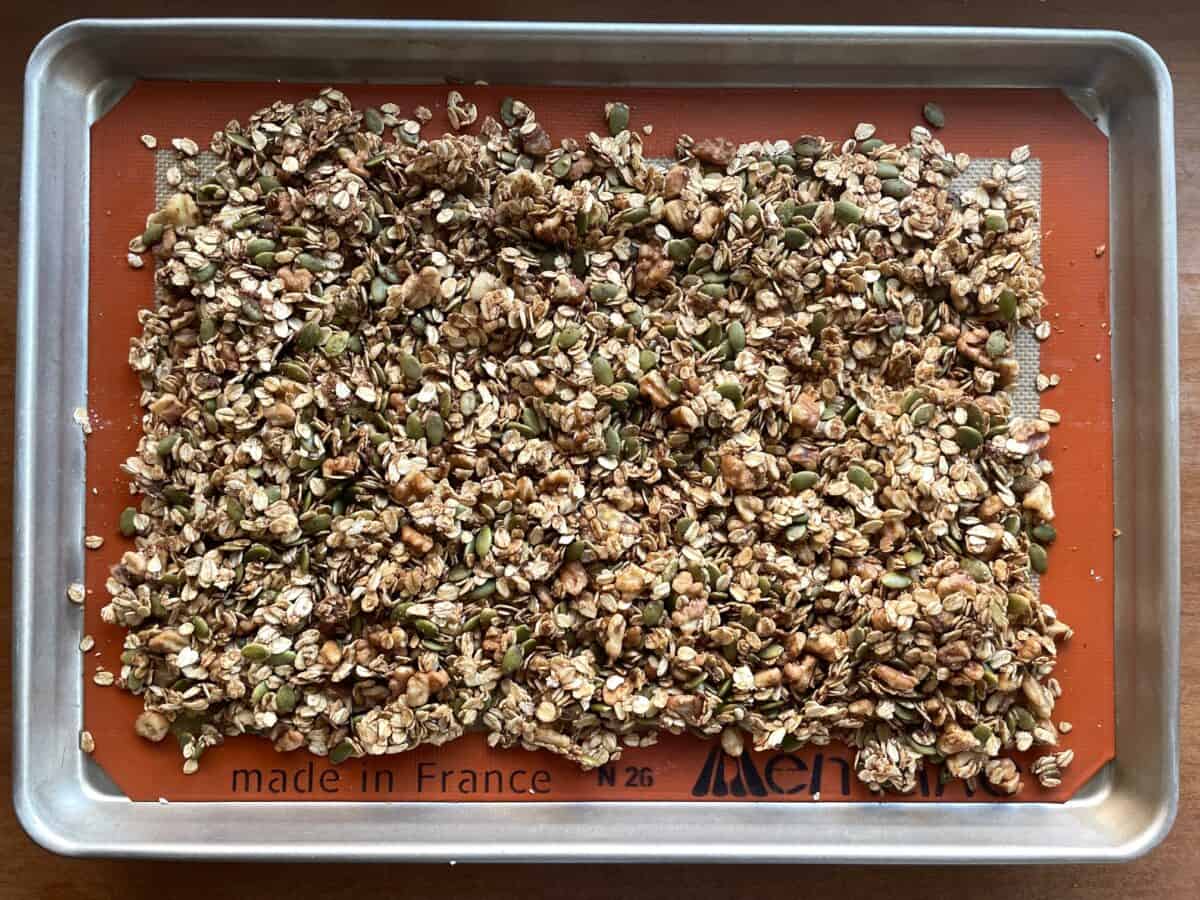 Let your gourmet granola cool completely before storing it in an airtight container. You can add your dried fruit here or keep it separate for maximum flexibility.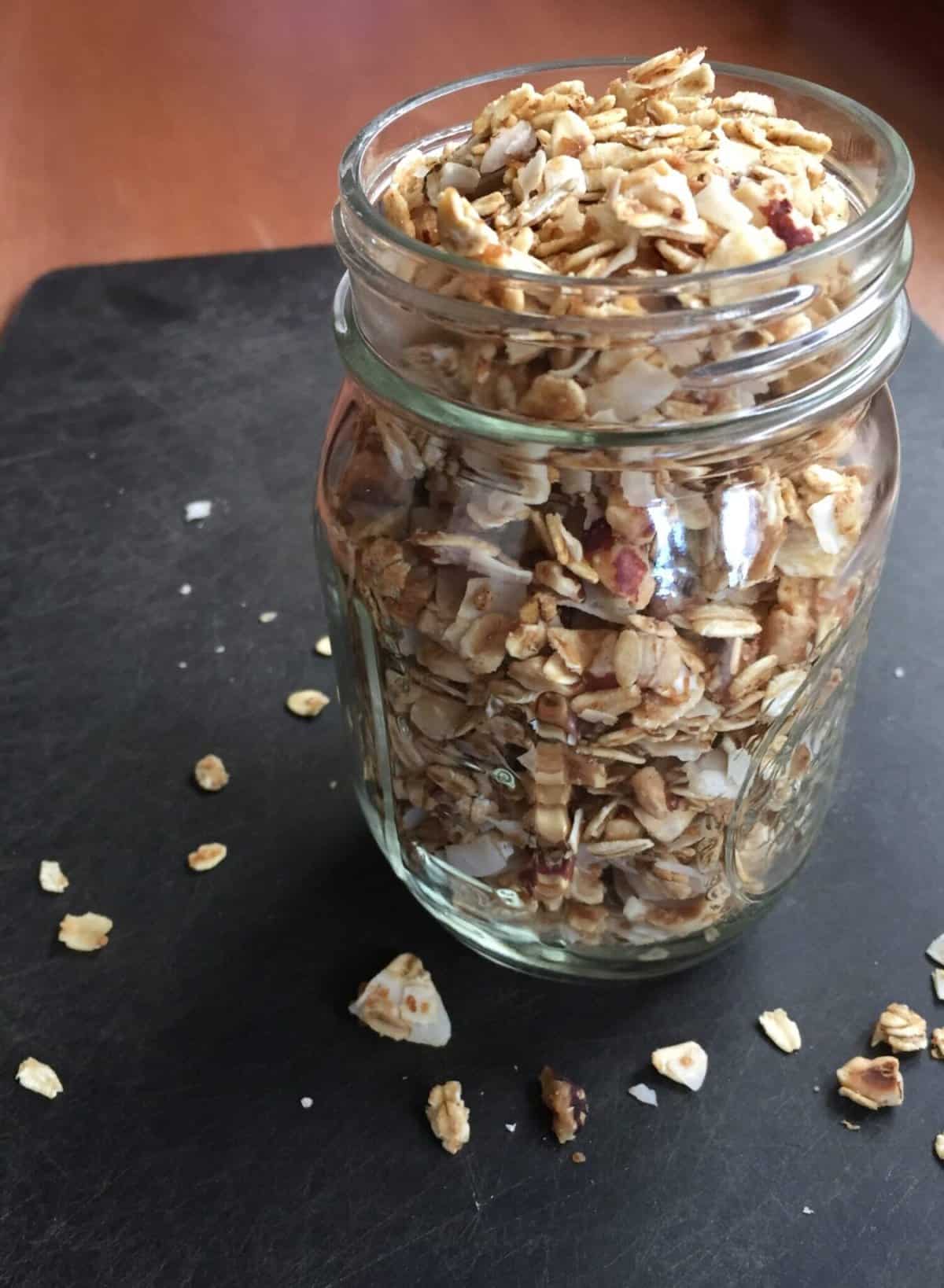 What to serve with homemade granola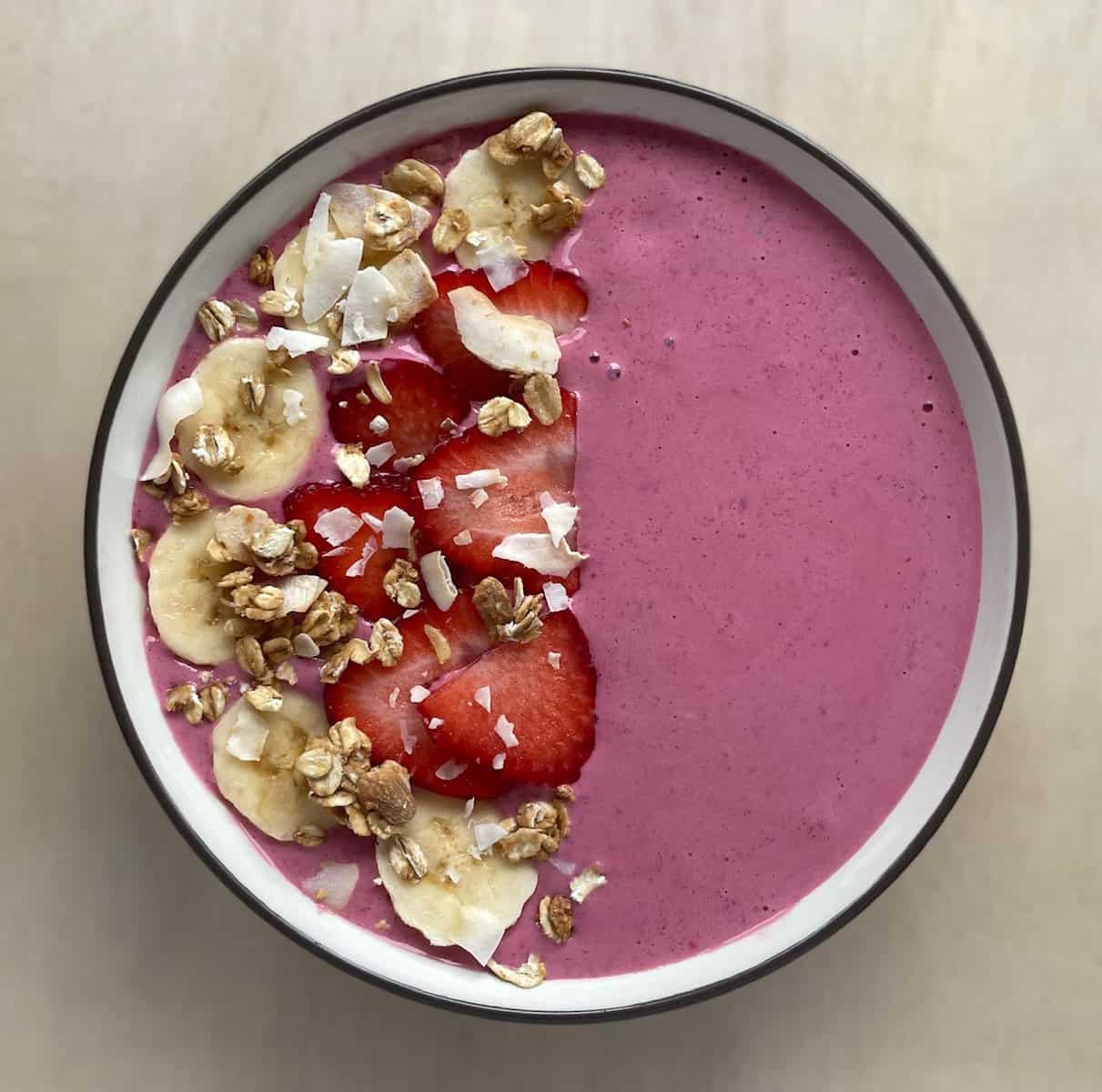 Recipe FAQs
Is granola healthy?
Granola is one of those things that I consider to be healthy when eaten in small amounts. There are many worse things that you could eat.
What makes this a gourmet granola?
Webster's Dictionary defines gourmet as "of, relating to, or being high quality, expensive, or specialty food typically requiring elaborate and expert preparation." This homemade granola doesn't need the latter half, because you can make a high quality, homemade granola with only a little effort!
Why don't you toast the nuts first?
In my coffee and walnut loaf cake recipe, I recommend always toasting nuts before adding them to your recipe. Toasting deepens the nut flavor and keeps them crunchier. It's just not necessary in this gourmet granola recipe.
Does granola go bad?
Granola getting stale or rancid is probably the bigger risk than having granola go "bad". But homemade granola is at risk if there's still some moisture in it after it's cooked or if it's very humid.
How long does homemade granola last?
Granola can be stored for weeks in a cool and dry place in a plastic bag or other sealable container.
Love this recipe? Please leave a 5-heart 💜💜💜💜💜 rating in the recipe card below. Let me know how much you loved it, or any problems you had, in the comments section further down.
Recipe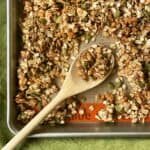 Pin Recipe
Granola
There are some things that everyone should make at least once. Granola is one of them. It's easy. It's endlessly customizable. And granola in the oven makes your home smell amazing.
Print Recipe
Ingredients
3

cups

old-fashioned oats (not instant)

1

cup

your favorite chopped nuts

e.g. pecans, walnuts, hazelnuts, peanuts

1

cup

unsweetened coconut

¼

cup

brown sugar

¼

teaspoon

cinnamon

¼

teaspoon

salt

1

tablespoon

vegetable oil

1

tablespoon

maple syrup

1 to 3

egg whites

1

cup

sunflower seeds

optional

¼

cup

wheat germ

optional
Instructions
Preheat the oven to 250°F.

Mix all of the ingredients for the gourmet granola in a large bowl, then spread and pat into a cohesive layer on a lined baking sheet.

3 cups old-fashioned oats (not instant),

1 cup your favorite chopped nuts,

1 cup unsweetened coconut,

¼ cup brown sugar,

¼ teaspoon cinnamon,

¼ teaspoon salt,

1 tablespoon vegetable oil,

1 tablespoon maple syrup,

1 to 3 egg whites,

1 cup sunflower seeds,

¼ cup wheat germ

Bake for a total of 1 hour and 15 minutes until toasted and not-quite dry. If you want large clumps of granola, gingerly flip sections with a spatula after about 45 minutes of baking, being careful not to throw granola all over your oven and your kitchen floor.

Let cool completely before packing into an airtight container for storage.
Notes
The egg whites help you get clumps in your homemade granola. For more and larger granola clusters, add the larger number of egg whites.
If you don't care about getting clumps, you can stir once or twice during the baking time.
See above for other gourmet granola variations including:
peanut butter granola
pumpkin seed granola with pumpkin pie spices
Nutrition
Calories:
121
kcal
|
Carbohydrates:
12
g
|
Protein:
3
g
|
Fat:
7
g
|
Saturated Fat:
2
g
|
Polyunsaturated Fat:
2
g
|
Monounsaturated Fat:
1
g
|
Trans Fat:
0.003
g
|
Sodium:
22
mg
|
Potassium:
77
mg
|
Fiber:
2
g
|
Sugar:
5
g
|
Vitamin A:
1
IU
|
Vitamin C:
0.3
mg
|
Calcium:
17
mg
|
Iron:
1
mg
Looking for dinner inspiration, classic recipes and new seasonal favorites?