How to Make Dried Apple Rings in the Oven
Dried Apple Rings are proof that not everything good in life is illegal, immoral, or fattening. That's because these oven-dried apples are as sweet as candy but take only two ingredients.
So read on to learn everything you might want to know about dehydrating apples. Or just grab your apple, hit that Jump to Recipe button, and let's make some dried apple rings!
Jump to:
Ingredients
These dried apple rings use only two ingredients, apples and lemon juice. The most important thing for this dried apple recipe is to pick a apple varietal that is firm. The best apple is a sweet apple like a Honeycrisp or Honeycrisp cross or a tart apple like a Pink Lady.
If you love apples, check out other apple recipes like this strawberry apple pie or blackberry apple pie, sourdough apple cake or sourdough apple muffins. Or try some savory apple recipes like my apple pie baked beans, chicken and apple meatballs, or apple bourbon pork tenderloin.
Please see the recipe card below for complete information on ingredients and quantities.
Variations and substitutions
Recipe tips and tricks
Mandoline safety
You can use a a mandoline to slice your apple rings, but please do it safely. You can use the fold holder to reduce the risk of cutting yourself, or buy cut-resistant gloves. I heard way too many stories about the mandoline when I was writing this piece on hazards in the kitchen.
Making the dried apple rings
Start by preparing the apples. Depending on your apples, you may find it best to core and slice one apple at a time so that they don't start to brown before you dip them in your lemon juice and water.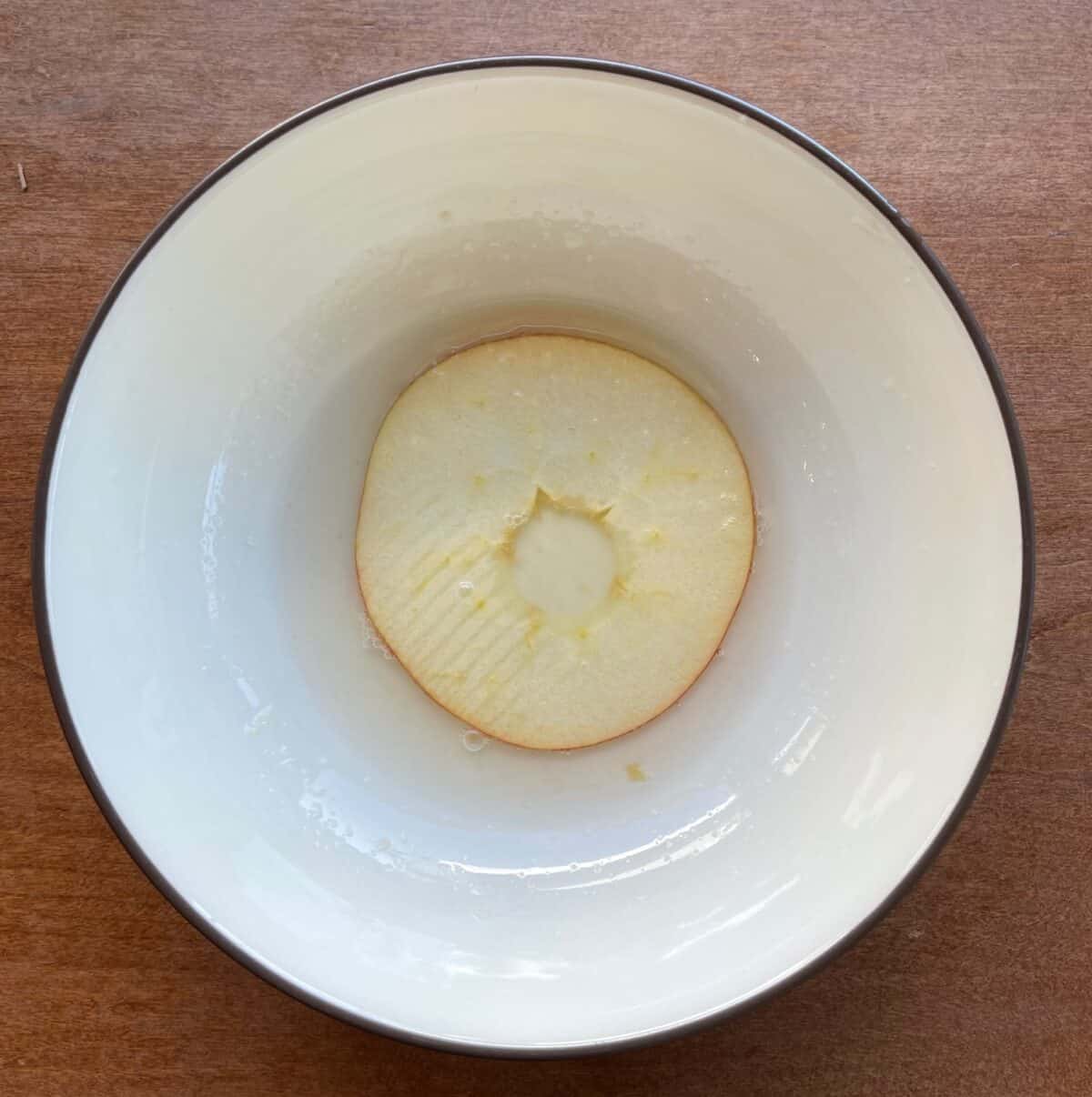 Lay each apple ring on your baking mat or rack as you go. They can be touching, but don't overlap them.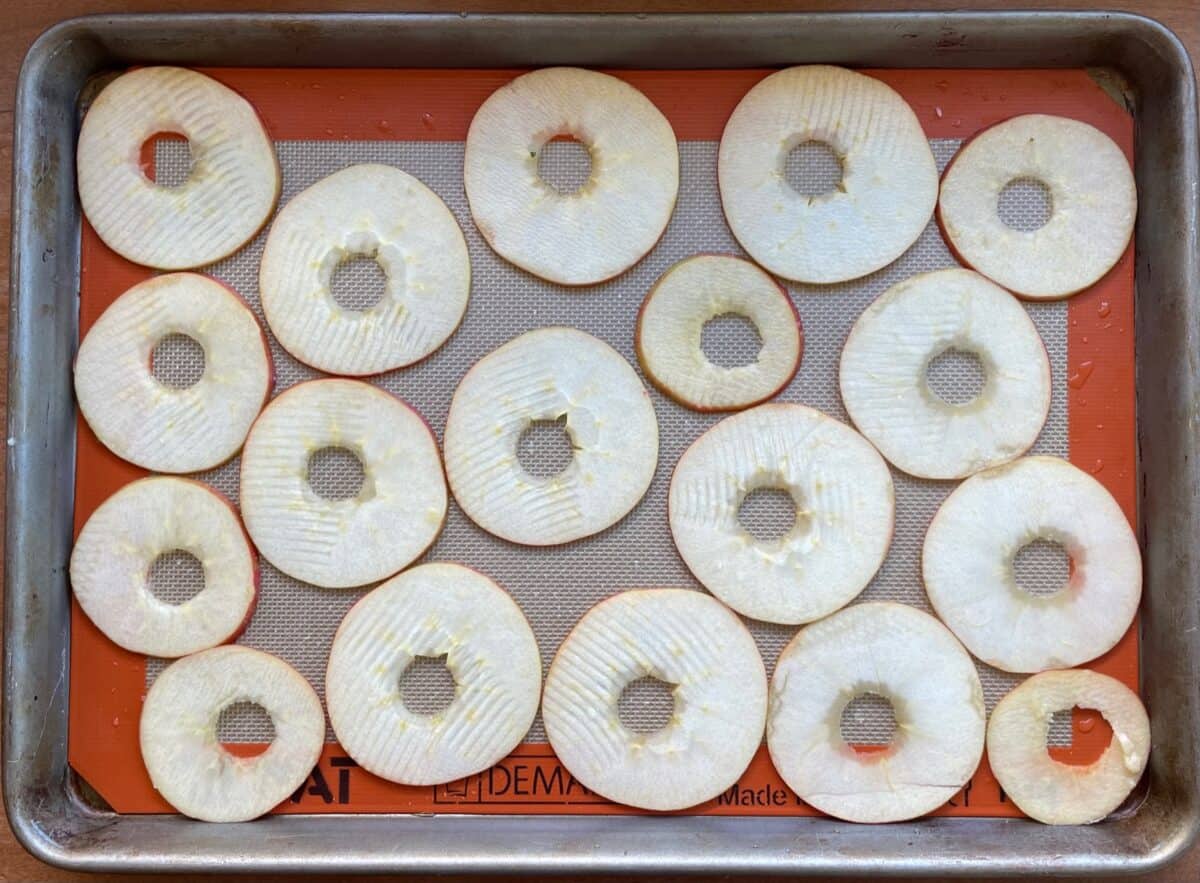 Dry your apple rings in your dehydrator or in your oven at 175 degrees Fahrenheit for two to three hours until the apples are your desired texture. The mister and I like our dried apple rings still a bit chewy, but you can dehydrate them longer if you like a crisp dried apple.
Recipe FAQs
What is the purpose of the lemon juice?
Lemon juice primarily is used to prevent the apple from turning brown during the drying process. But it can also have antimicrobial properties if you want to keep your dehydrated apples for longer than a day or two.
Can I add cinnamon or other spices when I dehydrate my apples?
Of course. If you want to add spices to this recipe, you would add them after dipping into the lemon juice and before baking. But if you've got great tasting apples, they shouldn't need anything else.
How long can I store these dried apple rings?
In my house, about an hour. In all seriousness, dehydrated apples will keep in an airtight container at room temperature for days regardless of how dry you've made them. If you've completely dried them to crispy, they'll keep for months. If your dried apples are still a bit sticky, you will want to eat them right away.
Related recipes
If you love these dried apple rings, you'll love some of the other Ugly Duckling Bakery snacks like:
Love this recipe? Please leave a 5-heart 💜💜💜💜💜 rating in the recipe card below. Let me know how much you loved it, or any problems you had, in the comments section further down.
Recipe
Pin Recipe
Dried Apple Rings
This recipe for dried apple rings is here for you when you are craving something sweet but healthy. Because these oven-dried apples are as sweet as candy.
Print Recipe
Instructions
Juice the lemon and combine the juice in a bowl with an equal amount of water.

Core the apples. Using a mandoline (careful of your fingers!) or a sharp knife, cut rings about 2mm (about ⅛ inch) thick.

One by one, dunk both sides of the apple slices into the lemon juice and place on a baking sheet lined with parchment paper or a silicone mat. You can crowd the apple slices but do not overlap them.

Using the dehydrator setting on your oven if you have one, bake at 175°F for 2 or more hours, longer if you want the apple rings to be crispy. Flip them over after about an hour.
Notes
A good apple won't need additional flavors to make a delicious dried apple ring, but if you want to add cinnamon or other spices to your apples, dust them after dipping the apples into the lemon juice and before baking.
Keep your dehydrated apple rings in an airtight container at room temperature. If you've completely dried them to crispy, they'll keep for months. If your dried apples are still a bit sticky, you'll want to eat them over a few days.
Nutrition
Calories:
110
kcal
|
Carbohydrates:
30
g
|
Protein:
1
g
|
Fat:
1
g
|
Saturated Fat:
1
g
|
Polyunsaturated Fat:
1
g
|
Monounsaturated Fat:
1
g
|
Sodium:
3
mg
|
Potassium:
269
mg
|
Fiber:
6
g
|
Sugar:
20
g
|
Vitamin A:
110
IU
|
Vitamin C:
37
mg
|
Calcium:
25
mg
|
Iron:
1
mg
Looking for inspiration?
Sign up to get recipes full of kitchen tips and tricks.