Kate's Sticky Toffee Apple Caramel Cake
When Prue, one of the judges of the Great British Bake Off, said in Season 8 that Kate's sticky toffee apple caramel cake was the best cake she had ever eaten, I wanted to try it. And when the list of bakes in the reddit 52 week baking challenge included GBBO, I knew that this was it.
Spoiler (July 20, 2022): That cake in the photo is not Kate's cake. It's mine. I found Kate's recipe to be challenging and definitely not the best cake I had ever eaten.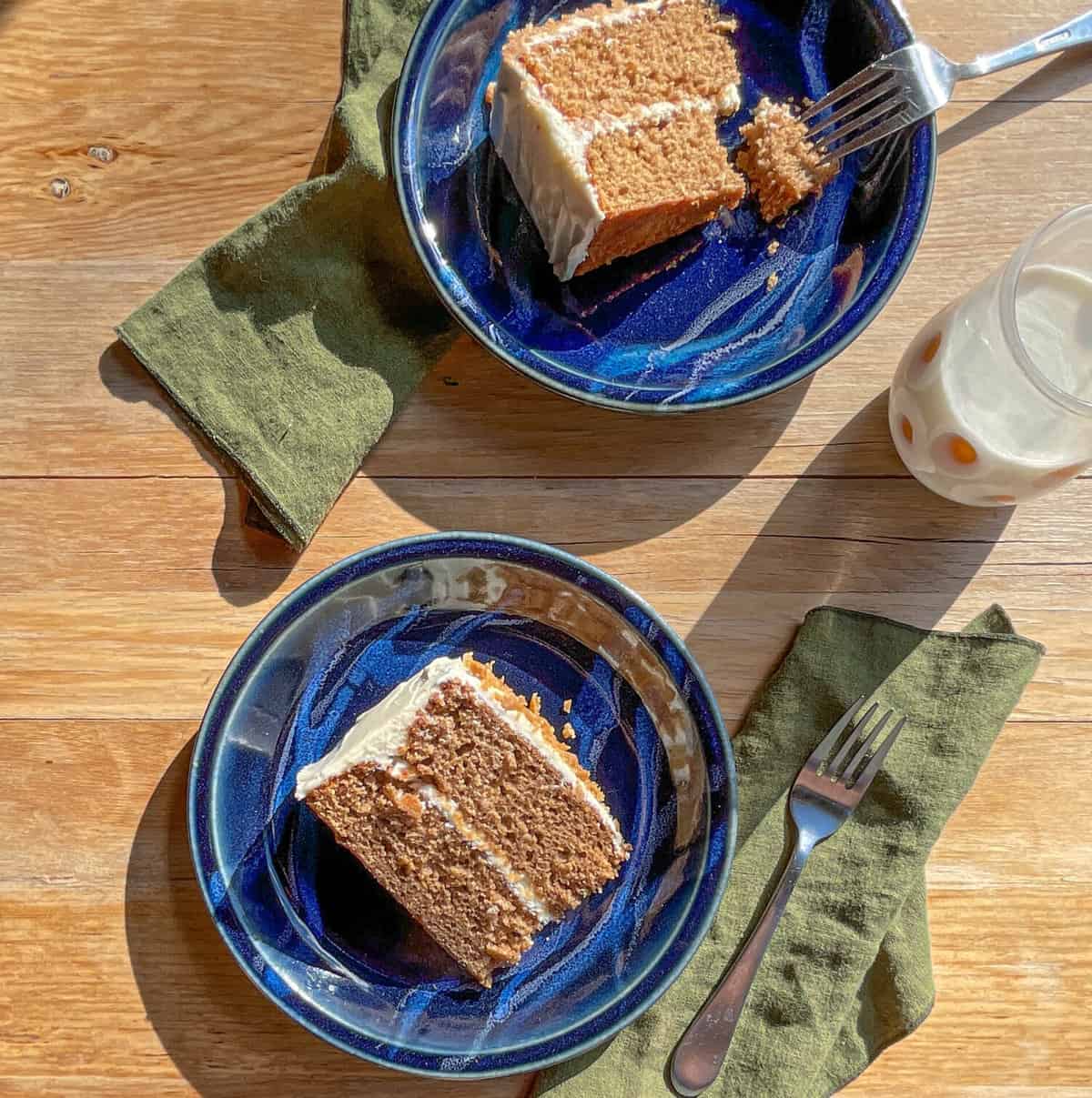 So I am in the process of working on an apple caramel cake. Please sign up for my newsletter to be the one of the first to know when I share the recipe!
Back to Kate's recipe
If you look at the recipe and you are an American baker, there are a few things you notice.
First, weights are listed in grams. Between the 325 grams in the cake and 175 grams in buttercream, how much butter is that? It's better that you not know.
But no problem. My kitchen scale toggles between ounces and grams.
Ingredients in Kate's cake and substitutions
Here is the list of ingredients, with my interpretations and substitutions. I made an I-can't-believe-I-did-that mistake of forgetting the salt when converting from self-rising flour. Doh!
Cake
125 grams medjool dates
5 tablespoons "cloudy apple juice" – apple cider
325 grams unsalted butter, softened
250 grams light muscovado sugar – I used dark muscovado
5 eggs
300 grams self-raising flour – bleached all purpose + 1 tablespoon baking powder
Don't forget a ½ teaspoon salt!
¼ teaspoon baking powder
2 teaspoon ground cinnamon
2 teaspoon ground mixed spice – ⅛ teaspoon (each) all-spice, cloves, ginger, nutmeg
60 grams dried apple
Caramel buttercream
175 grams golden caster sugar – granulated sugar
175 grams double cream – heavy cream
175 grams unsalted butter
100 grams icing sugar = confectioners' sugar
125 grams cream cheese
1 ½ teaspoons vanilla
Toffee apples
2 bramley apples – I have no idea what Bramley apples are
175 grams golden caster sugar
Making the cake
The cake uses the creaming method. With five eggs, the batter ended up very thick, and I added a tablespoon of whole milk to thin it out.
Next problem: I only have two 8″ cake pans. No problem. Use two pans and wait for one to cool enough to wash, dry, butter, line, and repeat. It would have worked in two 9″ cake pans.
Making the buttercream
My buttercream was a lot darker in color than the image in the link, and there was barely enough to frost the cake. Maybe thick frosting is an American thing?
Making the toffee apples
I slightly burnt the caramel for the toffee apples, and, instead of doing them again, I just let kiddo decorate the cake with sprinkles.
The result
Outcome: the cake was dense but moist and perfectly spiced. But this was not "the best cake I've ever eaten." There were large holes – from my not chopping the dried apples enough? Too much baking soda? Too much gluten?
Five eggs seemed like a lot, and I wonder if UK and US eggs are the same size.
FAQs about Kate's Sticky Toffee Apple Caramel Cake
Do I have to weigh my ingredients?
No, you don't have to do anything. But I do want you to know that you will get better and more consistent results if you weigh your ingredients, especially for baking.
Can I freeze this cake?
Absolutely. Just double wrap the apple cake tightly in plastic wrap, put it in a freezer bag, and squeeze out all of the air. To defrost, just let it slowly come to room temperature.
Related recipes
If I make Kate's apple cake recipe again, I won't omit the salt, and I'll use cake flour. Or perhaps I'll just make another cake from the uglyducklingbakery cake archives like this sourdough discard apple cake instead.
And I'll keep working on my own apple layer cake recipe to share ASAP with newsletter subscribers.
What's next?
If you make Kate's apple cake or have any questions about my experience making it, please leave a comment or send me a message.
Or send me a note about how glad you are that we don't have to work with chocolate on super hot days or create a three-dimensional baking sculpture for a Tudor table. I, personally, will be forever grateful for the introduction to babka in Season 3.
Looking for dinner inspiration, classic recipes and new seasonal favorites?