Pumpkin Pie Spiced Roasted Chickpeas
These Pumpkin Pie Spiced Roasted Chickpeas are slow-roasted to create a snack that takes nearly zero effort and will make your house smell like pumpkin pie. Pack your crispy, pan-roasted chickpeas in lunchboxes for a low-fat, nut-free snack.
Read on for all the tips and tricks about this recipe. Or just grab your can of chickpeas, hit that Jump to Recipe button, and let's make pumpkin pie-spiced, oven-roasted chickpeas!
Jump to:
Ingredients
Regardless of what you call them, chickpeas or garbanzo beans are a great source of protein. They're often used in Indian curries and Middle Eastern dishes like hummus and falafel. If you love chickpeas, you should make this garbanzo bean soup next.
There is a racket out there trying to sell you special spice mixtures. Jars of Italian seasoning, herbes de Provence, curry powder, and, yes, even pumpkin spice are just combinations of common herbs and spices you probably already have in your pantry.
Tip from the wise quacker: Ground spices don't go bad, but it is true that they will lose potency over time. Buy small amounts you'll use in less than one year. If you have a jar that has moved homes with you, it's probably time to replace it!
Please see the recipe card below for complete information on ingredients and quantities.
Variations and substitutions
Soak dried chickpeas for a few hours and then cook until soft. Proceed with the recipe.
For a less crispy result, make pan roasted chickpeas or bake them for a shorter period of time in a hotter oven.
My favorite pumpkin pie spice substitute for these roasted chickpeas is a half teaspoon each of allspice, black pepper, cardamon, cumin, salt, sweet paprika.
Use any spice mixture you love. Taco seasoning. A barbecue rub. Old Bay. You name it.
Recipe tips and tricks
I don't know if the world really needs another post about how to make crispy spiced chickpeas. But I know that I went over 40 years without making them, and my kiddo gobbles down a batch in one sitting. There's someone out there who needs this recipe.
Step 1: rinse and drain a can of chickpeas. It's important to make sure that the chickpeas are completely dry, or the spice mixture won't stick. You can dry them with a paper towel if you're in a rush.
Step 2: Add the chickpeas and oil to a small bowl, and stir to toss.
Step 3: combine the spices in a small bowl, and stir them into the chickpeas and oil.
Step 4: Turn the pumpkin pie-spiced chickpeas out onto a rimmed baking sheet and bake for about an hour, shaking the pan occasionally. You can remove them when they are still slightly soft, if you prefer.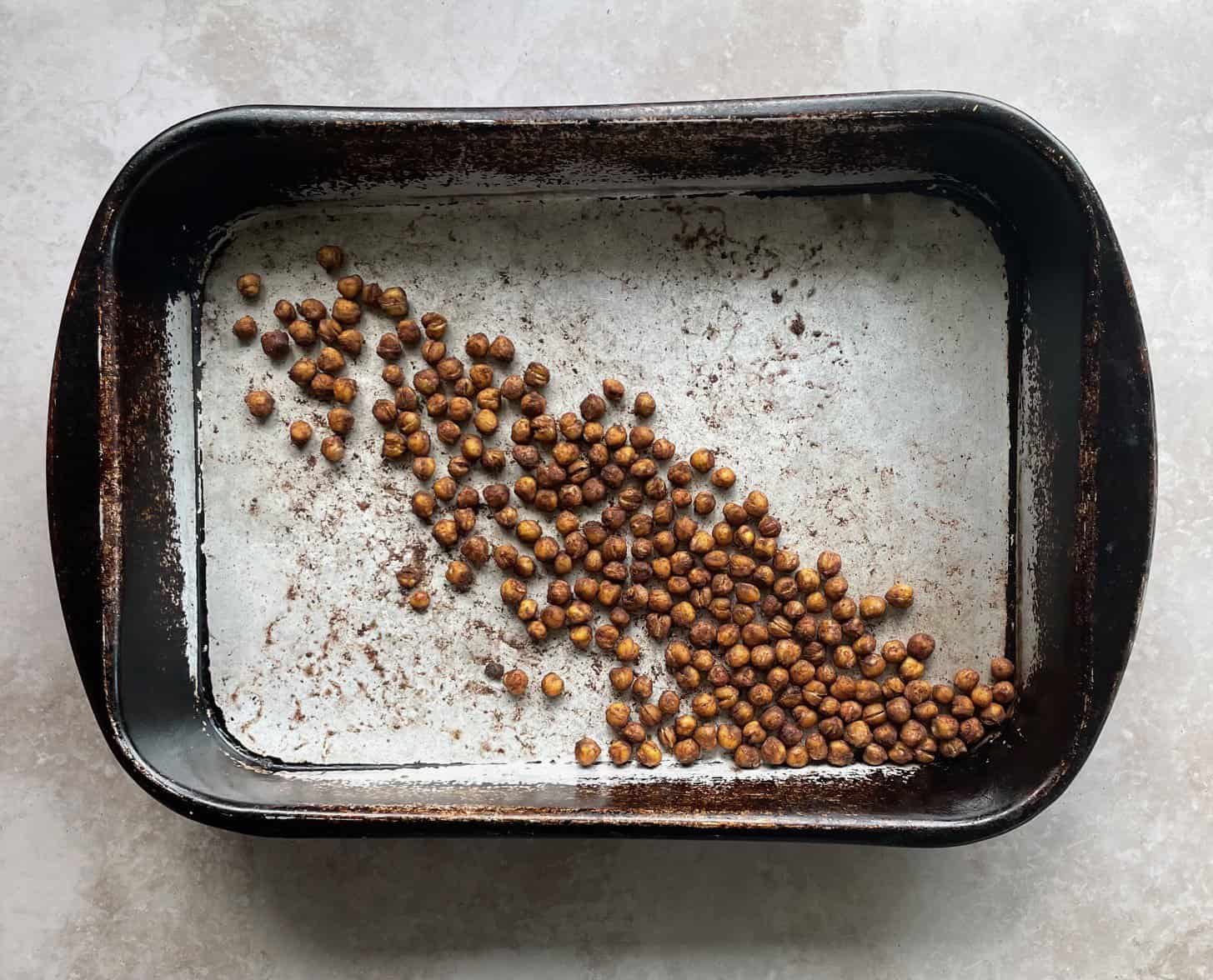 How to serve roasted chickpeas
Recipe FAQs
How should I be storing roasted chickpeas?
These pumpkin pie spiced roasted chickpeas will keep at room temperature for several days, but you might need to pop them back in the oven for a few minutes to regain their crispiness.
Love this recipe? Please leave a 5-heart 💜💜💜💜💜 rating in the recipe card below. Let me know how much you loved it, or any problems you had, in the comments section further down.
Recipe
Pin Recipe
Pumpkin Pie Spiced Chickpeas
Slow-roasted, spiced chickpeas are a low-fat, high-protein snack. You can tailor them to your whim, and they take nearly zero effort.
Print Recipe
Ingredients
1

can

chickpeas (garbanzo beans)

1

tablespoon

vegetable oil or other neutral oil
Alternate spice mixture
1

teaspoon

allspice

1

teaspoon

cardamom

1

teaspoon

cumin

1

teaspoon

salt

1

teaspoon

sweet paprika

½

teaspoon

pepper
Pumpkin pie spice mixture
2

teaspoon

cinnamon

1

teaspoon

granulated sugar

½

teaspoon

powdered ginger

½

teaspoon

nutmeg

½

teaspoon

ground cloves

¼

teaspoon

allspice
Instructions
Preheat the oven to 300°F.

Drain the can of chickpeas, rinse with cold water, and let them drain while making the spice mixture.

1 can chickpeas (garbanzo beans)

Combine the drained chickpeas and oil in a small bowl. Stir to coat.

1 tablespoon vegetable oil or other neutral oil

Add the spices you are using to the bowl and stir again.

Bake the chickpeas on a baking sheet for about 1 hour or to desired crispness.
Notes
The chickpeas should be drained and dried completely. You can dry them with a paper towel if you are in a rush.
If you want softer chickpeas, you can bake them at a higher temperature for a shorter period of time, say 30 minutes in a 400 degree oven.
Store in an airtight container at room temperature. If the chickpeas soften, you can toast them briefly again in the oven to re-crisp.
Nutrition
Calories:
47
kcal
|
Carbohydrates:
4
g
|
Protein:
0.4
g
|
Fat:
4
g
|
Saturated Fat:
1
g
|
Polyunsaturated Fat:
2
g
|
Monounsaturated Fat:
1
g
|
Trans Fat:
0.02
g
|
Sodium:
584
mg
|
Potassium:
48
mg
|
Fiber:
1
g
|
Sugar:
1
g
|
Vitamin A:
261
IU
|
Vitamin C:
0.4
mg
|
Calcium:
26
mg
|
Iron:
1
mg
Looking for dinner inspiration, classic recipes and new seasonal favorites?