Homemade Nutella Pop Tarts
This homemade Nutella pop tarts recipe combines a flaky and buttery pastry with a rich Nutella filling. Pop one in the toaster for a decadent breakfast.
With a little pastry practice, these Nutella pop tarts aren't hard to make. And pop tarts can be customized in many different ways – check out my strawberry heart pop tarts for a great alternative!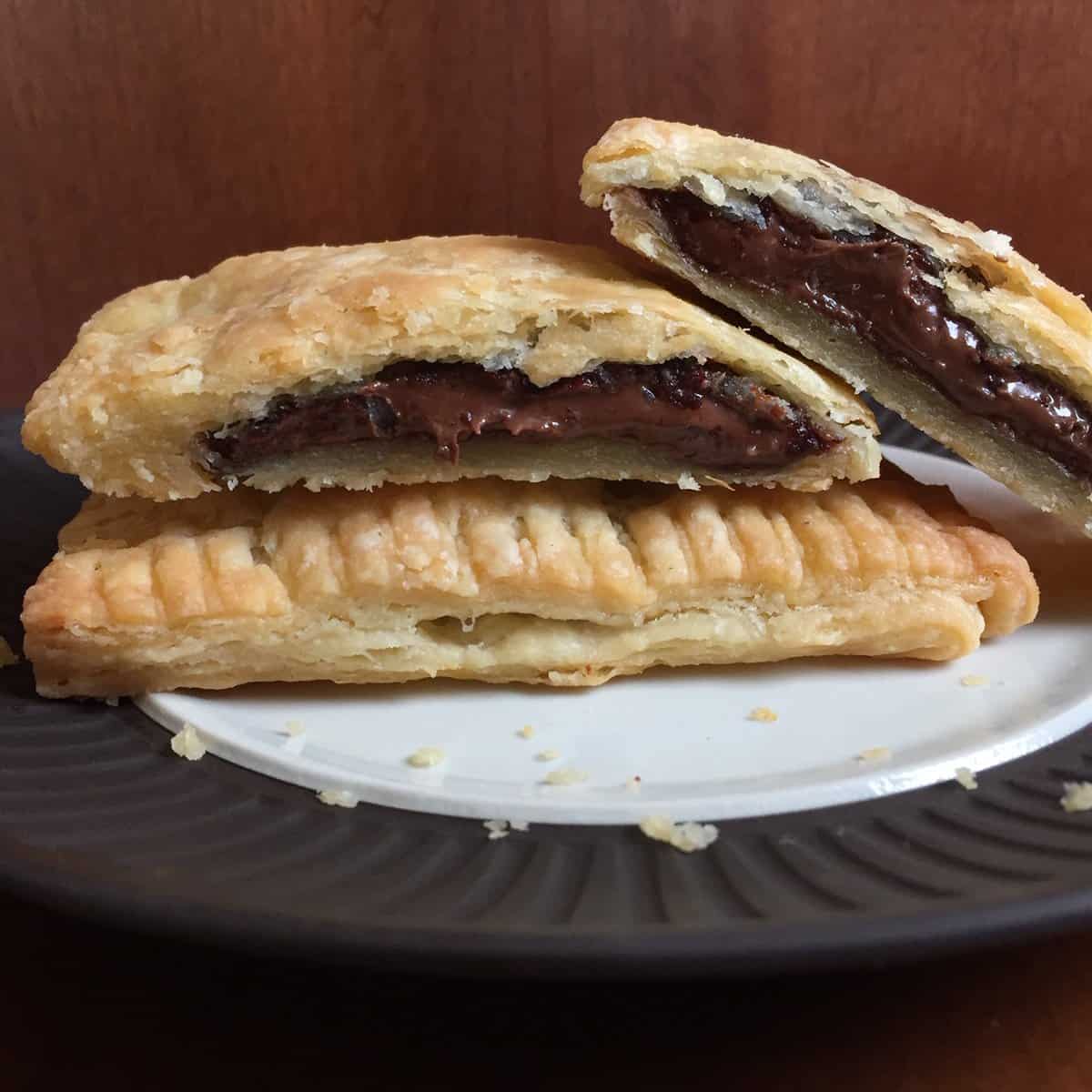 Jump to:
The backstory
This homemade Nutella pop tarts recipe was created out of necessity. Why? I needed to bake something delicious and freezable with an open jar of Nutella before I ate it all with a spoon.
Normally I wouldn't open Nutella without a plan. I can resist goodies when things are sealed. But if it's open, you need to hide it from me.
[she writes, while snacking on a sleeve of Thin Mint Girl Scout cookies]
However, I have learned is that it's impossible to control mr. uglyducklingbakery. He opened that Nutella the day I bought it and slathered it on pecan sourdough bread. I was doomed.
This recipe for Nutella pop tarts is adapted from the pop tarts in the Flour cookbook by Joanne Chang. Bake only what you want and freeze the rest, just like with my favorite peanut butter chocolate chip cookie dough.
Ingredients
About Nutella
Nutella is a much loved chocolate-hazelnut spread that originated in Italy around World War II. Because of a chocolate shortage. Pietro Ferrero, created a sweet combining hazelnuts with only a small amount of chocolate to stretch his supply.
Fun fact: about three-quarters of all hazelnuts are produced in Turkey, but Italy is the largest consumer for hazelnuts.
Nutella is more than a spread for toast or bread. You can use it as a topping for ice cream, swirled into Nutella blondies, Nutella banana bread, Nutella babka; or as the base for Nutella waffles. Or you can just eat it with a spoon
About pastry
Joanne Chang calls this dough a pâte brisée, which translates to "broken pastry." Then I went to the wikipedia entry. Finally, I got up from my Thin Mints and pulled out volume two of Mastering the Art of French Cooking. There you can find a chart of all possible forms of pastry.
I'm not certain whether Chang's recipe is indeed pâte brisée. However, I found this fabulous piece of advice, which is best imagined in Julia's voice:
"It is in the first step, working the butter and flour together, that many people have difficulty. Trying to do everything just right, they work too slowly and carefully, lingering over each squeeze of butter and flour until their hot fingers melt the butter; thus the liquid cannot mix in properly, and the dough is a wet, oily mess that, even after chilling, bakes into a miserable piece of cardboard."

Julia Child, Mastering the Art of French Cooking
Recipe tips and tricks
Making the pop tart dough
Some of the key points when making pop tart dough are similar across all pastry, like these chocolate chip scones. When you make pastry, work quickly and lightly and keep the butter cold. And try not to make pie or pastry in the middle of a hot, summer day.
The pop tart dough comes together in under 30 minutes before going into the refrigerator to rest.
Finishing the pop tarts
I like an unadorned pop tart because in my mind there's no way to improve on the flaky pastry and rich Nutella filling. Unglazed pop tarts can also be frozen for months, although I can't imagine that these Nutella pop tarts would last that long.
However, I promised kiddo that she could glaze and top her pop tarts in any way she wanted. The glaze is a simple mixture of confectioner's sugar and liquid (water or vanilla or lemon juice or you name it) to get the right consistency. Add a drop or two of food coloring, and you're ready to go.
Recipe FAQs
What is Nutella?
Nutella is a sweet and smooth hazelnut cocoa spread. I first tried Nutella on a baguette in France. It's entirely possible I ate nothing else for weeks.
Are Nutella pop tarts healthy?
No. Nutella pop tarts are high in sugar. Think of them as a treat only as part of a well-balanced diet. Please consult with your personal health care team if you have questions about your diet.
Can I freeze homemade Nutella pop tarts?
Yes. You can freeze unglazed pop tarts. Just put them in a freezer bag and squeeze out all of the air. They'll keep for three to six months. To reheat, you can pop them in a toaster or a warm oven.
Related pastry recipes
Check out other pies and pastries recipes from the Ugly Duckling Bakery archives like:
Love this recipe? Please leave a 5-heart 💜💜💜💜💜 rating in the recipe card below. Let me know how much you loved it, or any problems you had, in the comments section further down.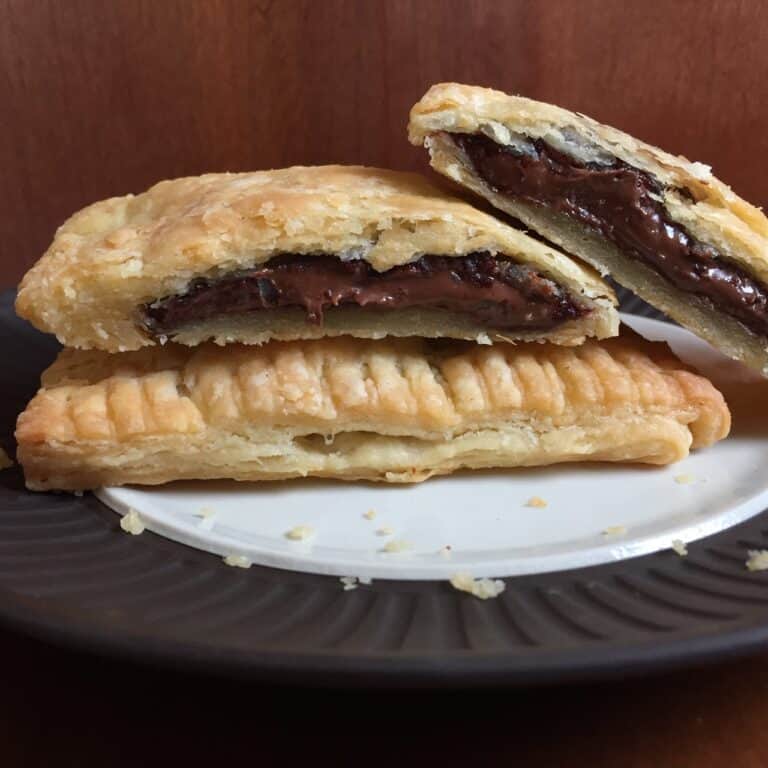 Pin Recipe
Nutella Pop Tarts
This homemade Nutella pop tarts recipe combines flaky pastry with a rich Nutella filling. Pop one in the toaster for a decadent breakfast.
Print Recipe
Ingredients
Pop tart dough
2

cups

(250 grams) unbleached all purpose flour

1

tablespoon

granulated sugar

1

teaspoon

salt

1

cup

(228 grams or 8 ounces) unsalted butter, cold, cut into ½ inch cubes

¼

cup

milk

1

egg
Pop tart filling
1

cup

Nutella or other chocolate hazelnut spread
Instructions
Combine the flour, sugar, and salt in your stand mixer or food processor.

2 cups (250 grams) unbleached all purpose flour,

1 tablespoon granulated sugar,

1 teaspoon salt

Add the butter and mix on low speed for 1 to 2 minutes until the pieces are the size of peas.

1 cup (228 grams or 8 ounces) unsalted butter, cold, cut into ½ inch cubes

Crack the egg into the measuring cup used to measure the milk and whisk to combine. Add this to the mixer bowl and mix on low until the dough just starts to come together.

Turn the dough onto a lightly floured surface and knead only until the dough comes together. Divide into two equal amounts, flatten into a disk, wrap in plastic wrap, and refrigerate for 1 to 2 hours.

When ready to roll and fill the pop tarts, preheat the oven to 350℉.

Take one of the dough disks out of the refrigerator and, on a lightly floured countertop, roll the dough into a rectangle a ¼ inch thick, about 9 inch by 14 inch.

Cut the dough lengthwise and then make three cuts crosswise so you have eight smaller rectangles (four on each side).

Use a spoon or a medium cookie scoop to spoon two generous tablespoons of Nutella into the center of four of the rectangles.

1 cup Nutella or other chocolate hazelnut spread

Dip your finger into a bowl of cold water and gently wet the edges of those four rectangles.

Cover the filled rectangles with the four remaining rectangles and use your finger or fork to seal the edges well.

Place on a lined baking sheet and repeat with the other disc (all 8 filled pop tarts should fit on one baking sheet.

If your house is warm and the dough has gotten soft, place the baking sheet in the freezer for 15 to 30 minutes prior to baking.

Bake for 45 minutes, until the tops of the pop tarts are a golden brown. You may need to rotate your baking sheet halfway through.

Remove to a cooling rack and cool completely prior to glazing, if desired.
Notes
Optional glaze: combine confectioners' sugar and a bit of vanilla to get the right consistency. Add a drop or two of food coloring, if desired.
Nutrition
Calories:
538
kcal
|
Carbohydrates:
49
g
|
Protein:
6
g
|
Fat:
35
g
|
Saturated Fat:
26
g
|
Polyunsaturated Fat:
1
g
|
Monounsaturated Fat:
6
g
|
Trans Fat:
1
g
|
Cholesterol:
82
mg
|
Sodium:
321
mg
|
Potassium:
211
mg
|
Fiber:
3
g
|
Sugar:
22
g
|
Vitamin A:
753
IU
|
Calcium:
64
mg
|
Iron:
3
mg
This recipe for Nutella pop tarts was first posted March 2, 2021. It was last updated May 1, 2023.
Looking for inspiration?
Sign up to get recipes full of kitchen tips and tricks.