This Nutella Banana Bread recipe is not your everyday banana bread. It's rich and decadent and packed with chocolate chips and ribbons of Nutella swirl. And yet it's still an easy banana break to make when you're craving something sweet.
Enjoy a slice of your Nutella banana bread as an afternoon snack or a late-night dessert alongside a creamy espresso martini or Frangelico sour. Or even, perhaps, as a naughty breakfast.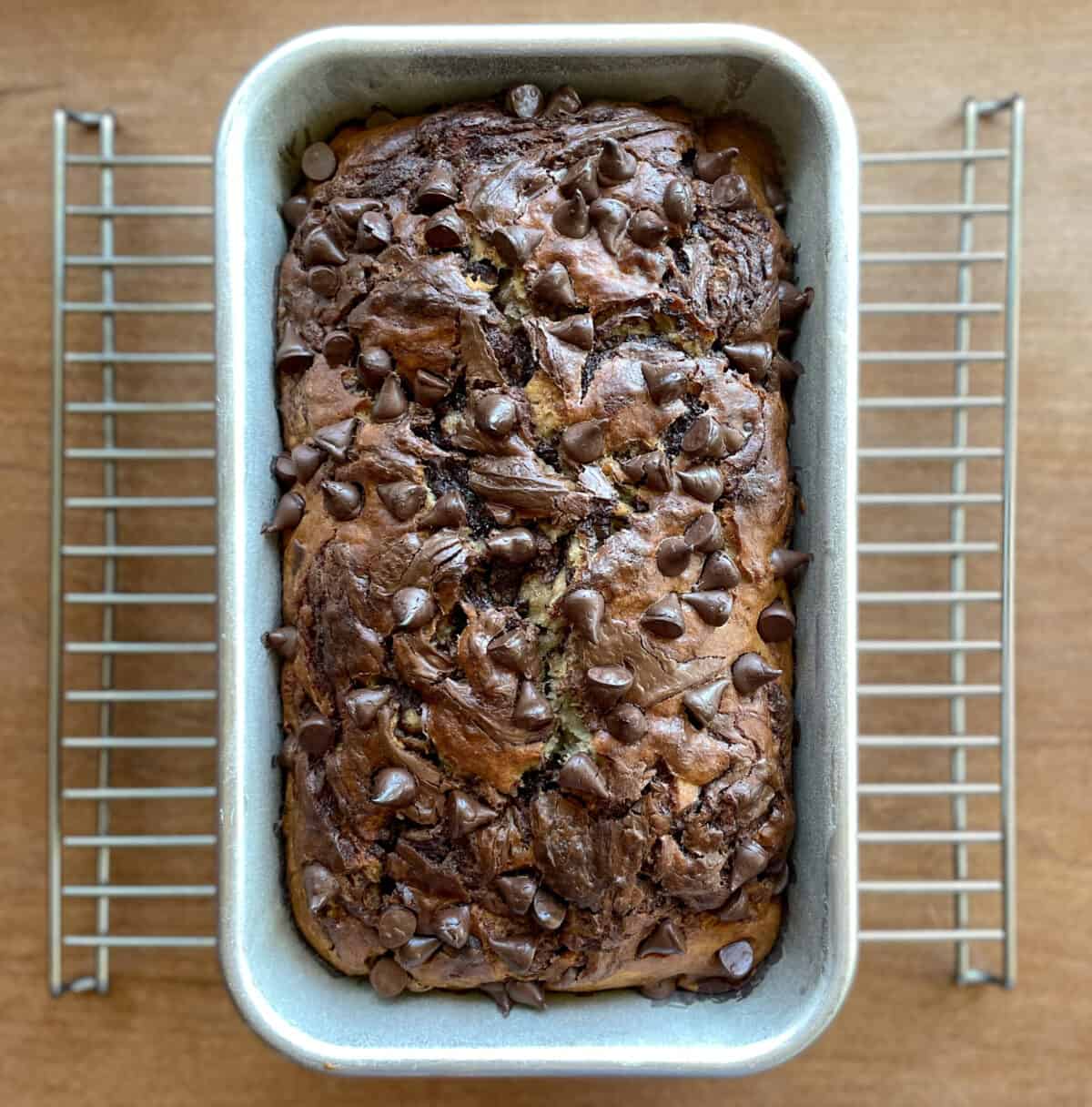 Jump to:
Ingredients
Bananas
The key to super moist banana bread is really ripe bananas that are very brown to just black. That's because as bananas ripen from green to yellow to brown to black, the sugar and water content increase. So please wait a day or two more, whether you're making an easy one-bowl banana bread or mini banana muffins, or adding banana to berry smoothies or even your mashed sweet potatoes!
Tip from the wise quacker: freeze overripe bananas if it's not time for baking. Peel the bananas and put them in a freezer bag. To use, bring them to room temperature before making this Nutella-swirled quick bread or use them frozen in smoothies.
Nutella
Nutella is a chocolate and hazelnut spread that's been made by the Italian company, Ferrero, since the 1960s. Fun fact: the company supposedly uses one-quarter of the world's hazelnuts, which are primarily grown in Turkey.
I've been in love with Nutella since my first trip to Europe. You can see that love in all my Nutella recipes like Nutella swirl blondies, Nutella babka, Nutella-filled pop tarts, and Nutella waffles.
With its first two ingredients being sugar and palm oil, Nutella shouldn't be a large part of your diet. You can reduce the amount of Nutella swirl if you are concerned, or you can make your own Nutella recipe and control the amount of sugar and fat in the recipe.
Please see the recipe card below for complete information on ingredients and quantities.
Variations and substitutions
Here are some ways you can vary this recipe:
Leave out the chocolate chips.
Add chopped, skinned hazelnuts for added crunch.
Use a swirl of a different nut butte.
Key technique: banana bread vs banana cake
Like my blackberry lemon loaf cake, banana bread is a quick bread, a group of sweet and savory loaves made with chemical leavening instead of yeast. Banana bread is usually denser and moister than banana cake, although this Nutella banana bread is probably rich enough to be called a Nutella and banana cake.
Quick breads and cakes are similar in that both can be made using the creaming method. That's the baking method in which you cream butter and sugar together for leavening. Then you beat in eggs, and finally you add the dry ingredients.
However, quick breads can also be made using the muffin method. That's the baking method where you start with the dry ingredients in a large mixing bowl. Then you stir the liquid ingredients into the wet ingredients only until the dry ingredients are moistened. The muffin method works best with banana bread and other quick breads made with oil or melted butter.
Recipe tips and tricks
Lining the pan
Whether it's bars, brownies, or quick breads, anytime your baked good has a special top, line your pan with a parchment paper sling. That way you can lift your Nutella banana bread out of the bread pan without disturbing the chocolate chips you've sprinkled delicately on top.
Step 1: To make a parchment sling, first grease your loaf pan. Then cut a strip of parchment the width of your pan, secure it with binder clips, and grease and flour the pan.
Making the batter
Step 2: Making banana bread really is simple. First, cream together the butter and sugar in a large bowl or the bowl of your stand mixer (Panel #1, below).
Step 3: Beat in the bananas (Panel #2).
Step 4: Add the eggs and vanilla extract (Panel #3).
Step 5: Then mix in the dry ingredients and chocolate chips. Do not over-mix at this point to avoid building up the gluten.
Making the Nutella swirl
Step 6: To make the Nutella swirl, pour one half of the batter into the prepared loaf pan. Then dollop large spoonfuls of Nutella over top of the batter (Panel #1, below). Use a butter knife or small spatula to scoop the batter and Nutella together, being careful not to scrape the bottom of the pan (Panel #2).
Step 7: Repeat with the the remaining batter and second half of Nutella (Panels #3 and #4, above).
Final steps
Step 8: Sprinkle the reserved quarter cup of chocolate chips evenly over top of the entire loaf.
Step 9: Don't forget to remove the binder clips before baking, then bake until a toothpick inserted into the middle comes out clean.
Let the banana bread cool in the pan for 10 minutes. Then remove it from the pan and let it cool completely on a wire rack before cutting. Store at room temperature in an air-tight container or wrapped in foil.
Recipe FAQs
Do I have to weigh my ingredients for baking?
No, you don't have to do anything. But you can find a good kitchen scale for just about $10. Weighing ingredients will make you a better baker, and you'll have less to clean up!
Can't I eat banana bread warm?
As long as you know it will hold together better if you wait until it cools completely, I'm not going to stop you.
How should I store banana bread?
Wrapped in aluminum foil, banana bread can be stored at cool room temperature for about one week. To keep this Nutella banana bread for longer, double wrap the cooled loaf in plastic wrap, put it in a freezer bag, and squeeze out all the air. To defrost, simply let it come to room temperature. Please don't store any homemade breads or cakes in the refrigerator, or it will make them dry.
Related quick bread recipes
Explore the world of loaf cakes and quick breads with a few Ugly Duckling Bakery favorites:
Love this recipe? Please leave a 5-heart 💜💜💜💜💜 rating in the recipe card below. Let me know how much you loved it, or any problems you had, in the comments section further down.
Recipe
Pin Recipe
Nutella Banana Bread
Servings:
9
1 inch slices
This Nutella banana bread recipe is not your everyday banana bread. It's rich and decadent and packed with chocolate chips and ribbons of Nutella swirl.
Print Recipe
Equipment
1 9 by 5 inch or 8.5 by 4.5 inch loaf pan
Ingredients
2

cup

(250 grams)

bleached, all-purpose flour

1¼

teaspoons

baking powder

½

teaspoon

salt

¼

teaspoon

baking soda

4

tablespoon

unsalted butter, softened

plus extra for greasing the pan

¾

cup

(150 grams)

granulated sugar

2

cups

very ripe bananas (3 to 4 medium bananas)

1

egg

1

teaspoon

vanilla

1

cup

chocolate chips

divided

⅔

cup

Nutella or other chocolate hazelnut spread

divided
Instructions
Preheat the oven to 350°F. Butter and flour a loaf pan, using a parchment sling, if desired (see Notes).

4 tablespoon unsalted butter, softened

Sift the flour, baking powder, salt, and baking soda into a small bowl.

2 cup

(250 grams)

bleached, all-purpose flour,

½ teaspoon salt,

1¼ teaspoons baking powder,

¼ teaspoon baking soda

In the bowl of a stand mixer or in a medium mixing bowl if using a hand mixer, cream the butter and sugar on medium speed until it is light, about 3 to 5 minutes. Scrape down the bowl as necessary.

4 tablespoon unsalted butter, softened,

¾ cup

(150 grams)

granulated sugar

Add the bananas and beat until softened. Add the egg and vanilla and beat on medium speed for one minute.

2 cups very ripe bananas (3 to 4 medium bananas),

1 egg,

1 teaspoon vanilla

Add the dry ingredients and mix on low until just mixed. Do not over-mix.

Reserve ¼ cup of chocolate chips for the top of the banana bread, and add the remaining ¾ cup of chocolate chips to the batter. Mix by hand.

Scrape half of the banana bread batter into the loaf pan.

Dollop ⅓ cup of Nutella onto the top of the batter in large spoonfuls, and use a knife or spatula to swirl the Nutella into the batter.

⅔ cup Nutella or other chocolate hazelnut spread

Top with the remaining batter and repeat the dollops and swirling with the remaining Nutella.

⅔ cup Nutella or other chocolate hazelnut spread

Scatter the reserved ¼ cup of chocolate chips on top of the swirled batter.

Bake for 50 to 60 minutes on a rack in the middle of the oven until a toothpick or knife inserted into it comes out clean (you may need to check in a few places if you stick a toothpick into a chocolate chip). Check it at about 45 minutes and cover the banana bread with a foil tent if it is browning too quickly.

Cool in the pan for about 10 minutes and then turn onto a cooling rack. It can be sliced when warm, but it is even better after it has cooled, wrapped in foil, and the crust has softened a bit. Store at room temperature for up to one week.
Notes
This Nutella banana bread uses the creaming method where the butter and sugar are first creamed together. Try to avoid over-mixing your batter when you add the dry ingredients and chocolate chips.
Similarly it's better to under-swirl your Nutella. That way you get thick veins of Nutella in your banana bread batter.
Use a parchment sling to preserve the appearance of the chocolate chip top.
Nutrition
Calories:
433
kcal
|
Carbohydrates:
68
g
|
Protein:
5
g
|
Fat:
16
g
|
Saturated Fat:
12
g
|
Polyunsaturated Fat:
0.4
g
|
Monounsaturated Fat:
2
g
|
Trans Fat:
0.2
g
|
Cholesterol:
35
mg
|
Sodium:
241
mg
|
Potassium:
249
mg
|
Fiber:
3
g
|
Sugar:
40
g
|
Vitamin A:
204
IU
|
Vitamin C:
3
mg
|
Calcium:
67
mg
|
Iron:
3
mg
This Nutella banana bread was first posted August 29, 2022. It was last updated June 21, 2023.
Looking for dinner inspiration, classic recipes and new seasonal favorites?