Chocolate Peanut Butter Bonbons
Chocolate peanut butter bonbons. Copycat Reese's peanut butter cups. I don't care what you call these chocolate bonbons with a peanut butter filling. Anytime you combine chocolate and peanut butter is a win in my book.
Note: while I have been baking for over 40 years, you can see if you read the backstory that I am a novice at tempering. Read on if you want a recipe for a peanut butter bonbon filling, an updated experience with a chocolate tempering machine, and links out for how to temper by hand.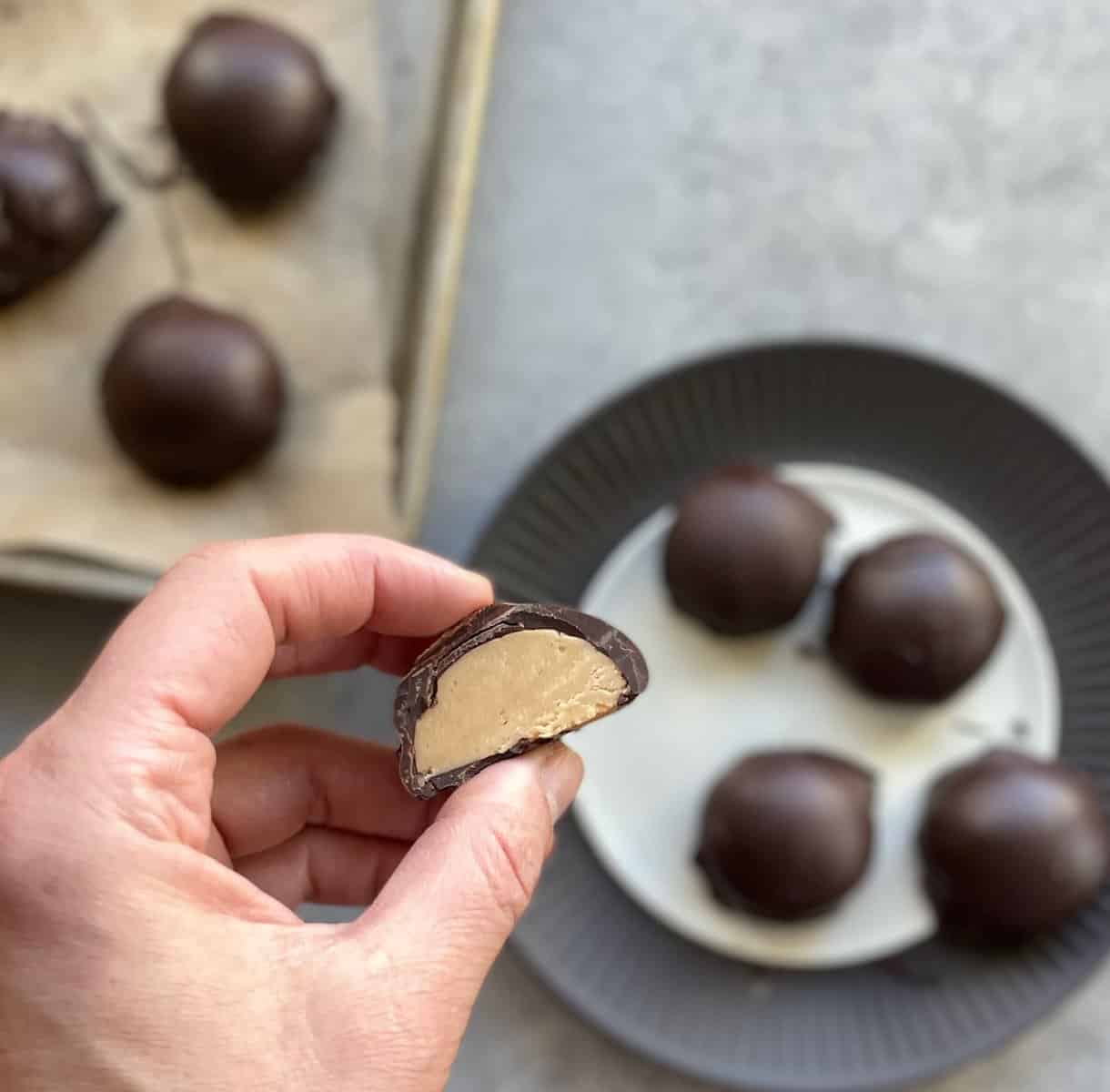 Backstory
This week's reddit 52 weeks of baking challenge was chocolate, and my goal was to temper chocolate. I initially contemplated adding chocolate butterflies to the apple cake I made last week, but that might have been a bit much.
I next contemplated truffles. Mr. uglyducklingbakery gave me truffles for Valentine's Day. But I've made truffles before.
And then I saw an Instagram bonbon.
Tempering is relatively new to me. I understand the principles of crystal formation. I just don't often have the patience. But the point of joining the 2021 reddit 52 weeks of baking challenge was to do just that, challenge myself.
I did have a temporary lapse of fortitude when I scooped a bit of the peanut butter filling onto a piece of chocolate. But onward I went.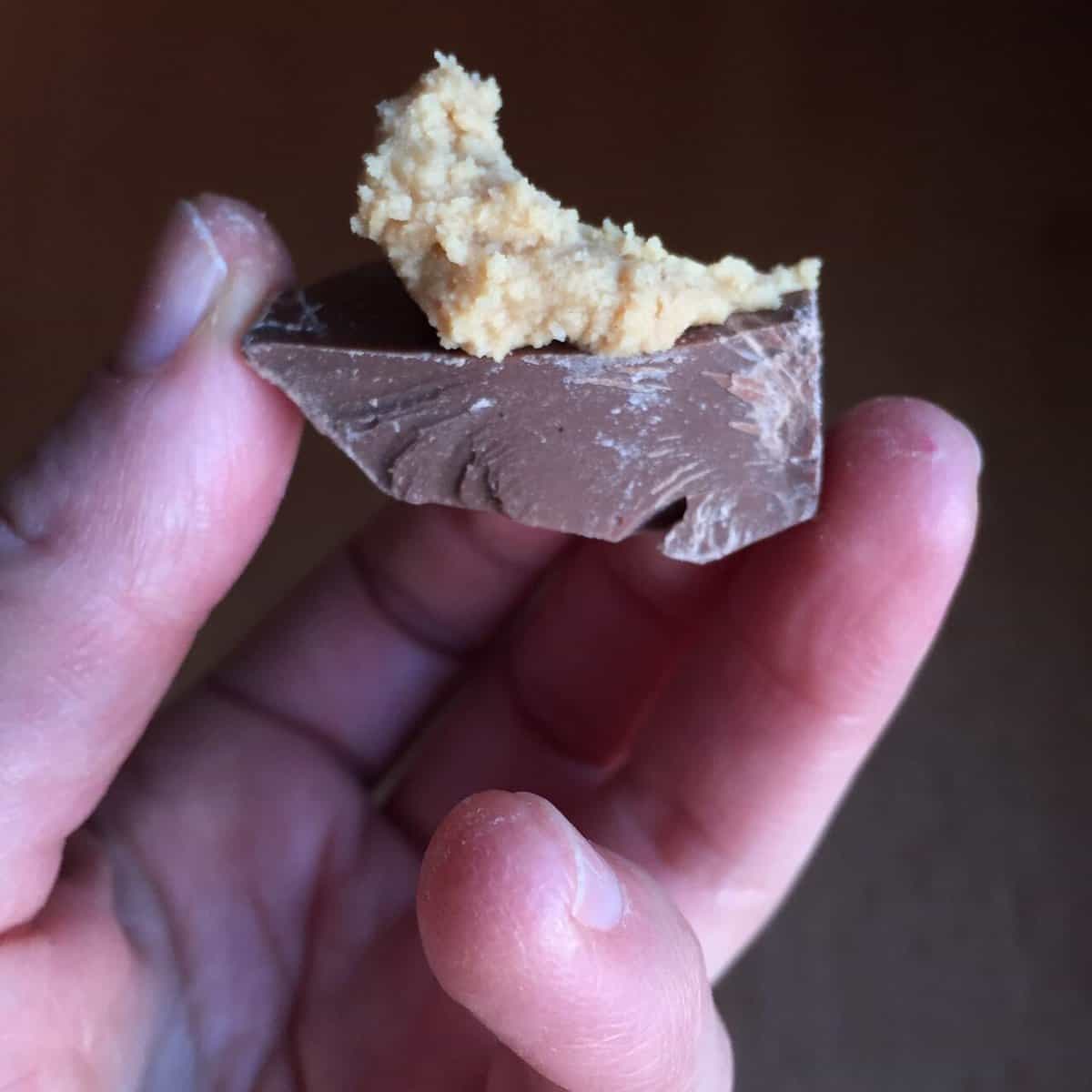 What's the difference between a truffle and a bonbon?
Truffles have chocolate ganache centers, often rolled in cocoa or dipped in nuts. Bonbons are chocolate-encased and can include any sort of center. There seems to be a discrepancy whether the Venn diagram has truffles as a subset of bonbons (i.e. whether all truffles are bonbons) or whether the sets are non-overlapping.
Tips and tricks
Chocolate molds
Once you've tempered your chocolate, spoon in a thin layer to fill your molds. You can use a food-safe paint brush, if you like.
Let cool to room temperature. Add the peanut butter filling and flatten, leaving enough space in your mold for a thin layer of chocolate for the bottom of your bonbon. Re-temper your chocolate if it has not been held in temper.
Dipping in tempered chocolate
Alternatively, you can dip the peanut butter filling into chocolate. Roll into balls by hand or use molds and chill just for a few minutes.
Dip into your tempered chocolate and let dry on a baking sheet covered in parchment paper. Some of these are definitely better than others!
Using a chocolate tempering machine
I rented a Chocovision Rev2 from a local chocolate store to see whether the chocolate tempering machine was worth the $700 price tag. This machine can temper a pound and a half of chocolate.
The Rev2 did some things really well:
It took longer than I expected to run through the cycles of melting, cooling, and re-warming. But it did it requiring very little attention.
It held the temperature perfectly through all the dipping.
The chocolate had the perfect snap at the end of it all.
And there were few things it could do better:
It was loud. I wouldn't want to keep that thing running just to keep my chocolate in temper.
I still found it challenging to dip, although I'm sure this would get better with practice. With the spinning bowl, I kept losing my centers into the chocolate and couldn't figure out how to tap all of the excess chocolate back into the bowl.
How to store chocolate
If you have tempered your chocolate, your bonbons can be stored at room temperature.
If you've dipped into your tempered chocolate, leftover chocolate should be stored in the fridge. If you've poured the chocolate into molds, you can store any leftover chocolate at room temperature. Or use leftover chocolate to create chocolate decorations or dip other things like raisins, pretzels, bananas or strawberries.
FAQs
Do I have to temper chocolate to make chocolate peanut butter bonbons?
You can definitely dip things into chocolate that hasn't been tempered. There are two things I took away from 8th grade home economics class – chocolate-dipped buckeyes and a purple stuffed elephant. But non-tempered chocolate doesn't have the same shine or snap. For these bonbons, I would, and did, temper.
What are good resources for learning how to temper chocolate?
Here's a good link from Epicurious on how to temper chocolate. More than anything, it just requires practice. And patience. Lots and lots of patience. And more practice.
Where can I find bonbon molds?
You can find inexpensive silicone molds in various shapes and sizes on Amazon.
Related recipes
Check out another uglyducklingbakery recipe for candies and sweets. There's more tempered chocolate with my coffee truffles.

Chocolate and peanut butter lovers should check out the chocolate peanut butter cake or my double peanut butter chocolate chip cookies.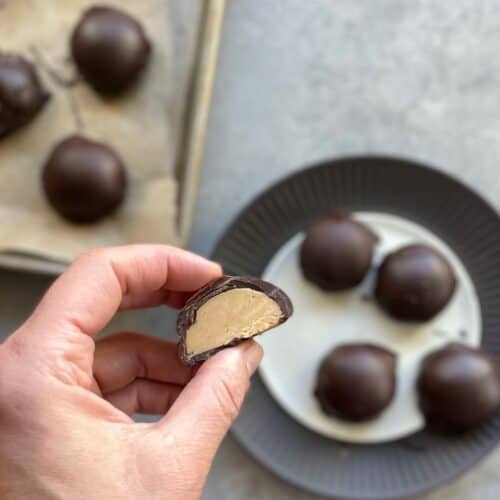 Pin Recipe
Chocolate Peanut Butter Bonbon Filling
Servings:
15
large bonbons
This peanut butter bonbon filling makes a decadent peanut butter cup treat whether you use them to fill chocolate molds or dip the centers into tempered chocolate.
Print Recipe
Ingredients
Chocolate peanut butter filling
½

cup

peanut butter

I use Jif creamy for baking

2

tablespoons

unsalted butter

1

cup

powdered sugar

sifted if really clumpy
Chocolate for molding or dipping
1

pound

chocolate

any kind, but do not use chocolate chips
Instructions
Combine the peanut butter and butter in a small pan and melt over low heat until combined.

½ cup peanut butter,

2 tablespoons unsalted butter

Off the heat, stir in powdered sugar until smooth, making sure to mash out any lumps in your sugar.

Let cool, either at room temperature or transfer to a bowl and put in the fridge, depending on how quickly you want to make the bonbons.

Temper chocolate and use a thin layer to fill your molds. Let cool to room temperature.

Add your bonbon filling and flatten, leaving enough space in your mold for a thin layer of chocolate for the bottom of your bonbon.

Re-temper your chocolate if necessary and add a thin layer of chocolate to your mold.

Let cool to room temperature and unmold. Tempered chocolate bonbons can be stored at cool room temperature.
Notes
The peanut butter filling can be used either to fill molds lined with chocolate as described in the recipe or for dipping into tempered chocolate.
Fill the warm peanut butter mixture into molds or scoop them into rounds and freeze them briefly while you are tempering your chocolate.
Nutrition
Calories:
249
kcal
|
Carbohydrates:
28
g
|
Protein:
3
g
|
Fat:
16
g
|
Saturated Fat:
8
g
|
Polyunsaturated Fat:
1
g
|
Monounsaturated Fat:
6
g
|
Trans Fat:
0.1
g
|
Cholesterol:
4
mg
|
Sodium:
42
mg
|
Potassium:
137
mg
|
Fiber:
2
g
|
Sugar:
24
g
|
Vitamin A:
47
IU
|
Calcium:
12
mg
|
Iron:
1
mg
What's next
Occasionally it's important to challenge yourself to do something new in order to keep growing. That was why I did an Ironman triathlon. And that's why I started this blog. What is it that you want to do?
If you make this peanut butter filling for chocolate peanut butter bon bons, please leave a comment and rating here.
Looking for inspiration?
Sign up to get recipes full of kitchen tips and tricks.
Previous challenges:
Week 1: New Year new recipe – blueberry galette
Week 2: seasonal – Smitten Kitchen's grapefruit pound cake
Week 3: Great British Bake Off – Kate's sticky toffee apple caramel cake
Week 4: Australia – sausage rolls
Week 5: bite sized – cookies
Week 6: Chinese New Year – mushroom bao
Week 7: new tool – baguette baker
Next week: timed challenge (1 hour)