Chocolate chip scones are a delectable treat that are perfect for breakfast, midday coffee or tea, or any time you need a little snack. The classic scone is a lightly sweetened pastry that's similar to a biscuit but has a crumbly texture and a slightly drier consistency. But this recipe makes chocolate chip scones that are closer to biscuits, resulting in 16 buttery, flaky scones overloaded with chocolate.
Whether you are an experienced baker or a novice in the kitchen, chocolate chip scones are a delicious and easy-to-make treat perfect for any occasion. With practice, you can make them in under an hour.
Jump to:
The background story
The making of this chocolate chip scones recipe gave me an inkling of what contestants on the Great British Bake Off must go through. Because this week's reddit 52 weeks of baking challenge was a timed challenge – 1 hour to bake!
I initially contemplated making chocolate and peanut butter hamentaschen for Purim. But I didn't want to have to practice a recipe to make sure I could complete it under time pressure. So I elected to adapt the currant scones from Rose Levy Beranbaum's Pie and Pastry Bible, a recipe I'd made previously. I just wanted to make them, well, chocolate.
Even though I had made scones a countless number of times, my heart was racing as I watched the minutes tick by. Having to take pictures didn't help my nervousness. I felt sloppy. It's entirely possible I did one too many turns. Or maybe one too few. I don't know.
I managed to complete the challenge, clean my countertop and wash the dishes in the sink. Total time from start to finish: 59 minutes.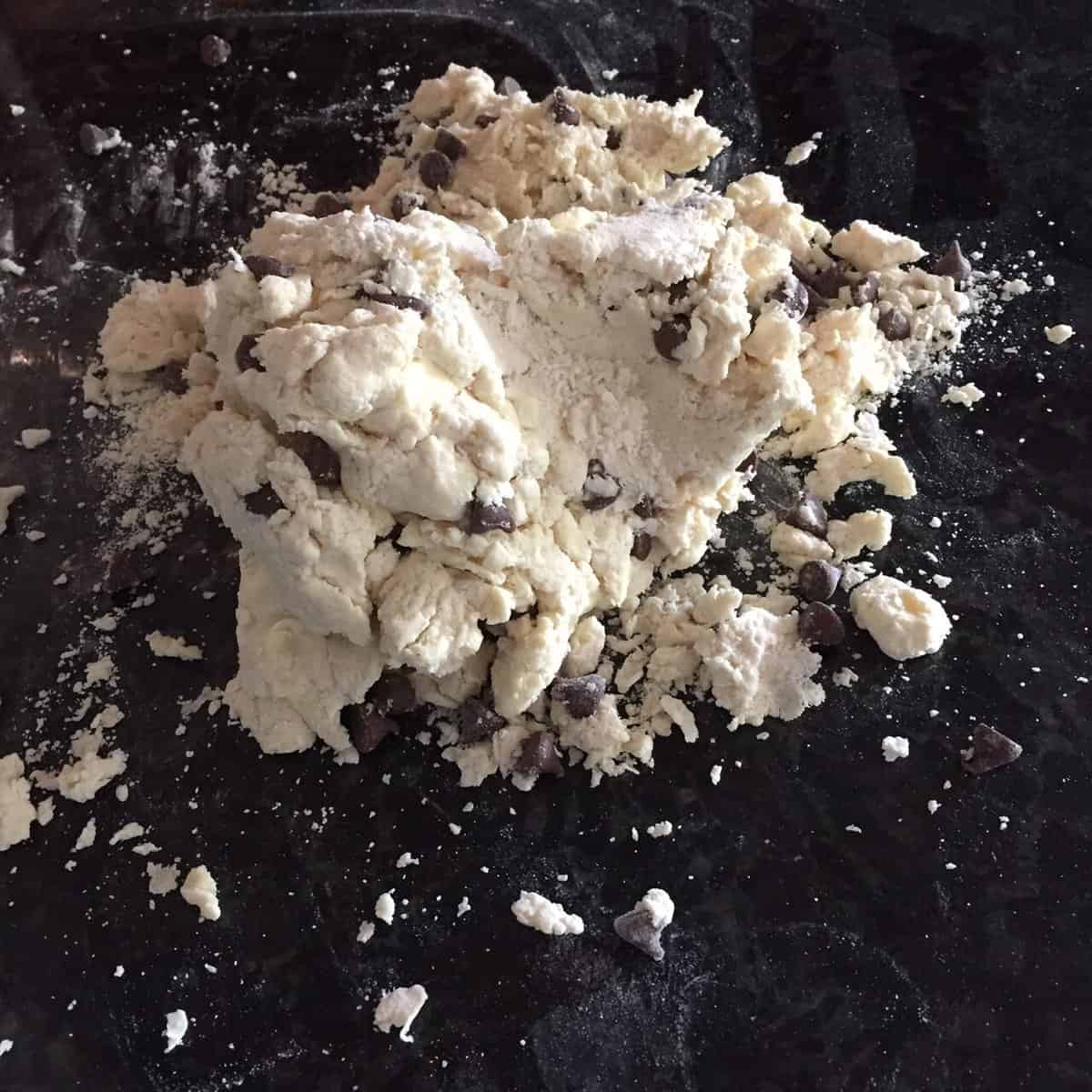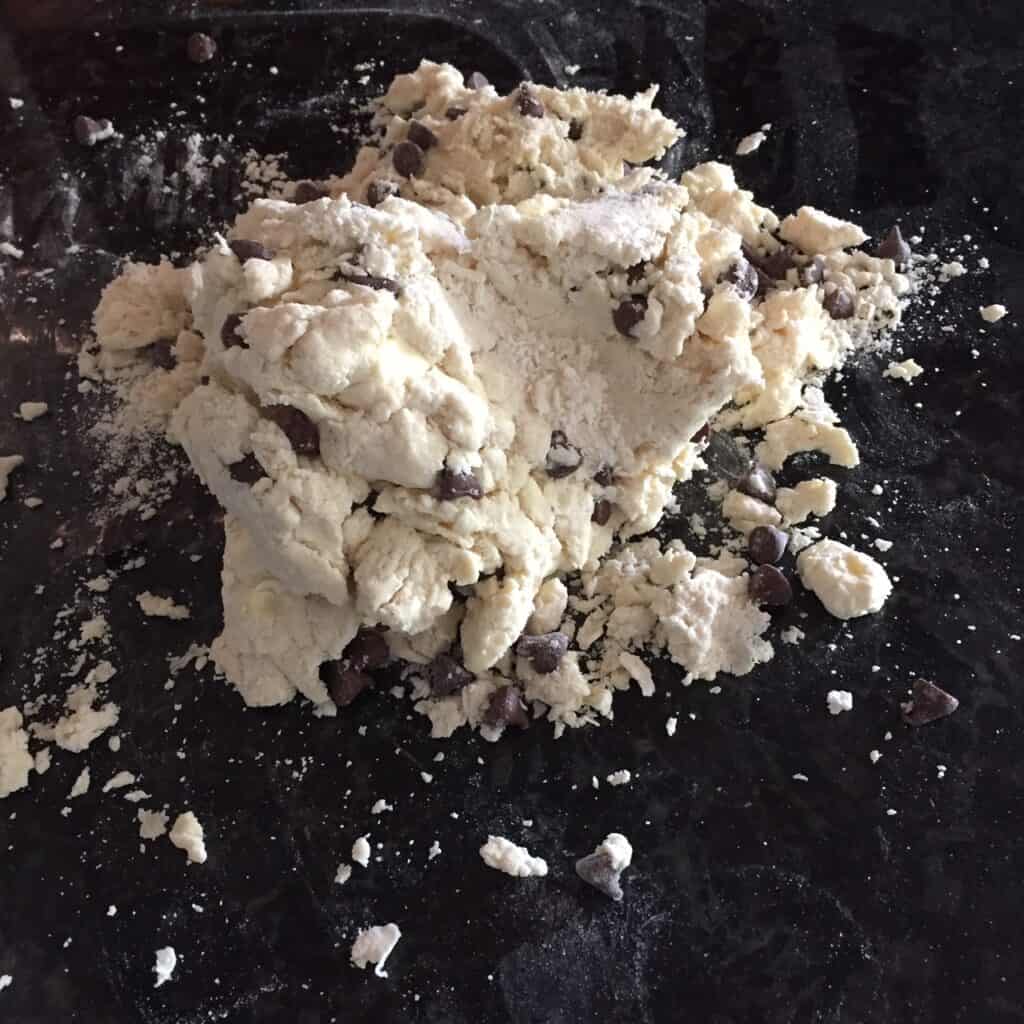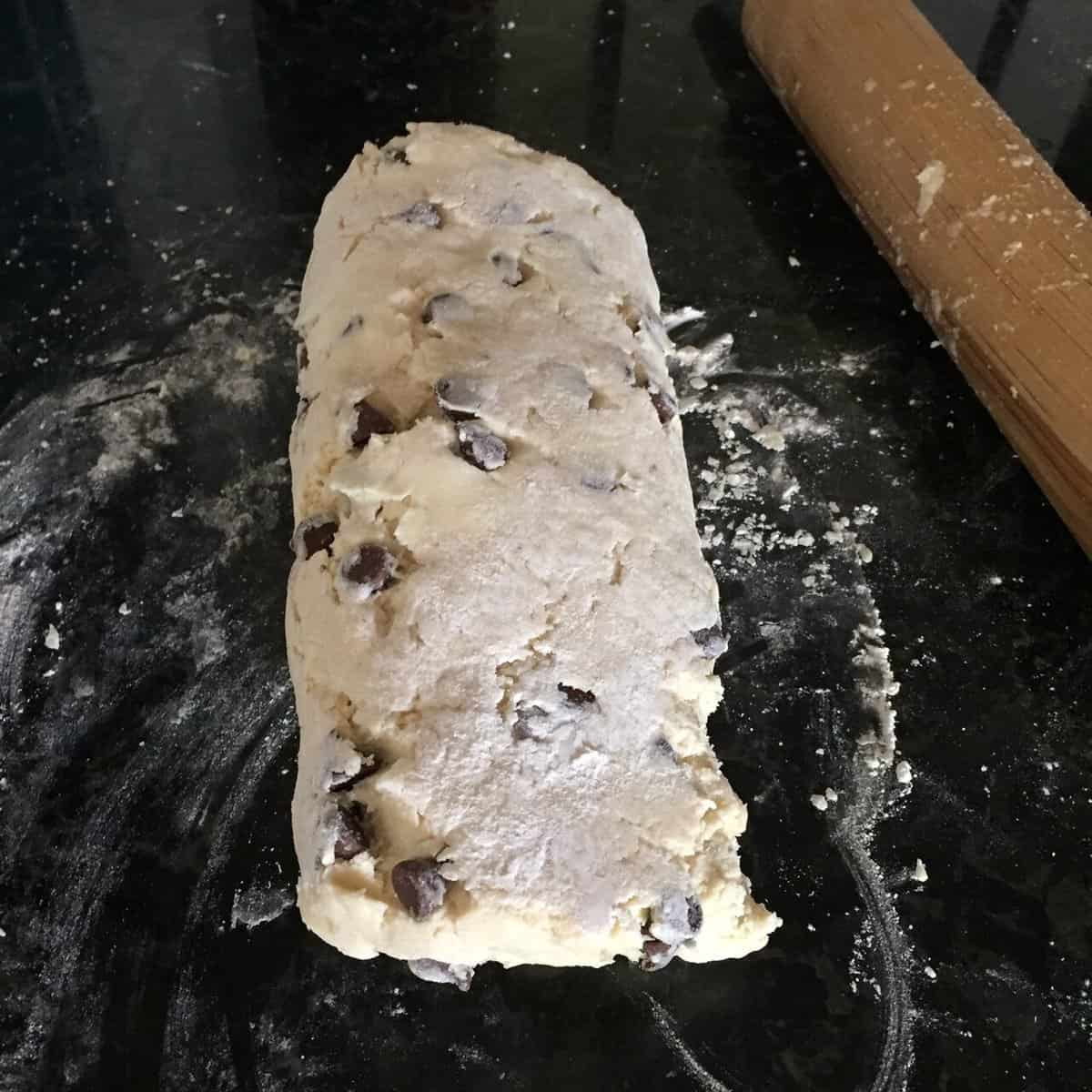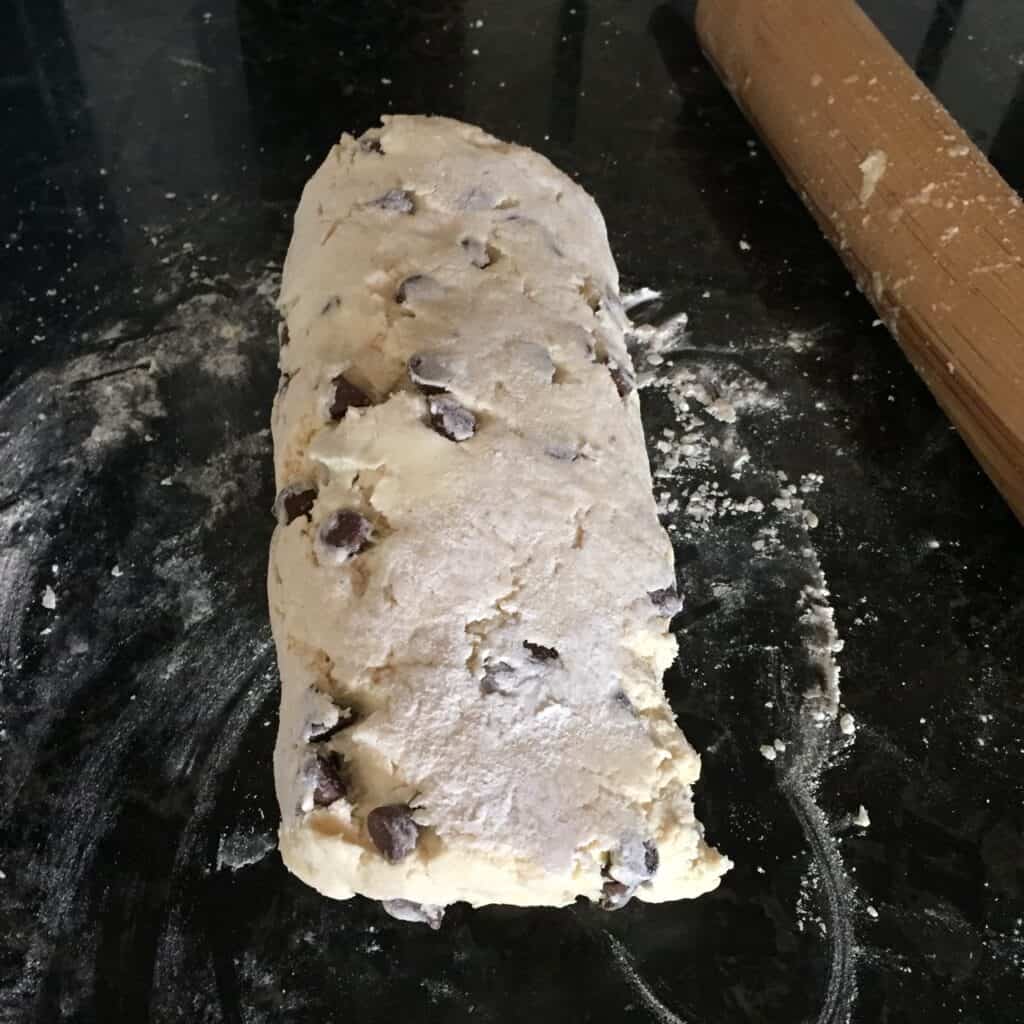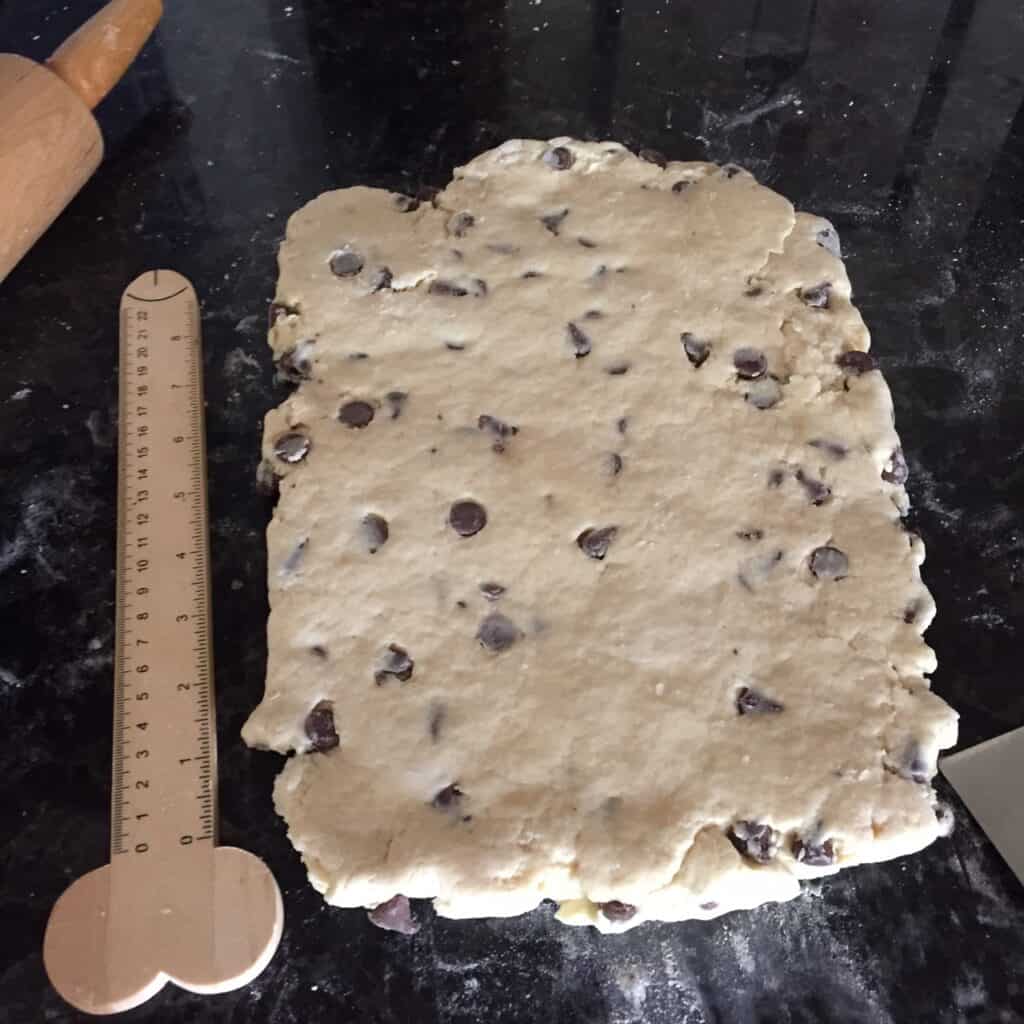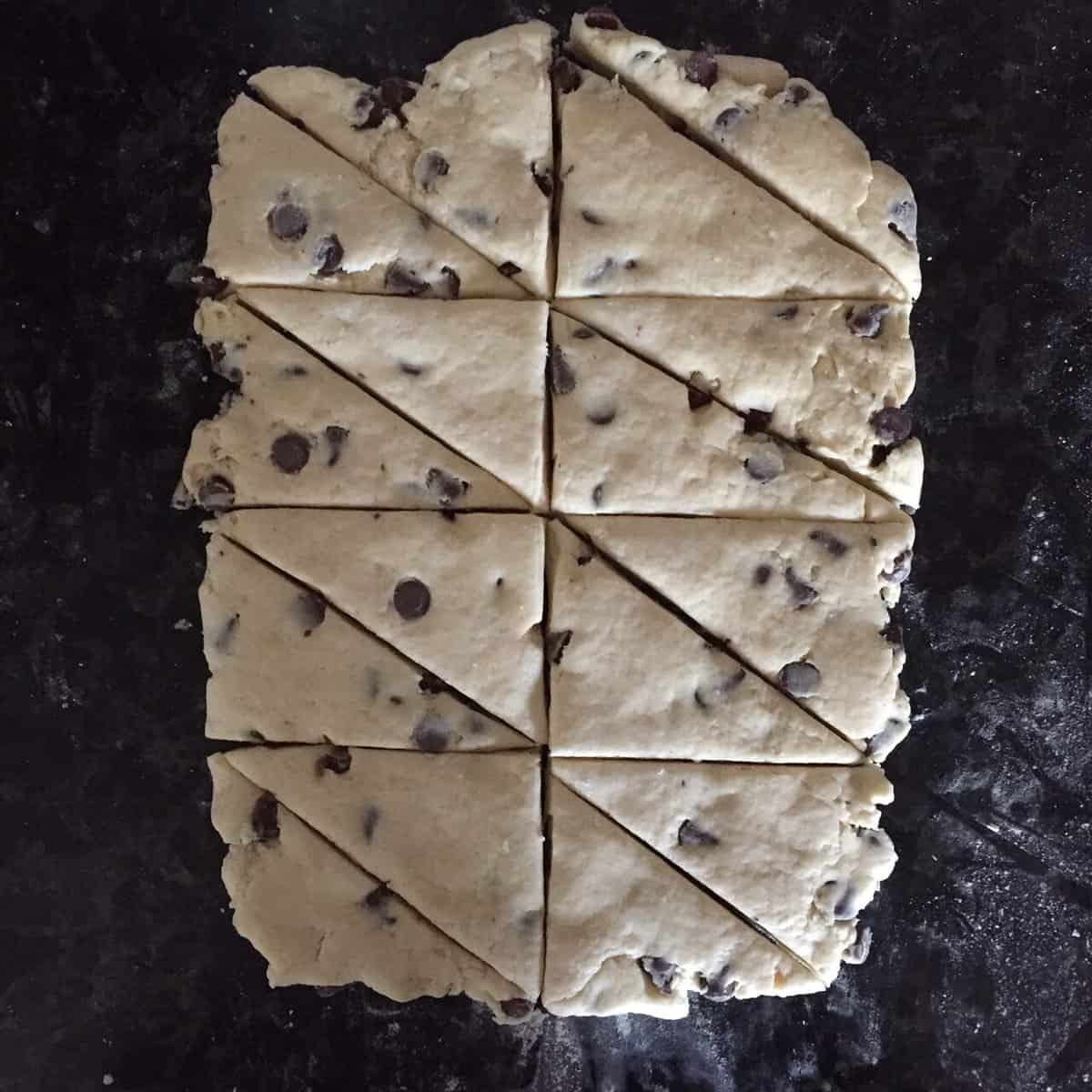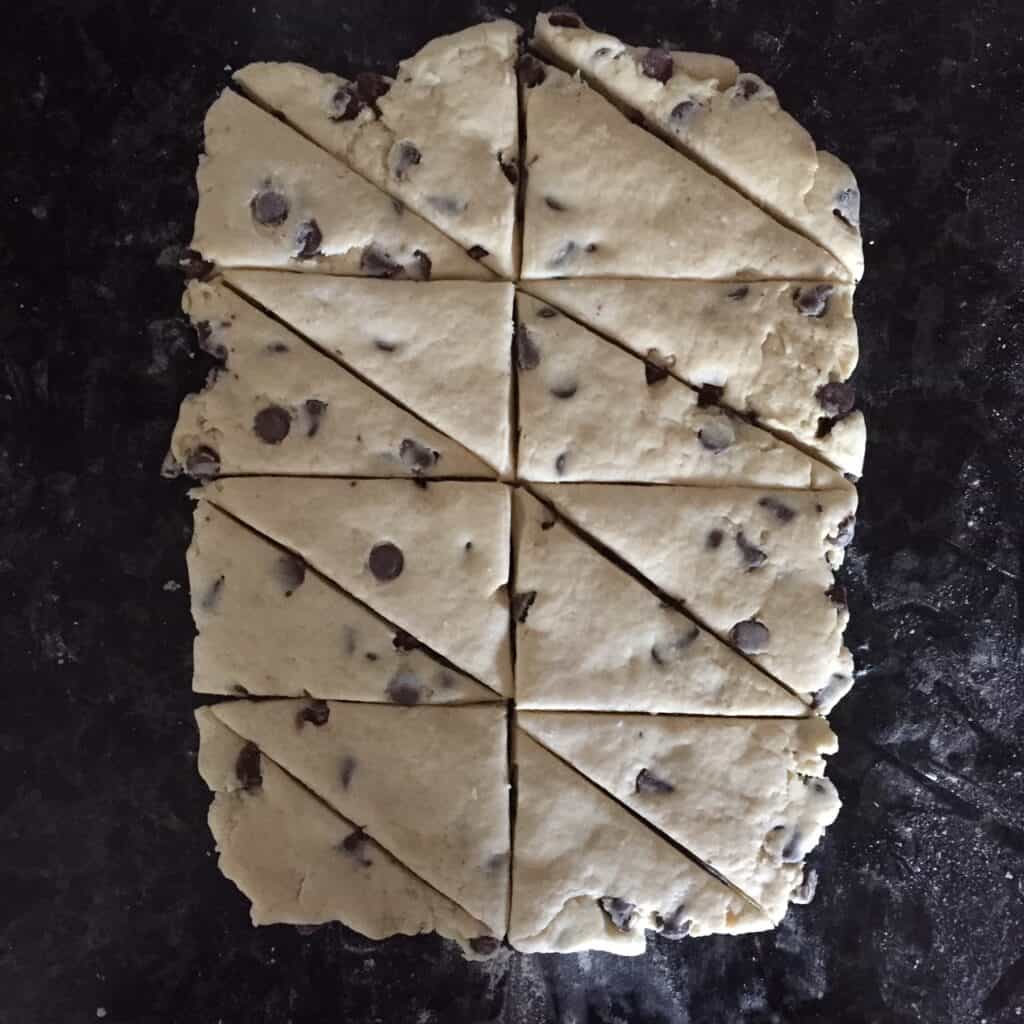 Tips and tricks
The instructions in this chocolate chip scones recipe should remind you of pie crusts and puff pastry. The goal is to work the dough as lightly as possible and prevent the butter from getting warm. If your kitchen is hot, you might need to put the dough into the refrigerator for 15 minutes between turns. The goal is to get flaky layers and not a dry, crumbly scone. I hate those.
If you trim the edges of your rectangle, you are more likely to get a straight rise of your layers, if you care about that sort of thing.
Storage
Once cooled, baked chocolate chip scones can be stored in an airtight container at room temperature for a few days. Or store baked or unbaked scones in a freezer bag for three to six months.
Variations and substitutions
Feel free to top these with sugar prior to baking, glaze them, or drizzle on more chocolate.
Sub in any type of chocolate chip or chocolate chunk for the milk chocolate chips.
Try these scones with dried currants, raisins, or cranberries or chopped dried apricots.
Use a combination of all of the above!
FAQs
Do I really have to weigh my ingredients?
No, it is not required. But everyone scoops flour differently, and you'll get more consistent results if you measure ingredients by weight.
Can I freeze these scones?
Yes, scones freeze well either baked or unbaked. You can bake them directly from the freezer – just add a couple of minutes to the baking time.
Related recipes
Love scones? Make these Earl Grey scones next.
Or maybe you just want to put chocolate chips in everything like I do? Try this chocolate chip loaf cake, blueberry chocolate chip muffins, or one bowl chocolate chip banana bread.
If you love chocolate chips in your cookies, there are these double peanut butter chocolate chip cookies or the gluten free almond flour peanut butter cookies, chocolate chip marshmallow cookie bars. And of course I have a recipe for chocolate chip cookies!
Pin Recipe
Chocolate Chip Scones
This chocolate chip scones recipe makes 16 buttery, flaky scones overloaded with chocolate. They're the perfect scone for breakfast with your coffee or on your tea tray.
Print Recipe
Ingredients
4½

cups

(600 grams) unbleached all-purpose flour

½

cup

(100 grams) granulated sugar

2

teaspoons

baking powder

½

teaspoon

baking soda

¼

teaspoon

salt

1

cup

(8 ounces) unsalted butter, cold, cut into ½ inch cubes

2

cups

heavy cream

1¼

cup

milk chocolate chips
Instructions
Preheat the oven to 400°F.

Combine the dry ingredients (flour, sugar, baking powder, baking soda, salt) in the mixing bowl.

4½ cups (600 grams) unbleached all-purpose flour,

½ cup (100 grams) granulated sugar,

2 teaspoons baking powder,

½ teaspoon baking soda,

¼ teaspoon salt

Add the butter and mix on low speed for 1 minute until the butter is flattened.

1 cup (8 ounces) unsalted butter, cold, cut into ½ inch cubes

Add the cream and mix until the mixture just starts to come together.

Add the chocolate chips and mix on low speed just until incorporated.

1¼ cup milk chocolate chips

Turn the mixture out onto a clean, lightly floured countertop, and knead very briefly to make sure the dough comes together uniformly.

Roll the dough out into a rectangle 1 inch thick, approximately 8 inches by 12 inches. But don't worry about being too exact.

Fold the dough into thirds like a business letter, and turn it 90 degrees.

Repeat the prior step, rolling the dough out, folding it into thirds, and turning it 90 degrees, for a total of four turns. The edges will become straighter and more even with each turn.

After the last turn, roll the dough out one last time to a rectangle of 8×12 inches. Using a bench scraper or knife, cut the dough lengthwise so you have two 4×12 inch rectangles. Then cut each 4 inch by 12 inch rectangle three times crosswise so you now have eight 4 inch by 3 inch rectangles. Finally, cut each rectangle along the diagonal so you have 16 right triangles (3 by 4 by 5 inches – Pythagoras would be quite happy). See photo for reference.

Lay out the 16 triangles on two baking sheets covered with Silpat or parchment paper and bake for 18 to 20 minutes, until the tops are just starting to brown and the scones feel slightly firm.

Remove immediately from the baking sheet and cool on a rack.
Notes
Feel free to substitute raisins, dried cranberries, or other nuts or chips in place of the chocolate chips.
Nutrition
Calories:
401
kcal
|
Carbohydrates:
40
g
|
Protein:
5
g
|
Fat:
25
g
|
Saturated Fat:
16
g
|
Polyunsaturated Fat:
1
g
|
Monounsaturated Fat:
6
g
|
Trans Fat:
0.5
g
|
Cholesterol:
67
mg
|
Sodium:
137
mg
|
Potassium:
70
mg
|
Fiber:
1
g
|
Sugar:
12
g
|
Vitamin A:
792
IU
|
Vitamin C:
0.2
mg
|
Calcium:
58
mg
|
Iron:
2
mg
What's next
If you make these chocolate chip scones, please leave a comment or rating here. Pretty please.
Looking for inspiration?
Sign up to get recipes full of kitchen tips and tricks.
Previous challenges:
Week 1: New Year new recipe – blueberry galette
Week 2: seasonal – Smitten Kitchen's grapefruit pound cake
Week 3: Great British Bake Off – Kate's sticky toffee apple caramel cake
Week 4: Australia – sausage rolls
Week 5: bite sized – bite-sized cookies
Week 6: Chinese New Year – mushroom bao
Week 7: new tool – baguette baker
Week 8: chocolate – chocolate peanut butter bonbons
Next week: diet restriction