ATK Bowls Cookbook: Now, Create Your Own Bowl!
There are a lot of articles and blog posts out there about how to create your own bowl. Like this one. Or this one. And they all say similar things. Pick a grain or rice or noodle. Choose a protein. Add vegetables. Top with some garnishes and a sauce or vinaigrette. Here's a recipe or two.
In following that formula, I found that I could build a bowl that created a balanced meal. But I was never inspired by these bowls. So I bought the America's Test Kitchen Bowls cookbook, hoping for inspiration and not just formulas. And, during March 2021, I made eight bowls from the cookbook and learned how to make my own.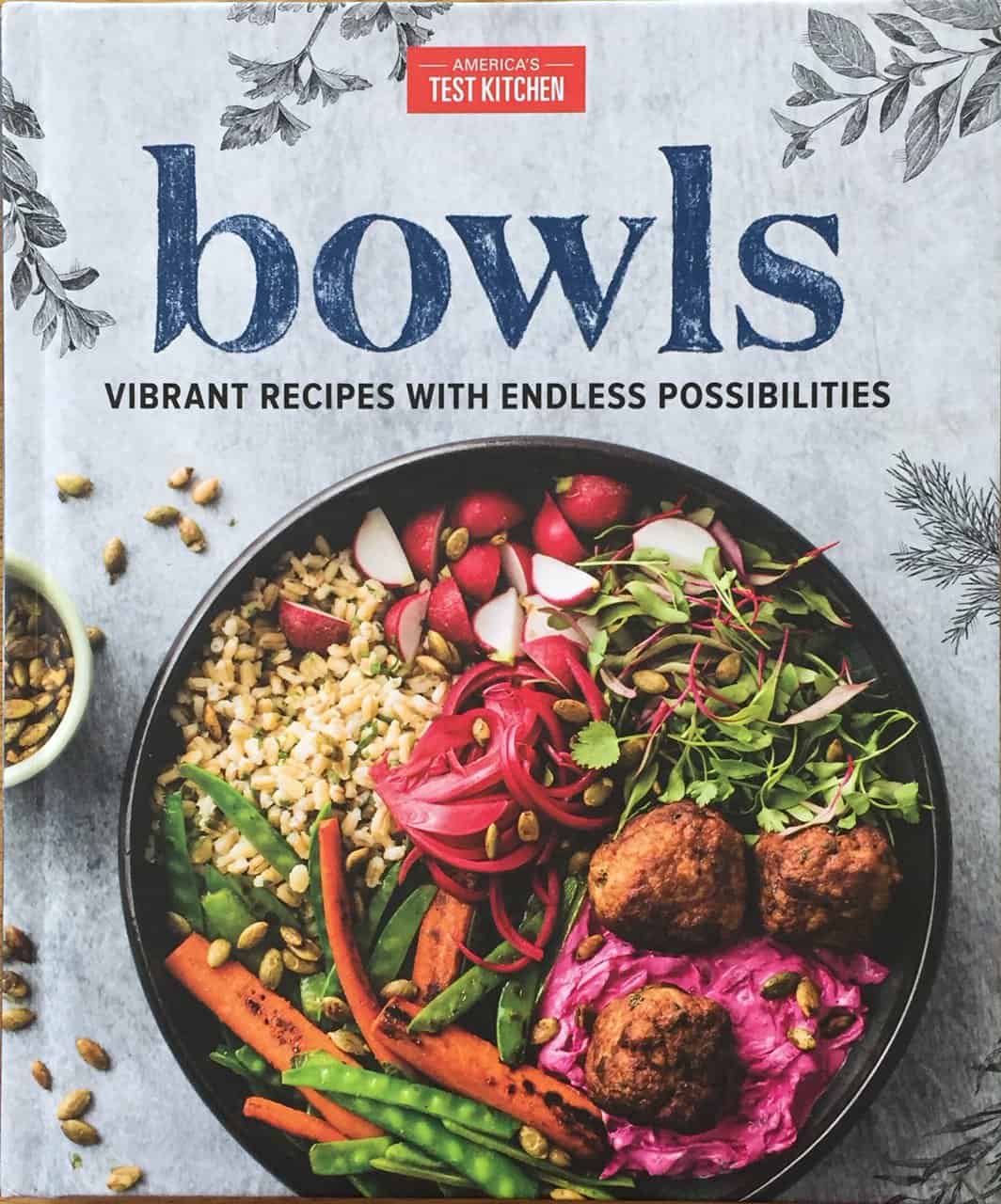 Jump to:
From the America's Test Kitchen Bowls cookbook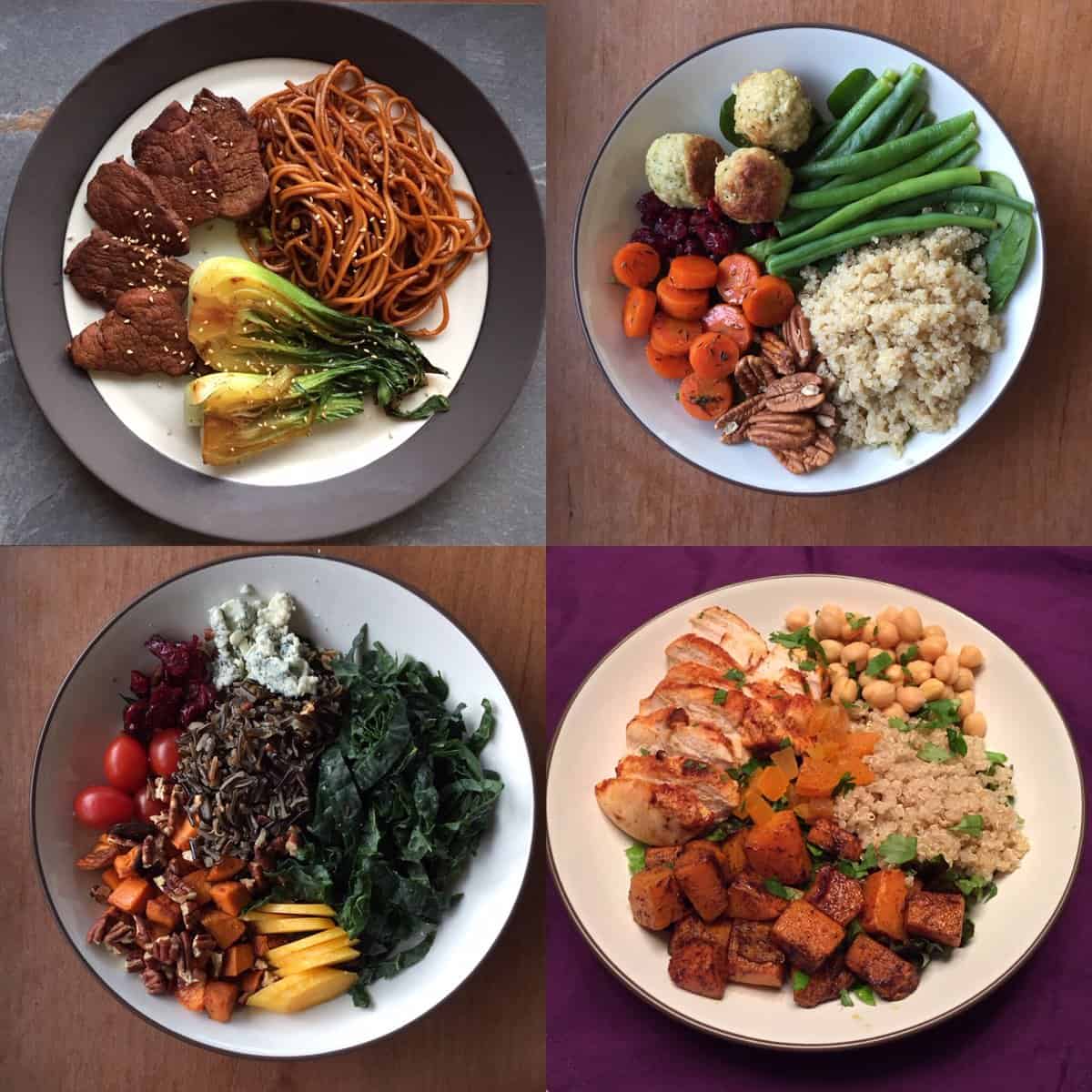 Top left: Pork lo mein bowl (p110) – a keeper, but needs more bok choy and vegetables.

Top right: Thanksgiving quinoa bowl (p83) plus braised carrots, spinach, and toasted pecans. I wanted stuffing and gravy!

Bottom left: Harvest bowl (p21)

Bottom right: Moroccan chicken salad bowl (p35) plus quinoa, roasted butternut squash, and topped with sour cream sumac sauce (not pictured). Next time, I'd add some crunch with toasted pine nuts.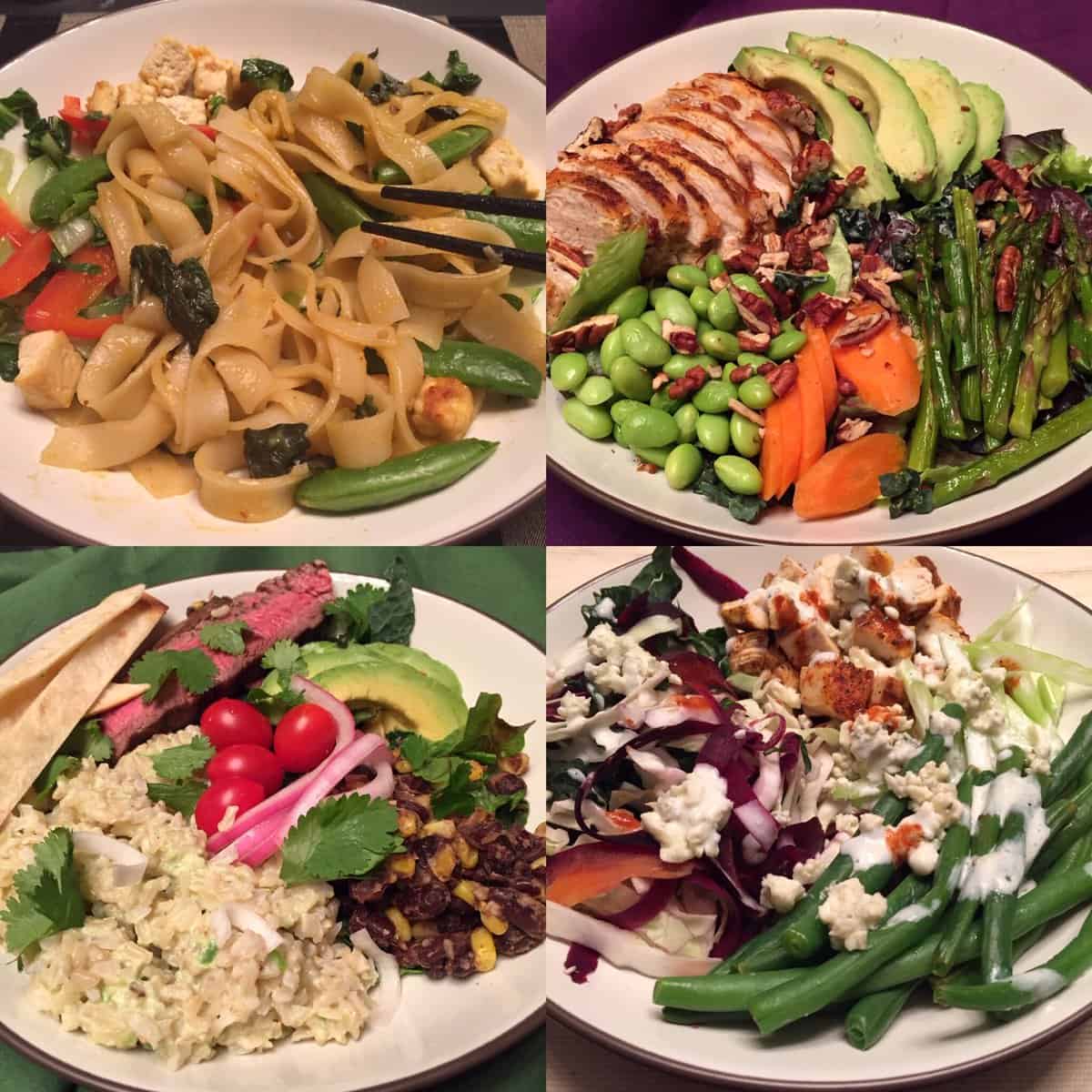 Top left: Spicy basil noodle bowl (p122) made with my crispy baked tofu.

Top right: Green goodness salad bowl (p17), roasted asparagus subbed for broccoli, pecans subbed for pistachios, plus carrots before the dressing (very thin) was added.

Bottom left: Skillet burrito bowl (p61), subbing cilantro rice for the plain white rice, and adding avocado, cherry tomatoes, and quick baked tortilla strips for crunch.

Bottom right: Buffalo chicken bowl (p26) plus green beans. The dressing here was again very thin.
The outcome? The more I make bowls, the more I love them. They provide endless variation, they use up leftovers, and my kiddo loves these "little bit of everything" meals.
I'd recommend the America's Test Kitchen Bowls cookbook for anyone who wants a little more inspiration for their bowls. Just don't consider a recipe as a rule and be open to adding more vegetables and changing up the dressings.
Ugly Duckling Bakery greens and grain bowls
Inspired by bowls? Here are a few of my own favorite bowl meals:
Do you love pulled pork? Pulled pork, BBQ sauce, and all your favorite sides go into this big bowl of comfort food. Mmmmm homemade mac and cheese!
Pulled Pork Bowl with Country Style Ribs
Making pulled pork is a snap with boneless country-style pork ribs cooked in a slow cooker or your oven. Serve on a hamburger bun, or turn these BBQ braised boneless country style ribs into a pulled pork bowl using sides you might find at a barbecue.
Pulled Pork Bowl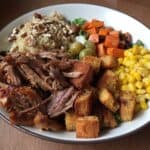 Head to the Mediterranean with lamb meatballs, Israeli couscous, feta, and olives. Add in a Mediterranean-inspired sauce like this creamy sumac sauce or lemon herb tahini dressing. And don't forget the homemade pita on the side!
Lamb Meatball Bowl
This Mediterranean bowl with lamb meatballs is a bowl dinner with a variety of tastes and textures inspired by Mediterranean flavors.
Lamb Meatball Bowl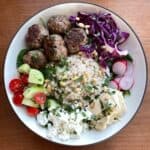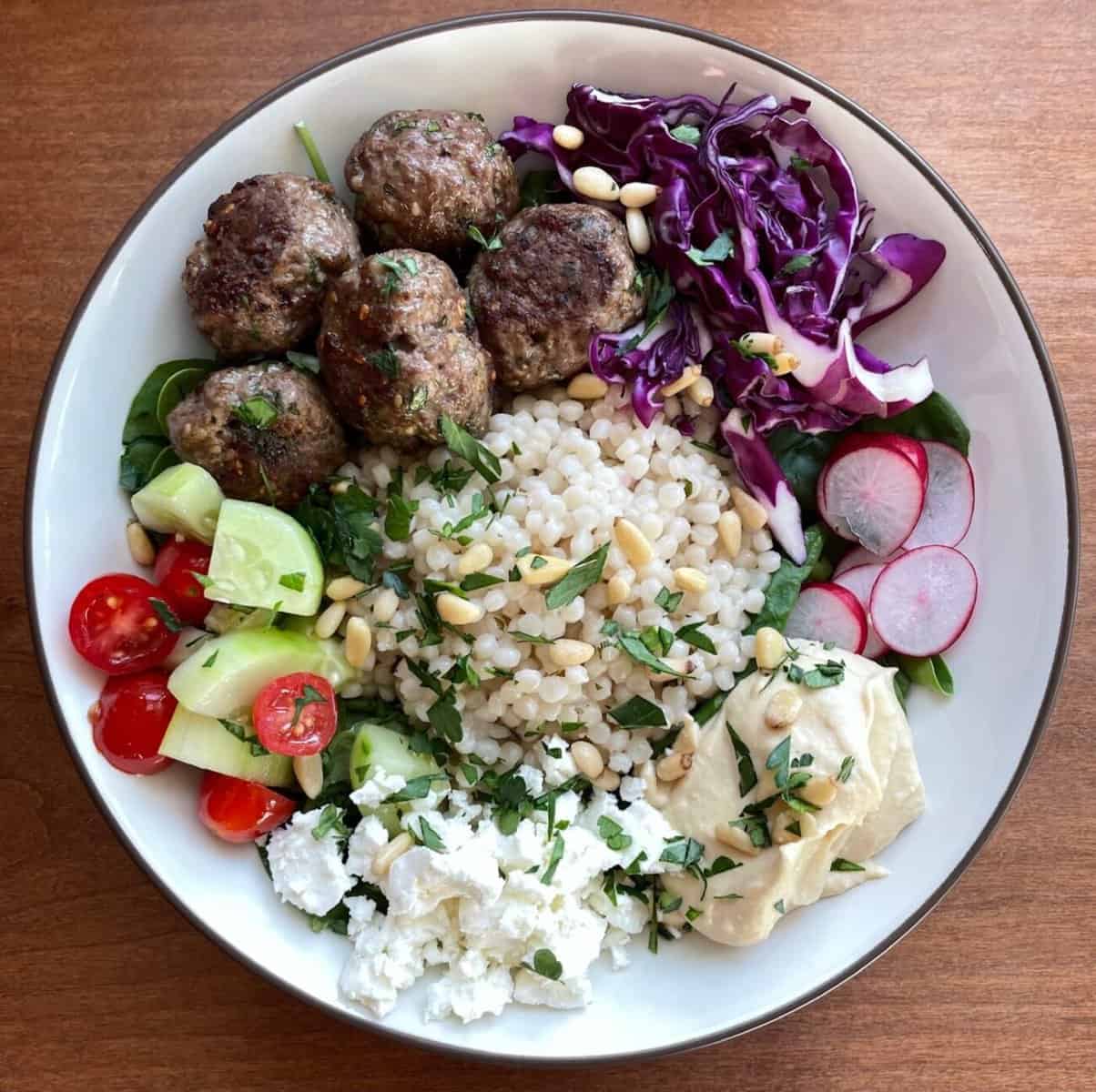 Vegetarian bowl dinners
If you're looking for vegetarian options, this Swimming Rama Bowl with Tofu is made with crispy tofu and peanut sauce over noodles and spinach. It's an amazing meal-in-a-bowl for Meatless Mondays.
Swimming Rama Tofu Bowl
This Swimming Rama tofu bowl is an everything-in-a-bowl meal with a mixture of textures, colors, and flavors. There are few things better than a sweet and spicy peanut sauce that comes together in less than 15 minutes and just makes everything taste delicious.
Swimming Rama with Tofu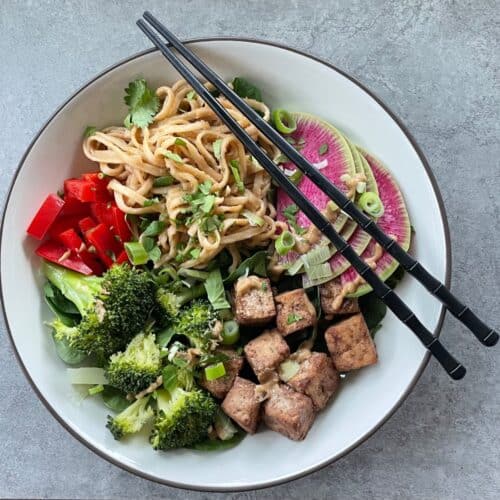 Make a rainbow salad! It's a colorful and light main course salad that can be as quick and simple or as involved as you want.
Make a Harvest Bowl, starting with these yummy maple syrup roasted Brussels sprouts.
FAQs about creating your own bowl
Are grain bowls healthy?
They can be healthy, but they aren't inherently so. Use lean proteins, lots of veggies, and a small amount of vinaigrette, and they will be. Add cheese and sour cream to your Tex-Mex inspired bowl, and your deliciousness becomes a little worse for your arteries.
Can I prep anything ahead of time?
Absolutely. Pan roast chicken breasts on the weekend for the entire week. Make extra rice or quinoa. Toast your nuts. Make a carrot salad. Leave a jar of your favorite homemade pesto dressing in the refrigerator.

Just don't wash greens and vegetables until right before you want to use them, and definitely don't dress your entire bowl until you're at the table [Now I'm having an Amelia Bedelia flashback].
Can anything be made into a bowl?
Yup. The only limitations are the size of your bowl and the extent of your imagination.
What's next?
If you make any of my grain and salad bowl recipes or if you build your own bowl, please comment here!
Looking for inspiration?
Sign up to get recipes full of kitchen tips and tricks.