Tuna Pesto Pasta with Arugula Spinach Pesto
This tuna pesto pasta recipe was inspired by the linguine with tuna, lemon, and rocket (Linguine al Tonno, Limone, e Rughetta) I first made with Diane Seed in Rome a decade ago. It's a quick and simple weeknight pesto pasta with canned tuna and greens you can find any time of year.
It was only by chance that I ended up in Italy. I was supposed to go to Peru, but landslides closed Machu Picchu. And so a last minute change sent me to Rome and Venice, two cities I didn't expect to love as much as I did. Throughout my blog, you'll see lessons I learned during those three days of cooking one-on-one with Diane Seed in her Rome kitchen.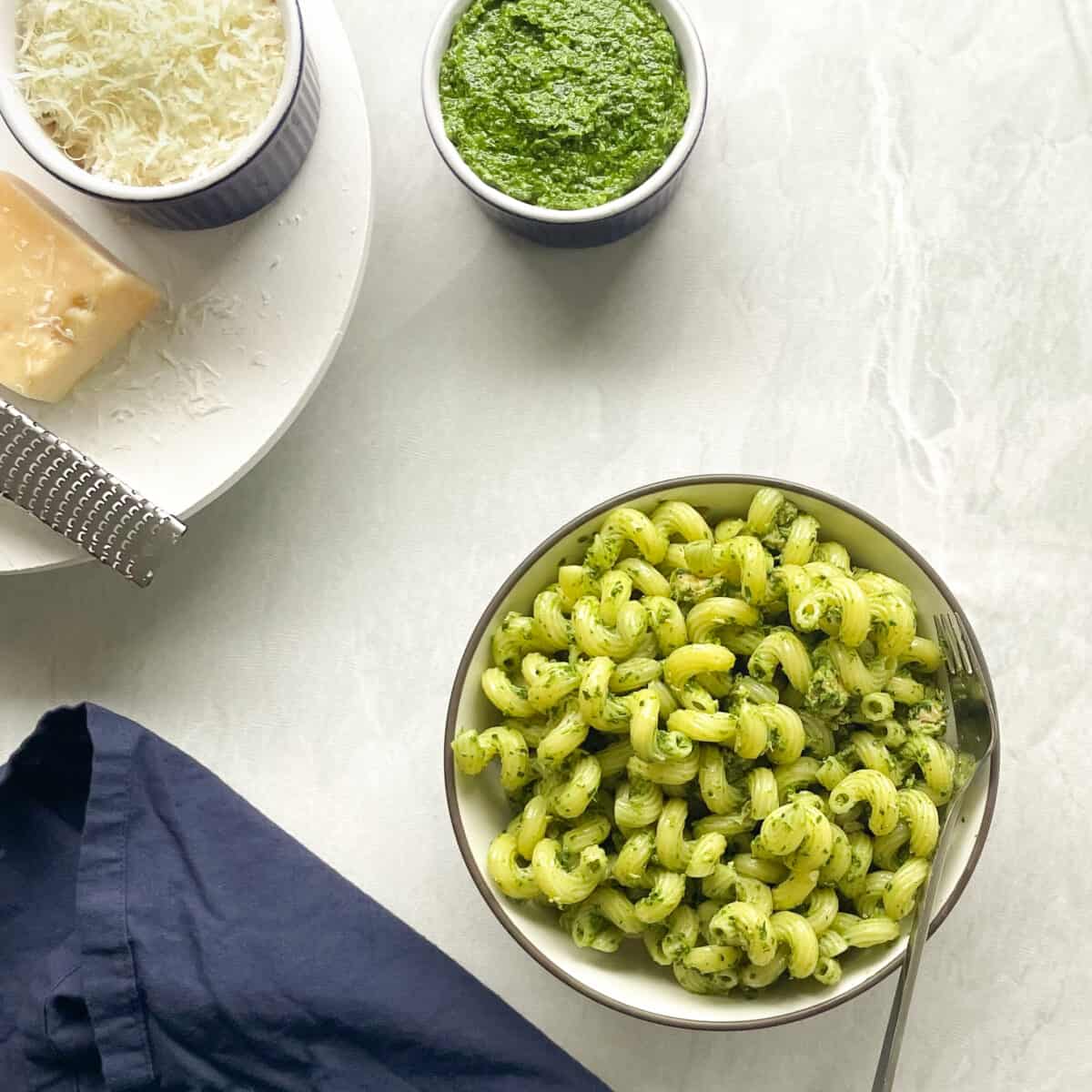 About pesto
Pesto comes from the Italian "pestare," meaning "to pound" or "to grind." This refers to the traditional method of making pesto using a mortar and pestle.
If you have the time, try making this arugula spinach pesto recipe the traditional way. But for a quick weeknight meal? Use a food processor.
Tips and tricks
Arugula spinach pesto ingredients
The classic pesto alla Genovese uses basil leaves, which are one of the highlights of summer produce. However, you can make winter pesto like this arugula spinach pesto any time of year.
This arugula spinach pesto uses walnuts instead of pine nuts in this recipe for two reasons. First is that walnuts better match the astringency in the greens.
This pesto also uses walnuts because increasing demand for pine nuts has resulted in deforestation of the pine trees that these "nuts" come from and loss of important ecosystem. You can read more about that here.
For the quickest start to finish, the first thing to do is turn on your oven to toast your walnuts. Toasting nuts, whether for pesto or for baking, gives you a deeper nutty flavor.
Making the pesto
It's easiest to get a fine chop of nuts, Parmesan, and garlic if you blitz them in the food processor without anything else.
Then add the arugula and spinach, olive oil, lemon juice and zest, and a bit of salt. Taste and add more olive oil or salt to get to your desired taste and consistency.
The nice thing about this arugula spinach pesto is that it doesn't oxidize and go brown as quickly as does basil pesto. However, it's still a good idea to cover it with plastic wrap if you are not going to use the pesto immediately.
Which pasta for which sauce
Tip from the wise quacker: the general rule is that your pasta should match your sauce. Use long thin noodles like spaghetti with a thinner sauce. Use long, flat noodles like fettucine with a thicker ragu. And use short, chunky shapes with chunky sauces. But as with all of these food rules, the most important rule is to ignore the rule if you prefer something else!
If you were to stay true to the original, you'd use linguine with for this tuna pesto pasta recipe. However, I like think the chunks of tuna work best with short chunky pasta shapes. Try a shape that holds the pesto, like fusilli or cavatappi. Or this might be the perfect recipe for cascatelli.
Putting it all together
Set a large pot of water to boil over high heat. Don't salt your pasta water until it's at a full boil, or the salt may pit your pot.
Drain the oil from your can of tuna. Tuna packed in oil is generally moister, more tender, and more flavorful than tuna packed in water, but you can certainly sub tuna packed in water if that is what you have.
When the pasta is done cooking, drain it and return it to the pot. Add the arugula spinach pesto to the warm pasta. You can serve this tuna pesto pasta warm or at room temperature, but be sure to add the pesto to warm pasta so the pasta takes up the flavors of the pesto.
What to serve with this tuna pesto pasta
Variations and substitutions
Sear fresh tuna in place of canned.
Replace the tuna with cooked chicken for a chicken pesto pasta.
Use basil pesto in the summer in place of the arugula spinach pesto.
Use only arugula, as in the original Diane Seed recipe. An arugula pesto has more peppery flavor. Or use only spinach or kale if you want less of that flavor.
Substitute pine nuts or pistachios for the toasted walnuts.
Use any store-bought pesto for an even quicker pesto pasta.
Make it creamier by adding heavy cream to the pesto and warming it slightly.
Storage
If you have leftover pesto after making this tuna pesto pasta recipe, freeze your pesto in plastic containers. Or freeze it in ice cube trays to add small amounts to eggs or other dishes. I use pesto as a creamy pesto dressing for salad or sandwich spread, as a base for pizza, or even in a babka.
FAQs
Isn't it a no-no to put Parmesan on seafood pasta?
Well, yes. Traditionally, Italians do not use Parmesan or other cheese with seafood pasta. You can skip the Parmesan if you want to be rigid about your eating. But I think of this more as a pesto pasta with tuna than a seafood pasta, and you'd better be sure I'm adding Parmesan to my pesto pasta!
Related recipes
Check out other pasta recipes from uglyducklingbakery like this orzo pesto pasta made with pesto alla Genovese, my fig bacon jam pasta, cavatappi alfredo and peas, or a classic plate of spaghetti and meatballs.
Looking for a recipe for fresh tuna? Check out my rainbow poke bowl with seared tuna.
Pin Recipe
Tuna Pesto Pasta with Arugula Spinach Pesto and Canned Tuna
This tuna pesto pasta recipe with arugula spinach pesto is a quick and simple weeknight pesto pasta that uses canned tuna and a homemade arugula and spinach pesto.
Print Recipe
Ingredients
Arugula spinach pesto
½

cup

walnuts, toasted

1 to 2

cloves

garlic

1

ounce

Parmesan

plus more for serving

10

ounces

baby arugula and spinach leaves

¼

cup

olive oil

plus more as needed

lemon zest from one small lemon

1 to 2

tablespoons

lemon juice

plus more to taste1

1

teaspoon

salt
Tuna pesto pasta
1

pound

short, thick pasta like cavatappi, fusilli, or penne

2

cans

(10 ounces) tuna packed in oil
Instructions
Heat a pot of water on high while making the pesto.
Arugula spinach pesto
Add the toasted walnuts, garlic, and Parmesan to the food processor and blitz until fine.

½ cup walnuts, toasted,

1 to 2 cloves garlic,

1 ounce Parmesan

Add the arugula and spinach, olive oil, lemon zest and juice, and salt and blitz, scraping down as needed until all of the leaves have been chopped into a puree. You may need to add more olive oil to get it to your desired consistency.

10 ounces baby arugula and spinach leaves,

lemon zest from one small lemon,

1 to 2 tablespoons lemon juice,

¼ cup olive oil,

1 teaspoon salt
Tuna pesto pasta
When the water is at a full boil, add salt and then wait for it to return to a boil.

Add the pasta and cook per the instructions until al dente (it should be cooked through but still be slightly firm when you take a bite).

1 pound short, thick pasta like cavatappi, fusilli, or penne

Turn off the burner, reserve a cup of pasta water, drain the pasta, and return it to the pasta pot. Add pesto and stir, adding more to your taste. Use a splash of pasta water to create a thin sauce if the pesto is not sticking to your pasta.

Drain and discard the oil from the can of tuna and break it into large or small flakes or chunks, depending on your preference. Mix the tuna gently into the pasta.

Serve warm with additional Parmesan, or let cool to room temperature.

2 cans (10 ounces) tuna packed in oil
Notes
I estimate about 4 ounces of pasta per person, although 2 ounces is the official serving size.
Nutrition
Calories:
822
kcal
|
Carbohydrates:
91
g
|
Protein:
40
g
|
Fat:
33
g
|
Saturated Fat:
5
g
|
Polyunsaturated Fat:
11
g
|
Monounsaturated Fat:
15
g
|
Cholesterol:
27
mg
|
Sodium:
1002
mg
|
Potassium:
837
mg
|
Fiber:
6
g
|
Sugar:
5
g
|
Vitamin A:
1753
IU
|
Vitamin C:
15
mg
|
Calcium:
243
mg
|
Iron:
4
mg
This tuna pesto pasta recipe with arugula spinach pesto was first posted July 1, 2021. It was last updated January 8, 2023.
What's next
If you make this tuna pesto pasta recipe, please leave a comment and rating here. It really helps.
Looking to learn?
Sign up to get recipes full of kitchen tips and tricks.